HOW TO MAKE CHANA PULAO IN MEALTHY?
Chana Pulao in Mealthy- Easy and quick lunchbox friendly Pulao with chickpeas made in the Mealthy Multipot.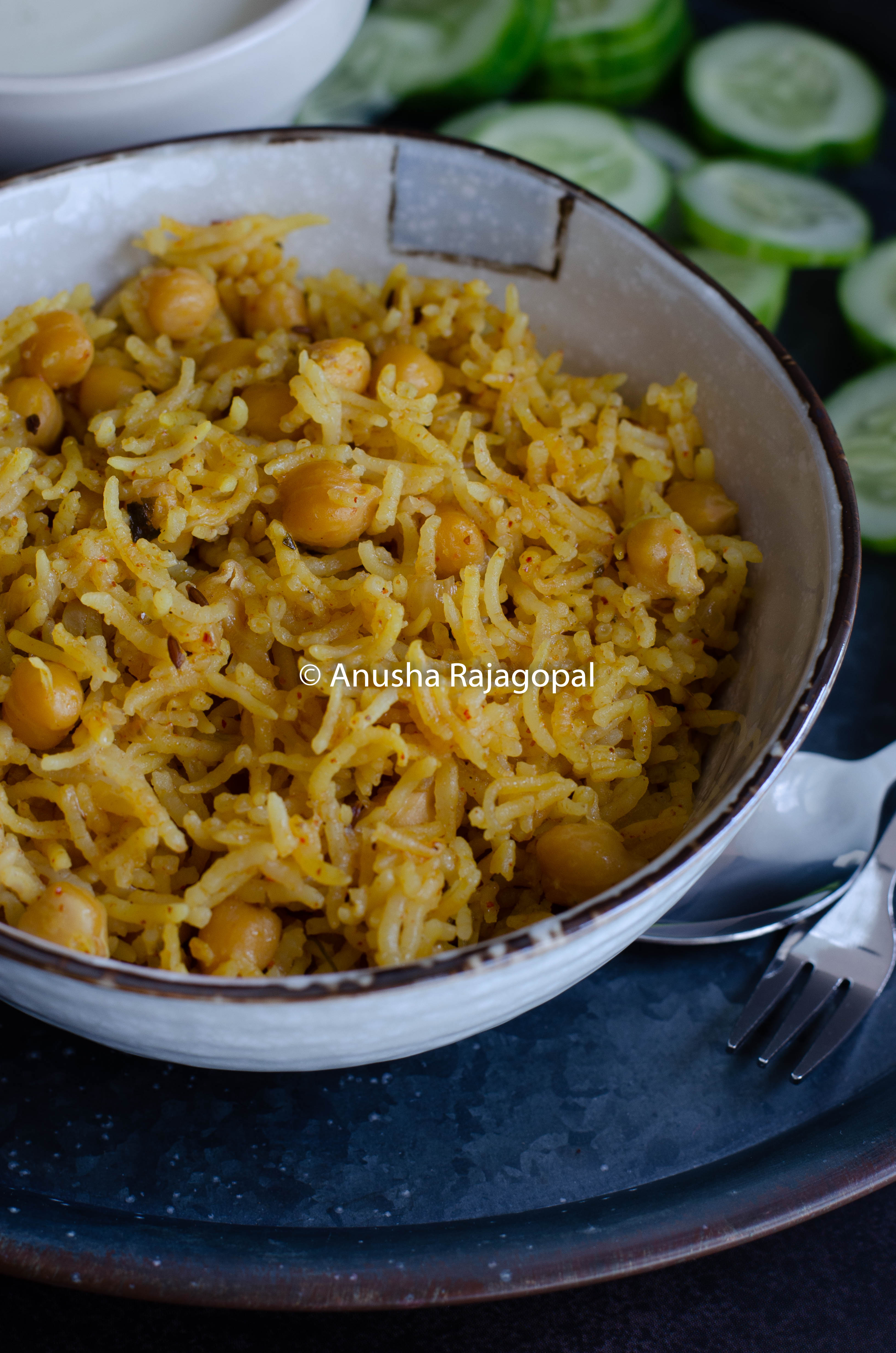 Ever since A started school, I have been trying hard to send lunches that involve veggies and yet, easy to eat. On days when I am out of ideas to sneak in veggies, I resort to packing dishes like this delicious and nutritious Chana Pulao.
Jump to:
Cooking in Mealthy Multipot
Its been a year since i bought my Mealthy. And i absolutely love it! My mornings have become so much easier because of the reduced hands-on cooking time. The Mealthy Multipot is very similar to the Instant Pot. 
My basic rice cooker conked. I began looking for a rice cooker that came with a stainless steel inner pot. But to my disappointment, I found none in the market. That s when I decided to invest in a multi-cooker ( Multipot). 
The reason why I opted to buy this 9 in 1 gadget is that it comes with a 304 stainless steel inner pot. And more reasons would be because it is truly one pot. You saute and pressure cook in the same pot. And that s why my Mealthy has become indispensable to me.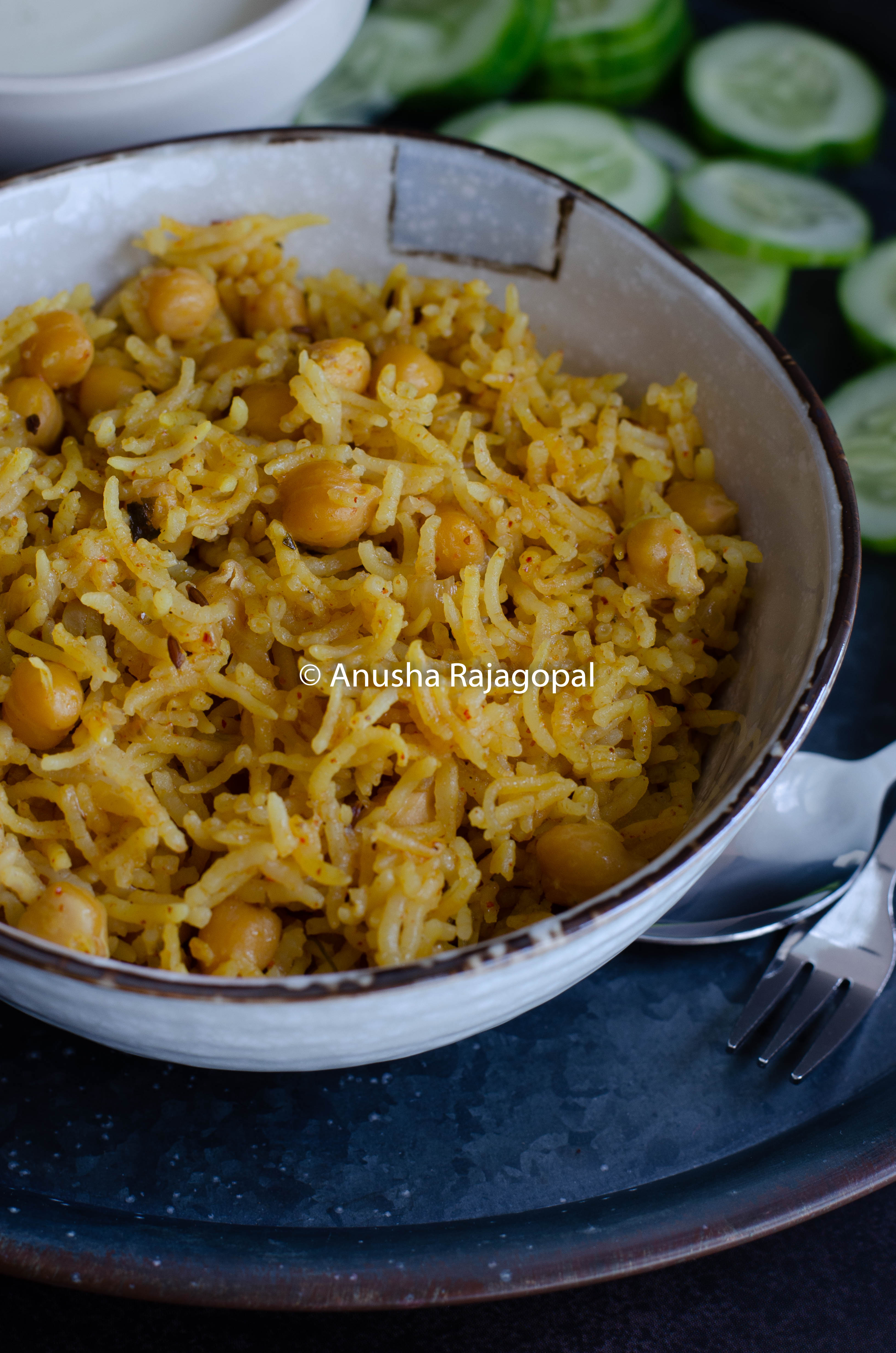 Chana Pulao – Chole Pulao
Chana Pulao or Chole Pulao is a easy rice made with hydrated chickpeas and basmati rice. This is very mild in terms of spice and comes together in 30 mins if you have the prep work done.
Prep Work
This is how i go about planning my lunch box cooking for the day:
Previous night- Soaking the chickpeas, keeping the rice and spices out on the counter, set up my Mealthy to keep it ready for cooking next day.
In the morning- Soak the Basmati rice for 15 mins. While the rice is soaking, I chop onions.
Ingredients- Substitutions and Replacements
Basmati rice- You can use Jeeraga Samba in place of Basmati to make this pulao. If you are using Jeeraga Samba, use 1.5 c water for 1 c of rice.
Chickpeas- Canned chickpeas are not recommended in this recipe. You can use any kind of hydrated beans to make this Pulao. I have tried cooking the same Pulao with black-eyed beans, red beans, and cranberry beans.
I have tried this pulao with  Black-eyed beans, red beans, kidney beans and cranberry beans. The timings for black eyed beans, red beans and cranberry is the same as chickpeas but the timing largely varied for Rajma aka Kidney beans. So, I won't recommend making this pulao with Rajma.
Ghee- I have used ghee to make this Chana Pulao. You can also use any neutral flavored vegetable oil to make this for a vegan Chana Pulao.
Spice powders- This pulao uses a combination of Pav bhaji masala and basic spice powders. If you don't have Pav Bhaji masala, feel free to substitute it with regular Garam Masala
Chana Pulao / Chole Pulao in Mealthy or Instant Pot
You can make the same Pulao in an Instant Pot too. The timings remain the same if you follow the recipe instructions to the T.
Recipe Notes
Please note that there are cases in which the chickpeas wont be cooked fully. This may happen if the chickpeas are not hydrated enough or if the chickpeas are very old.
Timings for cooking this Chana Pulao may vary depending upon the altitude of your location too.
Chana Pulao In Mealthy Multipot- Step By Step Tutorial
Soak the chickpeas in 3 c water for at least 8 hours. When the chickpeas are soaked, wash the Basmati rice thoroughly. Drain the water used for washing. Soak the Basmati rce for 15 mins. 
Drain the chickpeas thoroughly and set aside. When the rice has soaked, turn on the saute mode and set the timer for this for 10 mins in your Mealthy.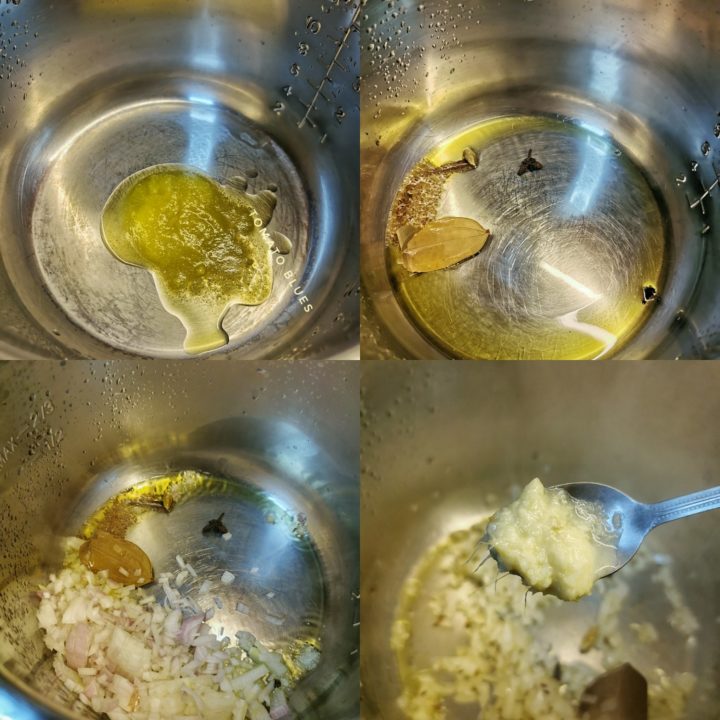 Add ghee and once it melts, add the whole spices. Saute till the spices pop. When done, add the ginger garlic paste and finely chopped onions. Saute the onions until pink and soft. This takes around 2 mins.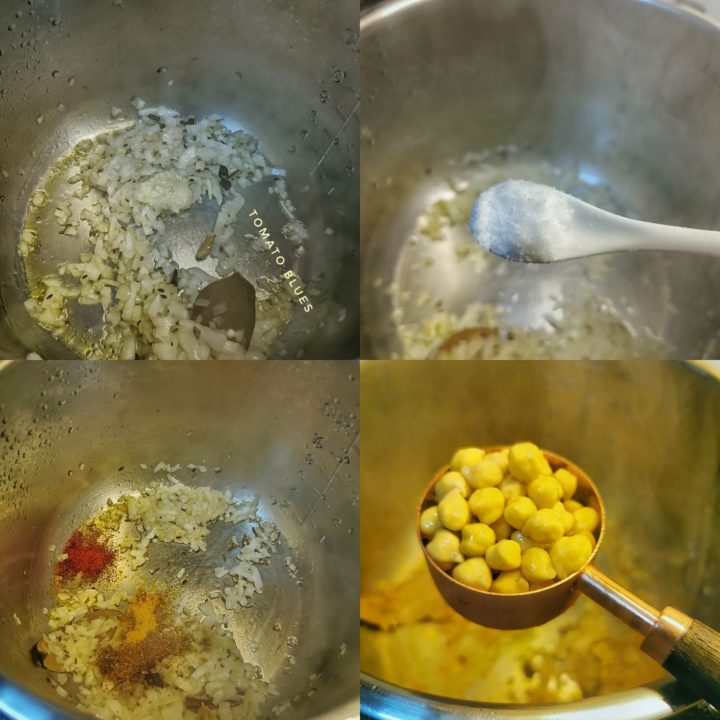 When the onions are ready, add the spice powder and salt and saute for 30 secs. Now add the soaked chickpeas.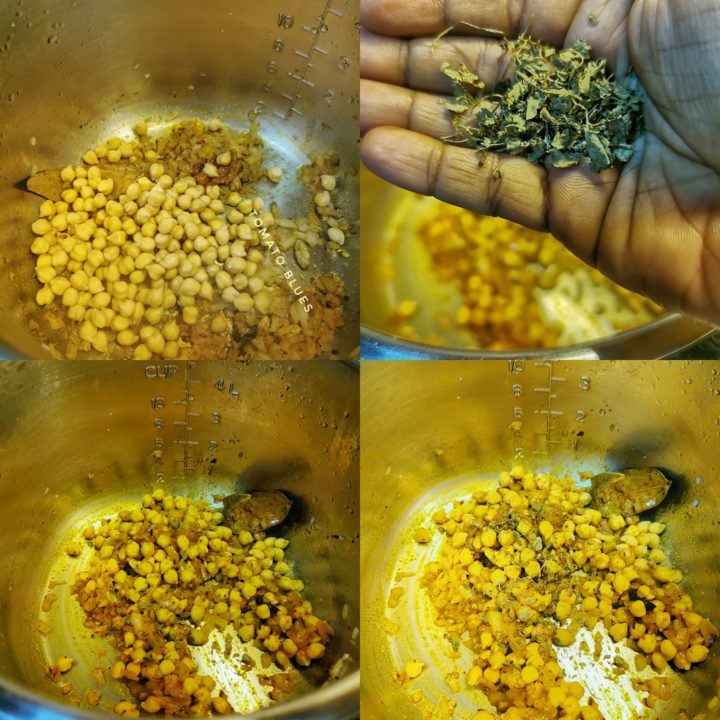 Now add crushed Kasuri Methi and saute for 10 secs.
Drain the soaked rice completely. Add this along with the chickpeas mixture. Add water. Mix well.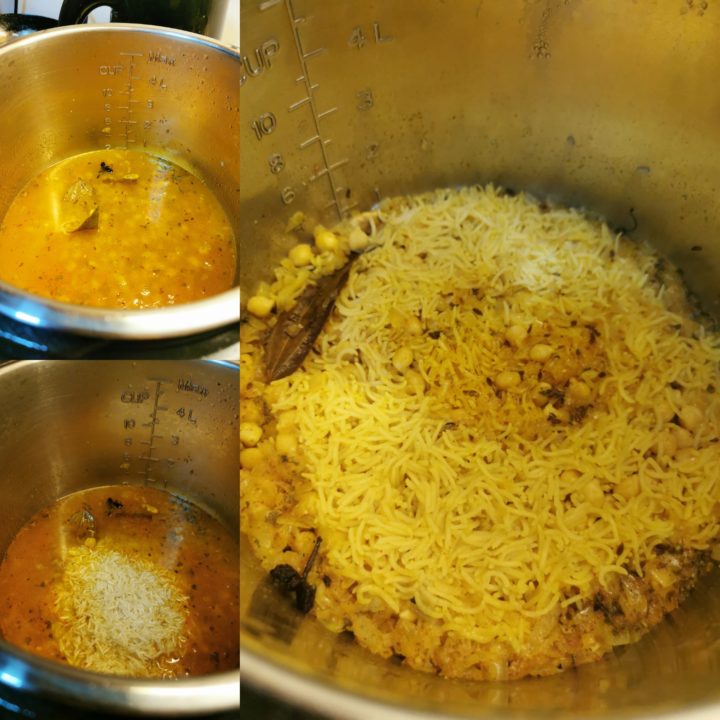 Cooking the Channa Pulao In Mealthy
Switch off the Saute mode. Now close the Mealthy pot using its lid. Turn the pressure valve to Sealed. Switch on Pressure cook mode on LOW PRESSURE for 3 mins. 
Once cooking has completed, release pressure naturally. When the pressure has released, open the lip and fluff the rice with a fork. Serve with any raita of your choice.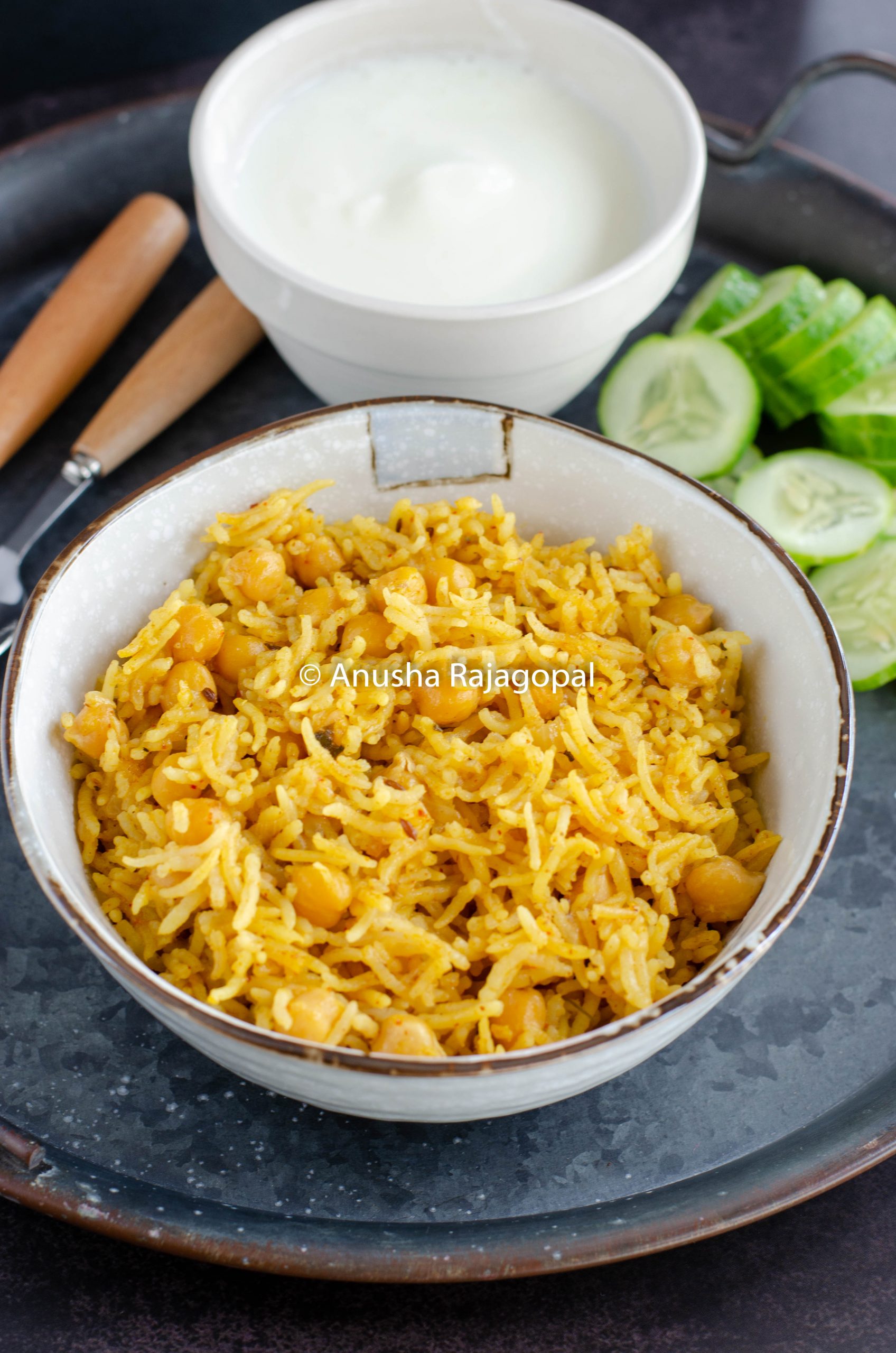 More Pulao Recipes
Serving Suggestions
This delicious Chana Pulao can be served with a chilled Raita and some salad by the side.
Here are some Raita recipes that pair well with this Chana Pulao-
Ghee Rice In Mealthy Multipot 
Follow me on Instagram or Facebook for regular cooking updates and short videos. Follow me on Pinterest for delicious content. Tried our Chana Pulao? Then please rate this recipe and tell us why you loved our recipe!
In case you have any questions regarding this recipe, leave a comment and I'll respond at the earliest possible. If you tried this recipe and enjoyed it, click a picture and share it on Instagram by tagging us @tomatoblues.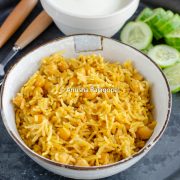 Print Recipe
Chana Pulao Made In Mealthy Multipot
Chana Pulao or Chole Pulao- an easy rice made with chickpeas in Mealthy. Gluten-free. Vegan options included. Lunchbox friendly recipe.
Ingredients
1.5

tbsp

Ghee or Oil

1

Bay leaf

2

cloves

1/2

inch

Cinnamon stick

1/2

tsp

Cumin seeds

1/2

c

Finely chopped onions

1

tbsp

Ginger garlic paste

1.25

tsp

Salt or to taste

3/4

tsp

Turmeric powder

1

tsp

Kashmiri red chili powder

Add up to 1/2 tsp more for a spicier pulao.

1

tsp

Pav Bhaji Masala

I have used MDH Pav Bhaji masala here,

1/2

c

Chickpeas

2

tsp

Crushed Kasuri Methi

1

c

Basmati rice

2

c

Water
Instructions
Soak the chickpeas for 8 hours in 3 c water.

When the chickpeas are hydrated, wash the basmati rice thoroughly.

Soak the washed rice in 2 c water for 15 mins.

Turn on Saute mode in Mealthy. Set timer for 10 mins.

Once ghee is hot, add all the whole spices.

Wait for the spices to pop and crackle.

When done, add chopped onions and ginger garlic paste. Add salt.

Mix well and saute till onions turn pink and soft. Takes 2 mins.

Once done, add all the spice powder, mix well and saute for 30 secs.

Drain the chickpeas thoroughly.

Add the chickpeas to the pot and mix well.

Now add crushed Kasuri Methi and mix well.

Drain the soaked rice. Add the rice to the pot along with 2 c water.

Switch off the saute mode.

Close the Mealthy with the lid and turn the pressure valve to Sealing.

Switch on the Pressure cook mode at low pressure. Set timer for 3 mins.

When cooking has completed, wait for pressure to fall on its own. You can see the red knob on the lid fall down when the pressure has released. This takes 10 mins approximately. This is what we call as releasing pressure naturally in Mealthy.

When done, switch off. Open the lip and fluff the pulao with a fork.

Serve with any Raita of your choice.
Notes
Chickpeas may take longer to cook if they are old or not soaked for minimum 8 hours. 
If you are doubtful about the chickpeas cooking well, then i suggest pressure cooking the chickpeas and then adding it along with the soaked rice.
For Instant Pot & Air Fryer Recipes
Instant Pot timings may vary based on your geographic location. Air fryer settings and timings may vary based on the capacity and the model of the Air fryer.
Disclaimer
Nutrition values are provided here as a courtesy and are only a rough guide. Please consult a health care provider if you have any concerns.