It will be a brand new year in about a week. Let us begin this year with a splendid Veganuary, shall we?  As cliched as it may sound, I really am wondering how the past year flew by. Having said that, here's wishing you all a healthful, joyful and prosperous New Year. 
Follow us on Pinterest for delicious pins. Join our Facebook group for more recipes, quick tips and hacks.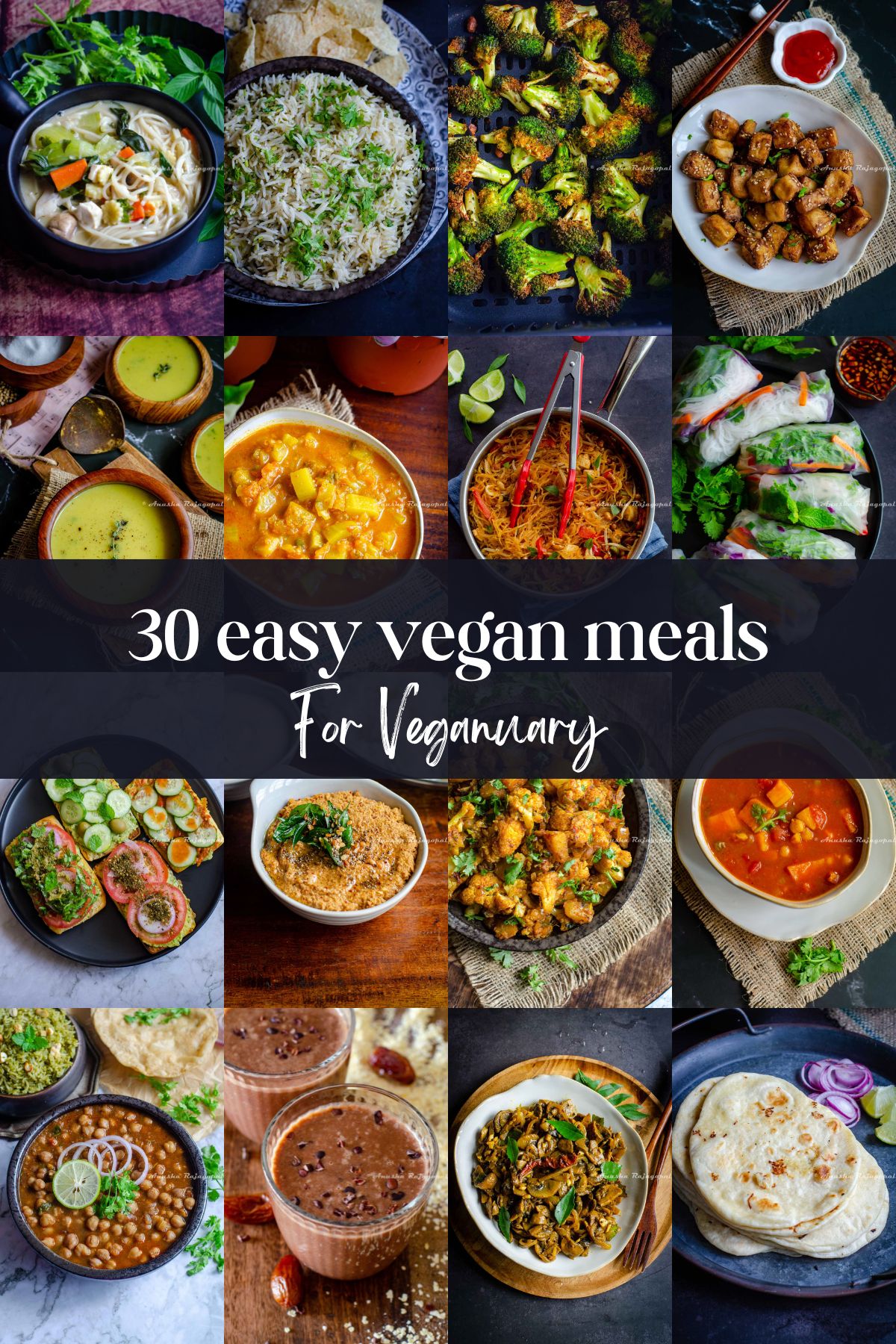 The idea of going vegan may be daunting to some and to some, it may be something less delicious and appealing. But believe me when I say that vegan food is definitely not boring.
Every year, I try and go vegan for a few days in a year. Being a yogurt lover, it is very challenging for me to do this round the year. This is my way of giving back to this environment. 
While eating plant based and vegan food comes with a lot of benefits, we should also not forget that it may be a privilege for some of us out there.
With them in mind, may I suggest that you all try going vegan for 30 days with me?
Jump to:
What is Veganuary?
For the uninitiated, Veganuary is an annual event in which people are encouraged to go vegan for the month of January. Since 2014, this has become quite a trend where thousands of people take part.
Plant based vs vegan
Both these terms are used interchangeably very often. However, they are different in terms of ideologies and principles.
Eating a plant based diet means eating largely foods that are derived from plants. It is also avoiding refined or processed foods.
Veganism, on the other hand, is adopting a lifestyle in which no animal products or animal derivatives are used. This includes leather, honey and silk too.
Often people think these are similar. However, that is not the case.
Meatless for 30 days
As someone who has been an avid vegetarian throughout her life, eating vegan food is not very intimidating, but for the yogurt part (ahem…).
Vegan Indian food
Did you know that most vegetarian food in India can easily be made vegan-friendly? Try adding some Indian food to your meal plans this January. Since Indian food has lots of flavors and spices, your meals will be tasty and appetizing, as well.
30 meals for Veganuary
Worried that you may not be able to eat only plant based/ vegan food for all the 30 days? Never mind. Take small steps. You can always start with one vegan meal a day.
Here are some delicious vegan recipes that you can try through this month. Most of these are freezer-friendly and ideal for batch cooking. Win-win, right?
Instant Pot Vegan Meals
You all know how much I love my Instant Pot, right? Here are some easy meals that you can whip up in the beloved IP. These are all freezer-friendly too.
Vegan breakfast ideas
We rely on smoothies for breakfast mostly in our house. Here are some delicious breakfast ideas for you to explore-
Chia pudding with berry compote
Vegan Indian Meals
Like I mentioned earlier, you can easily make most Indian vegetarian dishes vegan. For instance, in many dishes, the only non-vegan component will be ghee.
You can swap ghee with any neutral vegetable oil and the dish will become vegan. The South Indian Pongal is a very good example for this.
Check out these delicious Indian recipes that are vegan-friendly
Easy vegan soups
Dinner spells soups for me. I can never tire of soups. Soups are a fabulous way to sneak in vegetables and proteins. Try some of vegan soups and you will fall in love with them.
Eat more veggies
Use this as a good excuse to load your plate with colorful vegetables. If you think of it, sneaking in vegetables to your diet is not so hard. Try one of these quick recipes.
Roasted broccoli with chili crisp
Air fryer roasted cherry tomatoes
Some Carbs
What is a meal without some carbs, eh? Let's all admit it. We need carbs to make us satiated. While I am all about having low carb meals once a while, I do rotate my carbs. Pick from one of these easy sides to serve with your mains.
Asian vegan recipes
Asian food is packed with flavors that come from the liberal use of spices and herbs. Without any doubt, these recipes are on my weekly menu rotation.
I hope you enjoy these plant-based and meatless meals during this Veganuary. If you find this post useful, please share it with your friends and family. 
If you find this post useful , please leave a STAR RATING (★★★★★) in the recipe card and tell us more in the comments.
Follow us on FACEBOOK, PINTEREST & INSTAGRAM for delicious tidbits everyday.
Be a part of our Tomato Blues Recipes Community and get special discounts on our workshops