Avocado toast probably won the internet some half a decade back. But as you all know, I m this lazy person who takes forever to share these kind of recipes. Well, better late than never, isn't it? So, here we are with 4 delicious ways of making some creamy, flavor packed and vegan avocado toasts.
Follow us on Pinterest for delicious pins. Join our Facebook group for more Instant Pot and Air Fryer Recipes.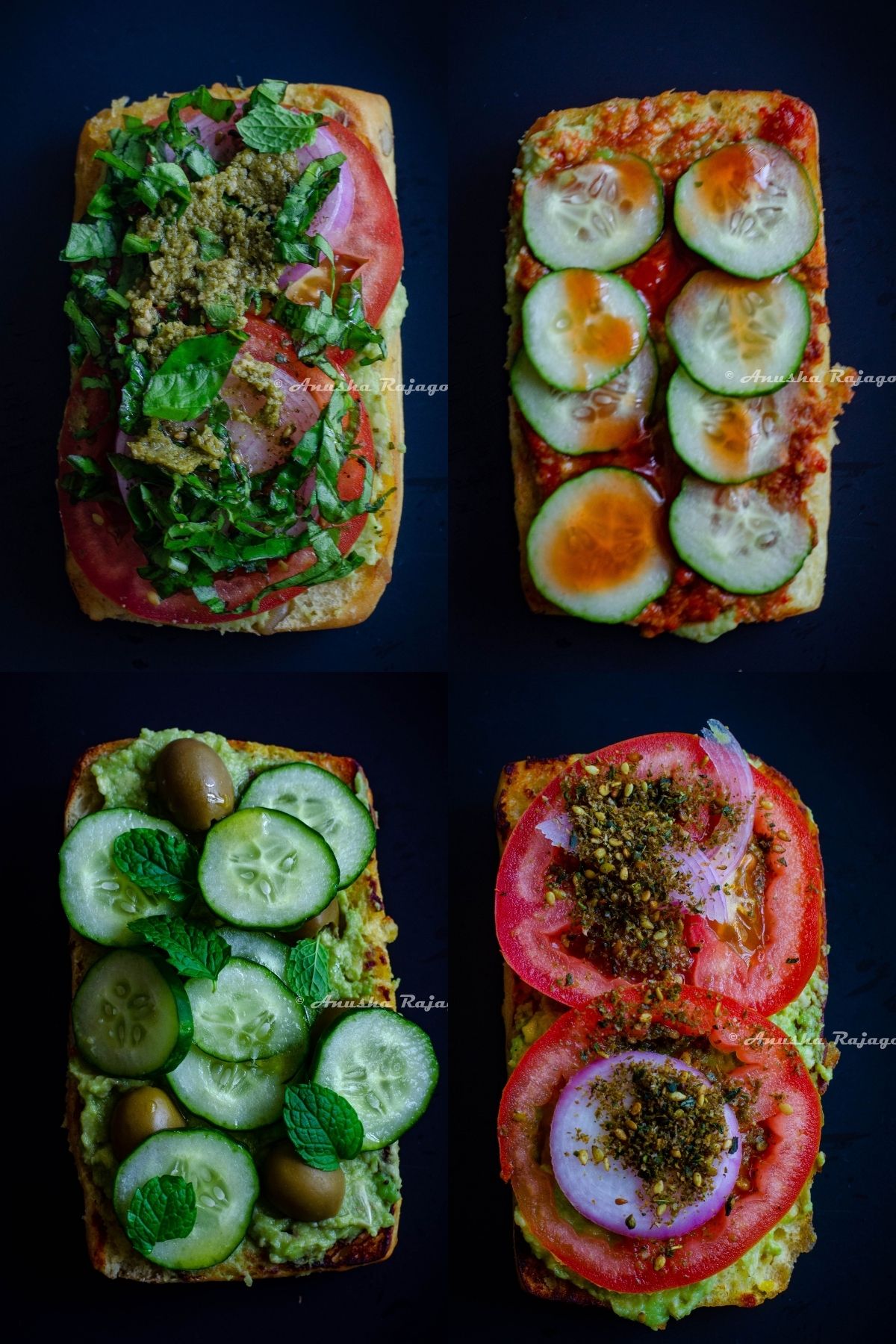 I make avocado toast almost every week. It truly amazes me when I think that I have not shared my ways of doing this on the blog. Over the years, I have experimented so much with this trend. I guess the only trend I m yet to hop on to is the grated egg avocado toast version.
Jump to:
Like they say, all in good timing. This week, I intend to share a few healthy snack recipes. And this is the first. In our house, we love this toast as breakfast and as a quick bite at the 5 PM mark.
Ingredients
Think of this recipe as a building block. The base remains the same. The ideas for the toppings are endless. I m just going to share four topping ideas which are our favorite. Check out the variations section for more topping ideas.
Bread
Any bread is great for this toast. On the day I made this, I used a sourdough Panini bread. You can also use rye bread or just regular whole wheat bread. All of these taste great. Other breads that work well for this include the classic focaccia and regular white sandwich bread.
Smashed avocado
We love smashed avocado in our house. It is our favorite dip and I use just 4 ingredients to make the creamiest smashed avocado. To make the best smashed avocado, use ripe avocados. And then some garlic. Because, garlic makes everything better.
Vegetables
As someone who loves crisp salad veggies, it is impossible for me to not add them to my snacks. For the variations mentioned here, we will be using fresh cucumbers, tomatoes, onions and herbs.
Condiments
I have used three different condiments here. Almond cilantro pesto, Gochujang sauce and Za'atar spice blend are what I have used.
Method
Make the base
To begin with, pit the avocados and scoop the flesh out. Transfer to a mixing bowl. Add lemon juice and salt. Mash well with a fork. Add the grated garlic and mix well. This is our smashed avocado.
Toast the bread
Next step is to toast the bread. This is optional but recommended. Heat a girdle with vegan butter. Place the bread slices and toast till golden. Do this on low heat to get an evenly golden and crisp crust. 
If you do not want to use vegan butter, you can also use light olive oil instead. Alternatively, you can leave the oil or butter out and pop the bread in a toaster. I do not have a toaster and so, I chose to toast the bread on a gridle.
Korean Style Avo Toast
Our first version is a Korean inspired toast featuring our base + a hot and sweet Gochujang sauce. To make this, apply 2 tablespoon of smashed avocado on the toasted bread. Spread it evenly.
In a bowl, combine 2 teaspoon Gochujang sauce and 1 tsp maple syrup. Stir well. Drizzle this sauce over the toasted bread. Arrange 6 to 8 slices of cucumber on the bread. Pour the remaining sauce over the cucumber. Serve immediately.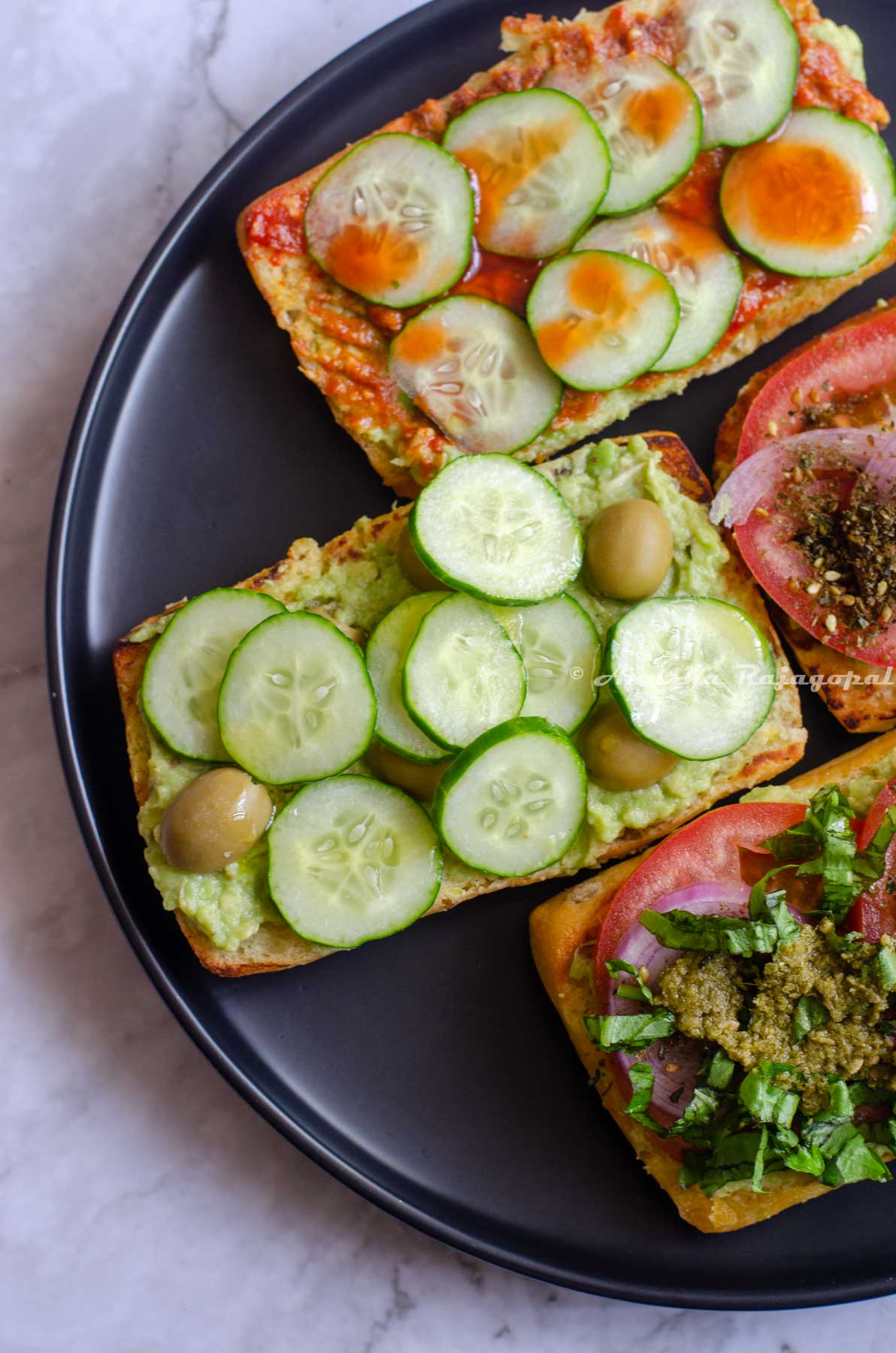 Cucumber, Olive and Mint Avo Toast
For the second version, we are not going to be adding any condiment. Once you have spread the smashed avocado on the toasted bread, arrange the cucumber slices, pitted green olives and top with fresh mint. Enjoy immediately.
Za'atar Avo Toast
If I have to pick one favorite spice blend, I think I will go with Za'atar. Maybe its the thyme. Maybe it s the sesame. I do not know. But its magic. For this version, 2 thin tomato slices over the smashed avocado. Place 2 thin slices of onions on this. Sprinkle 1 tsp Za'atar over this. Garnish with finely chopped parsley if desired. Enjoy.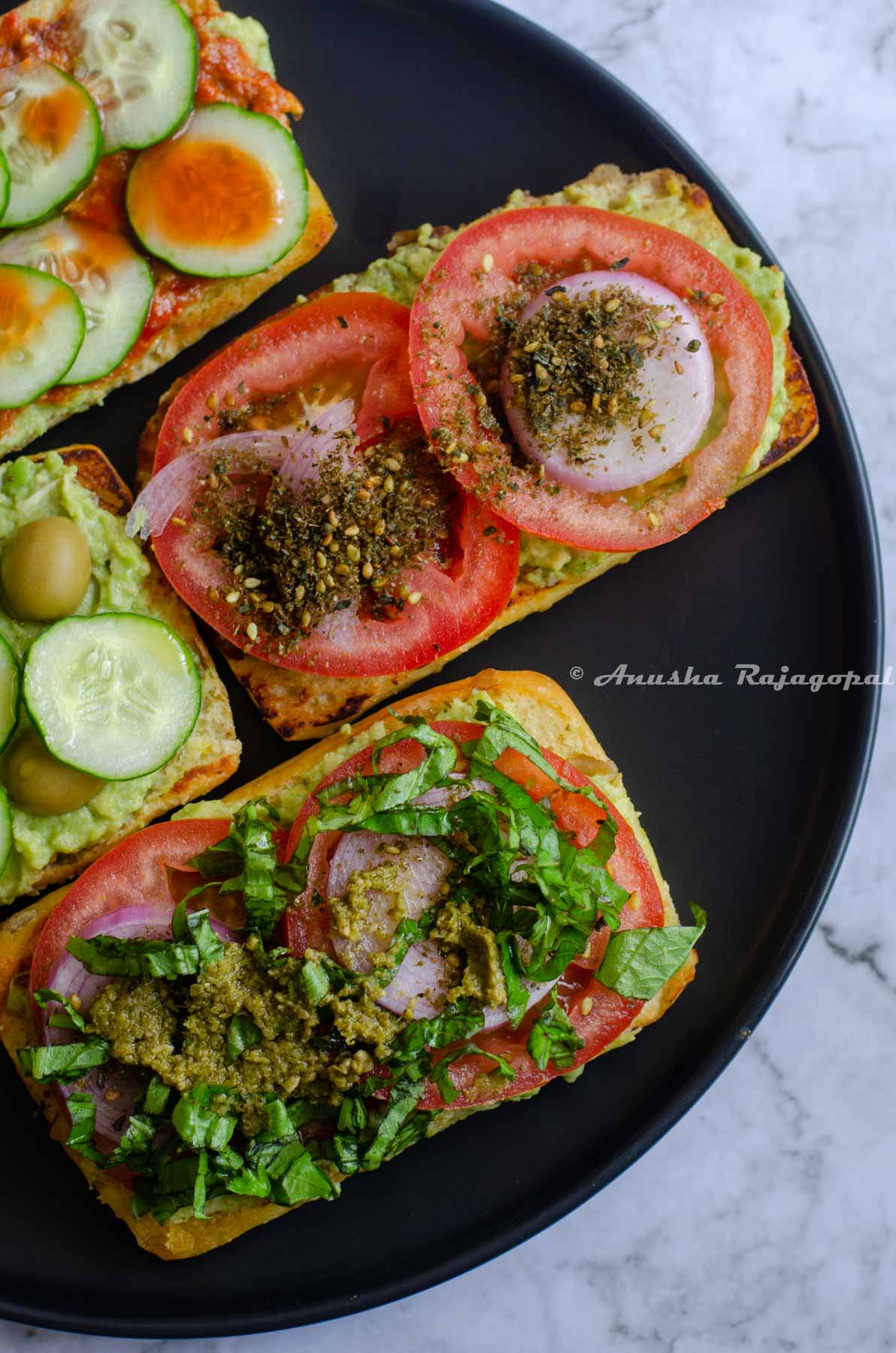 Pesto Avo Toast
This one is a classic that never fails. Arrange thinly sliced tomatoes and onions over the smashed avocado. Spoon 2 tsp of Pesto over this. I have used my homemade almond cilantro pesto for this but you can also use regular basil pesto. Once done, garnish with finely chopped basil and parsley and dig in.
Variations
Low carb avocado toast
If you are not keen on eating bread, then you can use roasted sweet potato as a base and make the same toast. To make sweet potato avocado toasties, scrub the sweet potatoes and slice them thickly. Brush with olive oil and roast in a preheated oven at 425 F for 5 minutes.
At the 5th minute mark, flip the sweet potato slices and continue to bake for another 3 to 4 minutes or until they are cooked through. Now, use these roasted sweet potato slices as a base for your toast instead of regular bread.
Other variations
Top them with nuts. Add toasted walnuts, almonds or even peanuts for crunch and some Omega 3 boost. 
Sprinkle seeds. Toasted flax seeds, hemp seeds, pepitas and sunflower seeds are all great as toppings.
Include microgreens. We love alfalfa sprouts and fenugreek sprouts. Other microgreens can also be used to give the toast a nice nutrition boost.
Use a combination of veggies like roasted beets, carrots or even butternut squash as a topping. All of them taste really delicious.
Recipe Notes
Toasting the bread is optional but it gives a nice crispy texture to the bread.
I do not recommend storing the smashed avocado for longer than a day in the fridge. So, I always make it fresh whenever we are ready to eat.
Enjoy the toast as soon as you assemble them. These are best eaten warm.
Serving Suggestions
If you are serving this as an after-school snack, add some fruits or chips to make it a kid-friendly filling meal. You can also add some dried fruit or nuts. 
Another option is to serve this with fresh fruit juice or a smoothie. This is great if you are looking for a mid-morning or post- workout snack.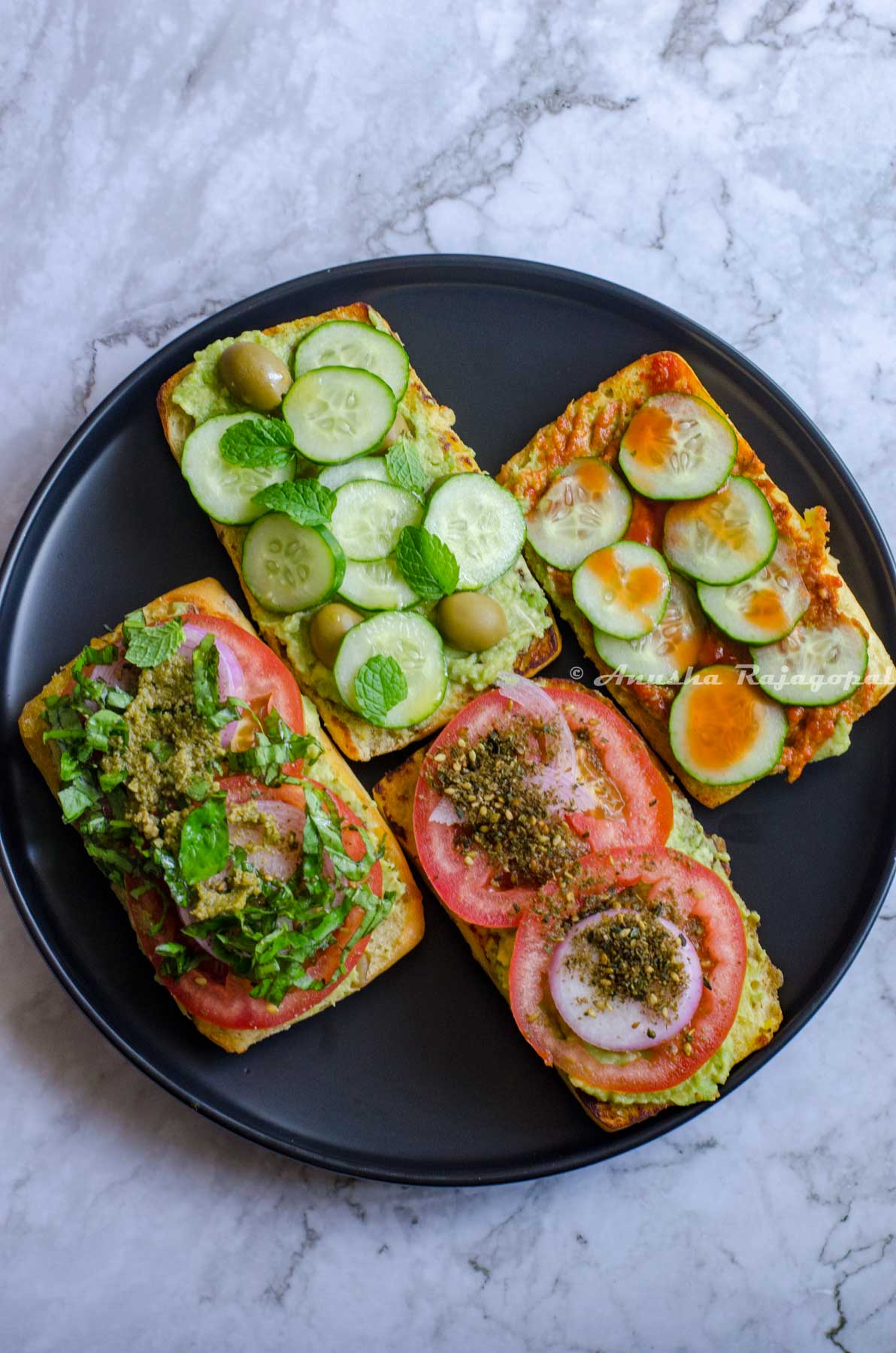 If you tried this recipe and enjoyed it, please leave a STAR RATING in the recipe card and tell us more in the comments. This will encourage others to try this recipe and that is what keeps me motivated to churn out more delicious stuff everyday. Thank you :). You can also follow us on FACEBOOK, PINTEREST and INSTAGRAM for delicious tidbits everyday.
More Avocado Recipes