How To Make Almond Cilantro Pesto?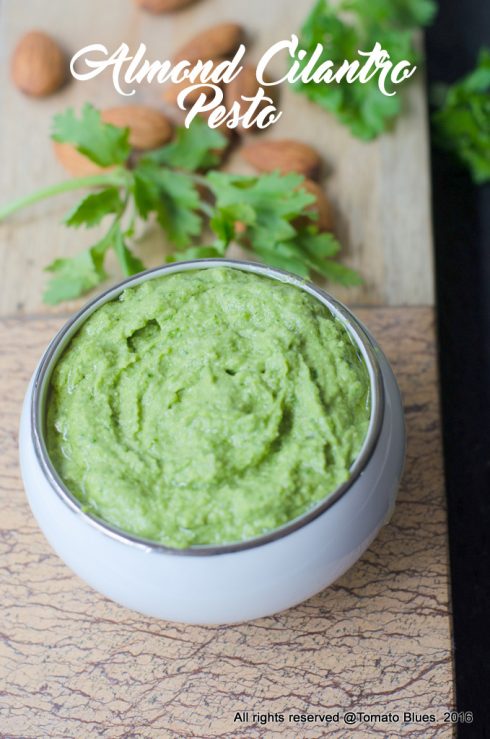 Almond Cilantro Pesto turned out to be a revelation for a person like me who always thought pesto means pine nuts and basil. I have tasted pesto made with other herbs and greens including spinach and watercress. But the thought of using cilantro in a pesto never crossed my mind until i read this post. And i literally banged my head, not once but twice for not having substituted almonds for pine nuts in pesto. I mean, how simple is that? Why did not i ever think of making almond cilantro pesto ever before?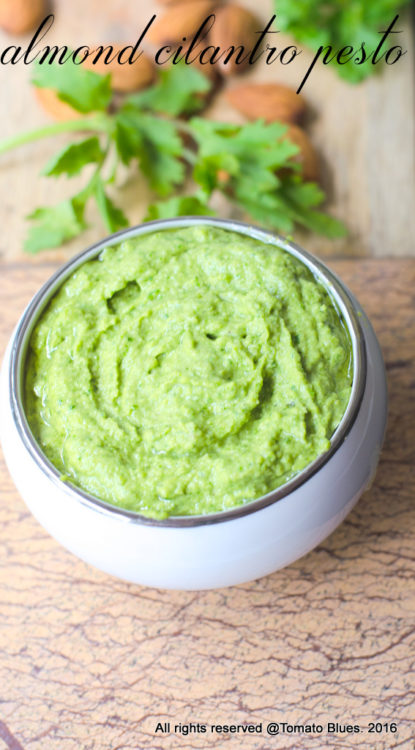 Asian countries, especially India and the south east asian countries use a lot of cilantro in their cuisines. So i have always had cilantro in abundance. And as for the almonds, they lie around in my pantry 365 days. So the produce for this almond cilantro pesto was a no brainer that was pulled off in a cinch. This almond cilantro pesto is  minus the cheese, by the way. Should i have mentioned it earlier? ahem.. And its vegan. And its gluten free. Please imagine me laughing evilly while you prep up to make this deliciously refreshing almond cilantro pesto that keeps well for a week when refrigerated.
 Almond Cilantro Pesto Recipe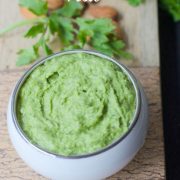 Print Recipe
Almond Cilantro Pesto
Almond Cilantro pesto is a refreshing take on the classic pesto using almonds and fresh cilantro leaves. It tastes great as a dip or even as a spread on sandwiches and wraps.
Ingredients
Almonds 1/2 c

see notes

Cilantro 200 g stalks and all cleaned and chopped

Garlic cloves 3 to 4

Green chili 2 small

Lemon juice 2 tbsp

Nutritional yeast flakes 2 tbsp

Salt to taste

Olive oil 1 tbsp
Instructions
Soak the almonds in boiling hot water for 10 mins.

After 10 mins, drain the water and peel them. The soaking would have loosened up the peel.

In a blender, place the peeled almonds, chopped cilantro along with the other ingredients except the olive oil and blend to a smooth paste.

Make sure you rest your blender in between, scrape down the sides and then complete the blending process.

Once you have a smooth paste, add the olive oil finally and pulse the mixture for 10 secs.

Transfer to a clean air tight container and use as requied.

This pesto tastes great as a dip and also makes a wonderful spread for wraps and sandwiches.
Notes
1. I recommend soaking the almonds for two reasons- to loosen the peels and make it easier for peeling and also to make the grinding process easy.
2. My pesto is a light green because i used slightly more almonds than mentioned. Adjust the almonds as required for the color you desire.
3. You can skip the nutritional yeast if you desire. You will have a creamy pesto without the cheesy flavor then.
4. Do not blend the olive oil with the other ingredients. This will make your pesto slightly bitter.
For Instant Pot & Air Fryer Recipes
Instant Pot timings may vary based on your geographic location. Air fryer settings and timings may vary based on the capacity and the model of the Air fryer.
Disclaimer
Nutrition values are provided here as a courtesy and are only a rough guide. Please consult a health care provider if you have any concerns.