Mango coconut overnight oats is that breakfast that makes me want to wake up an hour earlier than usual. Because mango and coconut are so good together. This easy no-cook overnight oats is a burst of tropical summery flavors in your mouth.
And when you can have a healthy breakfast in literally no time, then overnight oats in myriad flavors have to be the best bet.
I will admit. I have come to love coconut in overnight oats. Sometimes, I add more coconut that it becomes more of a coconut mango overnight oats. Mango overnight oats with turmeric is another version we enjoy.
Talk about overnight oats always brings up one question- do you eat it hot or cold? You can do both but for me, cold works. If you are someone like my husband who loves their breakfast hot, then just empty your overnight oats in a bowl. Microwave on medium power for 30 secs twice. And you are good to go.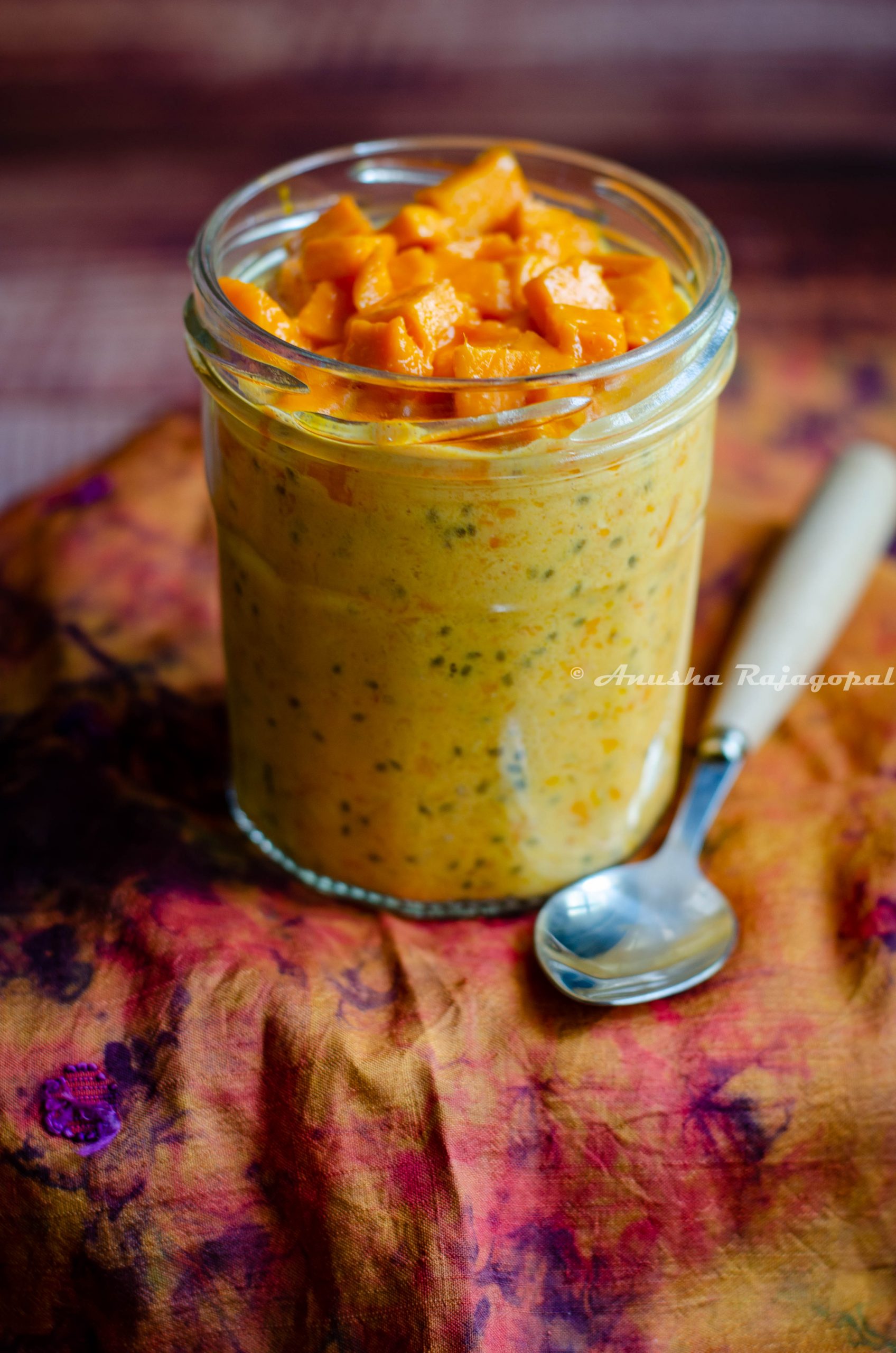 Why this Mango coconut overnight oats should be your breakfast?
First things first, it's too pretty. And a cheerful yellow. Ever heard of the saying, "the eyes eat first"?
Comes together in no time.
No-cook breakfast.
Make ahead and eat for a week.
Ingredients
When it comes to overnight oats, I like to look at the recipe as if it were made of small blocks. You can read about how to make some amazing overnight oats on my overnight oats 4 ways post.
Rolled oats– For me, old-fashioned rolled oats always win when it comes to overnight oats. Instant oats soak up all the liquid and become a mush too soon. Rolled oats is just perfect in terms of texture and bite.
Mangoes- Use any variety of mangoes that are in season or available locally. You can also frozen mango puree or frozen mango in this recipe. Just blend frozen mango to a smooth puree to use here.
Almond milk– As always, my first choice of plant milk is almond milk. You can use regular dairy milk (for a non-vegan version) or low-fat coconut milk to make this.
Chia seeds- These need no introduction. Chia is a powerhouse of nutrition and is a very good source of protein.
Sweeteners- Honestly, I got really lucky with mangoes this year. The mangoes that went into this were too sweet and I did not add any sweeteners. However, if you are using frozen mango puree or frozen mangoes, you may need 1.5 tbsp maple syrup or agave for this.
Coconut- What makes this overnight oats recipe fabulous is coconut. I have used desiccated coconut flakes. You can use desiccated shredded coconut too. One more option would be to use tender coconut meat. Just chop them into small bite-sized pieces and mix them up.
You can also use freshly grated coconut. Please note that using freshly grated coconut or tender coconut meat reduces the shelf life of these overnight oats. If you choose to use either of these two, then it is best to eat them within a day.
Aromatics– I have added ground cardamom and vanilla. Coconut and cardamom are like soul sisters. Mango elevates that combination umpteen times more. Other flavors that work well here are ground ginger and ground cinnamon.
Shelf life
This mango coconut overnight oatmeal keeps well in the fridge for a week. I generally batch prep this along with other flavors of overnight oatmeal on Sunday. This way, my breakfast is sorted for a week.
Recipe Notes
If you intend to warm up your mango coconut overnight oats in the morning, then skip adding the finely chopped mangoes as a topping. Instead, add them as a topping after you heat the oats up.
I used 300 ml jars to make this. Make sure you leave some space at the top of the jar to add toppings.
Other toppings that will work well here are raspberries, pepita, goji berries, and strawberries.
This recipe is a dairy-free recipe that uses certified gluten-free rolled oats. Always make sure to check if your oats is certified gluten-free in case you are looking for celiac-friendly, oats-based recipes.
You can also use 1 to 2 tbsp nut butter like almond butter or peanut butter in this recipe. Add it as a topping or swirl it in along with the mango puree. I personally love adding cashew butter to my overnight oats.
Tinned mango puree also works here. Make sure to choose one that is relatively low on added sugar.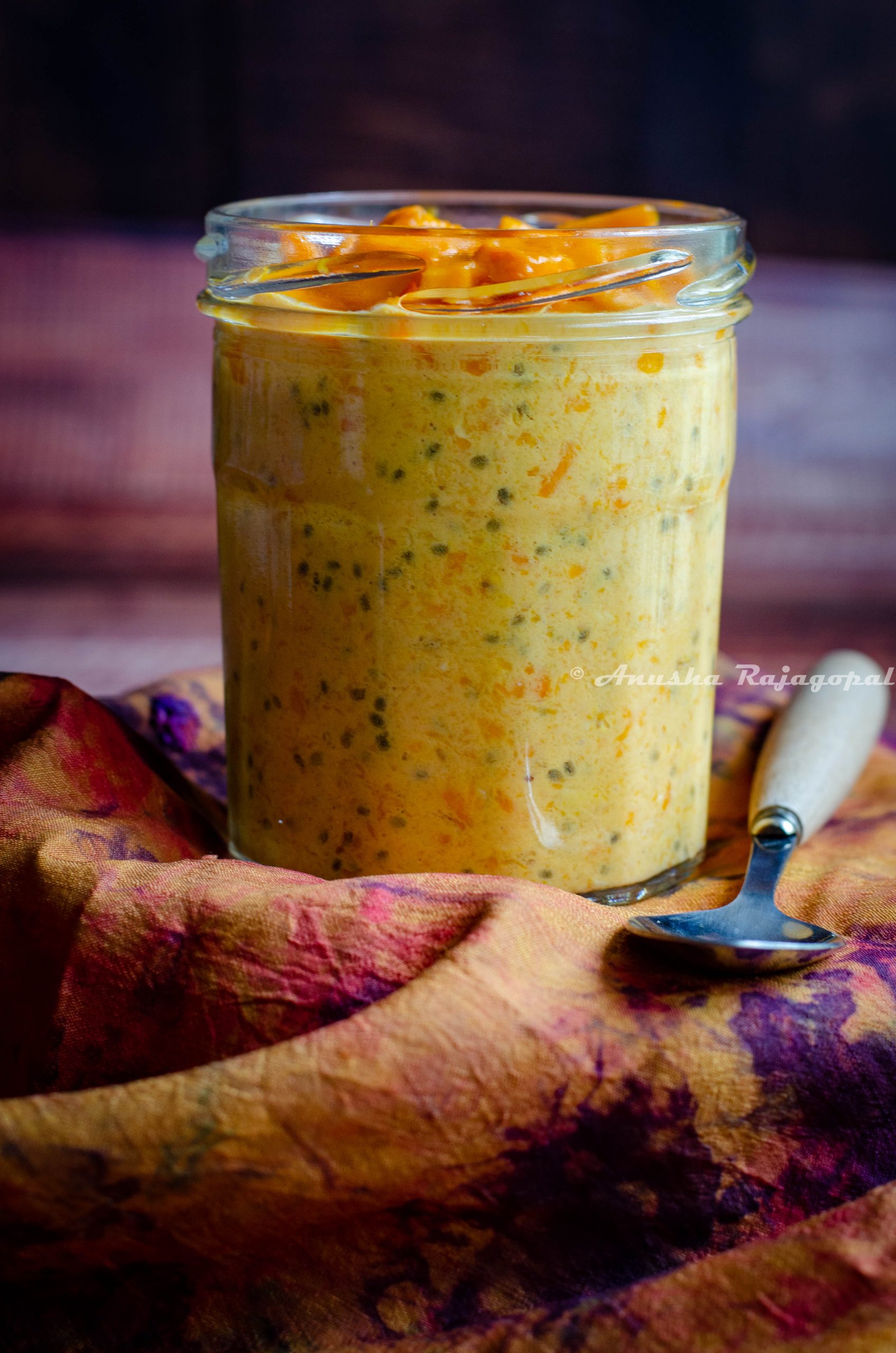 Explore more oats recipes
Follow me on Instagram or Facebook for regular cooking updates and short videos. Find us on Pinterest for delicious content. Tried mango coconut vegan overnight oats? We value your thoughts and comments! Leave a comment and tell us how it worked for you. Email us your questions to anusapraj@gmail.com if you need any guidance in making this.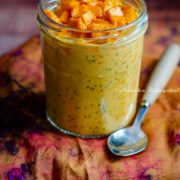 Print Recipe
Mango Coconut Overnight Oats
Easy overnight oats with mango and coconut. Vegan.
Ingredients
1

tbsp

chia seeds

1.5

c

Almond milk

3/4

c

Mango puree

1

tsp

ground cardamom

1/3

c

rolled oats

2

tbsp

desiccated coconut flakes
Topping
2 to 3

tbsp

finely chopped mango
Instructions
In a mixing bowl, combine chia seeds with 1/2 c almond milk

Allow it to sit for 10 mins.

Now, add the mango puree, cardamom and coconut to this.

Add the remaining milk. Stir to combine.

Now, add the oats and mix well, making sure everything is well incorporated.

Top with chopped mango and close the jars.

Enjoy chilled in the morning.
For Instant Pot & Air Fryer Recipes
Instant Pot timings may vary based on your geographic location. Air fryer settings and timings may vary based on the capacity and the model of the Air fryer.
Disclaimer
Nutrition values are provided here as a courtesy and are only a rough guide. Please consult a health care provider if you have any concerns.