Mushy overnight oats with bursts of tropical flavors in the form of mangoes. And some anti-inflammatory goodness in the form of turmeric. That is exactly what this vegan mango overnight oats are. Summer is here and that also means, mangoes are here. That makes it the perfect time to whip up some overnight oats with some sweet mangoes.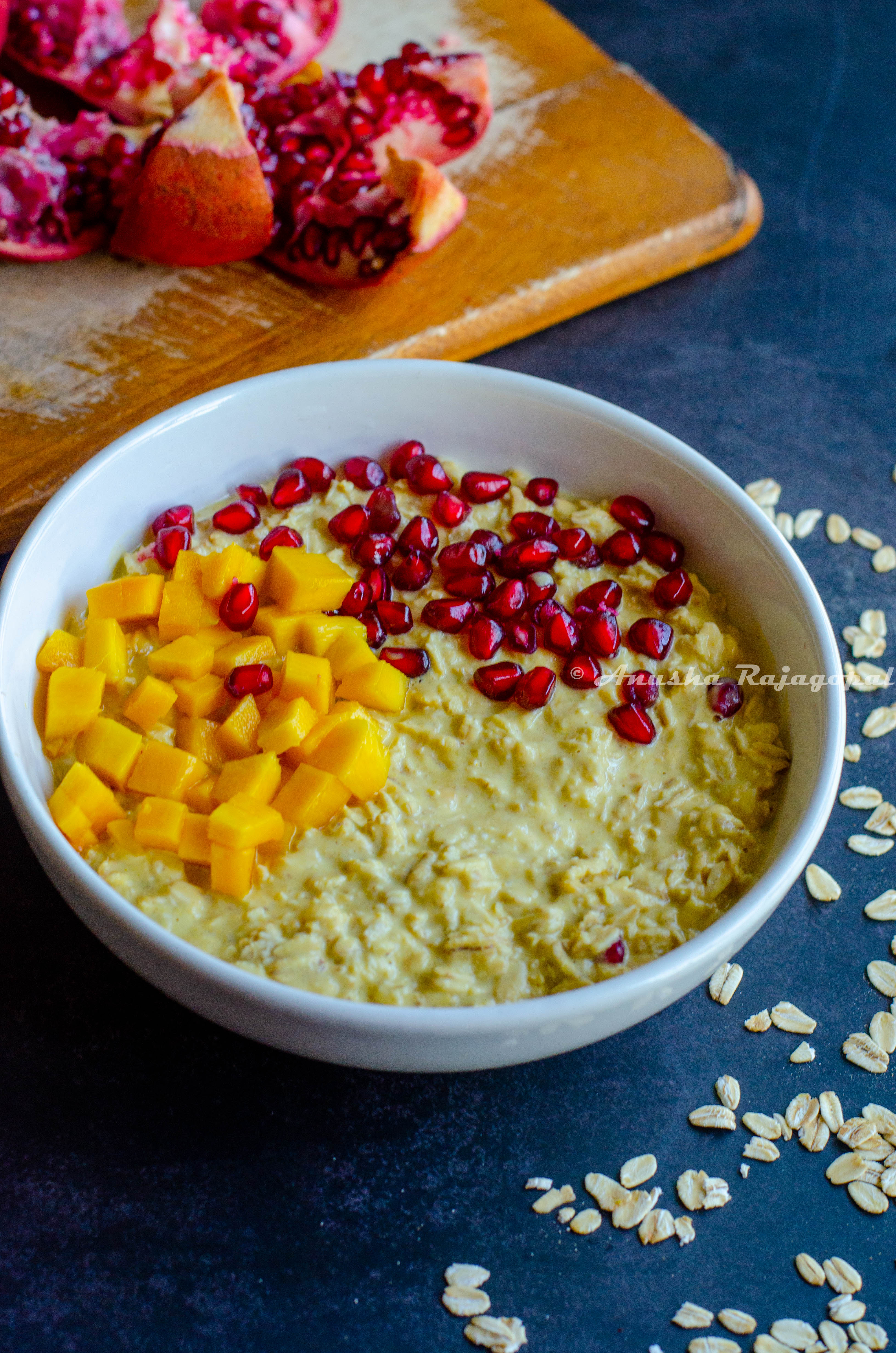 Jump to:
Ingredients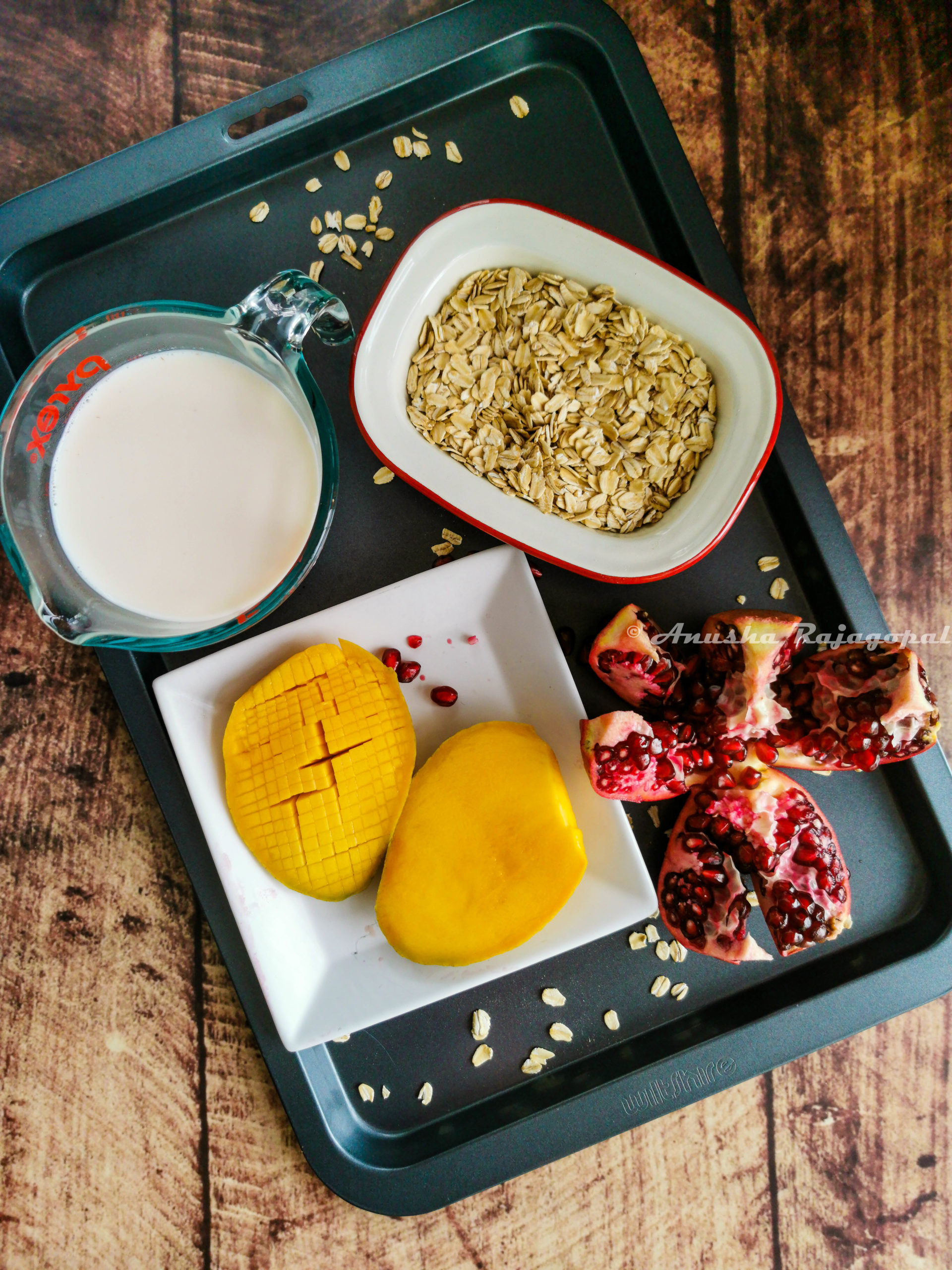 Oats- Obviously, oats are the star ingredient here. I have used old-fashioned rolled oats to make this flavor-loaded no-cook breakfast.
Fruits- Most overnight oats call for bananas. I just wanted to try a version without the dominant flavor of banana. Enter Mangoes. And to make it more nutritious and colorful, we are also going to add pomegranate pearls.
Ground Turmeric- Turmeric has great anti-inflammatory properties. It also boost immunity. In India, it is a common practice to include this as a spice in almost all savory dishes. The curcumin in turmeric is also touted to be beneficial in preventing Alzheimer's. Leaving aside the benefits, turmeric also has an earthy flavor and a beautiful golden color. Please note that even a little goes a long way when it comes to turmeric. So, do not add more than the quantity mentioned here. We want the mango to shine through!
Vegan coconut yogurt- This is the first time I tasted coconut yogurt, or rather vegan coconut milk based yogurt. When I began testing this recipe, I used regular dairy yogurt and found something amiss. Then, I realised I wanted something that reflects the tropical flavors more. My husband suggested cashew or coconut yogurt. I chose coconut and the flavors were truly mind-blowing.
Milk- We are going to be using a combination of yogurt and milk here. The reason being, the oats were too gummy when I tried this with just the yogurt. Somehow, they were not the creamy-textured oats with a bite but instead, they were too thick and chewy. I have used coconut milk here. Canned coconut milk works just fine. You can also use oat milk instead.
Aromatics- While the main flavor component of this recipe revolves around mangoes, I also wanted to incorporate a little subtle something to make this a brilliant breakfast that will not only keep us full but not overwhelm us the first thing in the morning. Rose seemed like the ideal choice for this. I have used rose extract here but you can always use regular Vanilla or even cardamom powder.
Meal Planning and Prep Work
Meal Planning
Overnight oats are great to include in a regular meal plan. Because these keep well for upto a week in the fridge, you can prep these over the weekend and you will have a week's worth breakfast ready.
I use Mason jars to prep my overnight oats. You can also use any fridge-friendly containers. While prepping these in multiple batches, try not to add nuts and seeds. Instead, add the nuts and seeds as a topping in the morning. This way, the nuts and seeds will be crunchy and add a great texture.
Prep Work
In terms of prep work, this recipe literally calls for just pulling out stuff from the pantry. Chopping mangoes is the only time-consuming work in this recipe. I almost always have a box of pomegranate pearls sitting in my fridge.
Variations
Mangoes- Any sweet ripe mango variety will work well for this overnight oats recipe. Best bets are Alphonso, Brazilian mangoes and even Thai mangoes.
If you do not have access to pomegranate, you can use berries instead. Raspberry and mango are a match made in heaven. Feel free to use regular dairy yogurt in place of the coconut yogurt for this. If you are not a fan of coconut yogurt, then try cashew yogurt.
Toppings – As for the toppings, I just stuck to using more fresh mangoes and pomegranate pearls. Because we are total mango nuts. But you can also top this with chia seeds, melon seeds, bananas or a mix of nuts and seeds.
Pin To Save This Recipe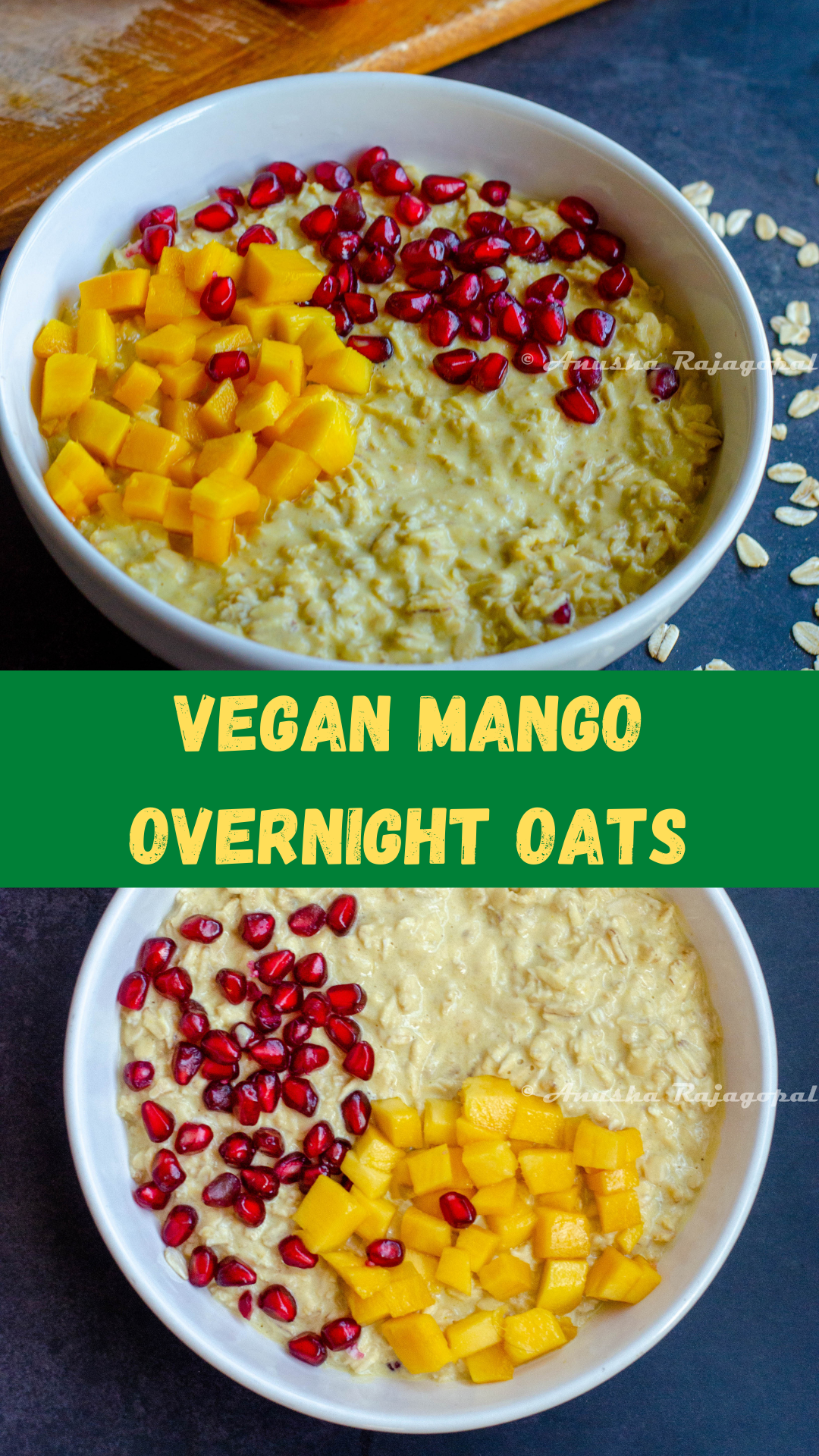 More Recipes With Oats
Vegan Mango Overnight Oats- Method
Combine the yogurt, milk, rose extract and brown sugar in a bowl. Mix well.
Now add the oats and stir well.
Mash the chopped mangoes with a fork and add the turmeric to this. Make sure that the mangoes are not mashed smoothly. A chunk or two feels really when you bite into them.
Add the mango puree and the pomegranate pearls to the bowl and stir well.
Transfer to a clean glass jar.
Let it sit in the fridge overnight.
Transfer to a bowl before digging in.
Garnish with chopped mangoes and pomegranate pearls before serving.
Enjoy it as a chilled breakfast.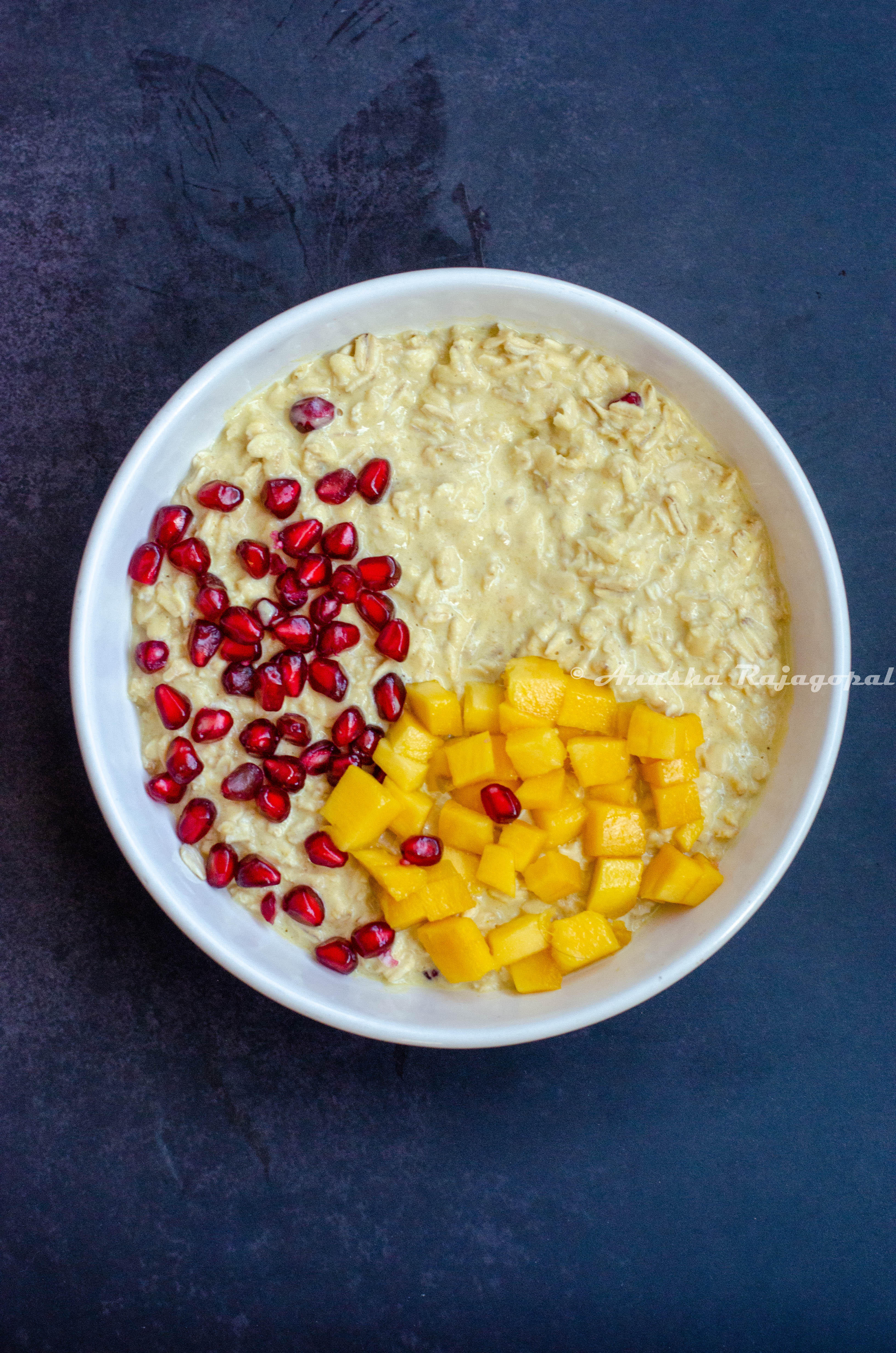 Follow me on Instagram or Facebook for regular cooking updates and short videos. Find us on Pinterest for delicious content. Tried our Vegan Mango Overnight Oats? We value your thoughts and comments! Leave a comment and tell us how it worked for you. Email us your questions to anusapraj@gmail.com if you need any guidance in making this.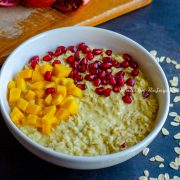 Print Recipe
Mango Overnight Oats
Flavorful overnight oats with the goodness of vegan yogurt, mangoes and pomegranate
Ingredients
3

⁄4 c Rolled oats

3

⁄4 c Coconut Yogurt

1.25

c

Coconut Milk

3/4

c

Finely chopped mangoes

4

tbsp

Pomegranate arils

3/4

tsp

Ground turmeric

1

tsp

Rose extract

1

tbsp

Brown sugar
Toppings
2

tbsp

finely chopped mangoes

1

tbsp

pomegranate pearls
Instructions
Combine yogurt, milk, rose extract and brown sugar in a bowl. Mix well.

Now, add the oats to the bowl and mix well.

Mash the mangoes using a fork and add the turmeric to this.

Add the mashed mangoes and pomegranate pearls and stir to combine.

Transfer to a clean glass jar.

Let it sit in the fridge overnight.

Empty the soaked oats to a bowl before eating.

Garnish with chopped mangoes and pomegranate pearls before serving.

Enjoy it as a chilled breakfast.
For Instant Pot & Air Fryer Recipes
Instant Pot timings may vary based on your geographic location. Air fryer settings and timings may vary based on the capacity and the model of the Air fryer.
Disclaimer
Nutrition values are provided here as a courtesy and are only a rough guide. Please consult a health care provider if you have any concerns.