We are not oats lovers in the Praveen household. Its not like there are fifty people saying ayes and nayes here. It s just two of us in the household but we are not oats fans. Mr. P detests oats so much that he wont even take a look at it. As for me, i ve eaten a bit of oaty grub now and then but not a maniac either.
That s the reason why the blog never features oats recipes. But on those rare days, when i run out of breakfast ideas, i make this oats upma. And that s only been 4 times so far in all of my two and half years of blissful marriage. So, you can pretty much figure out how much oats we eat ! But then, every time i make this, its a hit and i almost always end up eating it for dinner too. Otherwise, the morning breakfast is dutifully shared with the house help. So, it is only fair that i share my upma recipe here, right? Right.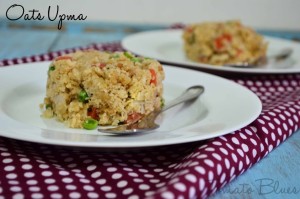 Recipe for Oats Upma
( Quick cooking oats with a medley of veggies)
Prep Time: 10 mins
Cook Time: 10 to 15 mins
Level: Easy
Serves 2
Ingredients
Quick cooking oats 1 cup ( cos that s the only oats we get here, i wouldnt know if this works with other types of oats too)
Onion 1 large chopped finely
Carrot 1 medium chopped finely ( I used 2 baby carrots)
Peas a handful
Grated ginger 1 tsp
Green chilies 7 slit lengthwise
Curry leaves a sprig ( which i dint have this time but highly recommended)
Oil 2 tbsp
Mustard seeds 1 tsp
Urad dal 1 tsp
Water 1 cup
Salt to taste
Directions
Bring the water to a boil.
Heat a pan with oil and pop the mustard.
Add the urad dal next and wait till it turns a light brown.
Now, add the grated ginger, curry leaves and green chilies and saute till chilies turn a light brown.
Add onions next and saute till light brown.
Add carrots and peas next and saute till they turn fork tender. Takes about 5 mins on medium flame.
Add the boiled water to this with salt and wait for the water to start bubbling.
Once it does, add the oats and mix well. The oats will absorb all the water immediately.
Cook covered for 5 to 6 mins on medium flame.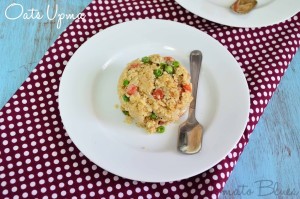 Serve hot with curd and pickle.