HOW TO MAKE EGGLESS BANANA OATMEAL PANCAKES?
Eggless Banana Oatmeal Pancakes- Soft and fluffy Pancakes free from refined flour.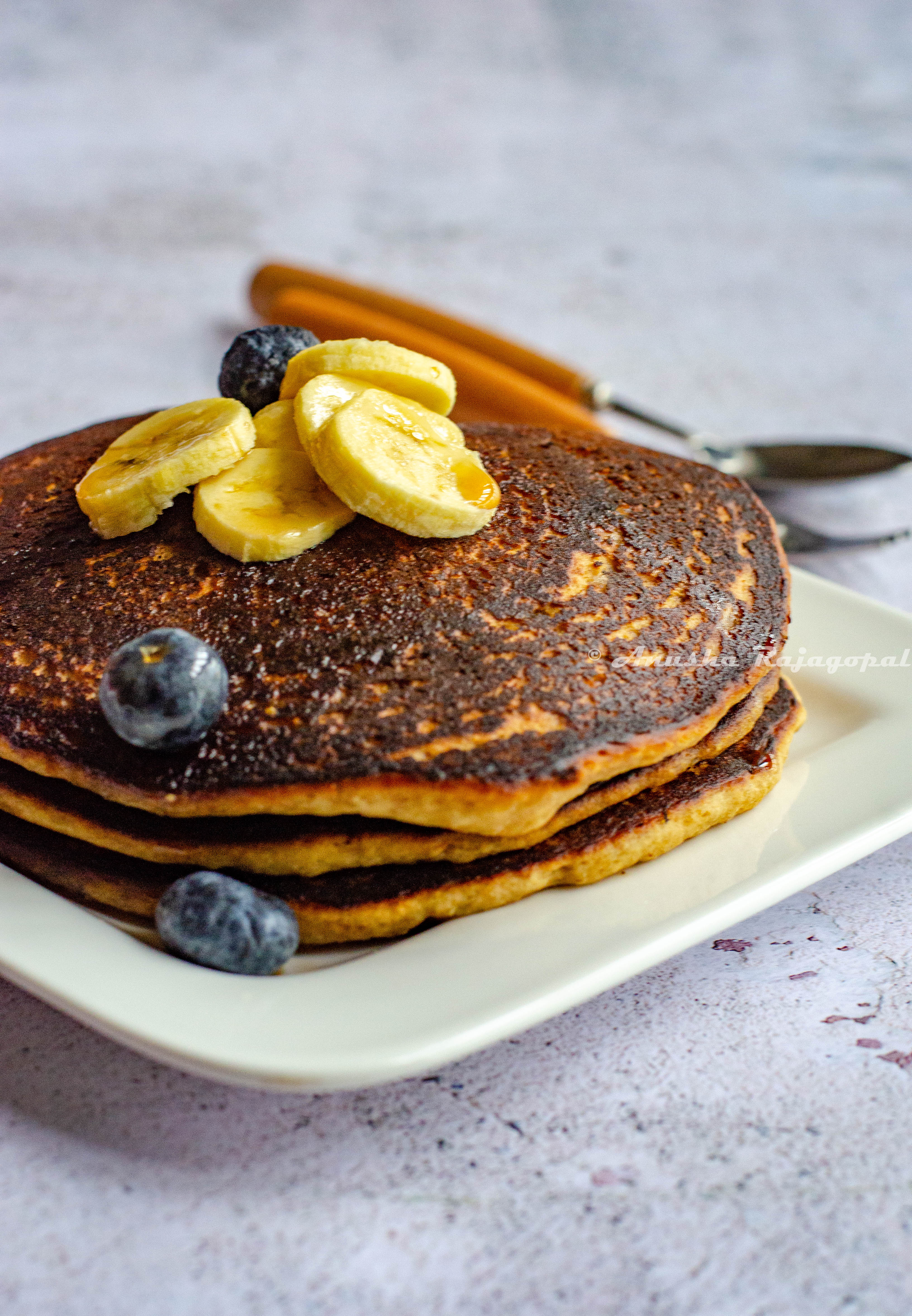 Why should you try these Vegan Banana Oatmeal Pancakes?
✔ These are mildly sweet and fluffy.
✔ Made with wheat flour and oats and egg-free.
✔ Kid-approved fantastic weekend brunc
✔ They take less than 30 mins to put together.
Well, let s get ready to flip some pancakes, shall we?
Jump to:
Eggless Whole Wheat Pancakes- How to go about them?
Pancakes depend on plain flour and eggs for their light and texture. So how will they work with wheat flour and without eggs? The texture of a pancake made with whole wheat flour is certainly denser than that of pancakes. 
Having said that, we can still make soft and fluffy pancakes with wheat flour and without eggs by adjusting the liquid proportions and the fat content. 
Ingredients- Substitutes and Replacements
➺ Wheat flour– This is one of the key ingredients in this recipe. We are going to be working around our other ingredients to make our pancakes fluffy and soft because wheat flour gives denser pancakes.
➺ Oatmeal– I have used rolled oats to make my oatmeal flour in this recipe. You can also use quick-cooking oats. However, the amount of liquid you add should be slightly lesser than what s mentioned in this recipe.
➺ Bananas– This is an eggless pancakes recipe. So, Bananas will work as the egg replacement here.
➺ Milk– To make it softer and fluffier, we are going to be adding milk. This improves the taste of the pancakes.
➺Oil– I have used regular vegetable oil in this recipe. You can also use extra virgin coconut oil or canola oil in this recipe.
➺ Raw sugar– That beautiful dark golden crust that you see on the pancakes in the picture is because of this. Do not be alarmed if you find your pancakes browning too much. This is very normal when you use raw sugar.
➺Baking soda and Baking Powder– Both these are leavening agents that we'll be using to soften up our pancakes.
➺ Cinnamon and vanilla– Our flavor factors in this recipe. Feel free to give the cinnamon a miss if you aren't a fan.
Prep Work and Meal Planning Tips
Is there a rule that says pancakes are for weekends? With the right planning, you can make these on a weekday too. 
I suggest that you powder the oatmeal ahead and keep it.
You can combine all the dry ingredients in the given proportions and store it in a dry air tight glass jar. This becomes your pancake mix.  Now when you are ready to make them, just add the wet ingredients to a mixing bowl. Whisk well. When done, add the pancake mix that you have already prepped. Mix well and proceed with making them.
Prep work
Like always, i m just sharing my flow of work here.. if you did follow this and it worked for you, feel free to tell us on Instagram!
Powder oatmeal- combine dry ingredients- make banana puree- prep wet batter- make pancakes.
Now that we are all set, shall we check how to make these pancakes step by step?
Banana Oatmeal Pancakes Step By Step
➺ Mixing the dry ingredients
To begin with, place the oatmeal in a blender. Blend to a fine powder. Combine all the dry ingredients in a mixing bowl. Whisk well using a balloon whisk.
➺ Banana Puree
After powdering and prepping the dry flour mix, get started on the banana puree. Combine 1/2 of the milk and the bananas in the same blender. Blend to a smooth puree. 
➺ Making the batter
Make a well in the middle of the dry mixture. Tip in the oil, banana puree, remaining milk and mix well. If the batter is too thick, add more milk to adjust the consistency. The batter should be thick and yet flow easily from the ladle.
➺ Flipping them pancakes
Heat an iron skillet or pan. Not really ideal for flipping but well, you know, I prefer using an iron pan any day! Add a blob of butter to the pan and when it melts, pour a ladle of the batter in the middle.
Do not be tempted to spread it too thin, like a Dosa.
Bring the flame down to medium. Cook covered for about 1 min or until at least 1/2 of the raw batter on the surface is cooked and you can see tiny pores on the pancakes.
Now flip them over and cook open. Feel free to add some more butter to the pan after flipping. Cook for 30 to 45 secs. 
Once done, flip and serve hot with toppings of your choice.
? Pro Tip: For fluffier pancakes, make sure to whisk the batter well to aerate it before cooking. This works especially well in wheat flour based pancakes that are denser in texture.
? Pro Tip: Don't let the batter rest for too long after adding the baking soda and the baking powder.

More Pancake Recipes
More Breakfast Recipes
In case you have any questions regarding this recipe, leave a comment and I'll respond at the earliest possible. If you tried this recipe and enjoyed it, click a picture and share it on Instagram by tagging us @tomatoblues.
Follow me on Instagram or Facebook for regular cooking updates and short videos. Follow me on Pinterest for delicious content. Tried our Eggless Banana Oatmeal Pancakes recipe? Then please rate this recipe and tell us why you loved our recipe!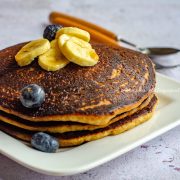 Print Recipe
Banana Oatmeal Pancakes
Banana Oatmeal Pancakes- Whole wheat and oatmeal pancakes flavored with bananas and such goodness
Ingredients
1

c

Rolled oats 1 c

1

c

Whole wheat flour

4

tbsp

Raw cane sugar or brown sugar

3

medium

Ripe sweetish bananas

1/2

tsp

Baking powder

1

tsp

Baking soda

1/2

tsp

Cinnamon powder

3

tbsp

Vegetable Oil

3/4

tsp

Salt

1

tsp

Vanilla extract

1.25 to 1.5

c

Milk
For cooking the pancakes
3 to 4

tbsp

Softened Butter
For toppings
1

banana

sliced

10 to 12

blueberries

optional but recommended

2

tbsp

Maple syrup
Instructions
Powder the oats finely in a blender.

In a mixing bowl, combine all dry ingredients together using a hand whisk.

Add 1/2 c milk and bananas to the same blender.

Make a well in the middle of the dry mixture.

Now, add remaining milk, banana puree, oil and vanilla extract in the well. Begin with adding 3/4 c milk. Reserve the remaining milk to adjust consistency later.

Using a hand whisk, combine the mixture thoroughly until you see no lumps.

The batter should fall freely from the ladle but be thick. This is the right consistency. If you find the batter is too thick, add reserved milk to adjust the consistency.

Once done, heat an iron pan.

Grease the pan lightly with butter.

Pour a ladle of the batter onto the girdle, spread lightly.

Cook covered on low medium flame for a min.

Flip the pancakes and cook for another 30 to 45 secs or until done.

Serve hot with banana slices and maple syrup as toppings
For Instant Pot & Air Fryer Recipes
Instant Pot timings may vary based on your geographic location. Air fryer settings and timings may vary based on the capacity and the model of the Air fryer.
Disclaimer
Nutrition values are provided here as a courtesy and are only a rough guide. Please consult a health care provider if you have any concerns.
P.S. This post was originally posted in August, 2014. It has now been updated with fresh pictures and recipe cards.