How to make overnight oats 4 ways?
Overnight oats have ridden the trending wave on the internet not without a good reason. If you ask me why, well, there are at least 5 reasons that I can tell off the top of my head. 
Quick to make. These are no-cook. And chock full of nutrition.
A meal planners' delight.
Breakfast on the go and breakfast in a jar.
You can easily adapt them to fit into any dietary restrictions.
The sky is the limit literally when it comes to variations in overnight oats.
Let us now delve deeper into the world of overnight oats, shall we?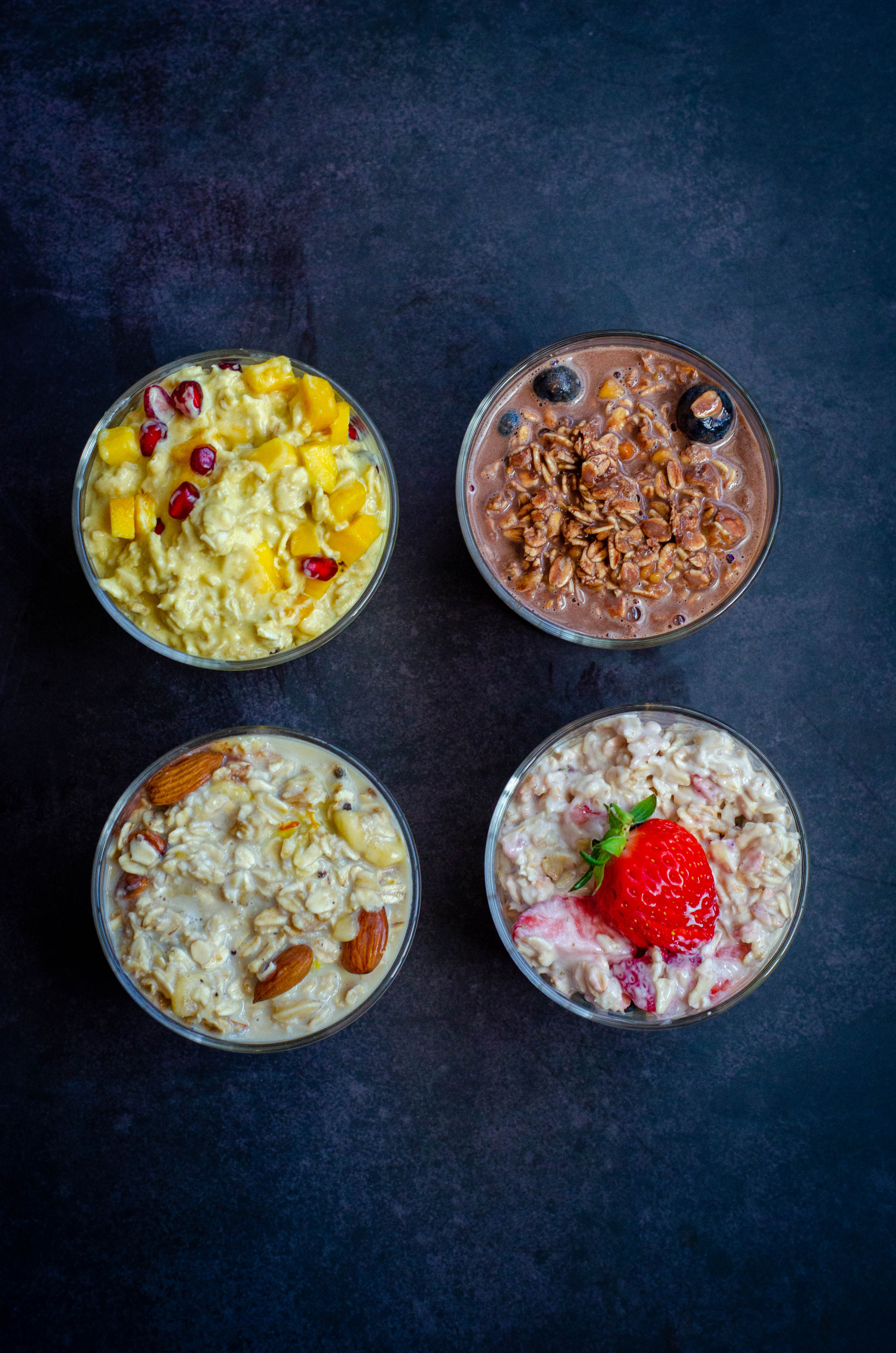 Jump to:
What is overnight oats?
Generally, we make oatmeal by combining oats and some liquid and cooking it over the stove. We cook the oatmeal till it is soft and mushy. But when it comes to overnight oats, we simply soak the oats in some liquid overnight. As the oats soak, it absorbs the liquid, becomes soft and mushy. It also absorbs other flavors added to the liquids.
Basically, overnight oats is a no-cook breakfast that can be whipped up in a pinch. This is an ideal make-ahead breakfast and can be prepped for the whole week. Depending on the liquid you choose to add, these keep well in the fridge for upto a week. I generally make 6 jars in different flavors on Sunday. In this post, I ll include the recipes for 4 of my favorite overnight oats. Let me know in the comments if you would like to have the remaining 3 recipes.
As Sundays are usually time to enjoy an elaborate brunch with my family, I skip making overnight oats for Sunday.
What oats to use?
Not all oats work well for overnight oats. While steel cut oats are great in terms of nutrition, they simply do not absorb liquids while they soak in them. Steel cut oats have to be cooked for better digestion too. And instant oats or quick-cooking oats will work but not just as well. Quick cooking oats are also stripped of most of their nutrition. One more reason why these are not a good choice is because they become too mushy after soaking.
Considering all these and after a few attempts, I have come to the conclusion that our star is the good old-fashioned rolled oats. Rolled oats have more fiber and protein when compared to instant and quick cooking oats. The texture also makes it just perfect to use in a recipe that calls for prolonged soaking.
Basic Overnight Oats Recipe
What I love about overnight oats is the versatility. It offers so much in terms of flavors and toppings. When it comes to making a great overnight oats recipe, the key is to use a good proportion of liquid to oats and choosing the correct flavors and toppings. Do this and you will become an oatmeal fan for life.
Now to make a very basic overnight oats recipe, all you need is
Old-fashioned rolled oats.

Liquid of choice.

Some flavoring- Think spices like cinnamon and vanilla.

Sweeteners if you like.
Oat meal is like a sponge. It absorbs a lot of liquid. I love this particular spongy attitude!
To make a basic overnight oats recipe, combine 3/4 c rolled oats, 1.5 c liquid of choice, 1 tsp of flavoring of your choice and 1 tbsp sweetener if you like.
You can try variations by switching the liquid, flavors or sweeteners. To make it richer in nutrition, we can bring in more elements like fruits and nuts.
Liquids that you can use in overnight oats
Dairy milk, dairy based yogurt, plant based milk , plant based yogurt, tender coconut water are all some great liquid options. If you asked me if we can use just water to make overnight oats, my answer will be yes and no. Water does not have any flavor of its own. So while it will do the job, it will not give you some great tasting overnight oats.
Flavor combinations
My favorite is the classic vanilla. There is nothing that vanilla cannot make better. Other than vanilla, cinnamon, ground ginger, ground cardamom, coconut, chocolate are all some great flavors to have in an overnight oats recipe. Or you can simply choose to not add any at all. Instead, you can add more fruits.
Nut butters
While nut butter is not a component in a basic overnight oats recipe, I love adding this for some extra creaminess. It also excites me to know that I have a treat inside my breakfast when there is nut butter in my oats. All nut butters work well. Check out our chocolate peanut butter and try adding some of it in your jar!
Sweeteners
Adding a sweetener to your overnight oats is absolutely optional. If you are adding fruits or using flavored yogurt that has some sweetener in it, then you can skip adding sweeteners. In case you are someone who likes a sweet breakfast, then maple syrup, honey, molasses are all some great sweeteners to add. If you live in Asian countries, you can add Gula Melaka or jaggery.
Nuts and seeds
Do not add nuts and seeds to your overnight oats while they sit in the fridge. Period. They will turn soggy and lose their crunch. Instead, add them in the morning just before eating. Also, scoop out the entire jar into a bowl and add toppings generously before you dig in. Okay. Maybe this post is going in the direction of how to enjoy overnight oats rather than how to make some… Ahem.
As for what nuts and seeds can be added, all nuts and seeds work well. A word of caution here though. Chia seeds should be added with all the ingredients and allowed to soak. Consuming chia without soaking them can be dangerous. This is because chia blooms and swells in size. When we eat chia without soaking them, they may swell up inside your throat as you swallow and cause choking. So, always always add chia along with the other ingredients while making overnight oats.
Almonds, walnuts, pecans, flax seeds, chia seeds, pumpkin and sunflower seeds are all amazing crunchy toppings that you can add.
Fruits
Chunky fruits like mangoes and bananas work like a charm. In fact, bananas and oatmeal are married for no small reason. Apart from these usual suspects, you can add berries, kiwi, dragon fruit, roasted sweet potato ( done without salt), grated zucchini or carrots, pomegranate, coconut flesh. You can also add citrus like orange. But make sure not to add them to recipes that use just milk. You can use these in recipes having yogurt and milk or just yogurt.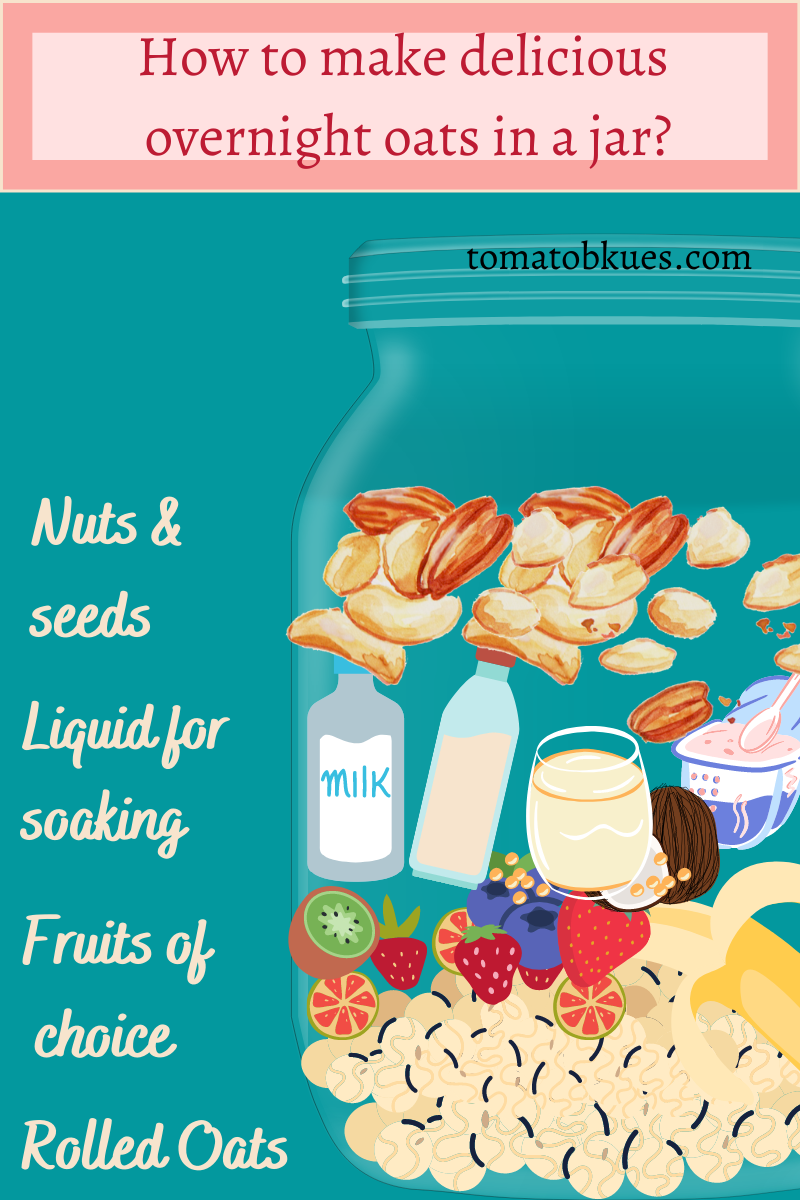 Can I reheat overnight oats?
Well, some of us do not enjoy a cold breakfast. And there are some days when you just want a warm hug in a bowl the first thing in the morning. But you have a jar of overnight oats sitting in the fridge. Fear not! You can and you cannnot heat overnight oats.
If you have not added yogurt to your overnight oats, then you can absolutely reheat it. The no-reheating rule applies to any recipe that has citrus, any yogurt and fruits like kiwi or grapes. If your overnight oats has any of these in them, heating it up will curdle the oatmeal.
Heating overnight oats is very simple too.
How to reheat overnight oats?
Microwave method
To do this, transfer all of the contents to a microwave safe glass or ceramic bowl. Heat in short bursts of 10 secs on high for two to three times or until the oatmeal is just warm enough to dig in. Oven timings and settings may vary depending on the make and brand of the oven.
Stove Top Method
Heating overnight oats on the stove top is easy too. Leave the oats out in room temperature for 20 mins. Transfer the contents to a saucepan. Heat gently on low flame for 3 to 4 mins, stirring sparingly, to avoid burning or sticking to the bottom.
Instant Pot Method
This one is as easy as pie. Transfer the overnight oats in a instant pot safe bowl. Pyrex and stainless steel work well here. Add 2 c water to the inner insert and place a tall trivet. Place the oatmeal bowl on the trivet. Close the IP and turn valve to sealing. Switch on the keep warm mode for 10 or 20 mins.
When done, quick release pressure and open the lid. Your oatmeal will be warm and ready to dig in.
Pin for later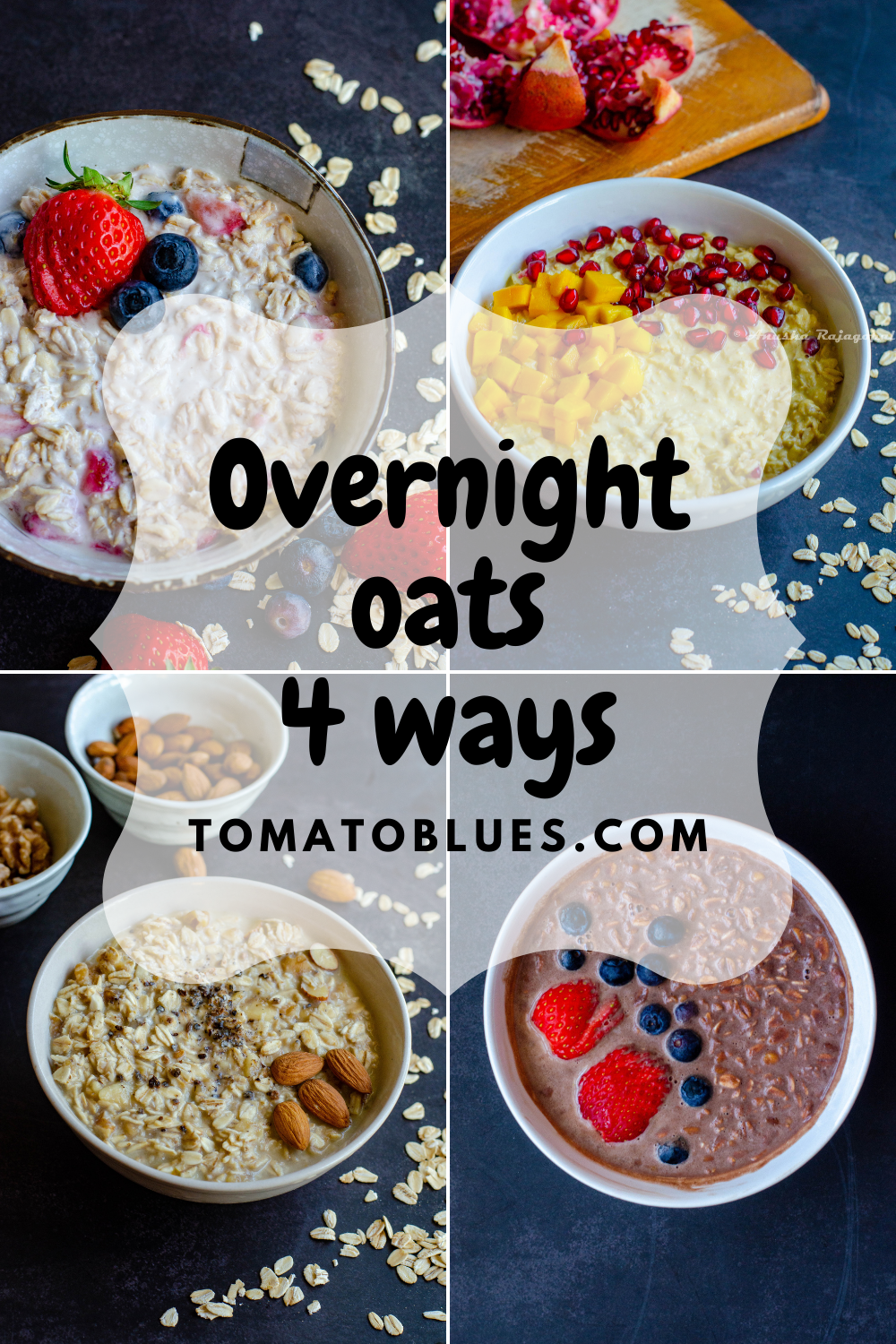 How to store overnight oats?
Clean glass jars or any mason jar works best for this. If you do not have these, choose fridge safe containers to assemble your overnight oats.
Shelf life of overnight oats
I prep these over the weekend and they keep well for a week. Just make sure you use clean jars with lids to prevent the oatmeal from becoming crusty and dry on the top.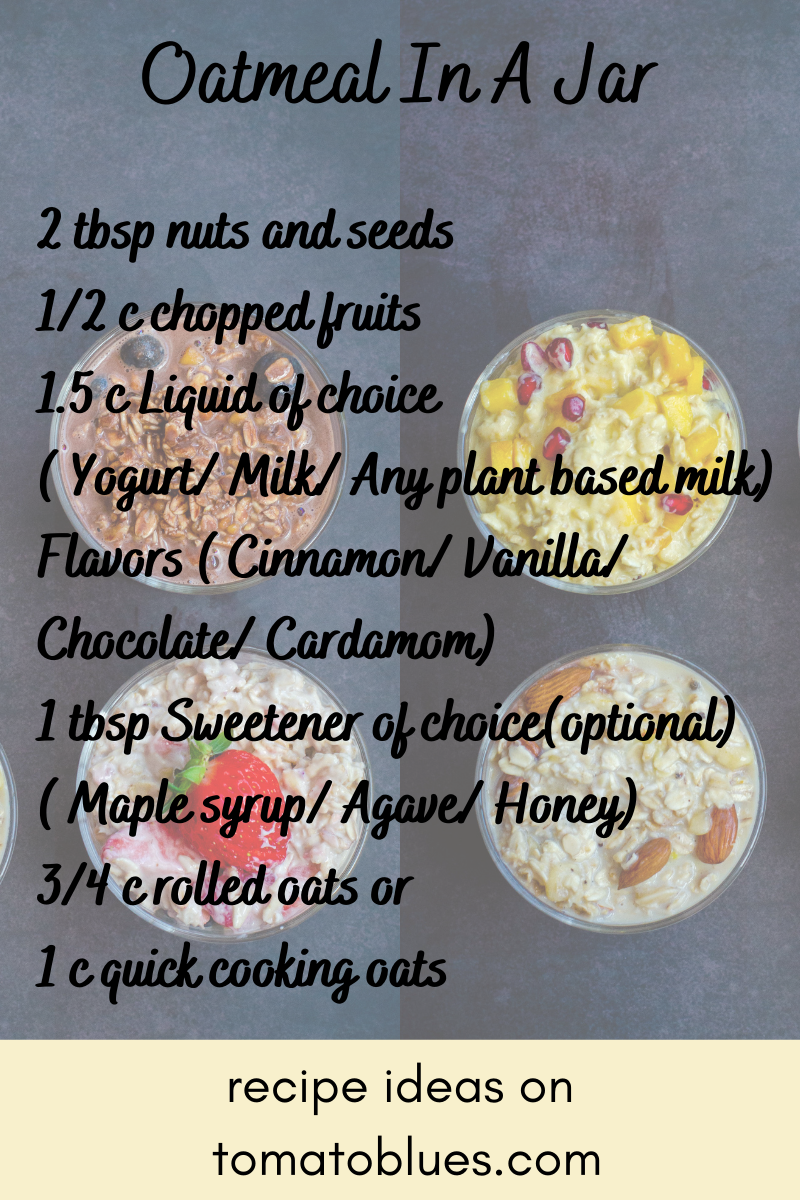 Now, here is how you can make overnight oats 4 ways. Out of these, three overnight oats recipes are vegan.
Follow me on Instagram or Facebook for regular cooking updates and short videos. Find us on Pinterest for delicious content. Did you find this post on making overnight oats 4 ways useful? We value your thoughts and comments! Leave a comment and tell us how it worked for you. Email us your questions to anusapraj@gmail.com if you need any guidance in making this.