How To Make Berry Swirl Chia Pudding With Granola, An Easy Breakfast In A Jar Recipe?
Berry Swirl Chia Pudding is an easy and healthy breakfast that can be prepared overnight. Vegan. Paleo. Breakfast In A Jar.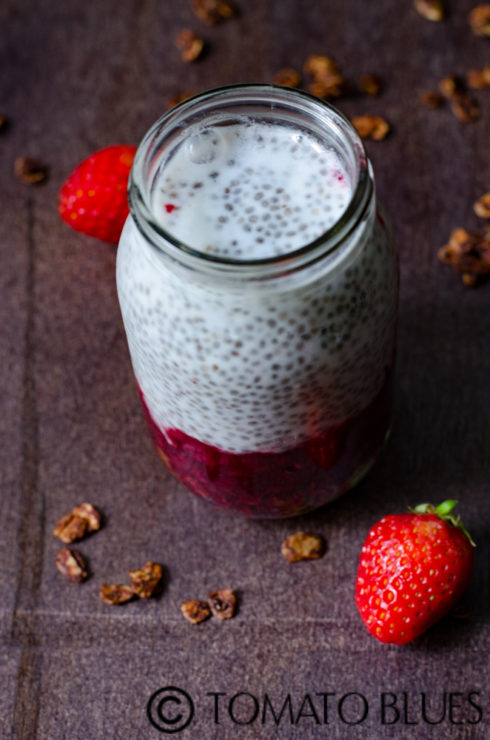 Berry Swirl Chia Pudding With Granola is something that happens almost on an everyday basis in my house ever since i discovered the wonder seeds called chia, this quick microwave berry compote and this crunchy vegan almond granola. We used to have a big spread for breakfast while we were in India because back then, everything was slower and easier. But ever since we moved here to Singapore, life has become unusually fast and daily chores are proving to be a challenge as Lil A seems to grow taller on the naughtiness scale everyday. Even as i write this post on Berry Swirl Chia Pudding With Granola, she is right beside me, trying to scroll down the screen and see what best she can do in terms of watching some more You Tube. So, we have become breakfast on the go people. I make my breakfast the previous night and let it sit in the fridge and my favorite breakfast in a jar option is always this berry swirl chia pudding with granola.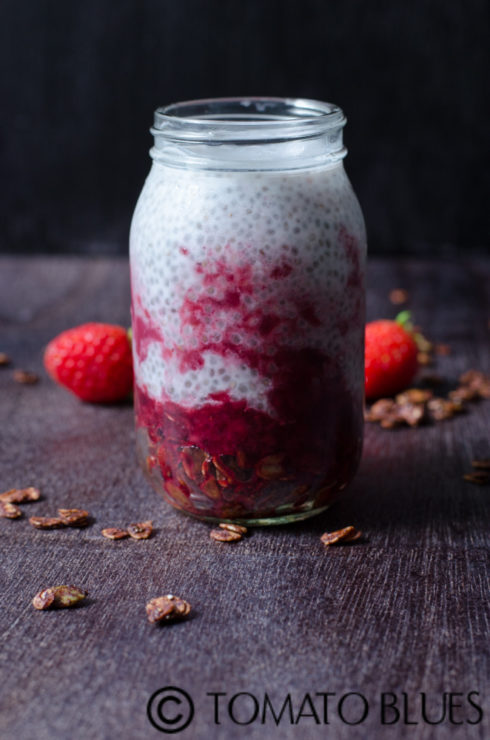 As much as i love the patterns in this breakfast jar of berry swirl chia pudding with granola, i also love the fact that it is a very balanced diet in terms of nutrition, it is vegan, paleo and can also be eaten on days when you fast. Like i had mentioned in my previous post on the thai style quinoa salad, i have decided to pick one new ingredient every month and experiment with it. This month, i picked chia seeds from Godrej's Nature Basket Website. If you are looking for quality chia seeds in India, then  iGodrej Nature Basket is the right place to go. I must admit that chia seeds are addictive and make a delicious breakfast pudding when mixed with any dairy or non dairy milk of your choice. This berry swirl chia pudding uses almond milk. This pudding is a layered pudding that i made in a jar. However you can make the same by placing all of the ingredients in a bowl and giving it a nice swirl. I m sure you will have a beautiful and healthy bowl of berry swirl chia pudding with granola.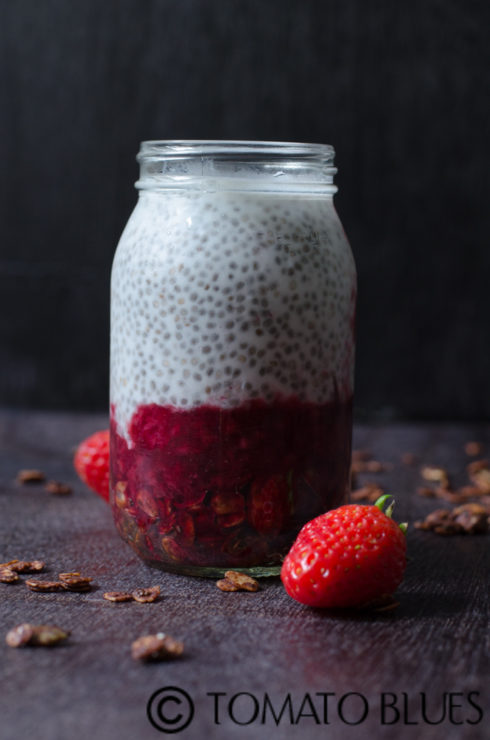 For making this berry swirl chia pudding i used my microwave berry compote and chocolate almond chia granola as a base and created layers. You can use pretty much any fruit jelly or sauce in place of the compote. Or if you want to make your breakfast totally cheerful, add some mango puree or if you want to be a teeny weeny bit wicked, use some chocolate sauce. The same applies for granola too. You can even use the regular breakfast cereals. Whichever way you decide to make this berry swirl chia pudding with granola, i m sure you will not be disappointed.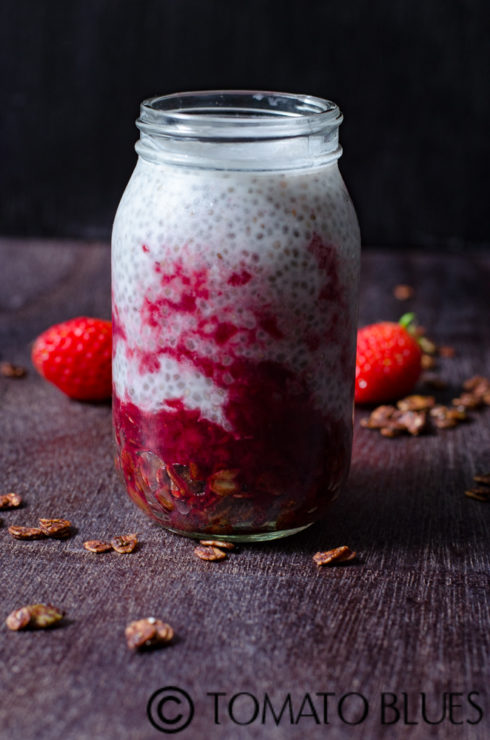 Recipe For Berry Swirl Chia Pudding With Granola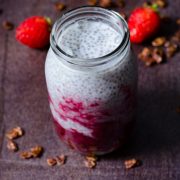 Print Recipe
Berry Swirl Chia Pudding With Granola
Berry swirl chia pudding with granola is a healthy no cook breakfast that you can make overnight and relish in the morning. Vegan. Paleo.
Ingredients
Chia seeds 3 tbsp

Vanilla flavored unsweetened almond milk 1/3 cup

Berry compote 2 tbsp

see notes

Chocolate allmond chia granola 2 tbsp

see notes
Instructions
In a bowl, combine chia seeds and almond milk and let it rest in the fridge overnight.

The next morning, in a 300 ml jar, place the granola at the bottom and spread to make an even layer.

Spoon the berry compote over the granola.

Now add the soaked up chia pudding over the berry compote.

Swirl the compote lightly with a chopstick or a spoon.

Enjoy immediately.
Notes
1. The recipe links to the berry compote and the granola can be found in the post content.
2. You may use any non dairy milk of your choice but i find that coconut and almond milk work best for this chia pudding.
3. I like soaking my chia seeds longer as i find that it improves the texture. If you dont have the time, even three hours of soaking will suffice.
4. Use a splash of vanilla extract if you are using plain unflavored almond milk.
For Instant Pot & Air Fryer Recipes
Instant Pot timings may vary based on your geographic location. Air fryer settings and timings may vary based on the capacity and the model of the Air fryer.
Disclaimer
Nutrition values are provided here as a courtesy and are only a rough guide. Please consult a health care provider if you have any concerns.