If you think, i m sort of crazy to post the trite Kachumber recipe here, i m going to prove you terribly wrong. Not that there s anything wrong about posting Kachumber or liking it. At the same time, there s nothing to great to write home about Kachumber. But then sometimes our tables do need a face lift. I m not a person who goes about buying hideously looking jars to whip up a salad. Neither am i a person who ll walk the extra mile to actually whip up a salad dressing. I like keeping my salads simple, fresh and cool. Yeah! for some reason i love cold salads. Creamy or not doesnt matter. But it has to be cold.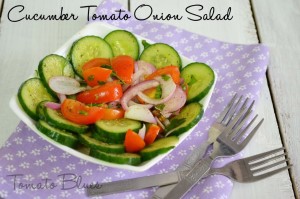 This salad was perfectly in tune with my mind this morning. For some reason, when i woke up this morning, all i could think of was crunchy cucumbers and juicy tomatoes. And then i remembered the blogging schedule taped to my fridge. It also hit me hard that i am supposed to post some thing that has been inspired by my Pinterest boards. I mean, you keep pinning. And the pins grow at an alarming pace. But why have you pinned? So that you make some of those? Right? Well, i wanted to begin with one pin a month. So here i am. With this cool refreshing salad. Which gets done in less than 10 mins.
Recipe For Cucumber Tomato Onion Salad
( Fresh cucumber, tomato and onion tossed together in a tangy dressing)
Prep Time: 5 mins
Cook Time: nil
Chill Time: 1 hour
Source: Inspired from here
Serves 2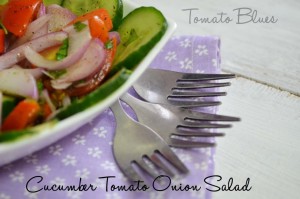 Ingredients
Persian cucumber 1 sliced thinly
Cherry tomatoes 10 or 1 large juicy tomato julienned
Onion 1 sliced thinly
Apple cider vinegar 1 tbsp
Sugar 1 tsp
Freshly ground black pepper 1 tsp
Cilantro 2 tablespoon chopped finely
Olive oil 2 tsp
Salt to taste
Directions
In a mixing bowl,place the vinegar, sugar, salt, pepper and combine lightly.
Now, place all the veggies in the bowl, drizzle the olive oil and toss well.
Chill for an hour.
Serve with any meal or relish as a snack.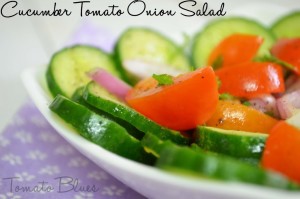 See, how easy that was??