How To Make Microwave Mysore Pak?
Ok. So you fall into any one of theseclique ofpeople- 1. You are a newbie bride whodoesnt know to cook anything but for Maggi ( thank God for Maggi, or who would have known to cook?). 2. You have a little one who almost always decides that the right time towail is when you want to catch someshut eye. 3. You have your hands full with cleaning the house or whatever that needs some cleaning. 4. Youdont have the time for whatever reason ( ahem……) or 5. You are lazy but youdont want to look like a duffer when your neighbors dole out generous helpings ofdiwali goodies.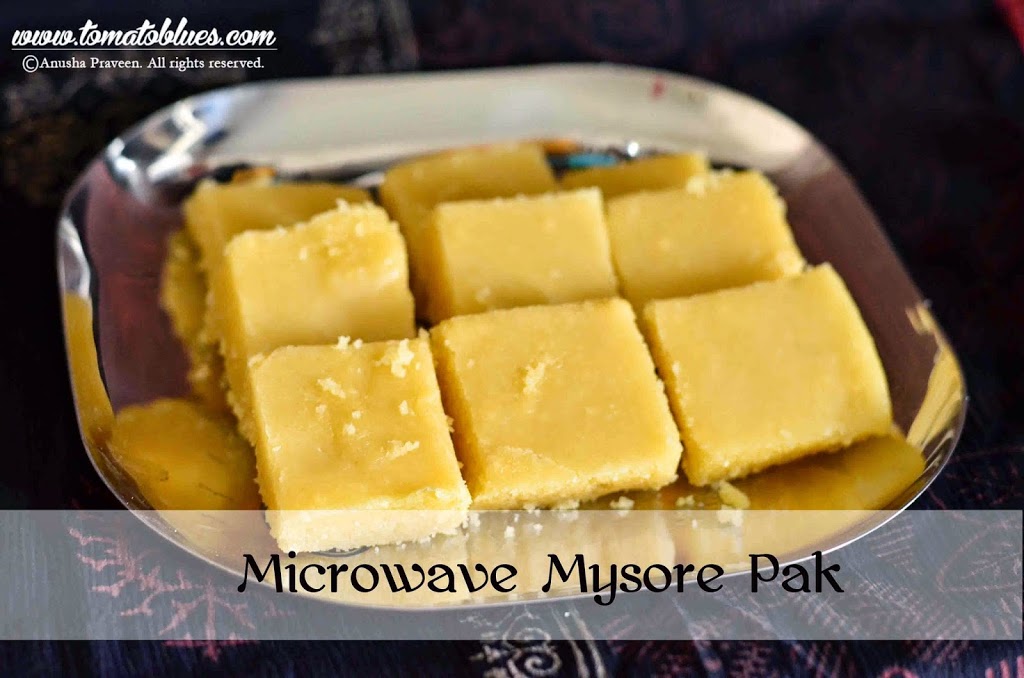 If you are a part of any of these categories, please join the club. I happen to be a part of each and every one of them  except 1 at the moment and without a shred of guilt at that. Because i dont want to look like someone mentioned in number 5, i decided that i shall take the bull by horns and make something in my microwave. Yes, my microwave saga continues. And no, this microwave  mysore pak will be like the authentic one that s made at home by a granny or a mom. You have to believe me on that one. Or at least become convinced by looking at the photos. The first time i tried making this, i landed up with the honey comb textured mysore pak but we at home, love the melt in the mouth super smooth mysore pak. So this time, i changed a few things, attempted a new technique and voila! we had these super smooth glorious melt in the mouth microwave mysore pak. It takes less than ten mins to make and you will not look a duffer or bummer this Diwali after you have made this. Enough said! And time to make some microwave mysore pak. And by the way, ever since i started making mysore pak this way, we have renamed the classic as microwave mysore pak.
Recipe For Microwave Mysore Pak
( Learn to make Mysore Pak, a decadent fudge with gram flour, ghee and sugar in less than 10 mins in the microwave.)

Prep Time: 10 mins+ an hour s setting time
Cook Time: 3 mins 30 secs ( see notes)
Yields 16 medium mysore paks.
Allergy Info: Gluten free, Soy free and Nut free
Course: Dessert, Festival special goodies
Cuisine: Indian( South)

Ingredients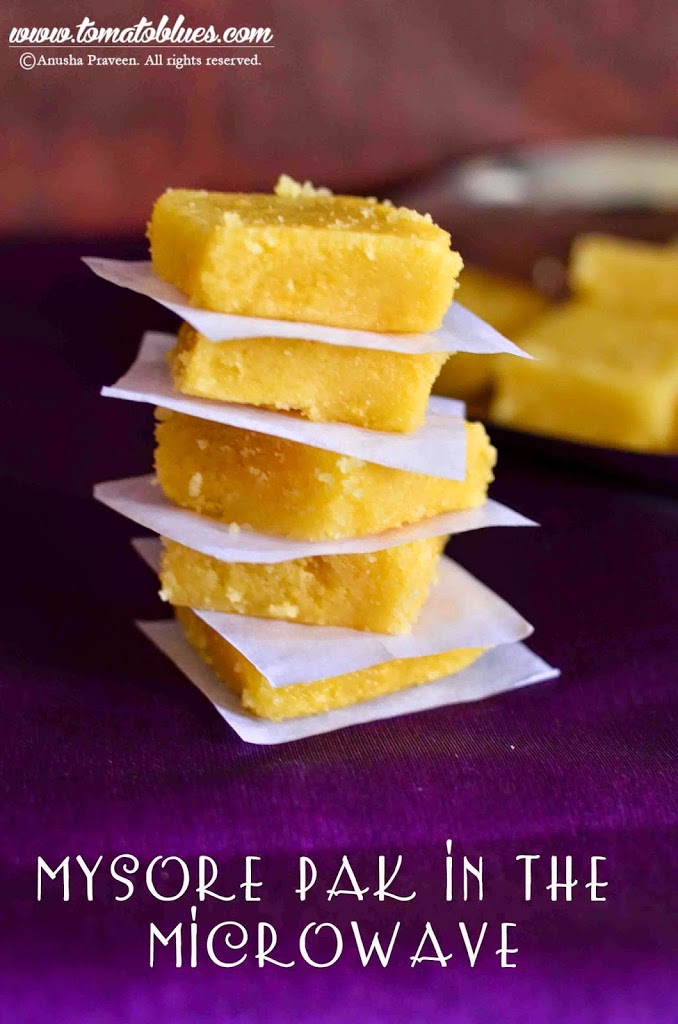 Gram flour ( kadala maavu/ besan/ chickpea flour) 1 c sifted thoroughly
Sugar 2 c powdered
Ghee 3/4 c + 2 tbsp melted
Milk 3 tbsp
Note
1. The gram flour must be sifted thoroughly to get rid of lumps. The mysore pak wont come out well if there are lumps in the flour and you ll find it difficult while mixing.
2. Adjust sugar level according to your palate. You may also use 2 c of powdered sugar.
3. The highest power setting on my microwave is 900 W. Yours may vary. If its higher, try cooking the mysore pak 20 secs lesser than the time mentioned. If its lesser, try cooking for 20 more secs than the time mentioned.
4.In case you are looking to make some authentic mysore pak this Diwali, then click here for the recipe.
Directions
In a microwave safe bowl, melt 2 tbsp ghee on high.
Add the sifted gram flour to this and mix thoroughly using a hand whisk. Make sure the ghee spreads evenly with the flour.
Place this in the microwave and cook on high for 1 min 10 secs. You will know its done when you can smell the roasted fragrant flour.
Once done, in another microwave safe bowl, melt the remaining ghee on high.
To the ghee, add powdered sugar, milk and mix thoroughly.
Once done, grease a tray or a plate with some melted ghee and set aside.
Now, add the roasted flour in batches gradually and whisk thoroughly using hand whisk or an electric beater. I found that whisking with the electric beater gave me an amazing texture when compared to the hand whisk. Make sure there are no lumps in the mixture.
Place this mixture in the microwave and cook for 1 min on high.
At this stage, you can see that the ghee begins to melt on the top.
Mix the mixture again with a whisk and pop it back in the microwave.
Cook for 1 min more.
You will see that the mixture begins to foam up.
Mix well again.
Pop back in the microwave and cook for 20 secs more.
Pour this mixture in the greased plate and gently even it out.
Let it become a little cool before you make cuts.
Once slightly cool, make cuts with a sharp knife and let it cool completely.
Invert on a tray and store in an airtight container.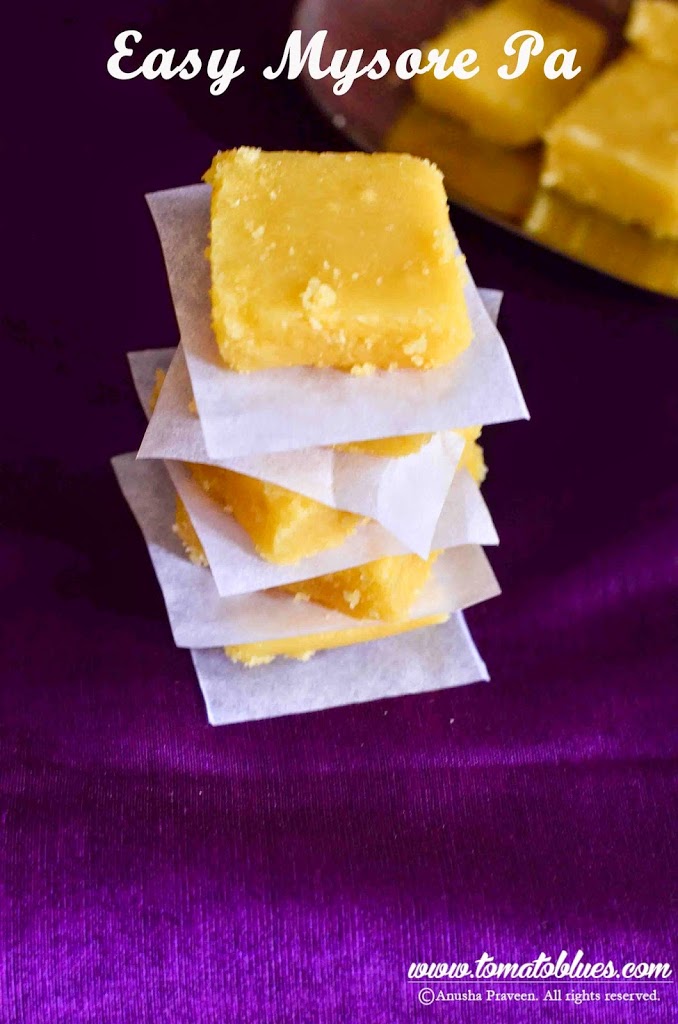 This keeps well for 3 days in room temperature but you have to believe me when i say that this will be consumed in a matter of minutes once made.