As promised, i m here with my mysore pak. I must confess i m a tad bit proud of myself after my first fling with mysore pak resulted in me tying the knot with the finicky lil sweet. I must also admit that i ve never been a huge fan of mysore pak. Despite the fact that i hail from Coimbatore, the birth place of the famous Shree Krishna Sweets, a pioneer in mysore pak making. I grew up with tonnes and tonnes of mysore pak shoved down my throat by relatives and friends alike. Maybe its that that drove me away from the Mysore Pak. And this sweet has a wiki page if you all dint know. You can check it out
here
. Strange that i can say stranger things when i m in that cooking frame of mind. Anyway, this whole mysore pak episode happened on a whim.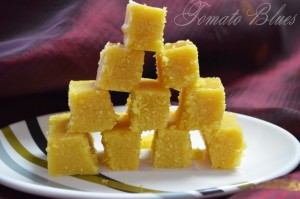 I just happened to buy Chandra Padmanabhan s Dakshin recently. So like i do with every cook book that i buy, i became obsessively engrossed in reading it and then there was this mysore pak recipe which called out to me in all that " Baby, call me when you need me" tone. So what else can i do but make it straight away. And i must tell you all that it got a straight A from people too. Make it and i ll tell you, you will make it every time you have to whip up a sweet.
Ok starting from now, its only fair that i warn you of all the stirring that awaits you in the process of making it.If you intend to shed off the flab on your arms, its a good place to start with. Only you have to abstain from popping it into your mouth after having made it. Get the idea? So gear up and lets make some Mysore Pak.
Recipe For Mysore Pak
( Indian sweet made with gram flour, clarified butter and sugar)
Prep Time: Under 10 mins
Cook Time: Under 40 mins
Yields about 20 medium pieces
What You Need?
Gram flour or besan or kadala maavu 1 cup
Sugar 2 cups
Ghee 1.25 cups
Ghee 2 tbsp for greasing
A deep tray or a vessel with a flat bottom
How To Make It?
(I made a few adjustments to the original recipe. While the original recipe dint call for sieving the flour, i strongly recommend it if you are looking for soft mysore pak. The original recipe also calls for 2 cups of ghee but oh my conscience will never let me indulge so much for fear of a barrel staring at me when i look into the mirror in a few days. I just used about 1.25 cups of ghee and that s just about enough. It gave me delicious melt in the mouth mysore paks. So stick to mine and you will have a lil less guilt about making Mysore Pak.)
Grease the tray or the plate that you are going to use with ghee generously and set aside.
Sieve the gram flour well to get rid of any impurities. Set aside.
Heat a non stick pan with about 1 tbsp of ghee.
Saute the flour on low flame until just aromatic.
Set aside.
In the same pan, heat about 3/4 cup of ghee.
Add the gram flour to the heated ghee, stir quickly on low flame and set aside.
In another pan, place the sugar and add water to just cover it.
Boil the sugar syrup until it reaches one string consistency.You will know if it s that much when you touch the sugar syrup and there s one string that doesnt break off when you pull away your thumb and forefinger.
Strain the syrup and add the gram flour ghee mixture to the syrup. Mix well by placing it over a low flame.
Now, in another clean pan,( yes you are going to need 3 pans for this and i couldnt figure out a short cut for that!), add the reserved ghee and heat it up.
Now, add the gram flour sugar mixture to the reserved ghee and start stirring. Now s when you must hold your horses and prep yourself to some heavy duty stirring.
You must keep stirring the entire mixture on a low medium flame until the ghee separates and the mixture froths up.
Once the mixture froths up, pour this into the greased plate.
Lightly tap the plate onto the kitchen counter but be very careful while you do this. Remember the mixture is super scorching hot.
Now let it cool down considerably.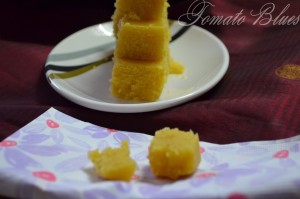 Once cool, cut into desired shapes and start eating right away like i did or be sweet enough to send some over to your neighbour.You can also store this in an air tight container and it keeps well for a week.