HOW TO MAKE MAKHANE KI KHEER?
Makhane Ki Kheer- Makhana Kheer is an Indian dessert made with foxnuts or lotus seeds.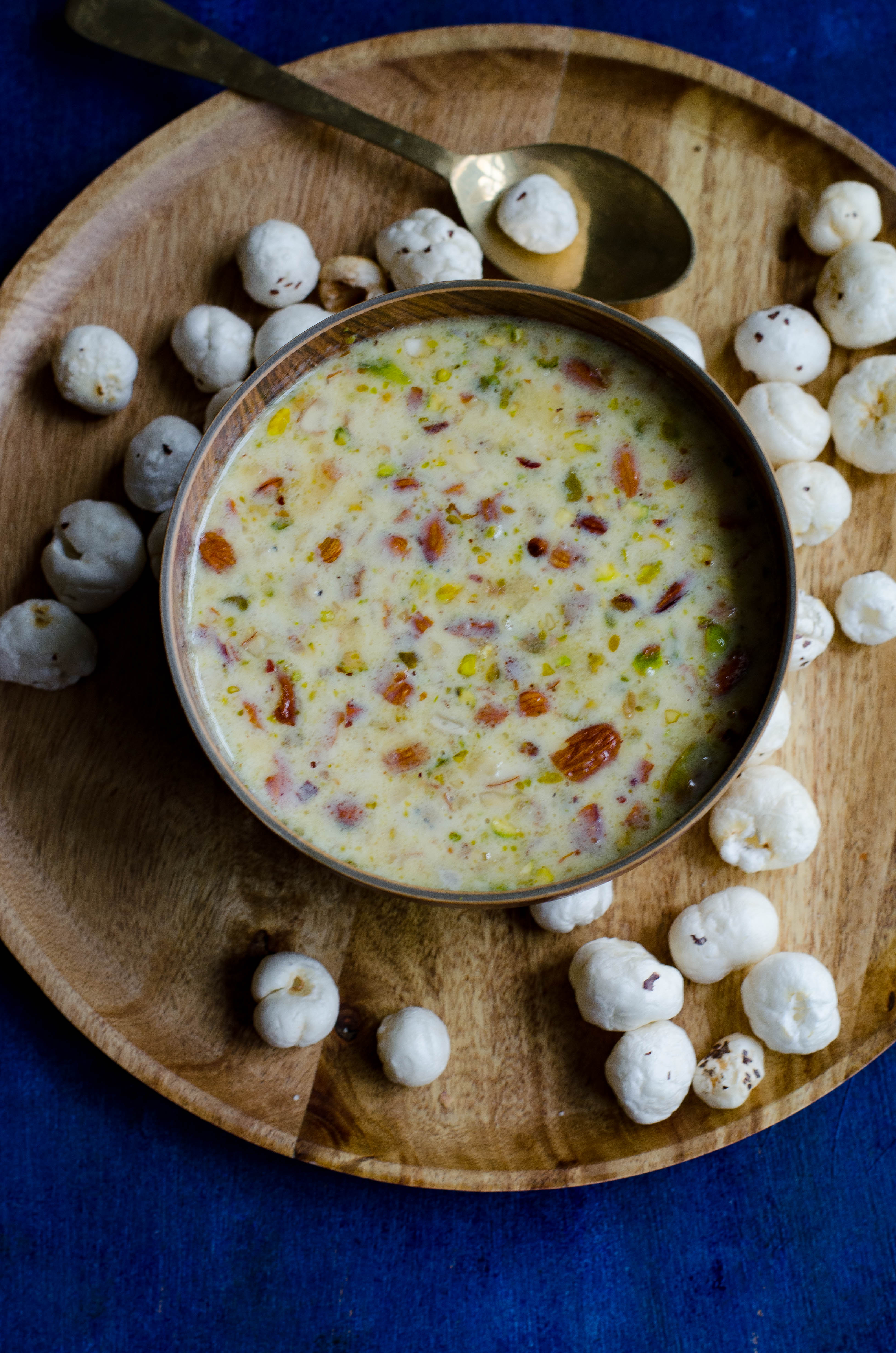 Makhane Ki Kheer- Makhana Kheer
Makhane or Makhana is called as foxnuts in English. These are also called as lotus seeds. They resemble popcorn in texture. Many eat this during the Navratri or the Vrat season.
This Makhana kheer is a delicious Indian style dessert made with these foxnuts.
We also call this Makhane ki kheer as Vrat ki kheer or Upvas Kheer.
What exactly is Makhana?
Makhana is often quoted as foxnuts in English. Foxnuts is the name of the plant Prickly Waterlily.
This plant produces these seeds; Makhana, which is starchy and edible. You can use these foxnuts to make delicious vegan and gluten-free snacks like Roasted Makhana.
Or simply make this lip-smacking dessert that uses only 2 tbsp ghee.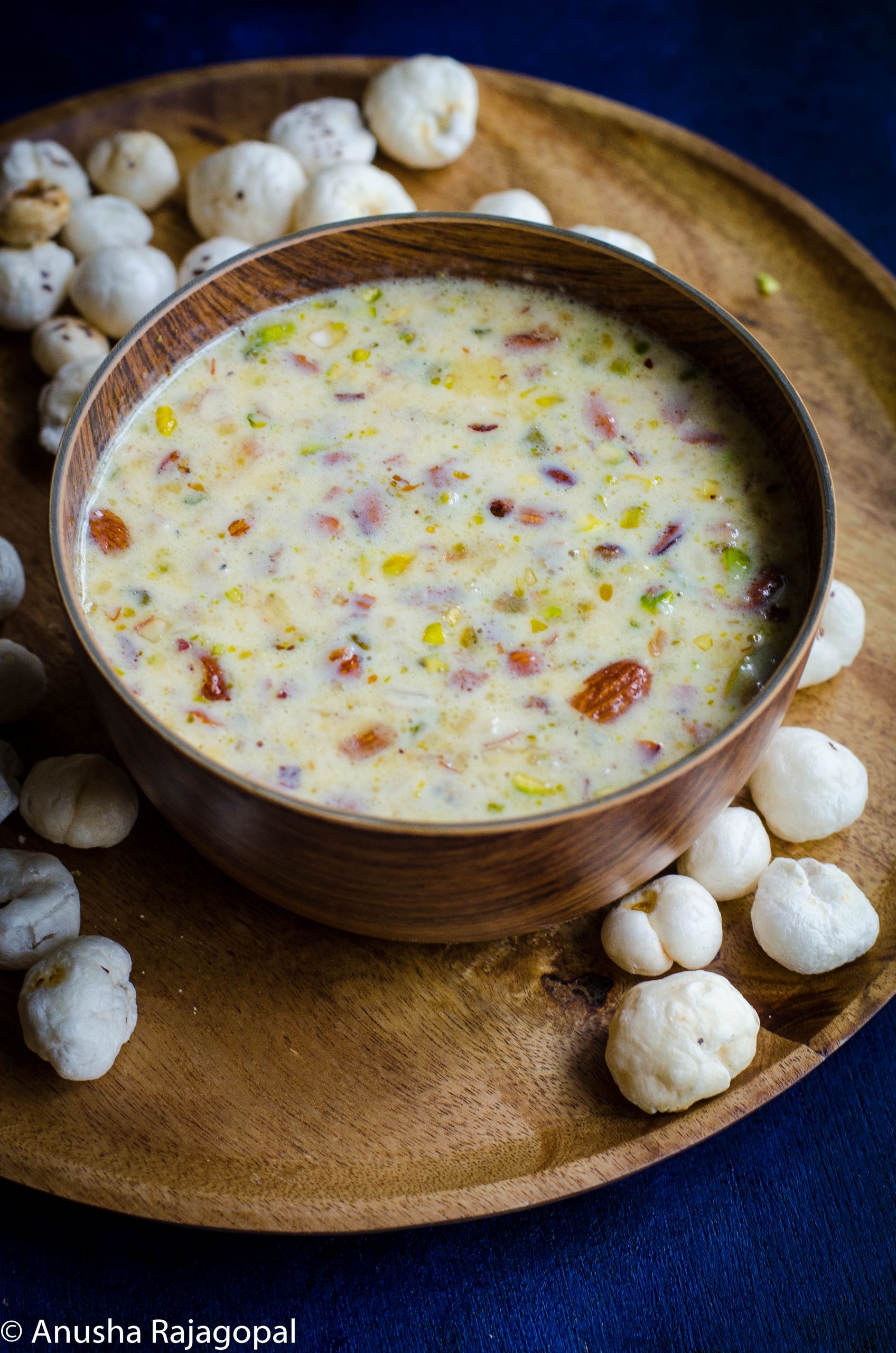 Let s talk Kheer
Kheer is like an ode to all the Indian desserts. It is a pudding that is usually made by reducing milk
We also add some kind of carbs or proteins- Channa dal, moong dal, rice, vermicelli, and so on.
I love kheer for many reasons-
It is easy to make.
It feeds a crowd easily. You can double or triple the recipe easily. And that applies to this yummy Makhana kheer too.
And you can pretty much make Kheer with anything- from Sabudana to Makhana to carrots.
Check out these Kheer recipes that are ideal for eating during this Navratri season.
Featured in this recipe:
Apart from the foxnuts used here, this recipe features regular pantry staples.
Full fat milk
I recommend using full-fat milk in this recipe. We are not going to reduce the milk in volume by 1/2 or 1/3. Instead, we are going to thicken it by simmering for a while.
So full-fat milk works best in this delicious recipe.
Sugar
I have used regular white sugar to make this kheer here. You can also use raw cane sugar to make this recipe.
Evaporated Milk
Evaporated milk is made by removing about 60% of the water content in milk. This does not have any sugar added to it.
While some recipes for kheer call for condensed milk, I love using evaporated milk. It gives a richness to the recipe without adding extra sweetness.
You can also use evaporated milk in curries, soups, and smoothies for a rich creamy texture and flavor.
Nuts
South Indian kheer recipes call for frying the nuts in ghee and adding them in the end.
North Indian kheer recipes involve adding chopped nuts to the kheer without frying them.
It took some time for me to wrap my head around this concept of adding nuts without frying.
But now, there is no looking back. I love the flavor these garnishes add to the kheer.
In this Makhana kheer recipe, I have used chopped almonds, cashews, and pistachios as a garnish.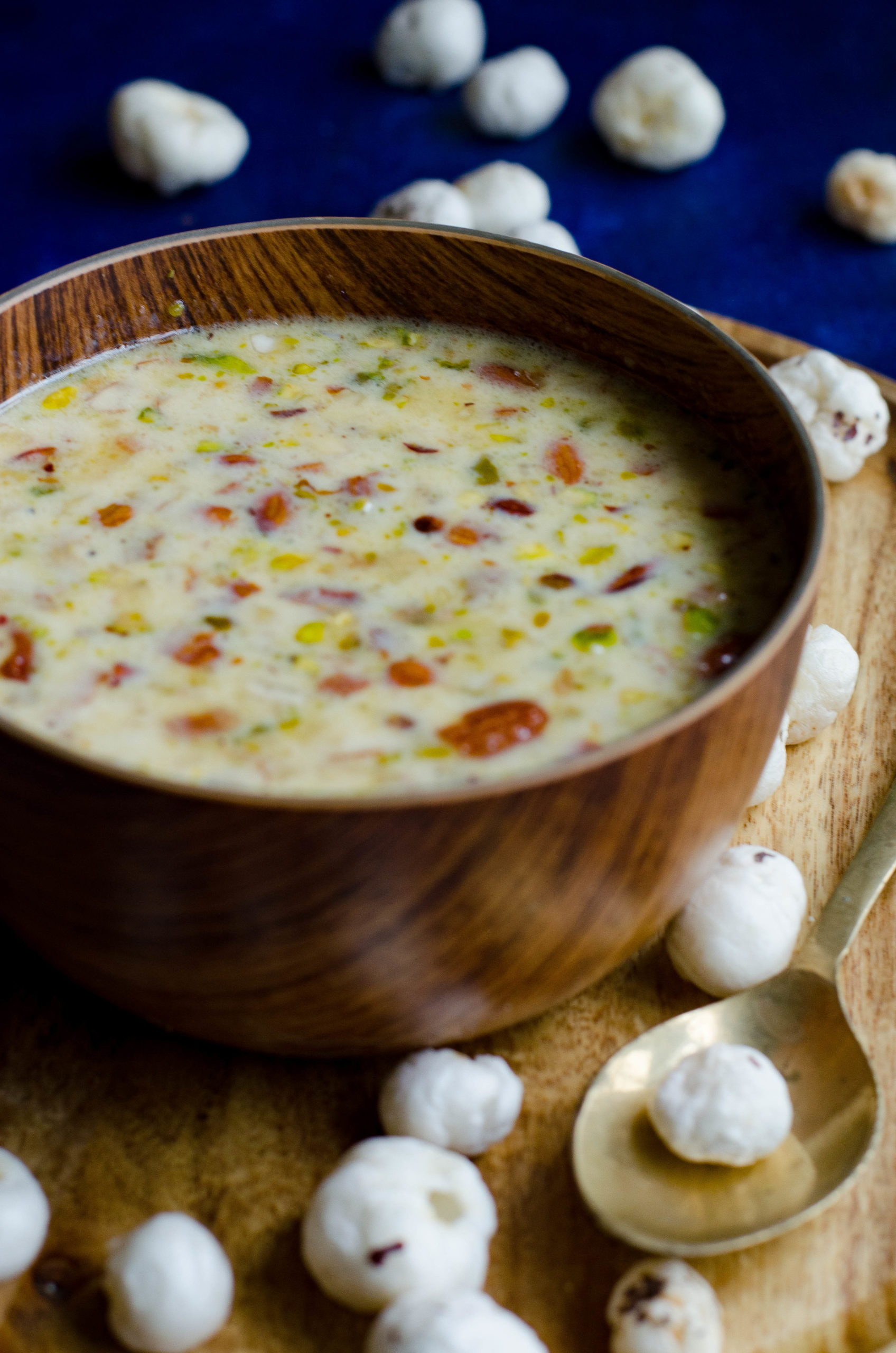 Substitutes and Suggestions:
Evaporated Milk– You can substitute evaporated milk in this kheer with 1/3 cup condensed milk.
If you do this, please remember to use only 1/2 the sugar mentioned in this recipe.
Full fat milk– Use full-fat milk for best results.
However, if you are particular about the calorie counts, then use low-fat milk and just 1/2 the quantity of evaporated milk mentioned here.
Nut-free Makhana Kheer– If you are allergic to nuts, then feel free to skip the nuts added at the end as a garnish.
Instead, add a few slices of banana before serving for a different flavor.
Saffron– This lends a delicate flavor to this kheer recipe. If you do not have saffron on hand, you can use 1 tbsp Badam milk mix or Thandai mix to flavor this kheer.
Or you can skip the saffron and just use cardamom.
It will taste just as delicious without the saffron too.
Let s now check how to make Makhana Kheer step by step
Roasting the Makhana:
We are first going to heat a pan with ghee and when the ghee melts, we are going to add in the Makhana and roast it on low flame until they turn crunchy.
The makhana should not become golden brown. We are just going to roast it till they turn a very light brown and crunchy.
Remember not to leave the makhana when roasting because they burn quickly.
This takes about 5 to 7 mins on low flame. Once the makhana ( foxnuts) are roasted, let s transfer it to a blender, let it cool and grind them to a coarse powder.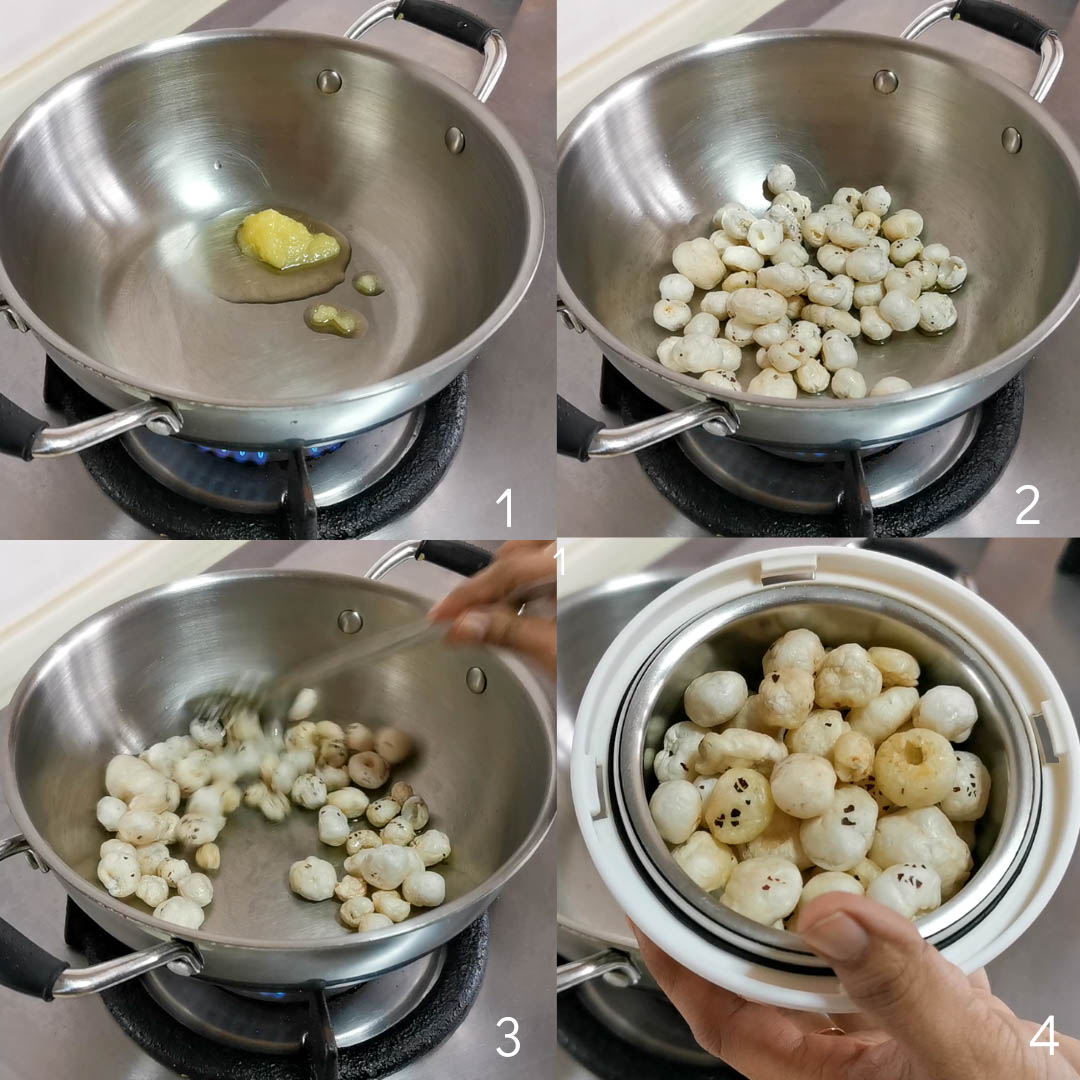 We are going to use the Pulse mode to grind our makhana to get some texture in our kheer.
Boiling and thickening the milk
Once the makhana has been roasted, our next step is to boil and thicken the milk. Let's add the milk to the same pan in which we roast the makhana.
Let us flavor the kheer by adding cardamom and saffron strands. After we add crushed cardamom and saffron, allow the milk to come to a rolling frothy boil.
Adding Sugar
When the milk comes to a frothy boil, add the sugar and mix well. Make sure that the sugar is completely dissolved. To do this, continue to boil the milk for 2 to 3 mins.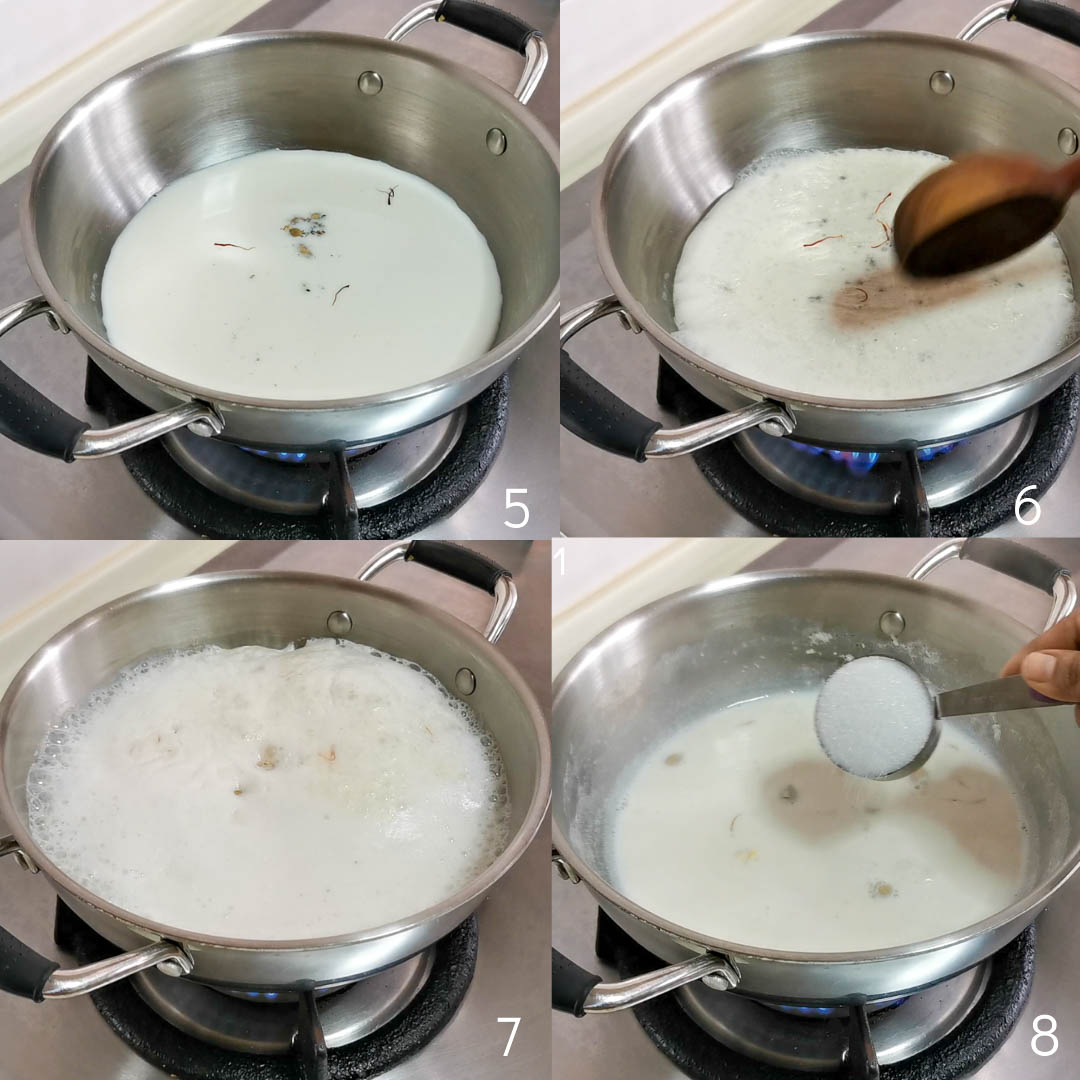 Evaporated Milk
Once the sugar dissolves, add the evaporated milk and mix well. Simmer for 4 to 5 mins until the milk thickens a bit.
Mixing the makhana into the kheer
As soon as the milk has thickened, add the powdered makhana. Mix well.
Now continue to cook the kheer till the makhana absorbs the milk and softens up. This takes 3 to 4 mins.
Garnishing
Once the makhana has cooked, switch off the flame. Add the chopped nuts and mix well.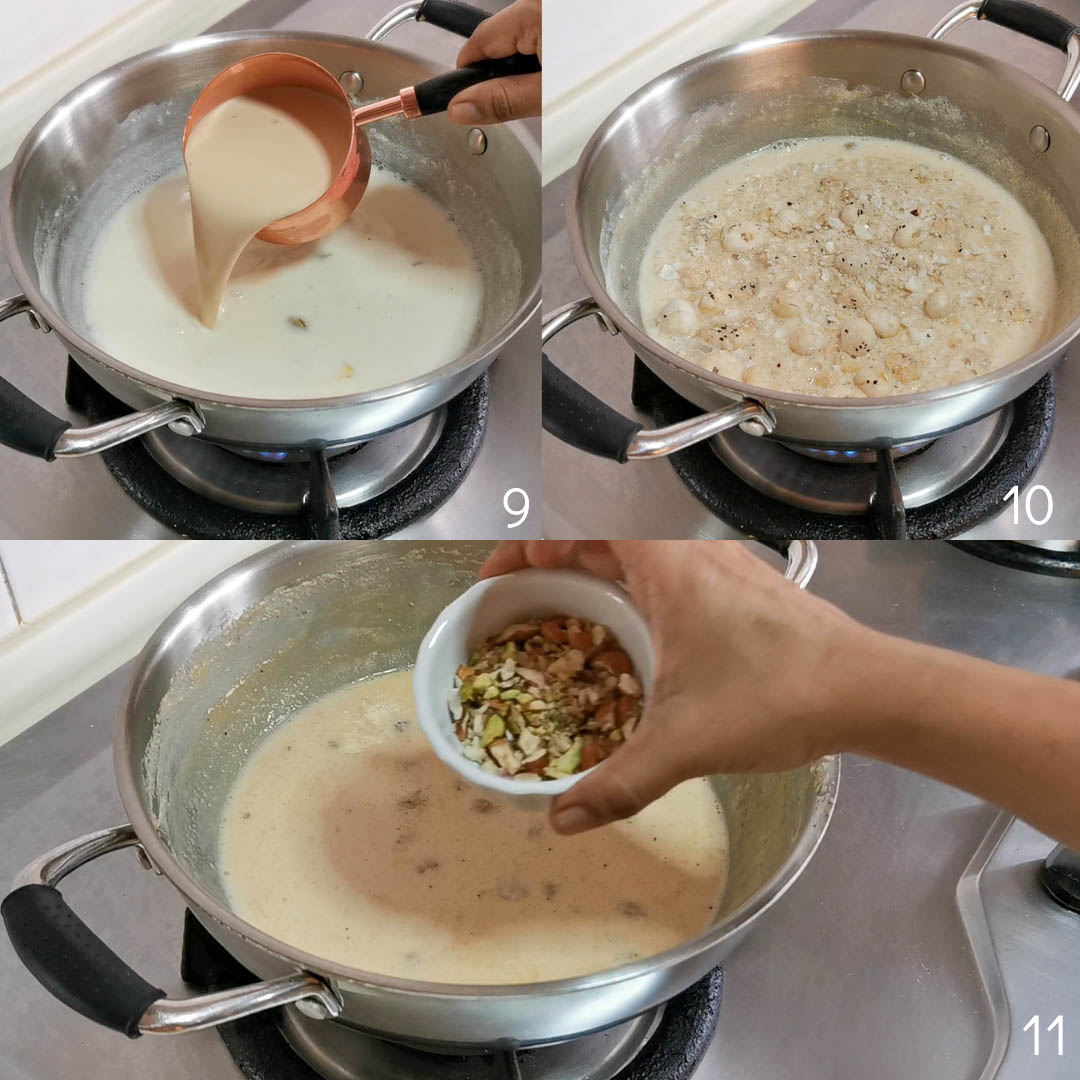 Serving suggestions for Makhane ki kheer
Allow the kheer to become warm or chill it in the fridge for a few hours before serving.
Watch our video on Youtube on how to make this delicious kheer for a better understanding of the recipe.
Follow me on Instagram or Facebook for regular cooking updates and short videos. Follow me on Pinterest for delicious content. Tried our Sabudana Kheer? Loved it? Then please rate this recipe and leave a comment.
In case you have any questions regarding this recipe, leave a comment and I'll respond at the earliest possible. If you tried this recipe and enjoyed it, click a picture and share it on Instagram by tagging us @tomatoblues.
Recipe For Phool Makhana Kheer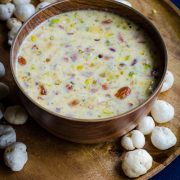 Print Recipe
Makhane Ki Kheer
Makhane Ki Kheer or Makhana kheer- a delicious creamy Indian style pudding made with foxnuts. Ideally eaten during the Navratri or the Vrat season.
Ingredients
2

tbsp

Ghee

Clarified butter in English

1.25

c

Makhana

Also foxnuts or lotus seeds

3

c

Full-fat milk

750 ml

4

pods

Green cardamom

crushed

6 to 7

strands

Saffron

7

tbsp

Sugar

Adjust according to your sweet palate.

1

c

Evaporated milk

250 ml

2

tbsp

Chopped nuts

A mix of chopped almonds, pistachios and cashews can be used
Instructions
Roasting the Makhana
Heat the ghee in a heavy bottomed pan.

Once the ghee melts, add the makhana and mix well. Keep the flame at the lowest. Make sure the makhana is coated in the ghee evenly

Continue to roast the makhana on low flame till they turn a very pale brown and crunchy.

This takes between 5 to 6 mins on low flame.

Once the makhana is all roasted and crunchy, transfer to a blender and allow it to cool.

When cool, powder it coarsely using the PULSE mode and grinding in short bursts for 10 secs.
Prepping The Milk
Add full fat milk, crushed cardamom and saffron to the pan.

Bring the milk to a frothy rolling boil.

Continue to simmer the milk for 3 to 4 mins until it thickens a little.

Now add the evaporated milk and mix well.
Cooking the Makhana
Now add the powdered makhana and mix well.

Simmer for a few mins until the milk again comes to rolling boil and the makhana softens up.

This again takes 3 to 5 mins.

When done, switch off the flame.
Garnishing
Add chopped nuts and mix well.
Serving Suggestions
Allow the kheer to become warm or chill it in the fridge for a few hours before serving.
Video
Notes
Please read the post for substitutes and serving suggestions.
Please note that I m not a qualified dietician or nutritionist. The calorie values mentioned here are just an estimate and has been provided as a courtesy.
For Instant Pot & Air Fryer Recipes
Instant Pot timings may vary based on your geographic location. Air fryer settings and timings may vary based on the capacity and the model of the Air fryer.
Disclaimer
Nutrition values are provided here as a courtesy and are only a rough guide. Please consult a health care provider if you have any concerns.