Its been quite a weekend here. Mr.P had a day off yesterday which meant two days of hols for both of us. But unfortunately, things dint go quite well as planned. I had decided to make some strawberry tarts. But the tart shells were disastrous. And the strawberries were gone even before i picked up my knife to hull them.
       My clique of bookworms drove me up the wall constantly by inventing new words in the English language like gree. Only later did i realise that they had read de-gree partially in the dictionary,all this after 20 mins of frantic googling and thumbing up the dictionary as mad as a hatter. Anyway, the bookworms continued their assiduous journey by promptly mixing up their and there and have and has. 
        Well, the strawberry tarts and the gree story later, things did seem to brighten up a lil when the  
Husband suggested that we watch a movie. Only the plans to be blighted later by a case of low blood pressure and crankiness. Well that was the weekend for you all. So much for weekend plans. The only good thing that came out of all this was that Husband and i spent quality time with each other. We dint talk. We dint watch movies. We dint quibble on how the world has to change. ( Yes, we do have such arguments and then later realise that the world doesnt have much to do with us). We were just there together. I cooked up some comfort meals. The H read up a book and slept away. But there s serenity derived in such calmness and in silence. One of those comfort meals that i whipped up this weekend was this mor kuzhambu loosely adapted from

 Cooking At Home With Pedatha

. We loved the majiga pulusu as it is called in the book and took delight in slurping it all away. The book has two versions of the majiga pulusu and this is a mishmash of both.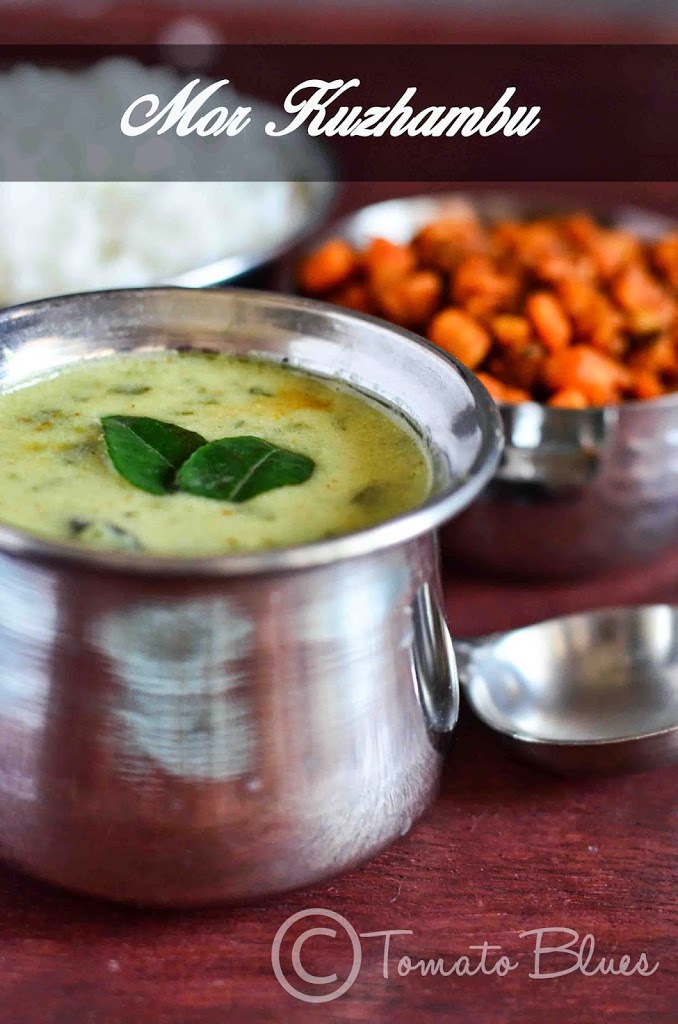 When Priya Mahadevan told me in all secret that my secret ingredient was fenugreek leaves, i was in complete joy. I love fenugreek in all forms. Seeds, leaves, dried leaves. Period. I love that earthy flavor that comes out of fenugreek. So this was the perfect excuse to make some thing with fenugreek and i combined that mor kuzhambu and the fenugreek. The upshots? Overwhelming deliciousness.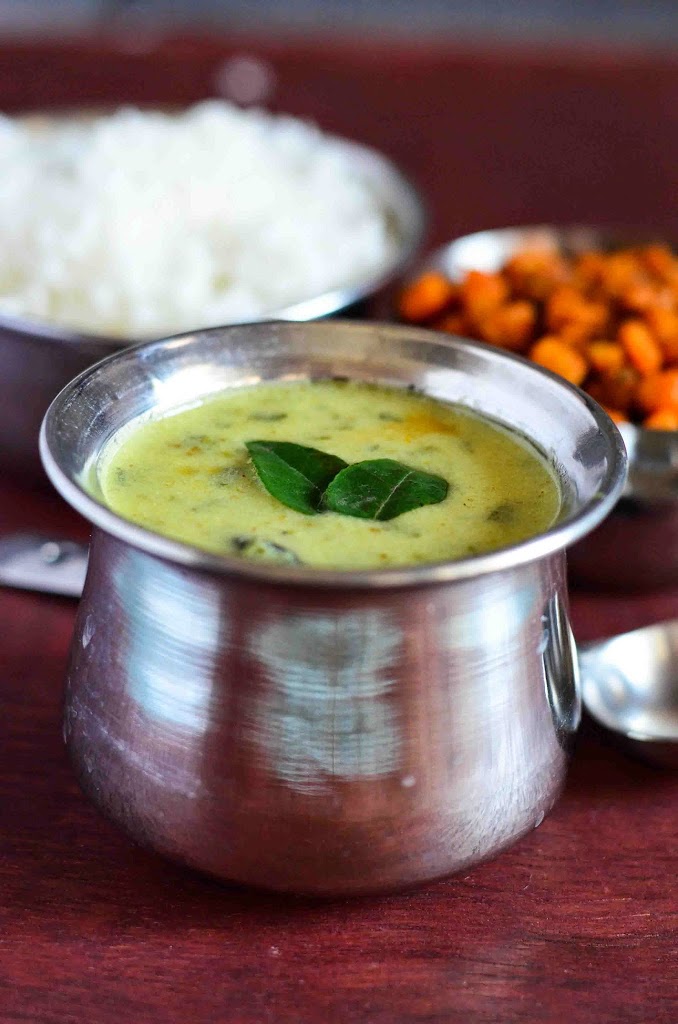 Recipe For Vendhaya Keerai Mor Kuzhambu
( Yogurt stew made with fenugreek leaves)

Prep Time: 1 hour to soak the dals
                  10 mins for the rest
Cook Time: 15 to 20 mins
Serves 3 to 4

Ingredients:

Thick sour curd 2 cups
Fenugreek leaves a large bunch
Tamarind   extract 1 tbsp

To Grind Into A Paste:

Toor dal 1 tbsp
Channa dal 1 tbsp
Coriander leaves ½ c chopped finely
Green chilies 5 to 6
Cumin seeds 1 tsp
Ginger ½″ piece
Mustard seeds ½ tsp
Freshly grated coconut ¼ cup
Hing a small bit

To Temper:

Oil or ghee 1 tbsp
Mustard seeds 1 tsp
Fenugreek seeds ½ tsp
Green chilies 2 slit lengthwise
Curry leaves a sprig
Hing a small pinch

How To Make It?

Soak the channa dal and the toor dal together for an hour in about ¾ cup of water.
In the meanwhile, clean the fenugreek leaves, chop them finely and set aside.
Add 1 cup of water to the sour curd and whisk well to get smooth lump free buttermilk.
Once the dals have soaked, in a blender, add all the ingredients to grind along with the soaked dals and grind to a smooth paste adding water as required.
Mix this paste to the whisked yogurt and combine well.
Heat oil in a kadai.
Add the fenugreek leaves and saute till they wilt completely.
Now, add the tamarind extract and mix well.
Let it simmer till the raw smell of tamarind goes away.
Now, add the yogurt spice paste mix and salt and mix well.
Simmer on low flame till frothy for about 3 to 4 mins.
Once done, temper with mustard seeds, fenugreek seeds, green chilies, curry leaves and hing in heated up ghee in the order mentioned.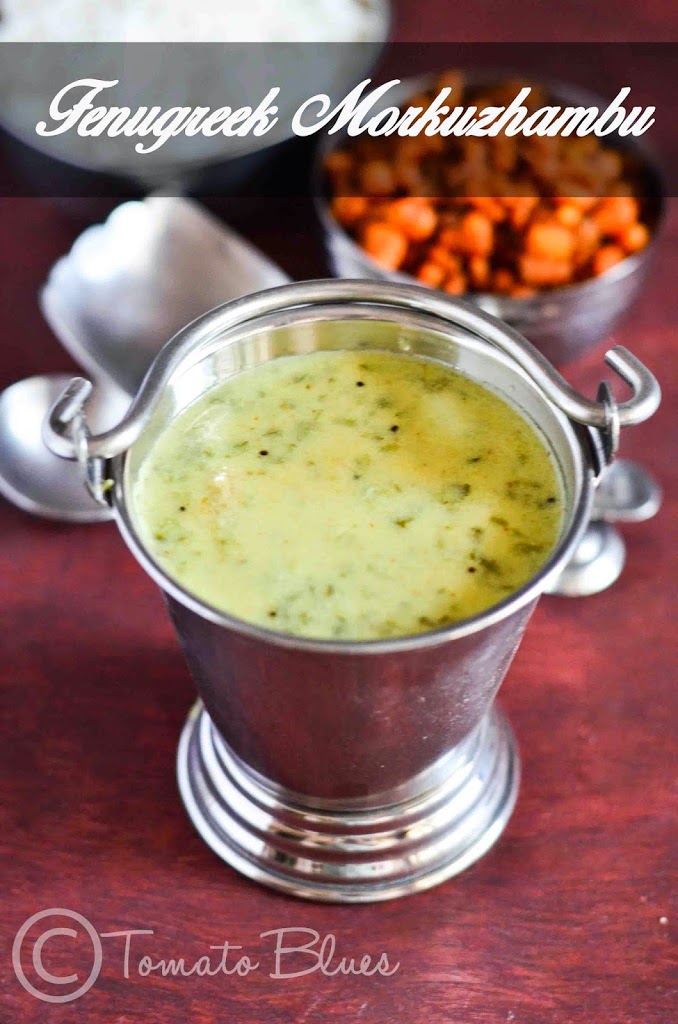 Serve with hot steamed rice with this yogurt stew. Healthy, delicious and light on the stomach. 

P.S. This stew will not taste good if your yogurt is not sour. In case your yogurt is not too sour and your craving kicks up anyway, add a lil bit more of that tamarind.

This is my entry to the Avant Garde Cookies The Hush Hush week. Check out how Radhika, Jayanthi,Kavi, Priya, Priya Mahadevan, Roshni and Veena  conspired with each other for the Hush Hush Week.