SEPPANKIZHANGU ROAST- ARBI ROAST
Seppankizhangu Roast- Taro roots coated with spices and pan fried to golden.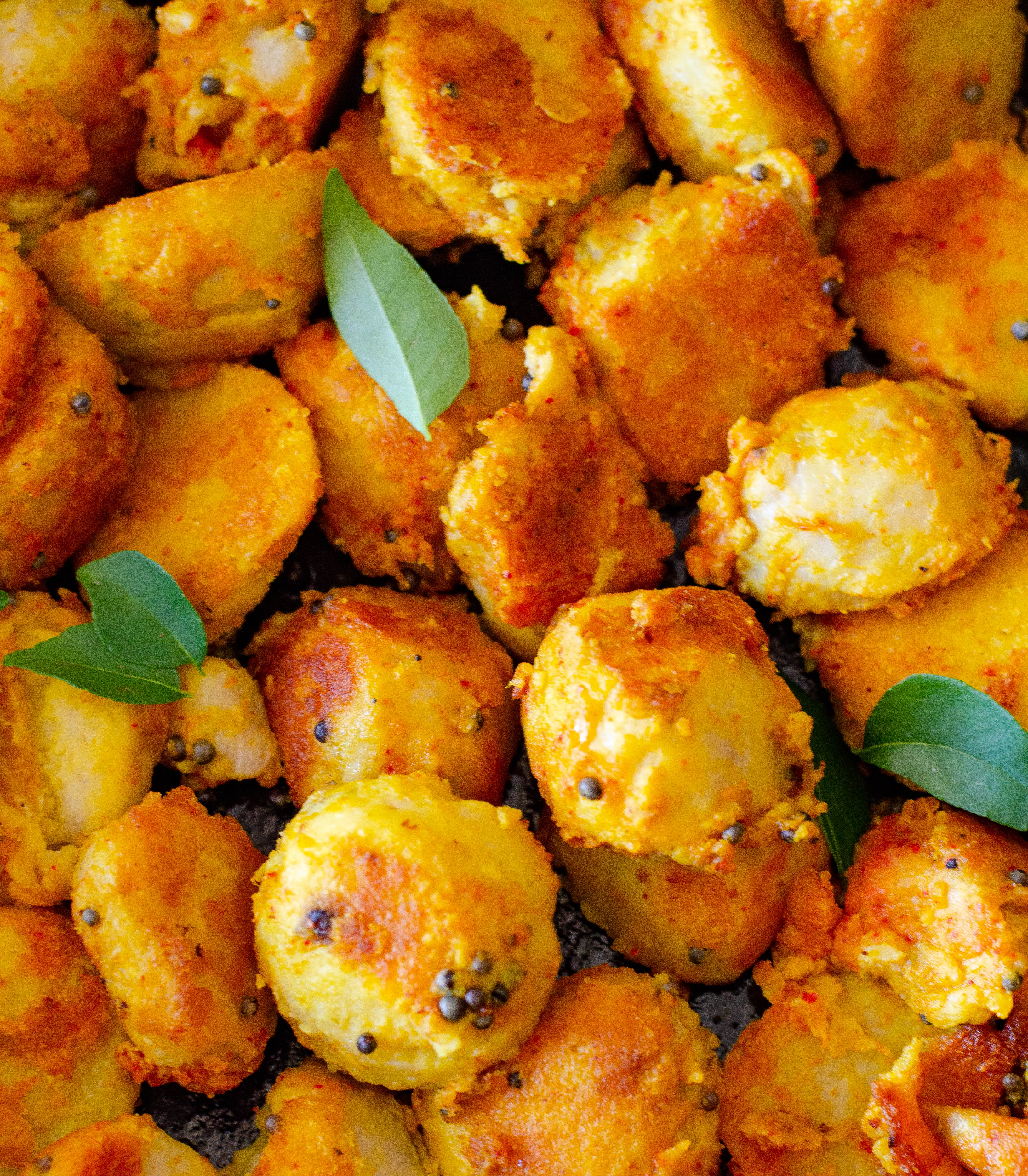 Why should you try this Seppankizhangu roast?
↠ Seppankizhangu, known as taro root in english, is a fibre rich root vegetable.
↠ It is vegan and works great as a snack too!
↠ Makes for fantastic finger foods in a party.
↠ Tastes heavenly with a bowl of rice and rasam.
↠ Last but not the least, its a fantastic kid-pleasing dish. Okay, grown-ups love it too.
Jump to:
What is Seppankizhangu?
So, let s begin with the basics, shall we? Seppankizhangu is Taro root or colocasia in English. It s Arbi in Hindi and Chamadumpa in Telugu. But no matter how you choose to address it, it's a fantastic vegetable!
Arbi Roast 
Until a few years ago, i did not know that this is quite widely used in Gujarat and Maharasthra too! Definitely,  I owe it to my cook for teaching me the typical Gujju style Arbi roast and that involves peeling the Arbi and frying it first. Then they toss it with spices. Well, i guess that recipe is for another day.
Cheppankizhangu Fry- Ingredients
We are going to toss the Cheppankizhangu in a coating and then fry it till golden. 
So for the spice mix, we are going to be using basic spices- Turmeric powder, chili powder and asafetida. Using asafetida helps in easy digestion. However, asafetida has gluten added to it.  So skip this for a gluten-free version of this Seppankizhangu roast.
Rice flour– This recipe uses rice flour. Adding rice flour helps in giving that much-needed crisp layer to our Seppankizhangu and so, I strongly recommend this.
If you do not have rice flour, you can add corn starch instead.
As for the oil, you can use any neutral-flavored vegetable oil to make this Seppankizhangu roast.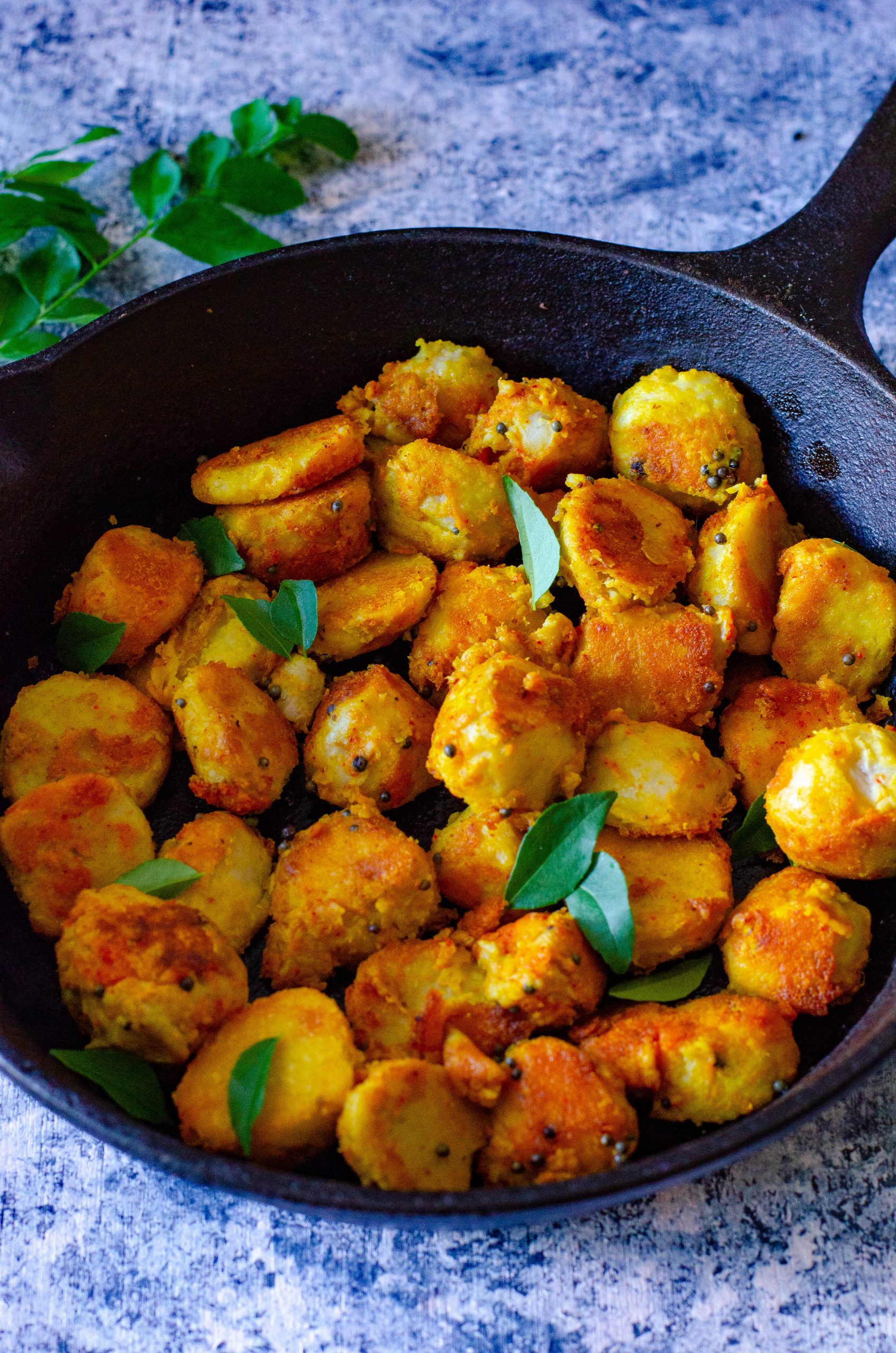 Cast iron pan for making Arbi Roast
If I have to give you that one tip to absolutely rock this Seppankizhangu fry, it has to be this- Use a cast-iron pan to make this recipe.
Cast iron retains heat and cooks evenly and slowly. As a result, you will have a beautiful golden crust on your Seppankizhangu. But this crust simply doesn't get done in a nonstick or stainless steel pan.
 Seppankizhangu roast makes a fine addition to any south Indian lunch platter and hence, you should make it without any further delay.
Some South Indian Lunch Recipes
Meal Planning and Prep Work for Seppankizhangu Roast
Meal Planning-
This may seem like a time-consuming recipe, you know, one that won't be easy on weekdays. If you feel that way, then you can wash the taro roots thoroughly, pressure cook, peel and slice them into roundels. Once the slicing is done, store in the refrigerator. This keeps well for 2 days. I won't recommend freezing.
Frozen Arbi tends to have moisture and as a result, doesn't fry well.
Prep Work-
The most time-consuming step in this recipe is cooking the taro. Make sure you choose fresh taro or those that dont have specks of green. Begin working on the taro the first thing in the morning and use a pressure cooker for quicker results!
Pro Tip: Taro or Seppankizhangu may cause itching to some. Smear your hands with some oil or wear a gloves to prevent this. Also, older taro root is more likely to cause itching.
Seppankizhangu Roast Video
Here s the video of making this crispy Arbi roast, in case you are interested.
Seppankizhangu Roast- Step by Step
Pressure cooking
Wash the roots well as they have a lot of mud in them. So I recommend soaking them in water for 10 mins.  Use a light tooth brush (obviously, a new one) to scrub them. This way, you can easily get rid of the mud.
Combine the taro, water and 2 tsp salt in a pressure cooker. Cook for 3 whistles and wait for the pressure to release naturally.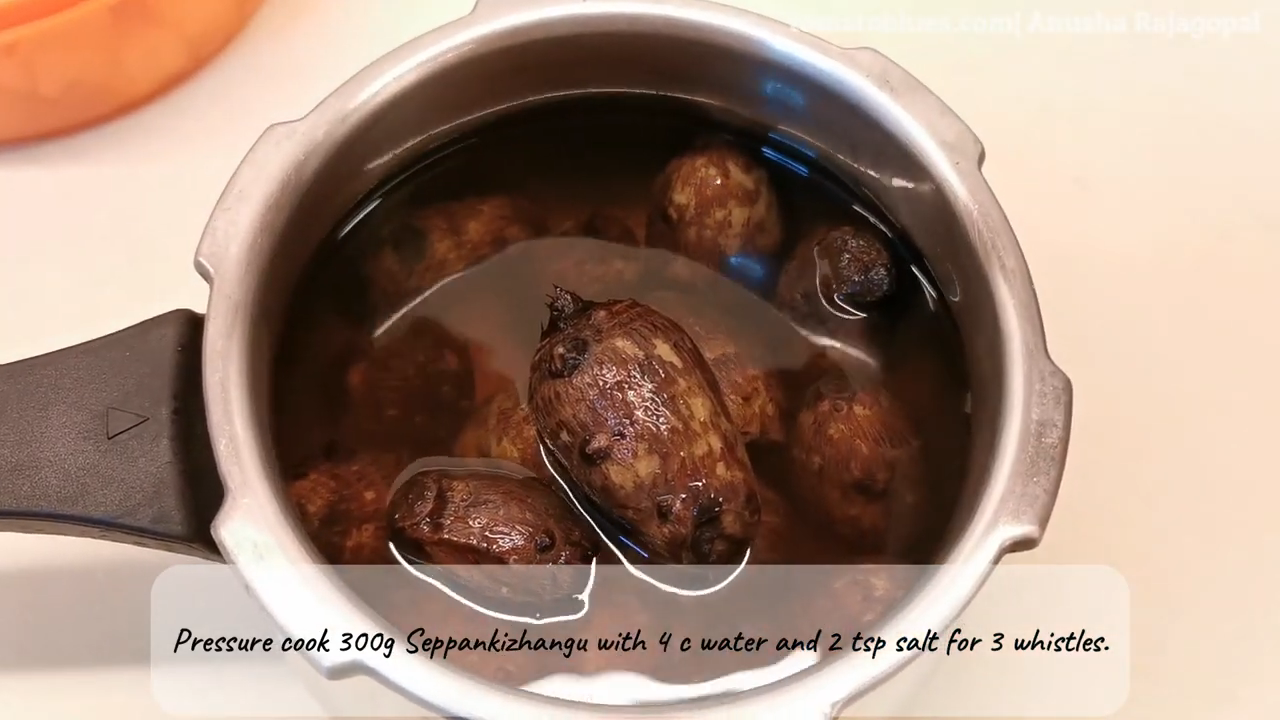 Pro Tip: Adding salt while pressure cooking helps in even cooking and easy peeling of the taro later.
Slicing and coating with spices
Now, peel the cooked taro. Slice them into thick roundels. Place them in a mixing bowl. Drizzle oil and add the spice powders, salt, rice flour and curry leaves.
Using silicone or a wooden spatula, gently toss everything together. Make sure the spices coat the Arbi evenly.
Pan-frying the Arbi
When the taro is coated well, let s begin roasting them.
If fried together in large batches, Arbi simply doesn't roast well. So I prefer doing this in batches. Also, I use a 10 inch cast iron skillet to do the same.
Using a larger skillet means that there are fewer overlaps and more space to add more roundels. 
Heat up a cast iron pan and add 1.5 tbsp oil to it. When the oil is hot, add mustard seeds and allow them to pop. Tip in the urad dal next and as the dal begins to brown, add a batch of the coated roundels to the pan.
Add them in a single layer and try to avoid overlaps, as you place them. For best results, I recommend using a pair of tongs to do this. After adding the first batch, lower the flame to medium.
Finishing up our Seppankizhangu roast
Now, cook this for 3 to 4 mins or until they turn golden on the pan side down.
When they are golden, flip them over and cook the other side on medium flame until golden.
After they are done roasting, go in with a spatula and toss them gently. Cook on low flame for 2 mins.
When you have finished with the first batch, repeat the same cooking process for the remaining roundels. Simply add the remaining 1/2 tbsp oil to the pan and proceed. 
Once done, combine the two batches. Now, garnish with more curry leaves because there really is nothing like fresh curry leaves for flavor.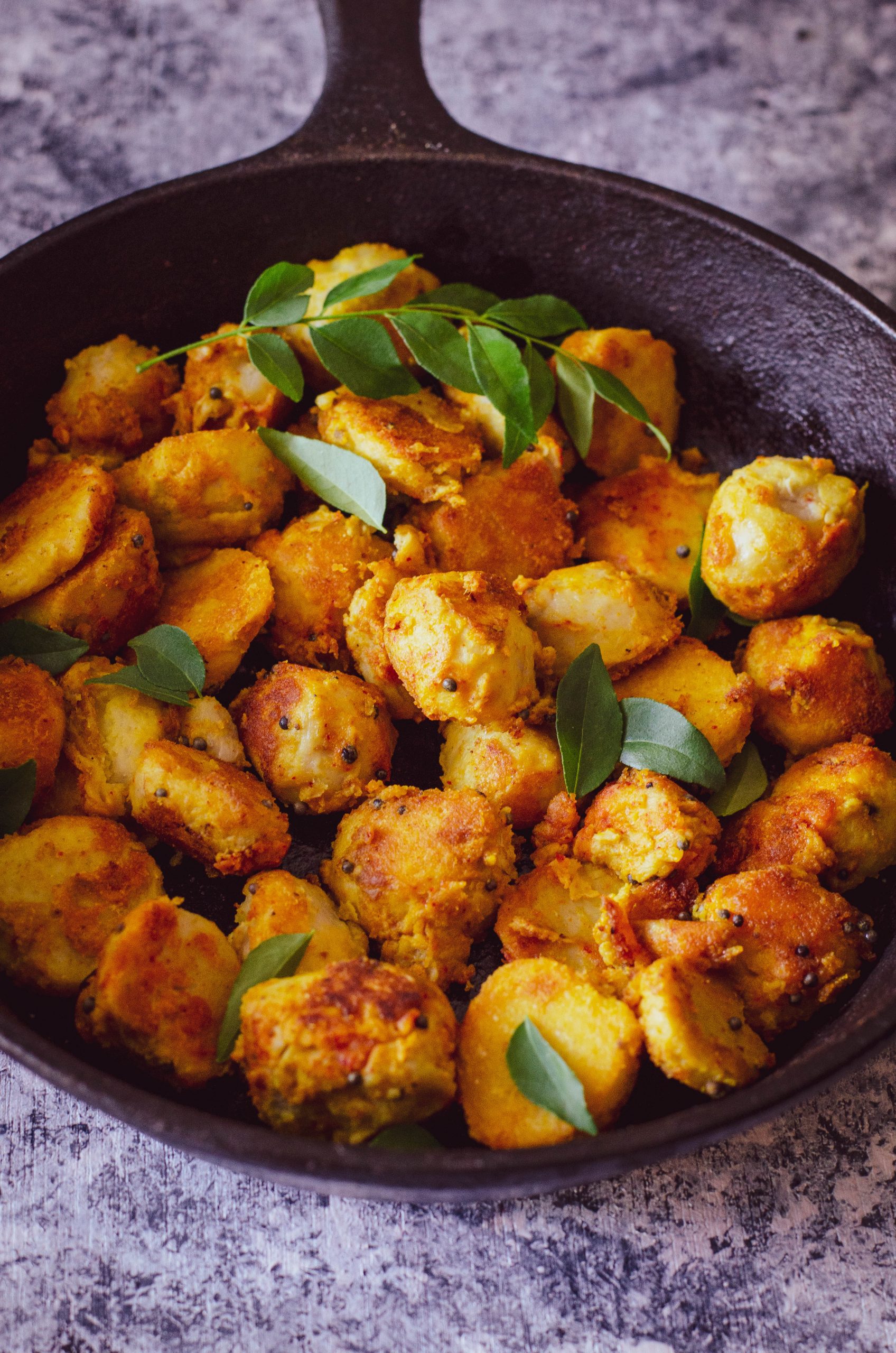 Our lip-smacking Seppankizhangu roast done in a cast iron pan is ready to be devoured!
Follow me on Instagram or Facebook for regular cooking updates and short videos. Find us on Pinterest for delicious content. Tried our Seppankizhangu Roast? We value your thoughts and comments! Leave a comment and tell us how it worked for you.
In case you have any questions regarding this recipe, leave a comment and I'll respond at the earliest possible. If you tried this recipe and enjoyed it, click a picture and share it on Instagram by tagging us @tomatoblues.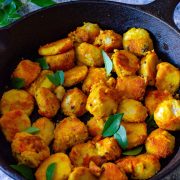 Print Recipe
Seppankizhangu Roast
Seppankizhangu Roast; Indian style taro root roast with basic indian spices. Vegan.
Ingredients
300

g

Seppankizhangu

Arbi or colocassia

1/4

tsp

Asafetida

1

tsp

turmeric powder

2 to 3

tsp

Red chili powder

2

tsp

salt

10

curry leaves torn

2

tbsp

oil

1

tsp

mustard seeds

1

tsp

urad dal
Instructions
Pressure cooking the seppankizhangu
Wash the taro roots well until all the mud is thoroughly washed away.

Place in a pressure cooker along with 4 to 5 c water and 2 tsp salt.

Let pressure release naturally.

Once done, drain all the water completely.

Peel the seppankizhangu and slice into thick roundels.
Coating the Seppankizhangu with spices
Place the sliced roundels in a bowl.

Drizzle 2 tsp oil over this.

Now add the asafetida, turmeric powder, red chili powder, salt, rice flour and curry leaves to this.

Using a silicone spatula, mix gently until all the spices coat the sliced roundels evenly.
Pan roasting the seppankizhangu roast
Heat a cast iron pan with 2 tbsp oil.

Pop the mustard seeds and add the urad dal.

Wait for the dal to brown.

Now add the sliced roundels in a single layer on the pan. Make sure the roundels dont overlap each other. We are going to fry the Arbi in batches. This is our first batch.

Turn down the flame to medium low and cook for 3 mins.

Now, using a pair of tongs, flip the sliced roundels and cook for 3 mins on medium flame.

Once done, using a spatula, mix well but gently.

Cook on low flame for 2 mins.

When done, remove the roasted Arbi from the pan. Now add the remaining oil.

Add the remaining Arbi in a layer and repeat the same cooking process.

When done, combine both batches. and garnish with curry leaves. Take off flame and serve hot.
Video
For Instant Pot & Air Fryer Recipes
Instant Pot timings may vary based on your geographic location. Air fryer settings and timings may vary based on the capacity and the model of the Air fryer.
Disclaimer
Nutrition values are provided here as a courtesy and are only a rough guide. Please consult a health care provider if you have any concerns.