Vegan berry rose Lassi is a refreshing Indian style yogurt drink that is just perfect for Summers. It also doubles up as a fantastic morning smoothie or a post workout pick me up.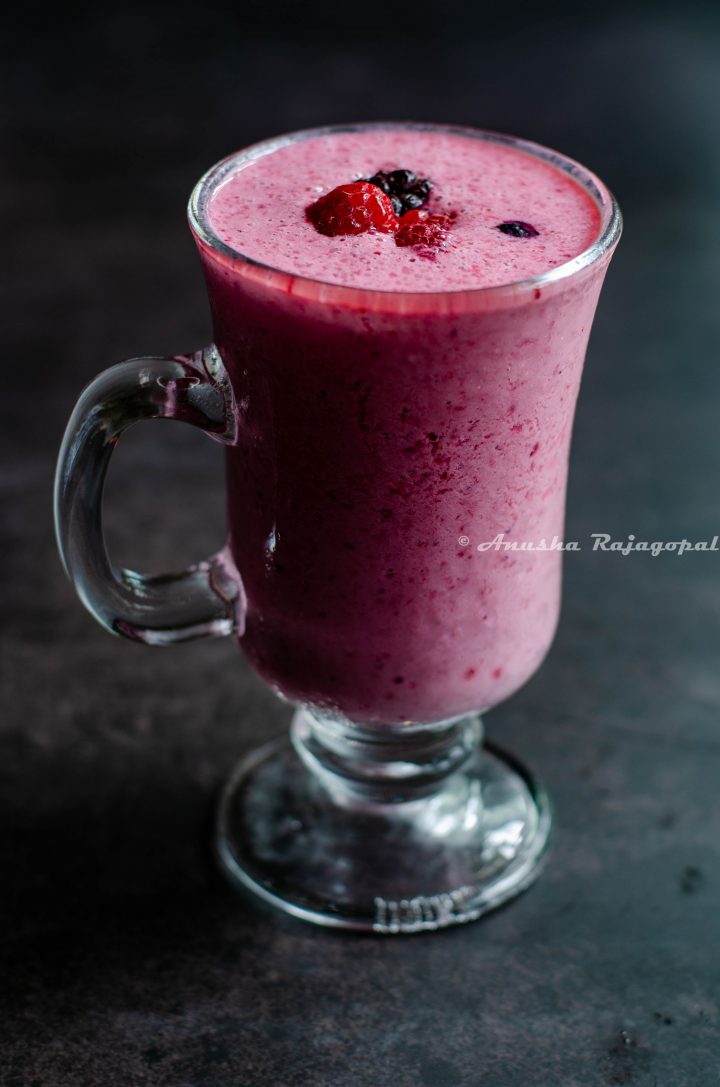 Come summer, we are all looking for healthier ways to hydrate ourselves. And while lemonades and juices are very good ways to hydrate ourselves, we all need a nice nutrition packed pick me up post workout, don't we?
Jump to:
What is Lassi?
Lassi is an Indian style yogurt drink. This is typically made by whisking the yogurt till smooth and adding a sweetener, some fruit or flavors. The most popular Lassi is the Mango Lassi. While mango lassi may be popular, strawberry lassi and avocado lassi are two other ways to make this drink healthier.
Dairy-free and vegan lassi
Traditionally, in India, we use full-fat yogurt to make lassi. However, in today's world where veganism is on the rise and we all are trying to eat mindfully, a dairy-free and vegan lassi seems like another delicious way to enjoy this classic drink.
You can use pretty much any non-dairy yogurt to make this. My favorite is coconut yogurt. The silky smooth texture and the subtle coconut flavor adds a delicate yet refreshing flavor to this recipe.
Ingredients
Non dairy yogurt and milk– Like I mentioned, coconut yogurt and milk are my choice when it comes to lassi. However, you can make the same with cashew yogurt too. That is my next choice!
Frozen berries– I have used store-bought frozen berries to make this lassi. A combination of raspberries, blueberries and strawberries work well here. You can also make this with just frozen strawberries. Did you know that freezing strawberries is so easy? Check out how to freeze strawberries at home.
Sweeteners– Maple syrup is what we love when it comes to sweeteners. You can also use raw cane sugar in its place. Another option would be agave or stevia.
Rose flavor– Natural rose water is the best bet here. I have used organic food-grade rose water for this lassi.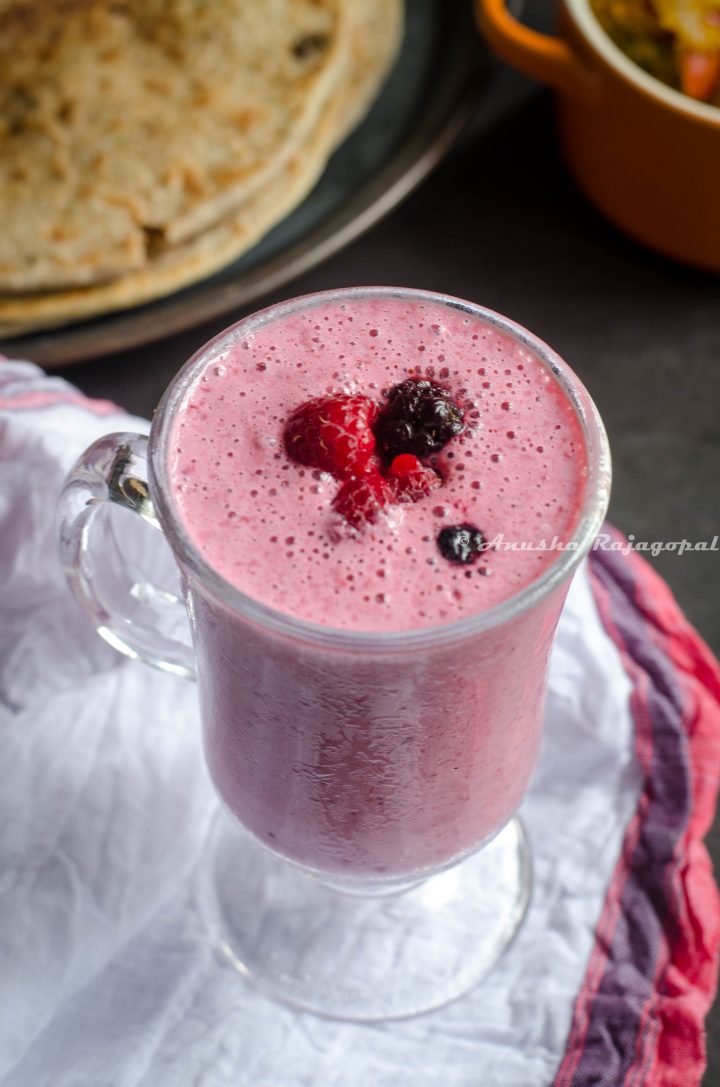 Variations
You can make this lassi with just one kind of berry. Strawberries, blueberries and raspberries work well as a combination or each on their own too. I like adding frozen berries because I can enjoy the drink immediately without having to wait for the lassi to chill.
However, you can always make this with fresh berries too.
Other flavor combinations that will work well for this lassi are vanilla and cardamom, cinnamon and vanilla.
Making ahead, storage and shelf life
This vegan berry rose lassi keeps well in the fridge for up to 3 days. You can store leftovers in a glass container or jar. If you are feeling very fancy, you can even pour them into popsicle molds and freeze them. This way, you will have a healthy frozen treat to enjoy after a meal too.
Explore summer treats
Follow me on Instagram or Facebook for regular cooking updates and short videos. Find us on Pinterest for delicious content. Tried our Vegan Berry Rose Lassi? We value your thoughts and comments! Leave a comment and tell us how it worked for you. Email us your questions to anusapraj@gmail.com if you need any guidance in making this.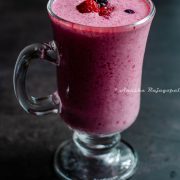 Print Recipe
Vegan Berry Rose Lassi
A delightful dairy-free yogurt drink made with berries and a subtle rose flavor.
Ingredients
1/2

c

frozen berries

1.5

c

Coconut yogurt

1/2

c

skim coconut milk

2

tsp

Rose water

1/4

tsp

Ground cardamom

2-3

tbsp

Maple syrup
Instructions
Place all the ingredients in a blender.
For Instant Pot & Air Fryer Recipes
Instant Pot timings may vary based on your geographic location. Air fryer settings and timings may vary based on the capacity and the model of the Air fryer.
Disclaimer
Nutrition values are provided here as a courtesy and are only a rough guide. Please consult a health care provider if you have any concerns.