Come winter, i find myself dreaming of ruby red strawberries. And come summer, you will only find me dreaming more of strawberries. Even though i know that the strawberry season in India is very short and that they are not available year round, i tend to crave for them during summers. While living in India definitely has so many million perks, berries is definitely not one of them. This year, i decided to change my luck with berries a wee bit and decided to walk down the " Freezing" line. I would have almost missed out on it this year but thanks to my mom who is here, i was able to visit the fruit market and buy some decent strawberries.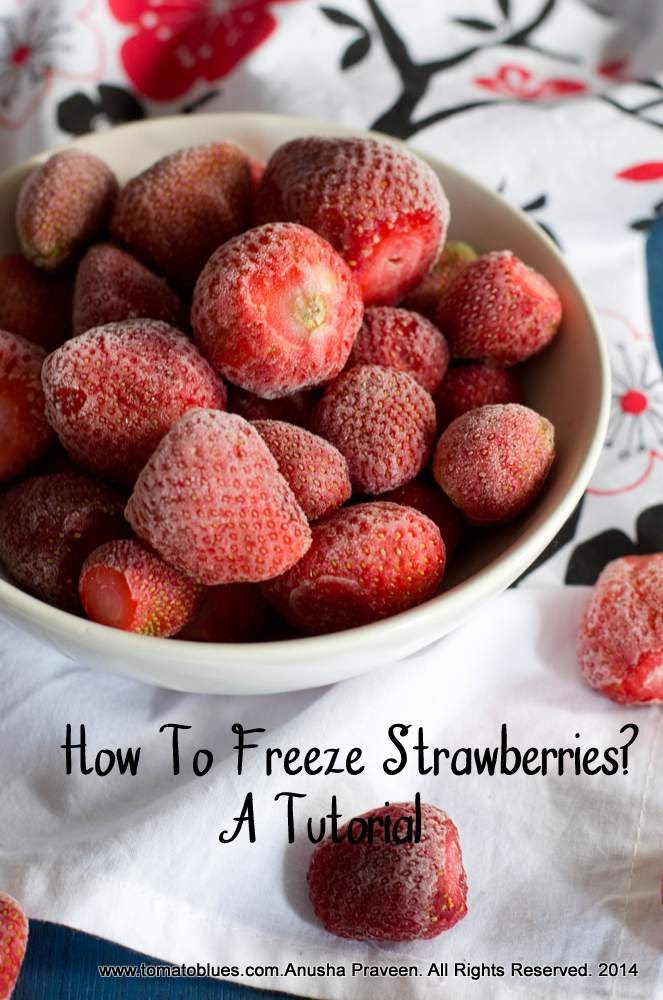 This tutorial is an attempt to make freezing easy for souls like me and you who happen to be reading this post. It calls for nothing fancy but if you count the zip lock pouches, then yes, you may have to make an extra trip down to the market. But other than that, its pretty much straight forward and will definitely tide you over, should the strawberry craving strike at an inconvenient time. These berries work well in smoothies, baked goodies and the likes. They thaw super quick and keep well for about 3 months in the freezer. I know this from a friend who froze her berries last year. On another note, the freezing technique mentioned here will work well for all kinds of berries. So, lets gear up and do some freezing, shall we?
A Tutorial on How To Freeze Strawberries
( Learn how to freeze strawberries easily for future use)

Prep Time: 1 hour 10 mins
Cook Time: Nil
Allergy Info: Vegan, Gluten free, Paleo
Category: DIY
Ingredients
Strawberries 1/4 kg
A large, clean and dry baking tray
Freezer safe Zip Lock pouches or freezer safe container to freeze the berries
Directions
Sort the strawberries and pick the good ones. Remove the bruised ones and save them to make some compote later.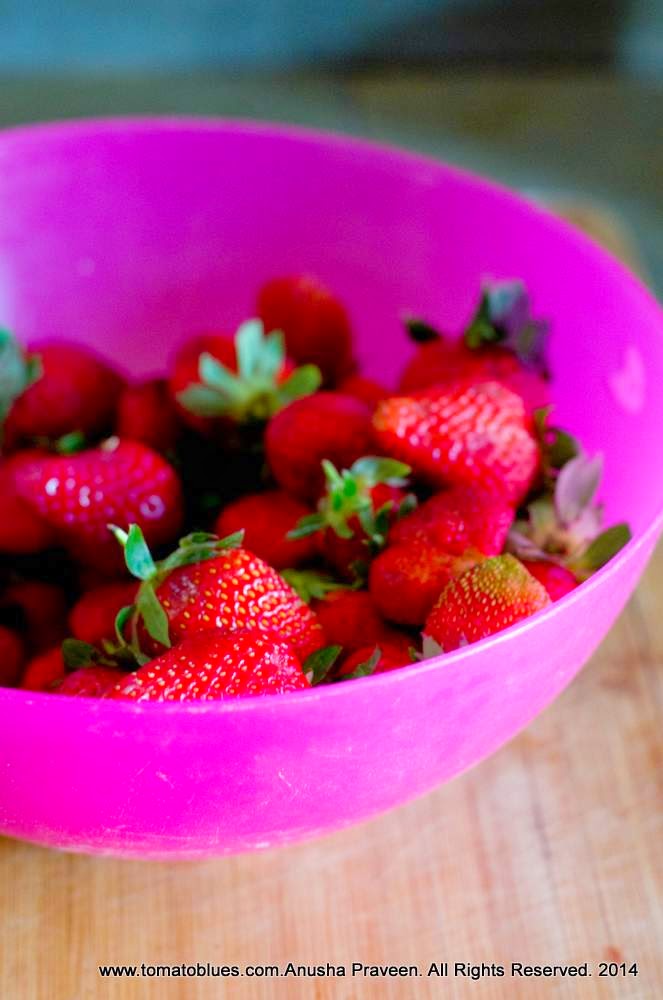 Once done, immerse them in water and give them a gentle rinse. Do not let the berries sit in water for a long time as this will result in color and flavor loss.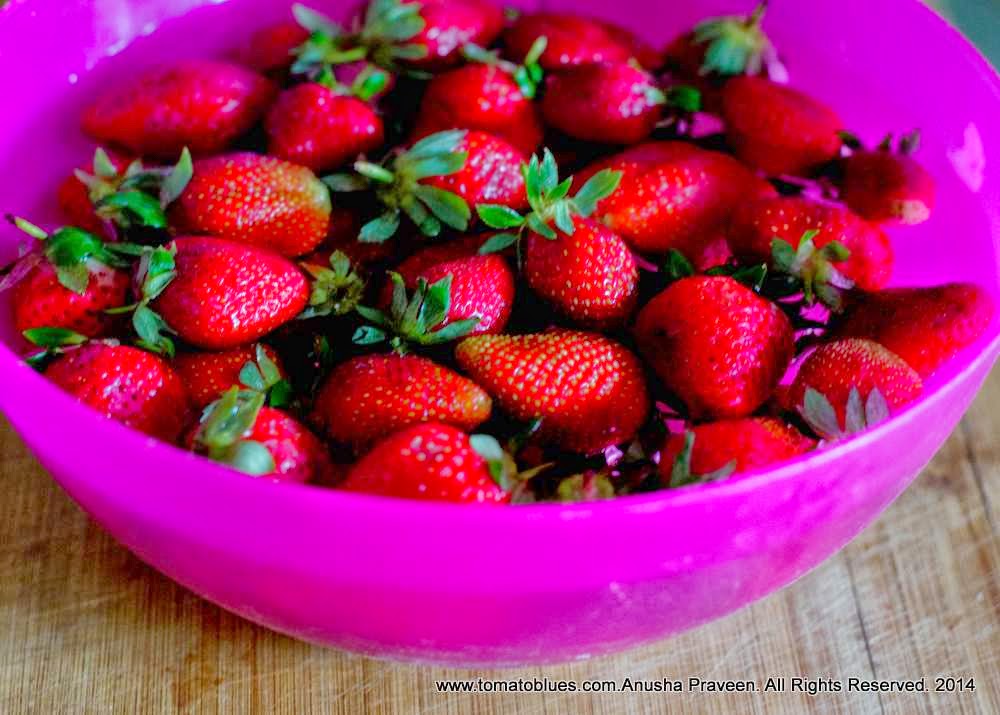 Once done, drain the water completely using a colander preferably and place them on a kitchen towel to dry.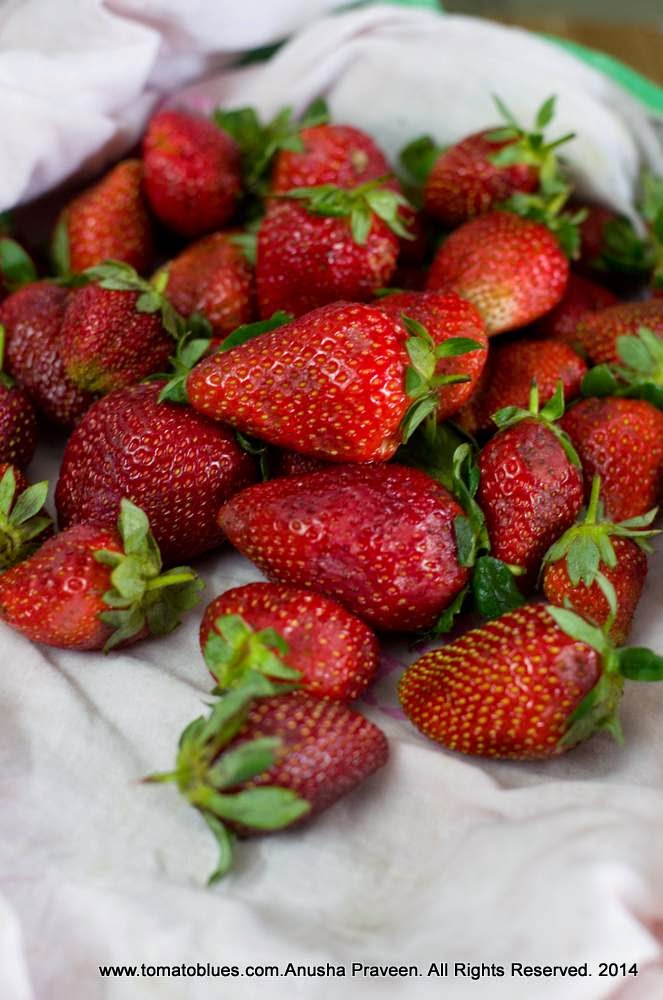 Once dry, hull them by slicing out the stalks.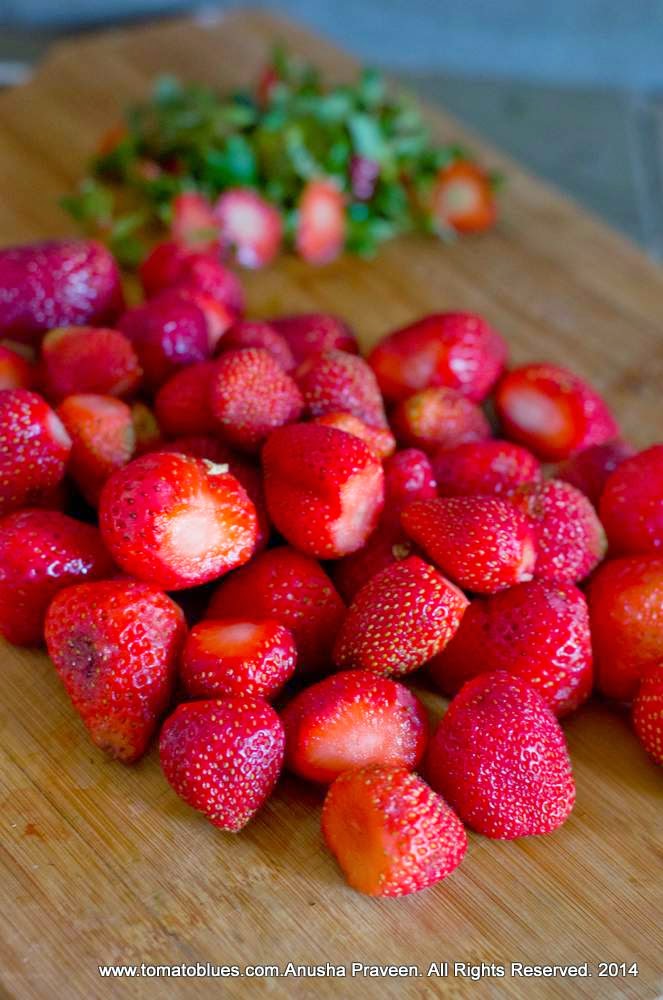 After you hull them, place them on a large baking tray making sure that you leave enough gap between the berries. Note that this step is very important. In case you place the berries close to each other, they will stick to one another and clump up. Such berries dont last long in the freezer.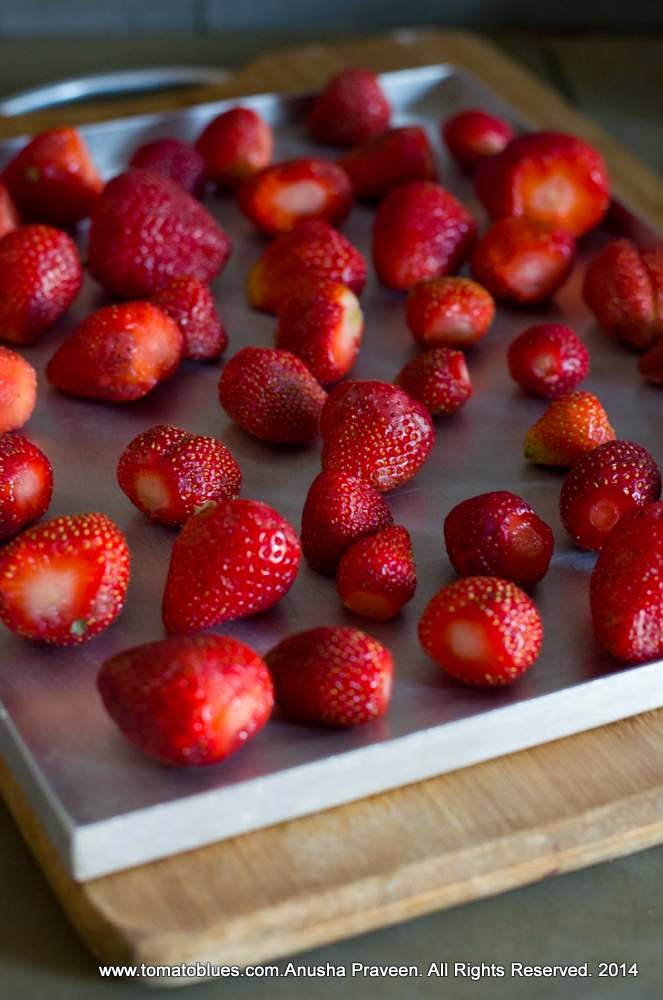 Once you have arranged the berries, place the tray carefully in the freezer for an hour or so until the berries freeze completely and remain solid to the touch.
Once done, transfer to a freezer friendly zip lock pouch or container. I took the pouch route here to save up on precious freezer space.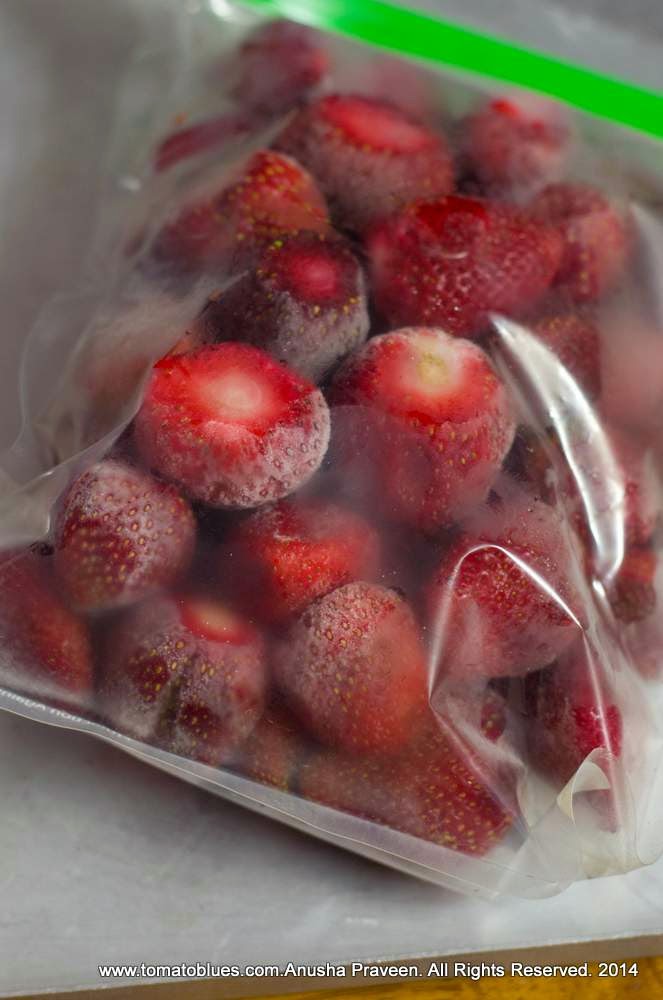 As a last step, dont forget to date your pouch.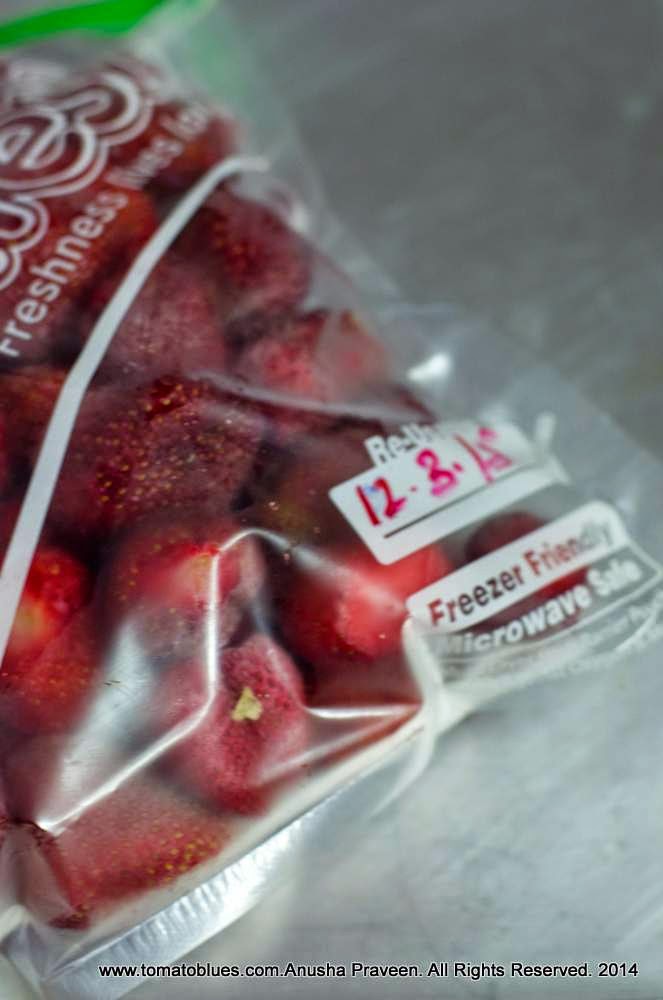 And this is how they turned out to be.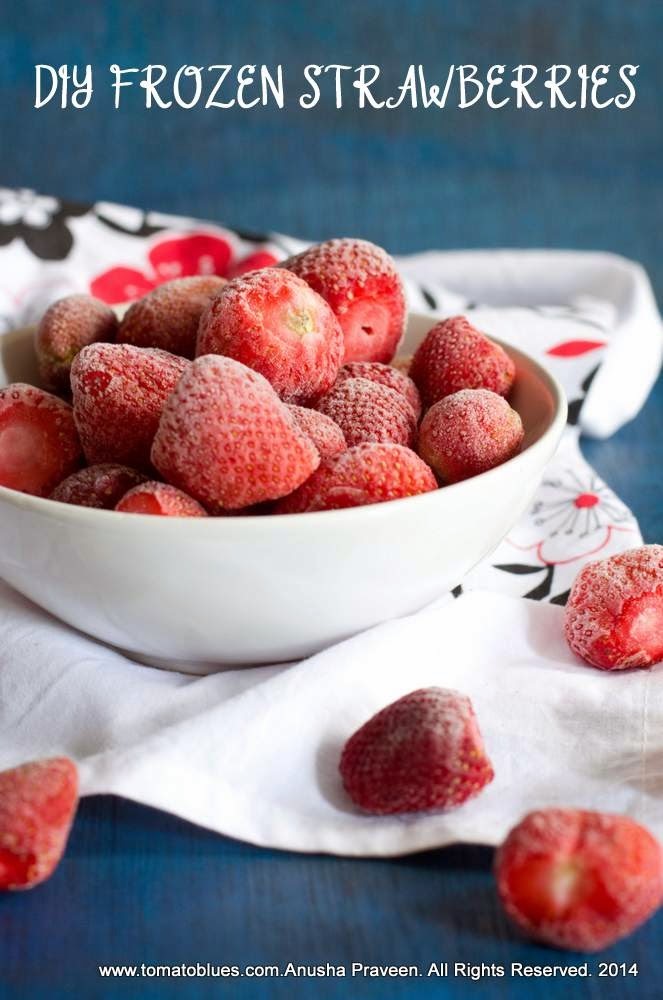 If you are looking for ideas on how to use up these frozen berries, check out the recipes for Strawberry Lemonade, Nutella Stuffed Strawberry Muffins and Strawberry Smoothie