WATERMELON LYCHEE GRANITA
Update: This post was originally posted on May 21, 2014 but has now been updated with fresh recipe cards on July 21, 2020.
WATERMELON LYCHEE GRANITA IS A REFRESHING ICED DESSERT THAT IS JUST HEAVEN FOR SUMMER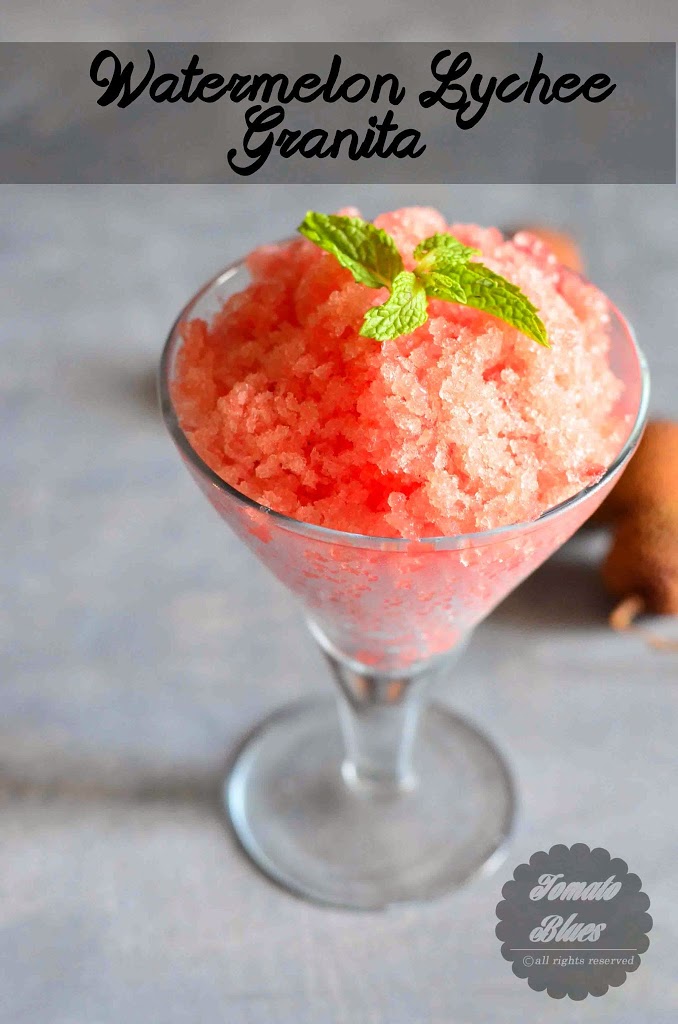 This summer has been merciless. The average temperature here in Vadodara is always 40C. Imagine our plights. Poor souls. The heat makes everything uncomfortable, from eating to sleeping. No one wants three course meals any more. Everyone is more than content with helpings of fruits and large glasses of chilled fruit juices and mocktails.
Breakfast is usually a smoothie. Preferably, chocolate. ( Ahem……) On one such ruthless day, I did something totally evil and vile. I ate some granita as breakfast. Wait! Are you staring at me? Or are you rolling your eyes? If yes, please do come visit me and then you will know why it s a wise idea to have granita for breakfast, lunch and dinner.
I can almost imagine my mom admonishing me when she comes to know about my breakfast. Which she will eventually. But until then, lets leave that to where it stands and talk some more granita.
The first time I came across a granita was a restaurant which had a mocktail menu that was longer than the Nile. ( Well, not exactly, but you get my point ?) So, mindlessly and out of sheer curiosity, I ordered a kiwi granita.
Needless to say, I was taken aback when the smart waiter came with a big glass of shaved ice that was a gorgeous green. I don't know what I was expecting but shaved iced didn't figure anywhere close to my perception of the so called granita. I almost had a foot in my mouth moment when I discovered that the mound of shaved ice costed 180 bucks.
Now see, this is not acceptable. First, you give me shaved ice which I can't enjoy unless I ignore my chattering teeth. Then you charge me 180 bucks!!!! That's three burgers at Mc Ds. For your info. I wanted to scream all this at the waiter. But I simply smiled, paid the check, had a face palm moment and walked out gracefully. Rest assured, I never revisited granita until recently.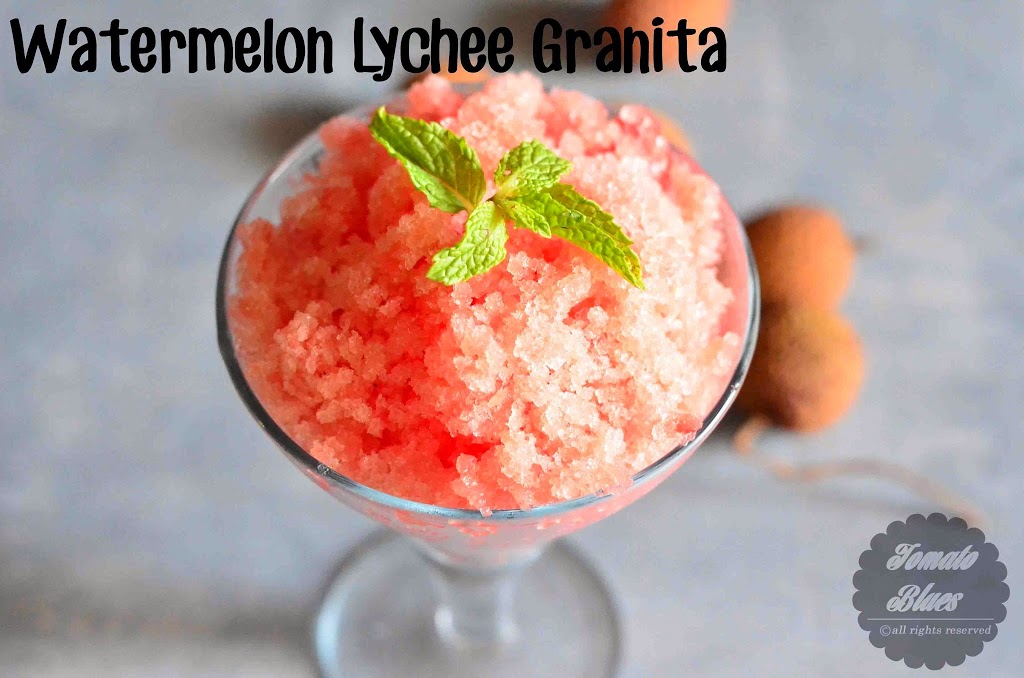 I came across some beautiful granita recipes in a cookbook that I was browsing through and I was compelled to try making some at home. When I thought about my granita experience in hindsight, I realized that it was nothing but a fancy pansy name given to the regular ice golas that we get in India for as low as 20 bucks a piece.
The only difference is that a granita is almost always made of fresh fruit juice but a gola is dipped in gorgeous vibrantly colored squashes.
Which does make a granita a better option any day?
Plus, you don't need a fancy machine to make some. So, all in all, a granita is a fabulous idea when the mercury is merciless and when you make it at home.
Special equipment for making a Granita:
You dont need any ice cream maker or ice crusher or ice shaver to make this granita. You can make a fantastic Granita by using your blender jar and a fork.
Sweeteners used in this recipe:
While white sugar can be substituted with healthier alternatives in many recipes, it is not very easy to do so in case of frozen desserts. Sugar helps in freezing of the Granita. So using sweeteners like maple syrup or agave or jaggery is not recommended for this recipe.
Freezing time:
Freezing time given here is how long it took for me. It may take longer or shorter,depending on the weather, the fridge you use and the quantity you use for making this Granita.
Check out other recipes featuring watermelon and lychee here: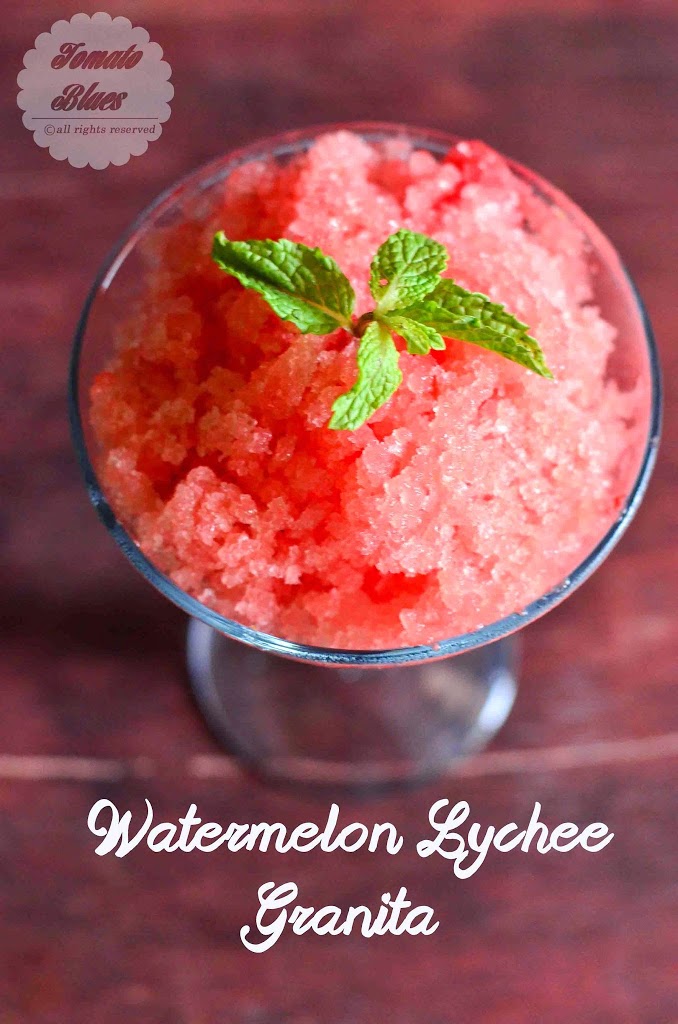 Follow me on Instagram or Facebook for regular cooking updates and short videos. Follow me on Pinterest for delicious content. If you try this Watermelon Lychee Granita recipe, please rate this recipe and leave a comment. If you have any questions regarding this recipe, leave a comment and i ll respond at the earliest possible. If you tried this recipe and enjoyed it, then click a picture and share it on instagram by tagging us @tomatoblues.
Recipe For Watermelon Lychee Granita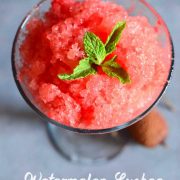 Print Recipe
Watermelon Lychee Granita
This granita has watermelon and subtle hints of Lychee. This makes a fantastic dessert for small parties.
Ingredients
1.5

c

Water melon

8

fruits

Lychee

1/2

c

Sugar

1

tbsp

Lemon juice

1

tsp

Grated ginger
Instructions
Pit the Lychee and discard the seed.

In a blender, combine mint leaves, ginger and sugar and pulse once to release the flavors.

Now, add ½ of the watermelon, lemon juice and lychee and blend to a smooth puree.Transfer to a bowl.

Blend the remaining watermelon to a smooth puree and combine this with previous mixture.Mix well.

Pour this mixture into a freezer safe container which is quite sturdy.Freeze till set. This takes anywhere between 2 hours to 4 hours depending upon your refrigerator.

Once frozen, use a fork and start raking the mixture from the sides first.Proceed to the center eventually.This is time consuming and a little tiresome but its worth all the effort.

Once you have raked up the entire mass, shove it back into the freezer.After 2 hours, remove and repeat the raking process.

Freeze till ready to serve.
For Instant Pot & Air Fryer Recipes
Instant Pot timings may vary based on your geographic location. Air fryer settings and timings may vary based on the capacity and the model of the Air fryer.
Disclaimer
Nutrition values are provided here as a courtesy and are only a rough guide. Please consult a health care provider if you have any concerns.