Cucumber gazpacho is a refreshing creamy chilled soup that is just perfect for lunch on a hot day.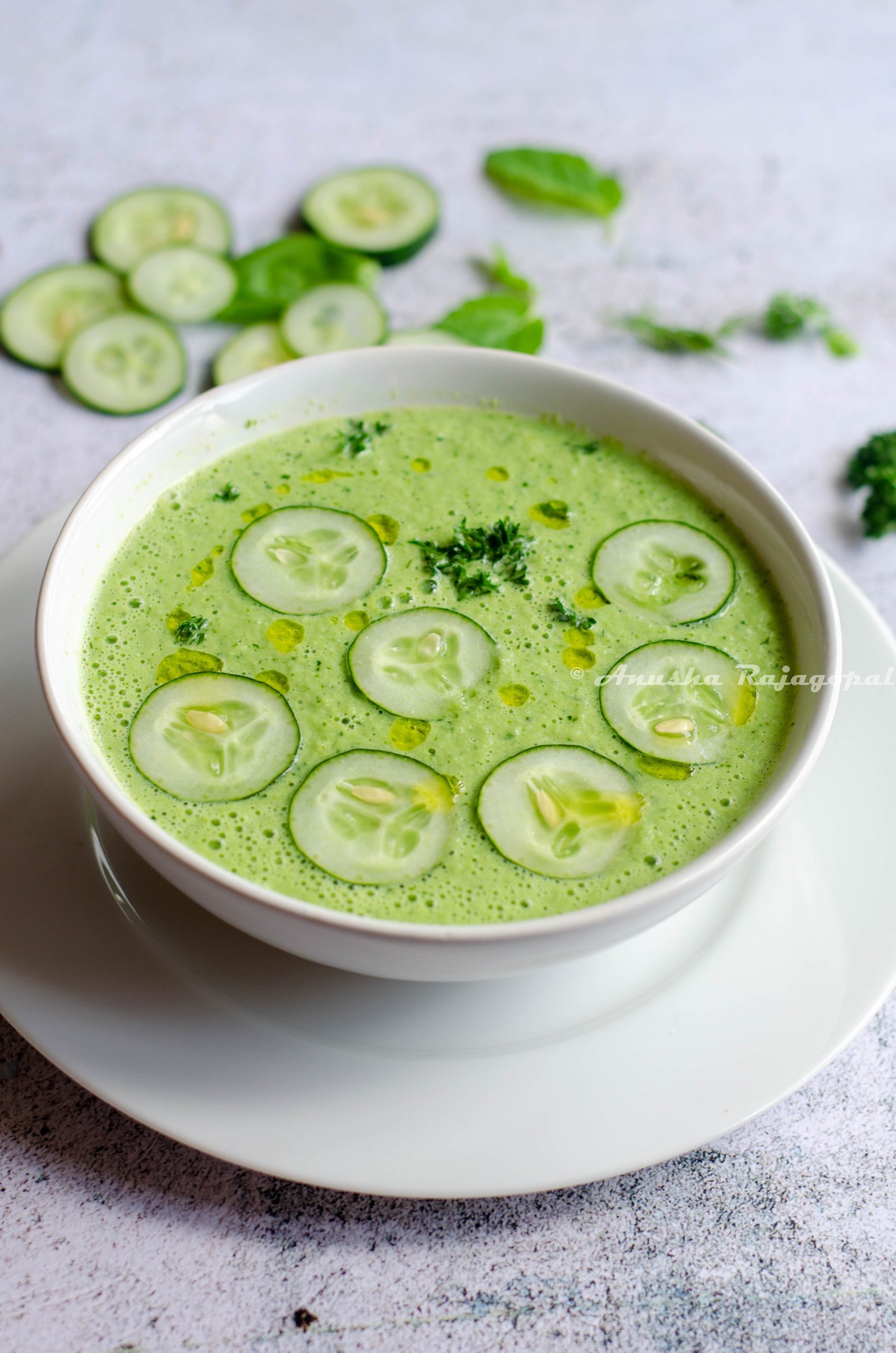 What is this Cucumber Gazpacho?
Gazpacho has its origins from Spain. They make gazpacho with tomatoes traditionally. But this cucumber gazpacho is a spin-off of the traditional tomato gazpacho. Like any gazpacho, this is a no-cook recipe that comes together in less than 10 mins. If you add chilled ingredients to make this, then you can even skip the chilling part.
Jump to:
Ingredients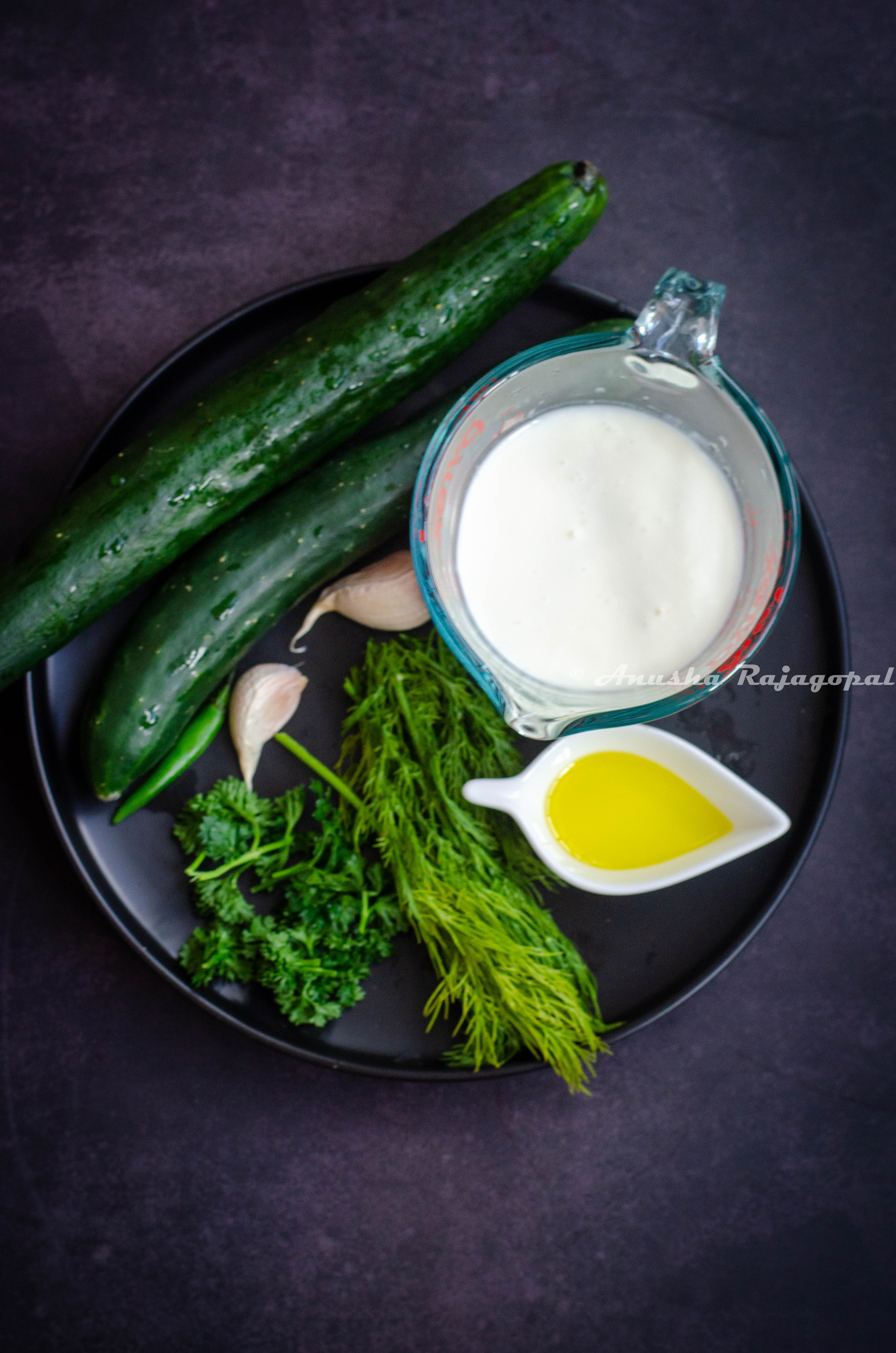 This recipe uses a lot of herbs. They are the most important elements when it comes to making a great cucumber gazpacho. 
Cucumbers- Japanese or Persian cucumbers work best for this chilled soup. Any cucumber will work but these varieties have a nice crunch and a delightful deep green skin. Both these add texture and color to our gazpacho. I have tried making this gazpacho with English cucumbers, Japanese cucumbers and Persian cucumbers. All three work remarkably well. While choosing your cukes, make sure they are not thick skinned and are crunchy.
Yogurt- While I have used regular yogurt in this recipe, you can always use chilled greek yogurt to make this. There really is no need to add any water to our gazpacho as the cucumber itself has plenty of water. This is enough to dilute our soup to the right consistency.
Olive oil- It is not necessary that you use extra virgin olive oil in this soup. But it gives an amazing flavor. I have made this with both regular olive oil and the extra virgin olive oil. While the former works well, adding extra virgin olive oil really takes the flavor up a notch.
Pickled shallots- If you do not have pickled shallots, I recommend skipping them altogether. The problem with adding raw shallots is that they are too pungent and give the gazpacho a slight bitter taste.
Garlic- Go very easy on the garlic. We are looking for a subtle hint of garlic. I have just used a small clove of garlic here. 
Green chili and white pepper- In my opinion, the heat from these two complements each other so well. And black pepper is more pungent than white. So I won't recommend substituting white pepper with black pepper.
Herbs – As I mentioned in the beginning, herbs are what make this soup. I recommend a combination of basil, mint, dill, and parsley. While you can skip basil, mint, or parsley, dill is an absolute must. 
Recipe Notes
I highly recommend using chilled fresh yogurt to make this creamy chilled soup. Low fat yogurt works well too.
Using a high-powered blender will give you the best results. Make sure to blend on high speed until all of the cucumber pieces have blended really well. Somehow, chunky cucumber gazpacho did not work well for us. 
Use good quality extra virgin olive oil for an amazing flavor.
This is a naturally gluten-free recipe. You can always serve this with a light salad to make it a complete meal.
Vegan Cucumber Gazpacho
If we look at all the ingredients for our gazpacho, all but one are dairy-free. To make this a completely vegan cucumber gazpacho, I recommend using Cashew yogurt. Coconut yogurt is your next best bet. Just make sure both are chilled and whisked smooth.
Meal Planning and Prep Work
Meal Planning
If you are planning to serve this at a party, you can easily make this ahead and let it chill in the fridge for up to 2 days. I have not tried freezing this gazpacho. I will definitely keep you guys updated in case I try this.
Prep Work
 The most time consuming prep work for this soup is probably cleaning and sorting the herbs. Once you deal with this, you are literally 2 mins away from making and enjoying some chilled cucumber gazpacho.
Chilled Cucumber Gazpacho- Method
Combine all the ingredients in a blender.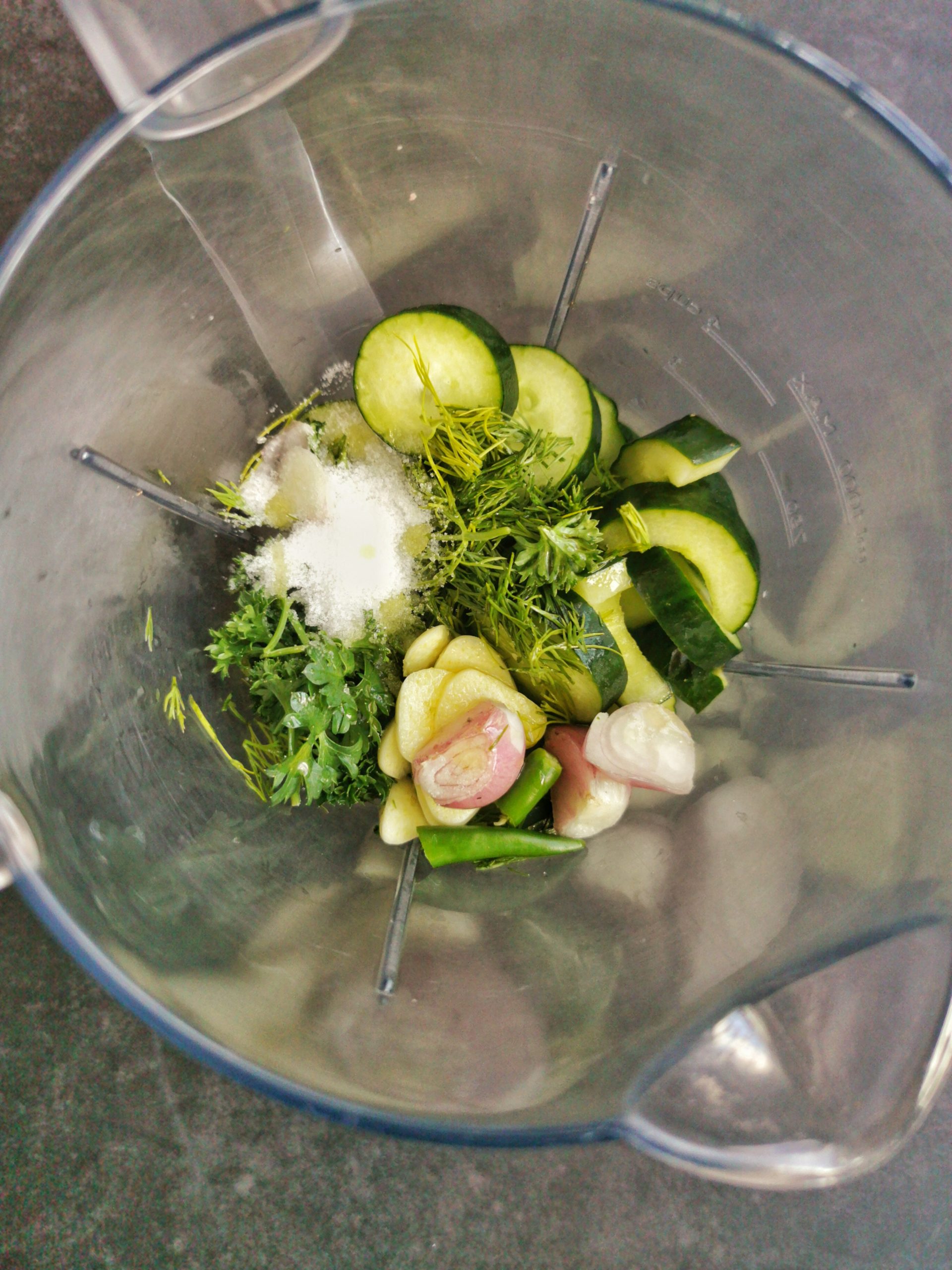 Blend to a smooth puree.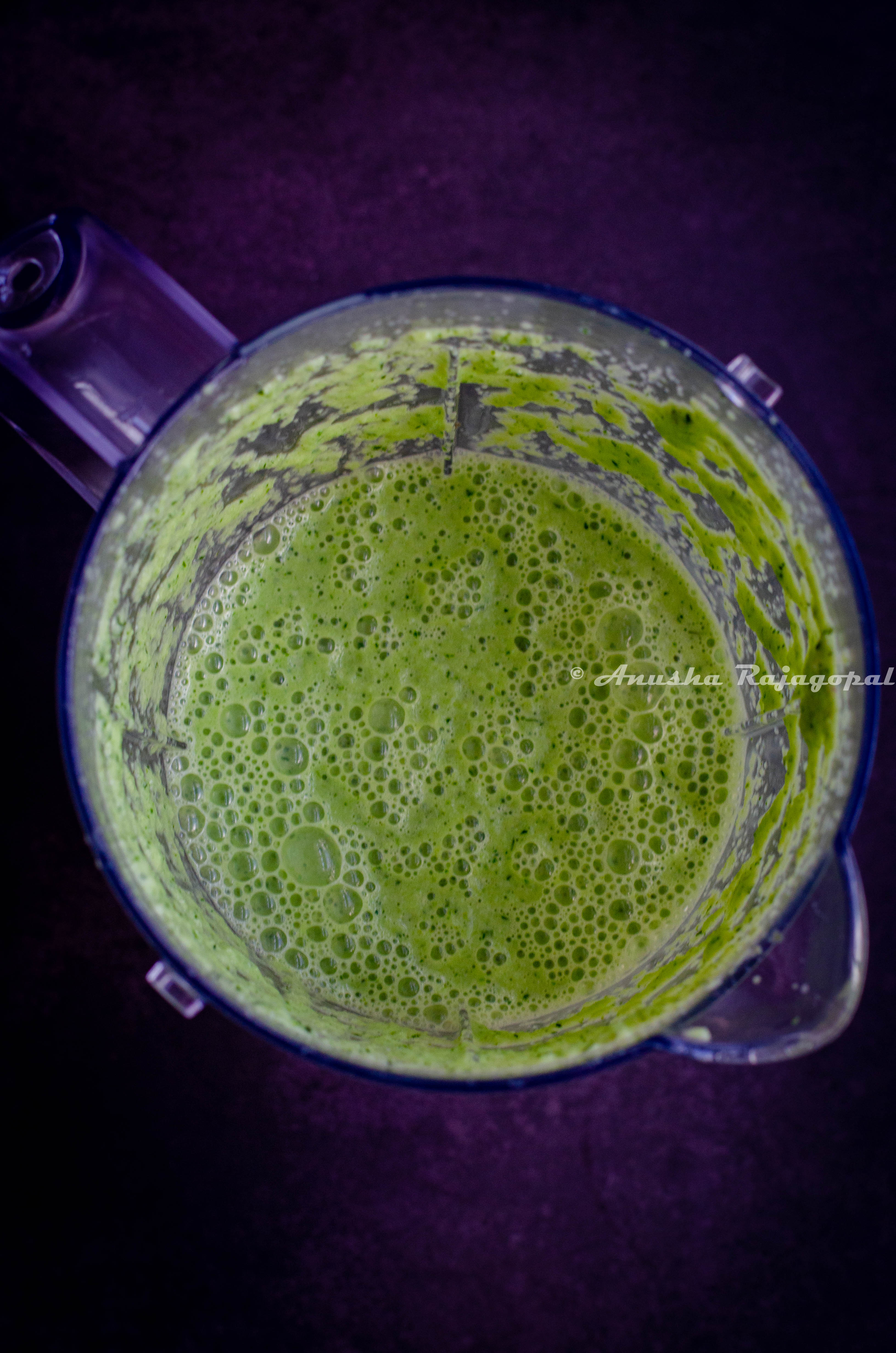 Pour into bowls. Garnish with cucumber slices. 
Drizzle olive oil.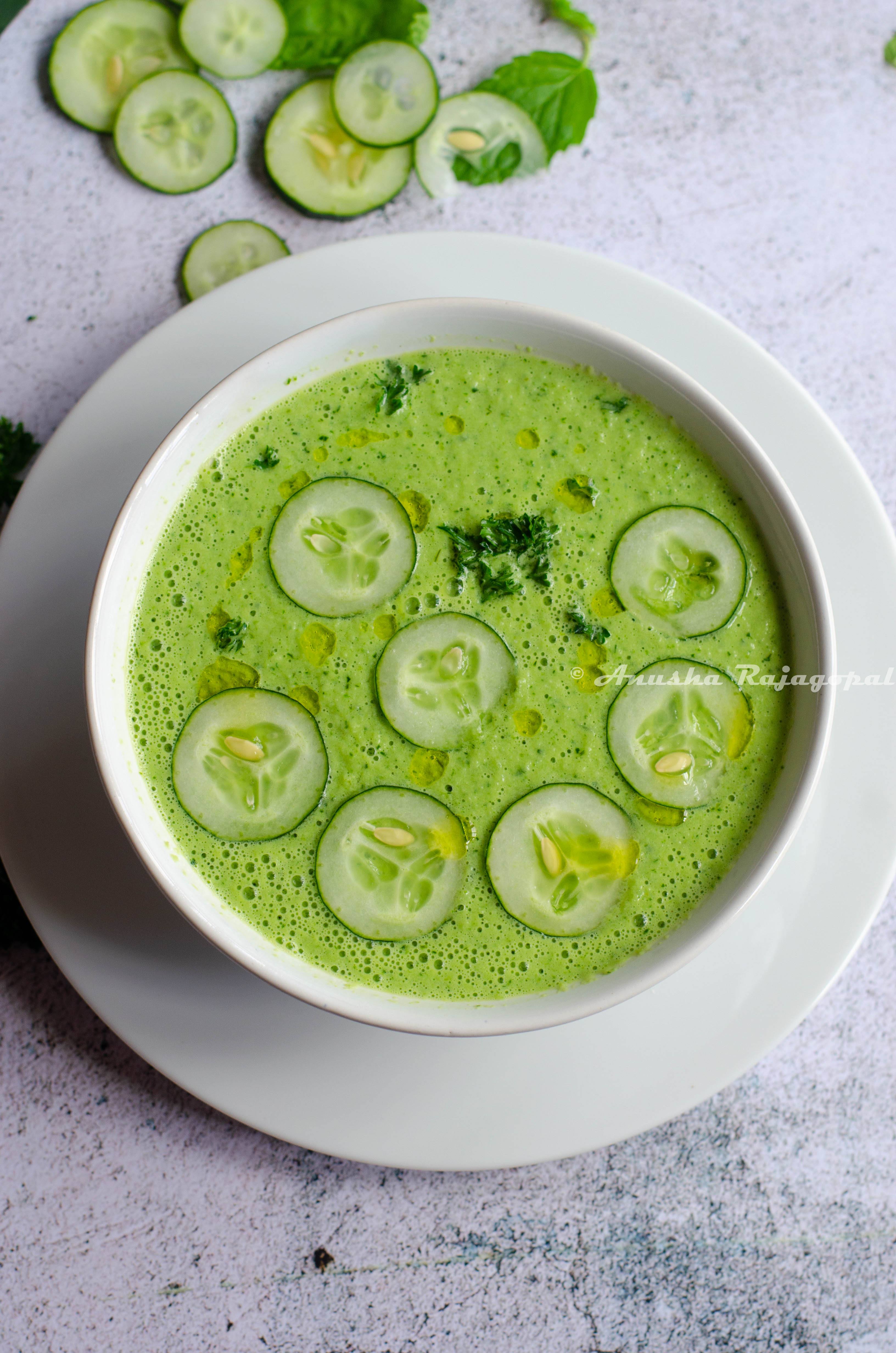 Serve chilled with toasted bread. 
More Summer Recipes
Follow me on Instagram or Facebook for regular cooking updates and short videos. Find us on  Pinterest for delicious content. Tried our Cucumber Gazpacho ? We value your thoughts and comments! Leave a comment and tell us how it worked for you. Email us your questions to anusapraj@gmail.com if you need any guidance in making this.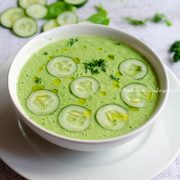 Print Recipe
Cucumber Gazpacho
A quick and easy chilled summer soup with crunchy cucumbers and herbs.
Ingredients
300

g

Japanese cucumbers peeled and chopped

1

tbsp

sweet basil

1

tbsp

Italian parsley

1

tbsp

Dill leaves

1

tbsp

Mint leaves

1

Green chili

1

small clove garlic

1

small pickled shallot

3

tbsp

Olive oil

3/4

c

Fresh yogurt

1/2

tsp

White pepper

1

tbsp

Lemon juice

1

tsp

Salt or to taste
Garnish
10 to 12

slices

cucumber

1

tbsp

olive oil
To Serve
2

slices

toasted bread

Optional
Instructions
Place all the ingredients with th eyogurt in a blender and pulse to break down the mixture to a coarse mixture.

Now blend on high speed till you have a smooth puree. Make sure there are no chunks of cucumber left.

Chill for atleast 4 hours.

Drizzle the olive oil over the soup and top with sliced cucumbers.

Serve with toasted bread.
For Instant Pot & Air Fryer Recipes
Instant Pot timings may vary based on your geographic location. Air fryer settings and timings may vary based on the capacity and the model of the Air fryer.
Disclaimer
Nutrition values are provided here as a courtesy and are only a rough guide. Please consult a health care provider if you have any concerns.
This post was originally published in April, 2015. This has now been updated with fresh process shots, pictures and recipe card.