HOW TO MAKE KIWI CUCUMBER LEMONADE?
Kiwi Cucumber Lemonade- A refreshing thirst quencher with the goodness of kiwi and the tang of lemons.Its not even officially summer here yet the its sweltering hot.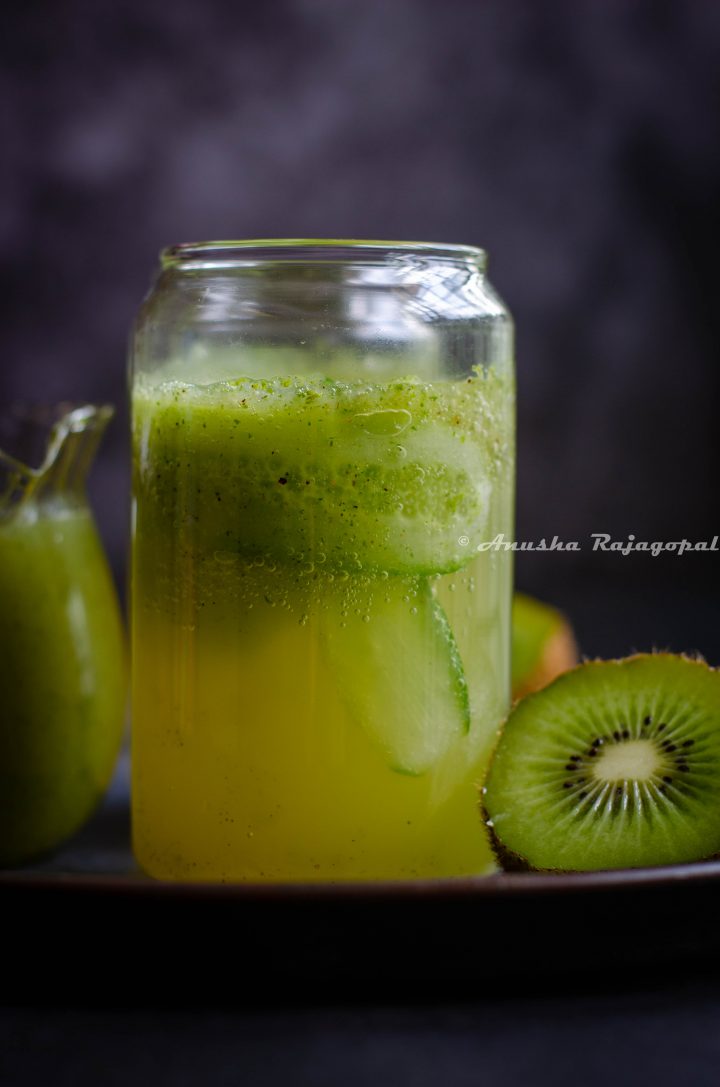 The heat is relentless and peaks during the afternoons making everyone long for a tall glass of something cold to swig. Whether its officially summer or not, i m declaring it as summer. So, when i had a lone kiwi looking at me sadly from the fridge, i decided to do something with it. I usually peel, slice up the kiwi and serve it sprinkled with chaat masala and some salt. But this time, i wanted to do something different. And that time was a hot afternoon. Precisely when this Kiwi Cucumber Lemonade was born.
I never gave much thought to the recipe. This was a build as you blend kind of a drink. And since the first time, I have made it every time I have had kiwis and everyone loves it!
How to peel a kiwi?
Perhaps, the most challenging thing about a kiwi is peeling it. If i m going to eat it as is, then I just eat with the skin on. Yep. Try it and thank me later.
But if its for a juice like this one, then I use a sharp spoon. Cut the kiwi into halves and go in with a sharp spoon around the edges to gently pry away the skin. Works like a charm.
Shelf Life
You can make a big batch of this lemonade and keep it refrigerated for 3 days. I do this very often with different lemonade recipes, come summer. Make sure to use a clean glass carafe or bottle to store this lemonade.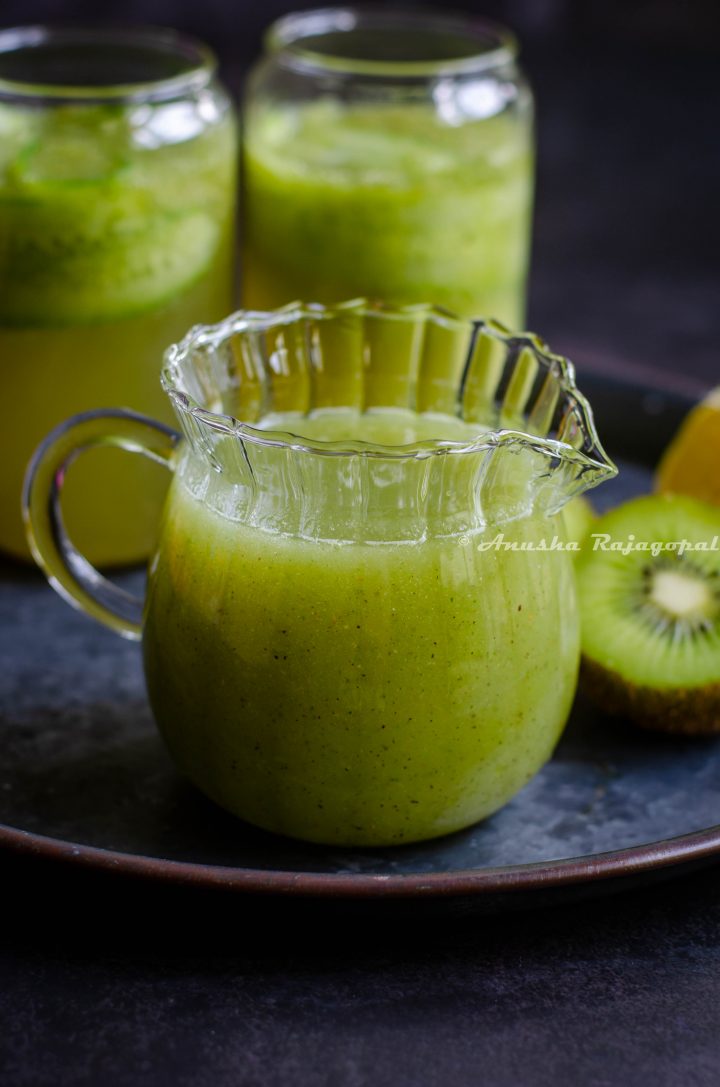 More Lemonade Recipes
This summer, try our lemonades and you won't be disappointed. There is one for everyone.
Follow me on Instagram or Facebook for regular cooking updates and short videos. Find us on Pinterest for delicious content. Tried our Kiwi Cucumber Lemonade? We value your thoughts and comments! Leave a comment and tell us how it worked for you.
In case you have any questions regarding this recipe, leave a comment and I'll respond at the earliest possible. If you tried this recipe and enjoyed it, click a picture and share it on Instagram by tagging us @tomatoblues.

Kiwi Cucumber Lemonade Recipe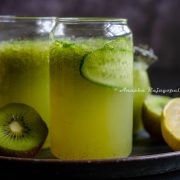 Print Recipe
Kiwi Cucumber Lemonade
Kiwi in a lemonade? Yes! This refreshing non alcoholic is a sure party pleaser during summers.
Ingredients
Kiwi 1 peeled

Persian cucumber 1 peeled

Lemon juice 2 tbsp

Mint leaves 2 to 3

Sugar 3 tbsp

Soda

Sparkling water 1 c ( optional)

Chilled Water 1/2 c

Ice cubes to serve
Instructions
Place all ingredients except the soda in a blender and blend to a smooth puree.

Divide the mixture in two parts and pour into longish glasses.

Top with soda.

Add ice cubes and serve.
Notes
1. Using soda is optional. You can use 2 cups of chilled water instead.  In case you skip soda, add 1 c of water while serving.
2. Adjust sweetness according to your palate.
For Instant Pot & Air Fryer Recipes
Instant Pot timings may vary based on your geographic location. Air fryer settings and timings may vary based on the capacity and the model of the Air fryer.
Disclaimer
Nutrition values are provided here as a courtesy and are only a rough guide. Please consult a health care provider if you have any concerns.