How To Make Mango Lemonade?
MANGO LEMONADE- A REFRESHING SUMMERY LEMONADE WITH FRESH MANGOES AND A HINT OF MINT. SUMMER RECIPES.VEGAN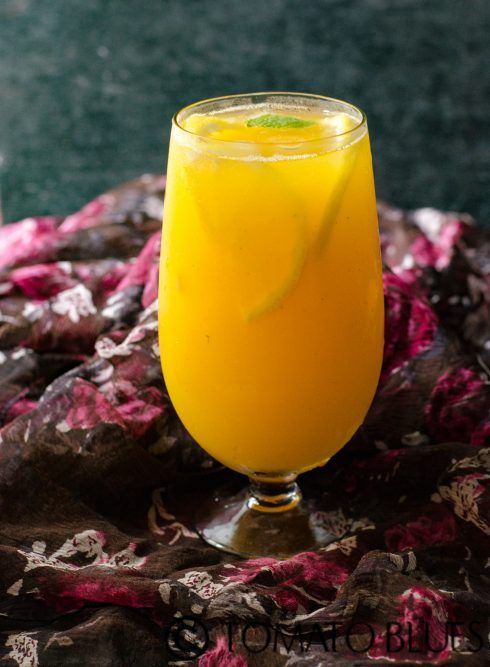 Mango lemonade is probably the best way to indulge in lemonade. There is really nothing better on a hot Summer's afternoon than a lemonade that is bursting with the flavors of fresh mangoes. I had too many mangoes from my recent visit to Mustafa. After making some delicious mango gelee panacotta and this crazy good mango jalapeno taco sauce, i was left with about 2 cups of chopped Alphonso mangoes. Singapore has been getting hotter over this month and i decided that mango lemonade is going to be one helluva way to beat the heat.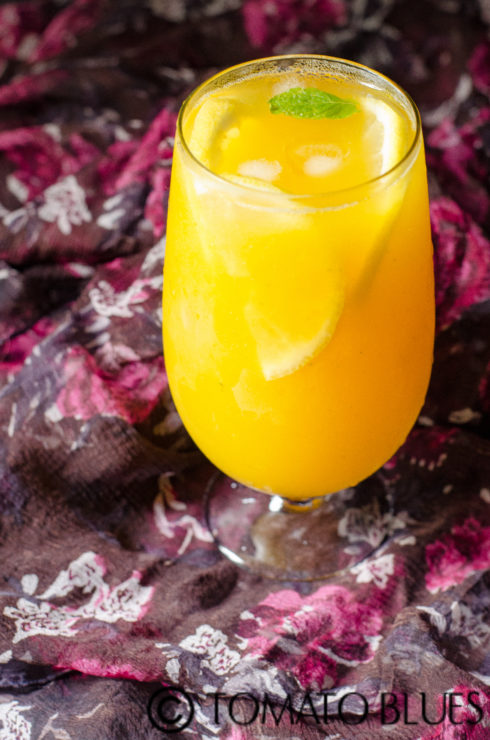 When i made the mango lemonade for the first time, i was really not very impressed. There was something missing. Yes, i was very sure. You see, i have become very particular over the years about my lemonade. And so, i decided to experiment a bit with this version. I thought a nice Indian spicy kick would take my mango lemonade to a different level and i was not wrong. This lemonade calls for very simple ingredients but the key to making fine mango lemonade lies in finding the best mangoes you can lay your hands on. I added a bit of Jaljeera powder to give the lemonade a new flavor but feel free to skip it if you are not a Jaljeera fan.
In case you are interested, here are some more lemonade recipes for you.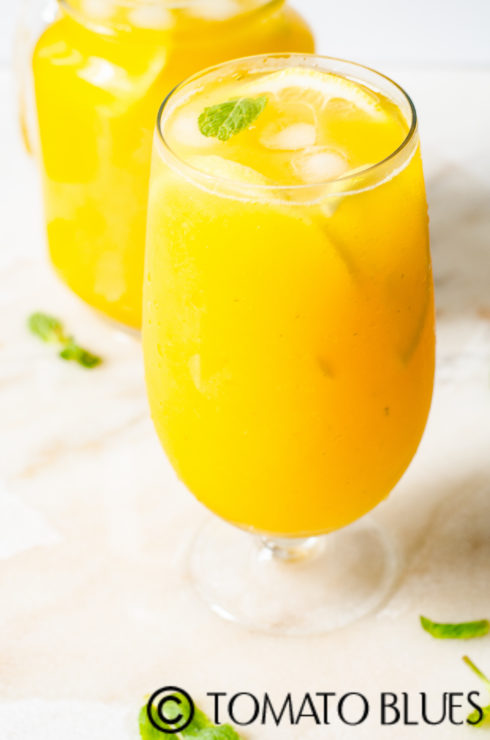 Recipe For Mango Lemonade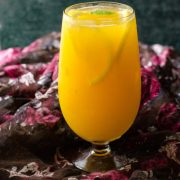 Print Recipe
Mango Lemonade Recipe
Mango Lemonade- A refreshing lemonade with flavors of fresh ripe mangoes. Vegan. Can be made ahead
Ingredients
Mangoes 2 cups peeled and chopped

see notes below

Lemon juice 1/4 c

Sugar 1/2 c

Water 1/2 c

Jaljeera powder 1/2 tsp

Mint leaves 10

Lemon wedges to serve

Ice cubes to serve
Instructions
Combine sugar and water along with the mint in a pan.

Heat the pan until sugar melts completely.

Let the syrup cool completely.

Once cool, strain and discard the mint leaves.

Add lemon juice to this and mix well.

Place the mangoes, jaljeera powder and the simple syrup in a blender and blend to a smooth puree.

Once done, pour into a clean bottle and store in the fridge.

To make one glass of mango lemonade, combine 2 parts of mango lemonade concentrate and 4 parts of cold water and mix well.

Add lemon wedges and ice cubes.

Serve immediately.
Notes
1. I used Alphonso mangoes for this. You can use any type of mangoes as long as there are sweet and have a prominent flavor.
2. The mangoes were too sweet and so i used only 1/2 c of sugar. In case your mangoes are not very sweet, increase the sugar to 3/4 c and use equal amount of water to make the simple syrup
3. The concentrate keeps well in the fridge for a week.
For Instant Pot & Air Fryer Recipes
Instant Pot timings may vary based on your geographic location. Air fryer settings and timings may vary based on the capacity and the model of the Air fryer.
Disclaimer
Nutrition values are provided here as a courtesy and are only a rough guide. Please consult a health care provider if you have any concerns.