Fruit custard is an egg-free dessert that is not just easy to make but a great way to include fruits. This English inspired dessert is quite popular in many Indian homes perhaps because it has a fancy feel to it but so effortless to put together. In this post, I will walk you through the steps to make this delicious dish without store-bought custard powder.
Follow us on Pinterest for delicious pins. Join our Facebook group for more Instant Pot and Air Fryer Recipes.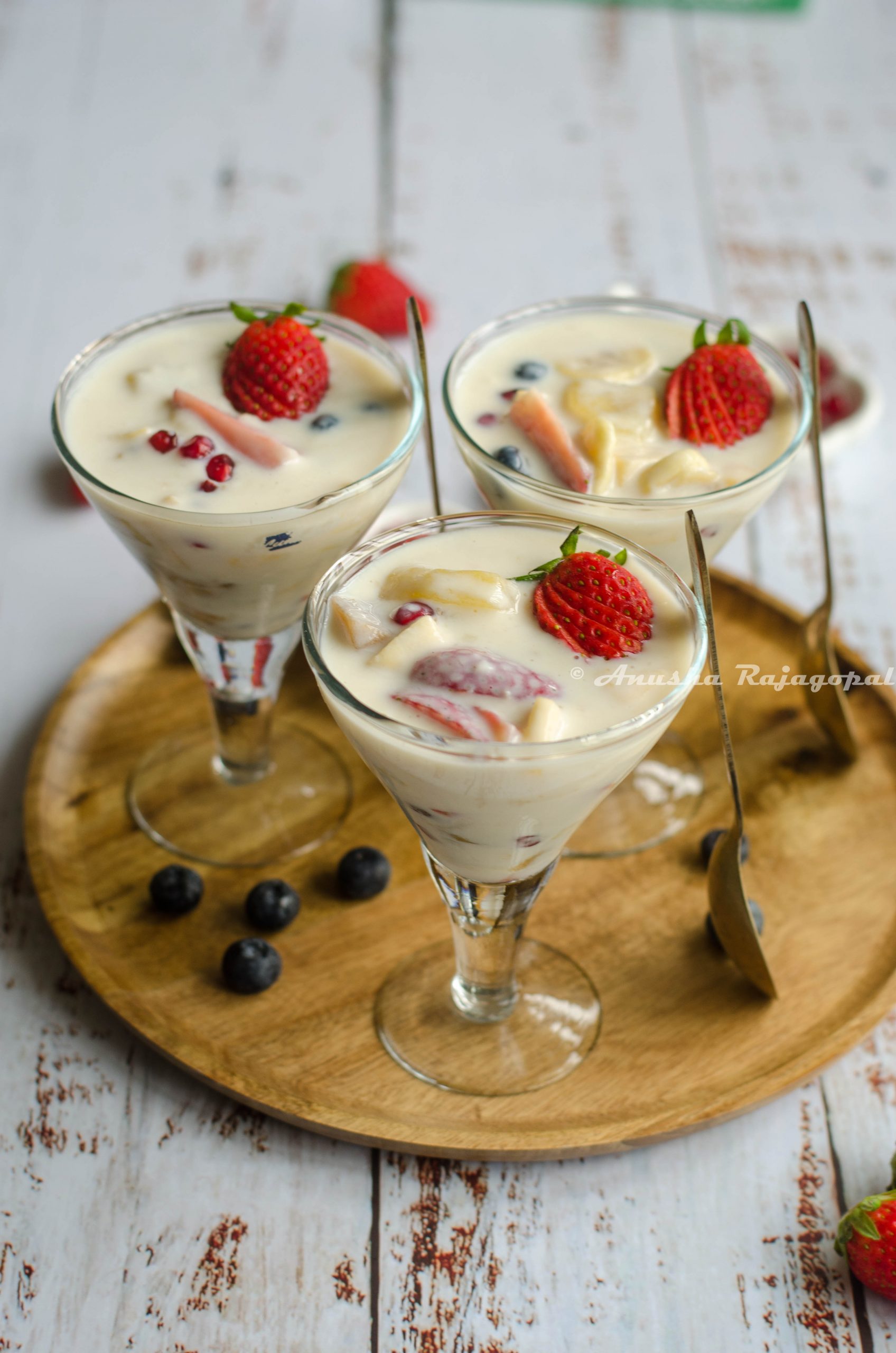 Jump to:
What is custard powder?
For the uninitiated, custard powder is a flavored cornstarch mix available in UK, most Indian cities and middle eastern countries. I assume that our fondness for this simple yet superior tasting dessert comes from the fact that Indian cuisine has some British influence. 
For the most parts, custard powder is mostly flavored with vanilla and has some yellow food coloring added to it. So, the next time you reach out for that packet of custard powder, remember, you don't really need it.
What is custard then?
Custard is a glorious velvety mixture of cornstarch, vanilla, milk and eggs cooked on low flame till silky smooth. The eggs lend a richness and body to the custard.
This simple concoction can be used to make so many desserts. But the simplest way to empty a bowl of custard is by mixing in some fruits and serving it chilled.
Eggless custard
However, in this post, I ll share how to make egg-free custard that is just as rich, smooth and silky like the conventional custard recipe. You can use this as a base to make several other desserts.
You can also add a bit of cocoa powder to make some chocolate custard. And then bake some chocolate cornets, maybe?
FAQs
How to fix lumpy custard?
In the event that you did not use a whisk to mix your cornstarch slurry or your custard became lumpy for some reason, then here is what you can do. Simply strain the custard through a colander. The lumps will be separated.
You can blend these lumps of custard with some milk in a small blender jar and add it back to the mixture. Mix well. And you are good to go.
You can also discard the lumps and just go ahead with the strained mixture. You will have a slightly runny custard. Nevertheless, the taste does not change.
What fruits to add to custard?
Bananas, apples, grapes, pomegranate, strawberries, blueberries, mangoes, pineapple and kiwi are great in custard. However, you need to avoid certain fruits too.
Why did my custard turn bitter?
If you add citrus fruits like oranges to your custard, then it will become bitter. It will also become bitter if you add fruits to it when the custard is hot or warm.
Can you eat this during Vrat or fasting?
Since this is an egg-free recipe and does not use any kind of grains, you can always enjoy this during fasting.
How to make custard with fruits?
There are two ways to do this. But however you choose to do it, always remember that the custard has to cool down completely before you add the fruits. As for adding the fruits, you can add them to the custard after it cools down and let this mixture chill in the fridge.
Or you can chop the fruits and chill them in the fridge. Parallelly, let the custard also chill in the fridge. Then just before serving, you can combine the custard and chilled fruits in a bowl and serve.
Can we make fruit custard without sugar?
Sugar is only a sweetener in a custard. It does not alter the texture or mouth feel. So you can always skip sugar if you feel your fruits are sweet enough. This is especially true if you are going to use fruits like banana and mangoes.
These fruits are naturally very sweet and do not need any added sugar. You can also add brown sugar or maple syrup in place of the regular white sugar.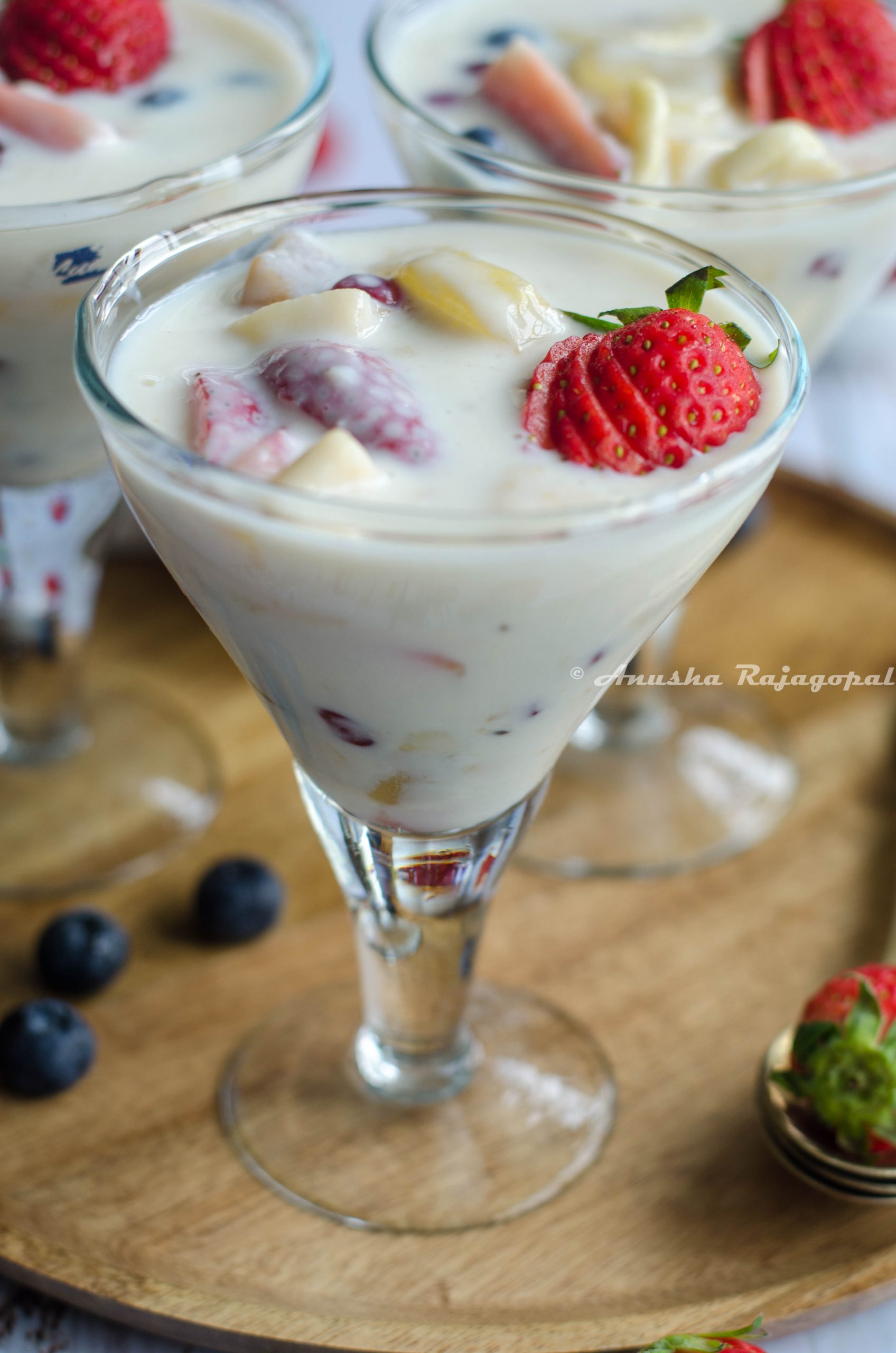 Making ahead, shelf life and storage
If you plan to serve this for a party, you can make the custard ahead and refrigerate it for upto 2 days. Chop the fruits two hours before you are ready to serve, combine with the chilled custard and serve.
Store cooked custard and chopped fruits in individual fridge-safe non-reactive containers like glass or stainless steel. Make sure they are air-tight. When storing custard in the fridge, make sure that the boxes have tight lids.
Custard tends to develop a layer on the top if left open in the fridge. So, it is important to keep it covered in the fridge.
How to make fruit custard without custard powder?
Boiling the milk
Add the milk to a sauce pan. Heat and bring it to boil. When the milk rises up, switch off the flame. Remove 1/2 cup milk from this and set aside.
Making the slurry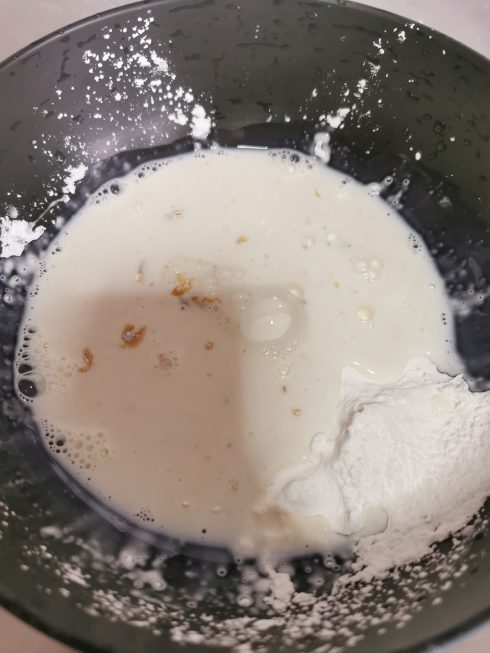 In a mixing bowl, combine the cornstarch and the reserved half cup milk. Mix well using a whisk. Make sure there are no lumps.
Cooking the custard
In a pan, add the cornstarch slurry and 2 cups of the boiled milk. Add the vanilla at this stage. Mix well and cook on low flame till the mixture begins to thicken. This happens very quickly and typically takes less than 5 mins.
So, please do not leave the custard unattended while it cooks. Keep whisking it every now and then using a balloon whisk. 
When the mixture has thickened, add the remaining milk and mix well using a whisk again. Make sure there are no lumps. Do all of the cooking process on low flame to avoid a lumpy custard.
Adding sugar
Add sugar at this stage and mix well. Simmer on low flame for 1 min. After a minute, switch off the flame and take the pan off the heat. If you leave the pan on the stove even with the flame switched off, the custard will continue to cook in the residual heat. This will make it very thick and gloopy. 
Transfer the custard to another mixing bowl and let it cool completely. The custard has to be fully cool, not warm, not luke warm or hot.
Adding the fruits 
When the mixture has cooled down completely, add the chopped fruits and mix gently, taking care not to mash or break the fruits. 
Our eggless fruit custard without custard powder is now ready to be enjoyed.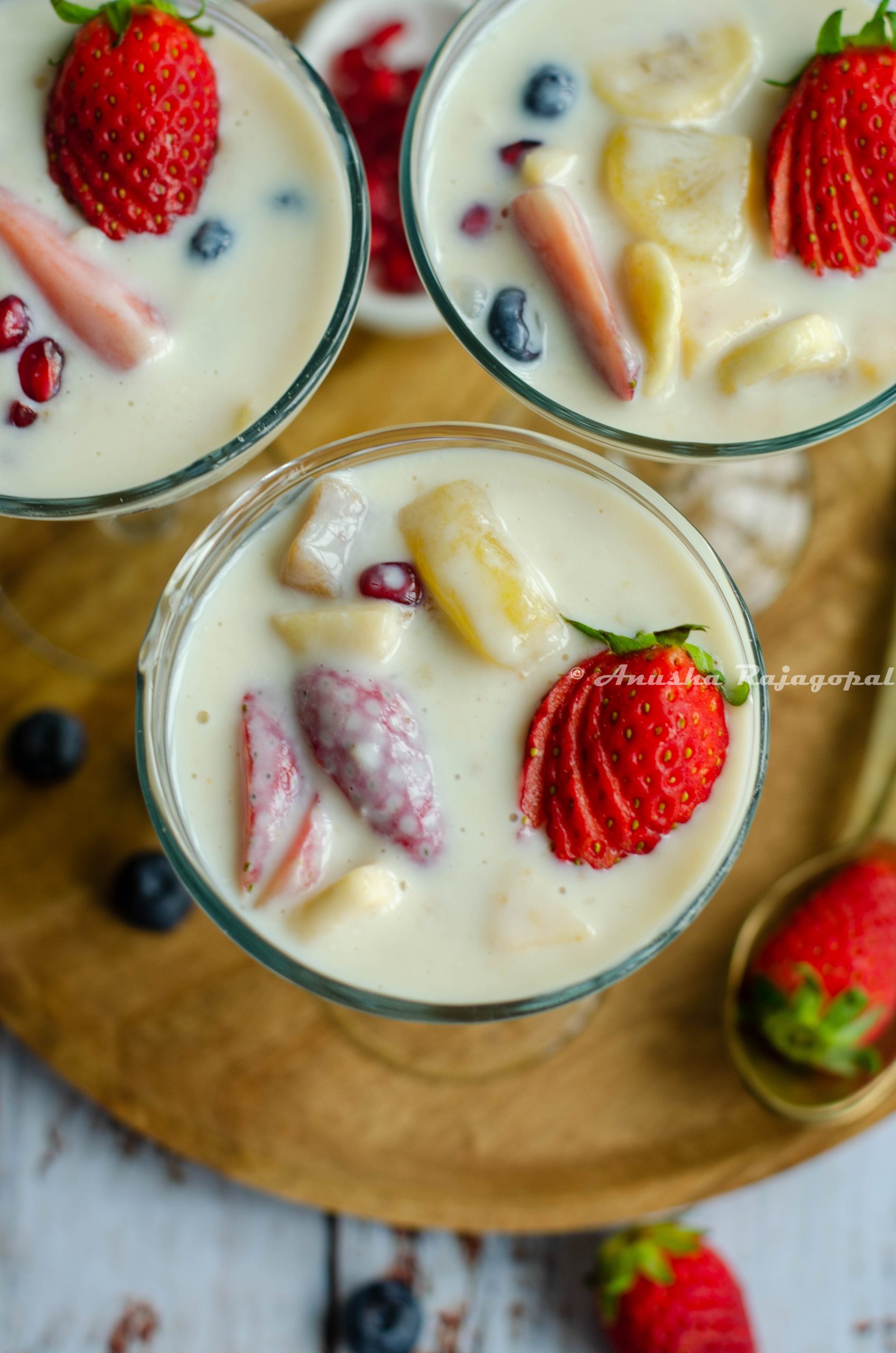 Fruity dessert inspiration
Follow me on Instagram or Facebook for regular cooking updates and short videos. Find us on Pinterest for delicious content. Tried our eggless fruit custard without custard powder? We value your thoughts and comments! Leave a comment and tell us how it worked for you. Email us your questions to anusapraj@gmail.com if you need any guidance in making this.
Variations
Make tarts with this fruity delight as a filling. Serve it chilled.
You can also add just one seasonal fruit and make a custard with that flavor alone. For instance, when mangoes are in season, you can add just mangoes and serve it as

mango custard.

Make a fusion layered dessert

by layering a mixture of crushed digestive biscuits, this custard and ice cream.
Serving suggestions
This custard tastes best when it is served chilled. It is a great make-ahead dessert and is just perfect for parties.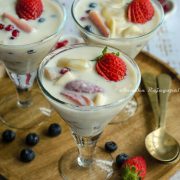 Print Recipe
Eggless Fruit Custard Without Custard Powder
Fruit custard without eggs and store-bought custard powder. No food color added recipe.
Ingredients
3

tbsp

Corn starch

1/2

c

Milk

3

c

Milk

1

tsp

Vanilla extract

1/4

c

Sugar

4

c

Mixed chopped fruits

a combination of berries, kiwi, apples, bananas and pomegranate works well.
Instructions
Boiling the milk
Boil 3.5 c milk in a pan until it rises up.

Remove 1/2 c of this milk and set aside. We are going to use this to make a cornstarch slurry.
Making the slurry
Combine the corn starch and reserved 1/2 c boiled milk in a bowl.

Mix well using a whisk, making sure there are no lumps.
Making the custard
Now combine the cornstarch milk slurry and 2 c of the boiled milk in a pan.

Add vanilla to this and mix well.

Cook this mixture on low heat until it thickens. This takes about 2 to 3 mins at the max.

Add the remaining milk and mix using a whisk.

When done, add sugar and mix well.

Continue to simmer the mixture on low flame for 1 min.

Switch off flame and take the pan off the heat.

Allow the custard to cool down completely.

When the custard has cooled, add the chopped fruits.

Now, mix gently taking care not to mash or break the fruits.

When done, let it chill in the fridge until ready to serve.
For Instant Pot & Air Fryer Recipes
Instant Pot timings may vary based on your geographic location. Air fryer settings and timings may vary based on the capacity and the model of the Air fryer.
Disclaimer
Nutrition values are provided here as a courtesy and are only a rough guide. Please consult a health care provider if you have any concerns.