How To Make Strawberry Millet Parfait?
STRAWBERRY MILLET PARFAIT- A SIMPLE NO COOK BREAKFAST PARFAIT WITH MILLET & BERRIES.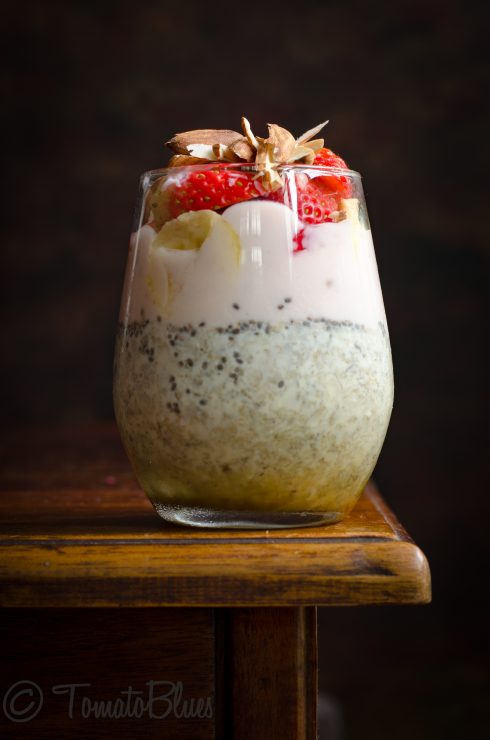 Strawberry Millet Parfait is my go to breakfast when i have no dosa batter on hand or i m out of ideas for what to make for breakfast. And because this has all of Lil A's favorites, i make this at least once a week. I just experiment with different fruits but keep the strawberries all the time.
Now, if you all are wondering what this Strawberry Millet Parfait is or for that what matter, what a parfait is, then let me explain. Parfait is basically a French dessert in which cream, ice cream and fruits are layered in a tall glass and served.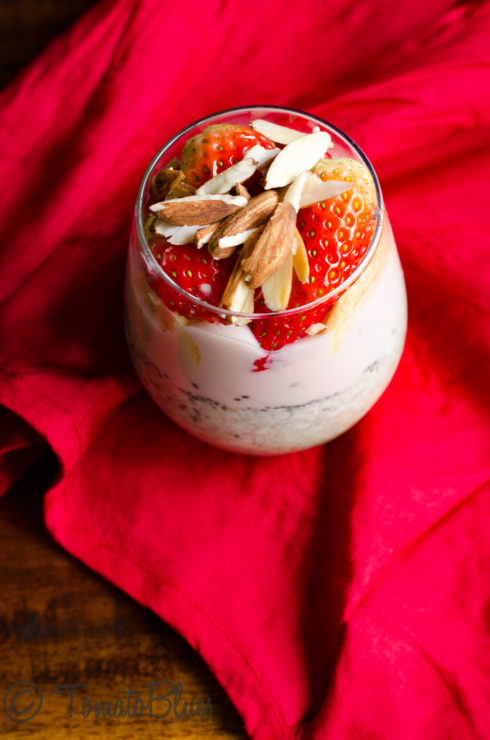 But over the years, the concept has evolved so much- Look where we are now- we are eating dessert for breakfast in the form of this strawberry millet parfait. So much for evolution in food, eh?Oh, i almost forgot! The blog was down last week for maintenance. I made some changes to the layout of the blog. While you are here, check out the new Visual Recipe Index. The index has a lot of updating work to be done and i hope to finish all of that over the next few weeks. So, happy browsing! And now, back to the parfait again.
Like i mentioned before, a parfait is a layered dessert. So i went ahead and made the dessert a tad healthier by using low fat greek yogurt for the ice cream part and also used some pearl millet flakes for the base.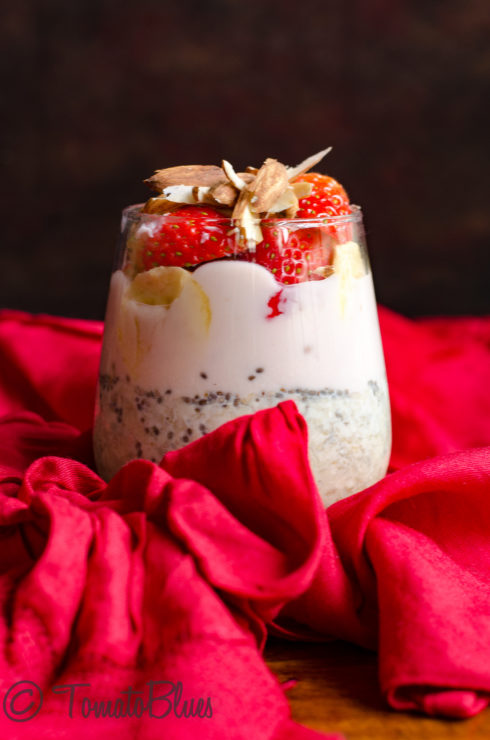 Millet flakes are a common sight in supermarkets and organic storesthese days. The millet flakes that i have resemble poha or flattened rice and require no cooking. However, some varieties require cooking. Please check and buy.
I usually make the base layers in the night and keep this in the fridge. I add the fruits and nuts in the morning just before serving. But you may also add all of it and leave it overnight. In case you use fruits like banana or apple, color may change but taste will remain the same.
In case you are looking for more strawberry recipes, please have a look at these recipes too-
Recipe For Strawberry Millet Parfait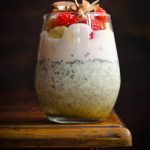 Print Recipe
Strawberry Millet Parfait Recipe
Strawberry Millet Parfait- A simple no cook breakfast with millet flakes, berries and yogurt
Ingredients
Pearl millet flakes 1/2 c

Any fruit yogurt

Low Fat Greek works best 1/2 c

Low fat milk 1/4 c

Chia seeds 1 tbsp

Coconut sugar 1 tbsp

Vanilla extract 1/4 tsp

Banana 1 largish sliced thinly

Strawberries 10 to 15 hulled and sliced

Almond slivers for garnish
Instructions
Wash the millet flakes thoroughly in water.

Place them at the base of a tall glass or jar.

Pour the milk over this and add the sugar.

Give a good mix.

Now, sprinkle the chia seeds evenly over this.

Next spoon half the yogurt over this.

I used raspberry flavor here.

Top with sliced bananas.

Spoon the remaining yogurt over the banana slices.

Now, arrange the strawberries over the yogurt.

Chill overnight or for two hours minimum.

Garnish with almond slivers before serving.
For Instant Pot & Air Fryer Recipes
Instant Pot timings may vary based on your geographic location. Air fryer settings and timings may vary based on the capacity and the model of the Air fryer.
Disclaimer
Nutrition values are provided here as a courtesy and are only a rough guide. Please consult a health care provider if you have any concerns.