HOW TO MAKE BLACK MAGIC CAKE?
Black Magic Cake aka Black magic chocolate cake is the best chocolate cake you'll ever bake. Pinkie promise.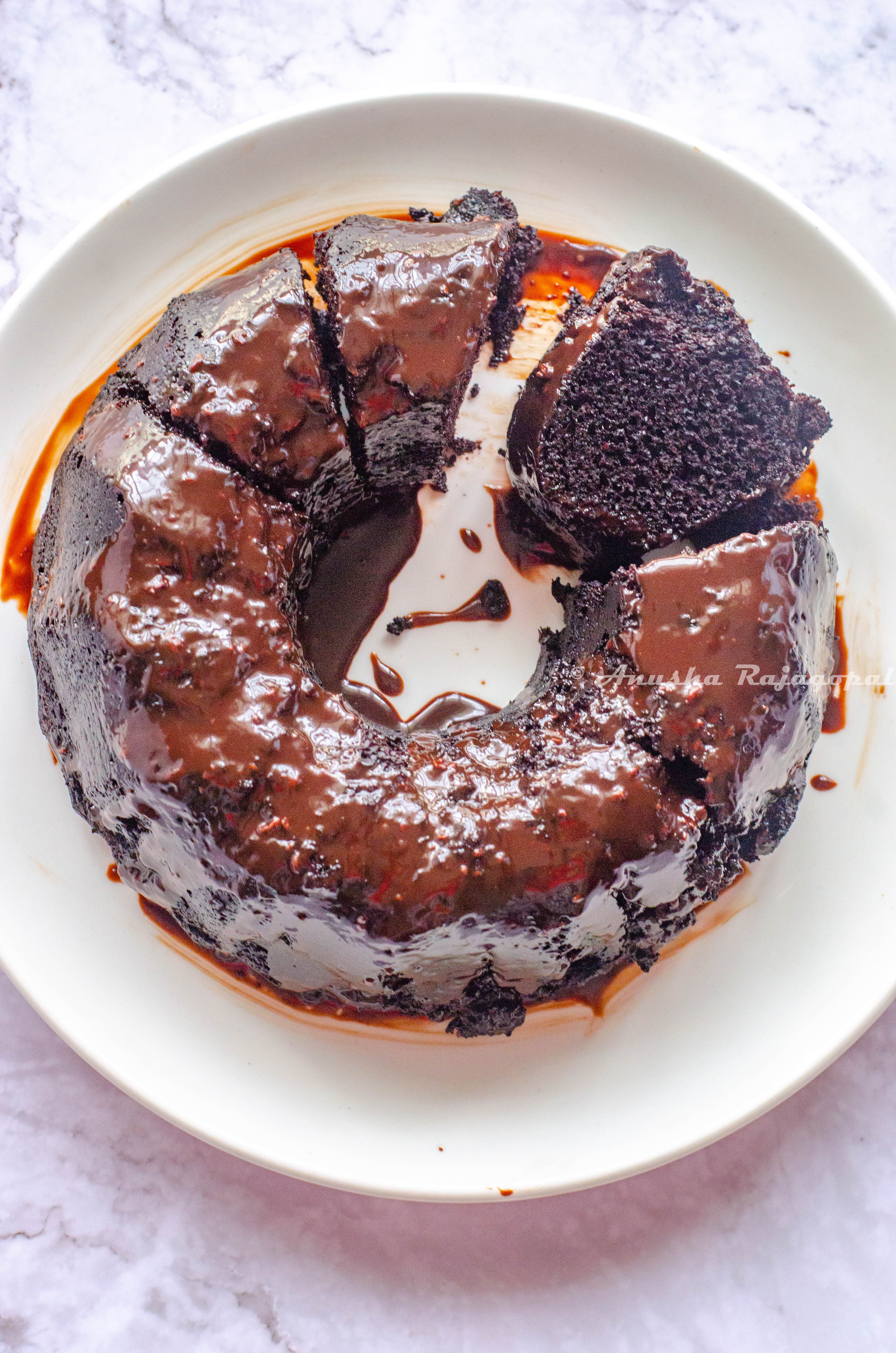 Why should you try this Black Magic Chocolate Cake?
✔ This is chocolate– rich, intense and soft slices of  chocolate that we are talking about. 
✔ You only need two bowls to make this cake. It can be done in one if you are not picky like me, though.
✔ There is no business of butter. I mean, we love butter. But that wait while the butter softens- that is just enough to put someone off baking a cake.
✔ And then, there is coffee. Yep. In case you have not tried, let me tell you this- add coffee to all your chocolate cakes.There s only one word for the flavor that comes out of this- MIND BLOWING. Okay, that s two words. But you get the drift, don't ya?
Jump to:
What is Black Magic Chocolate Cake?
There is this trend going on where popular recipe creators are trying their hands at celebrity chefs' chocolate cake recipes. Ina Garten's chocolate cake has become insanely popular because of this. 
Then, there is the Hershey's Black Magic Cake. True to its name, this is a decadent, intensely chocolatey, and very very beginner-friendly cake. Let us just say that I baked this yesterday and I m 3/4th of the cake poorer as I type this. If you ask me, what is the magic in this, it is the way in which basic pantry staples come together in this recipe.
Ingredients- Substitutes and Replacements
This recipe calls for no butter as I mentioned in the beginning.In fact, this recipe is so similar to the depression cake. Only, it is a tad more richer.
✔Flour– We will be using all purpose flour in this recipe. I will not recommend using whole wheat flour. Working with whole wheat flour means altering the wet ingredients. And the texture will be totally different. 
✔ Eggs– Room temperature eggs work best in this cake. I have used medium sized white eggs. Again, I have not tried this recipe with any egg substitutes. 
✔ Leavening agents– We will be using both soda-bi-carb and baking powder to bake this decadent cake. 
✔ Sugar– The good old white sugar that is finer is what this recipe needs. 
✔ Vegetable oil– No butter business here. Instead, we will be using vegetable oil. I have used rice bran oil for baking. You can also use Canola or sunflower oil to bake.
✔ Cocoa– The original recipe calls for using Hershey's cocoa powder. But I have tried making this with dutch process cocoa and other brands too. All work very well. The cocoa you use will only alter the flavor profile of the cake a bit. It will not affect the texture.
✔ Coffee– And this is that one Aloha! ingredient. I have used instant coffee powder mixed with hot water. However, feel free to use freshly brewed coffee for a deeper flavor.
✔ Soured milk– The original recipe calls for using buttermilk or suggests using soured milk. This is another ingredient that elevates this cake to what it truly is – magical. 
Recipe Notes
✔ You can make soured milk by combining 1 tbsp vinegar with 15 tbsp room temperature milk. I have used full-fat milk. Your milk will take longer to curdle if it is cold. So, I strongly suggest that you use room temperature milk.
✔ Smoothly whisked yogurt that is slightly watery also works very well in place of soured milk.
✔ This recipe yields two cakes. I baked one in a 6 c bundt pan and the other in a 9 inch long loaf pan. You can also bake this in two 9 inch round baking pans. 
✔ The batter is watery. Yes. It s thin and watery. Do not panic or get tempted to thicken it. The cake will bake beautifully. You just have to trust me.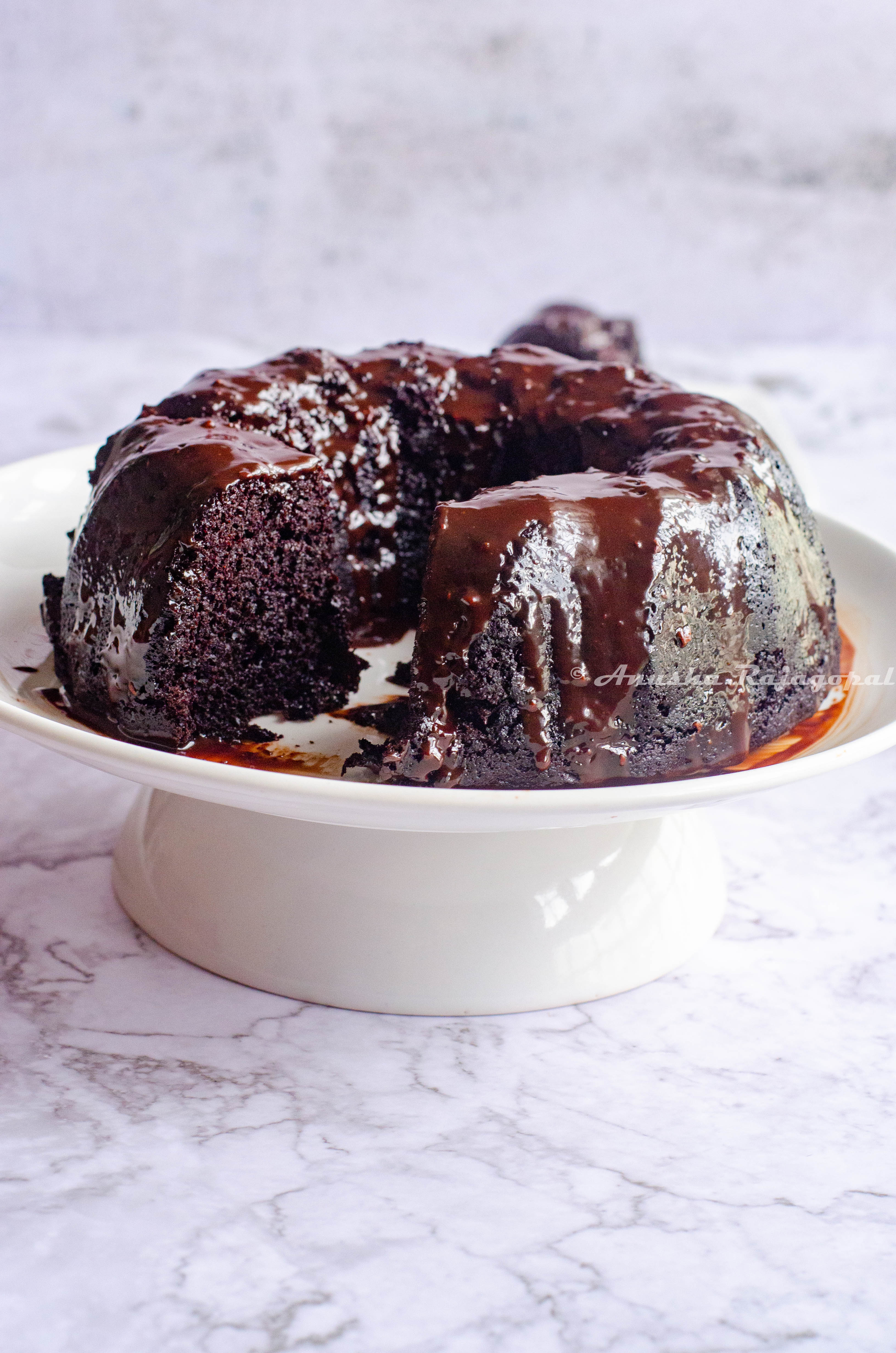 Bundt Pans for Baking
While I do love baking in bundt pans, there is one thing that gives me the creeps when it comes to it. You never know if the cake is going to come out in one single piece when you bake in a bundt pan.
The grooves and the edges look beautiful. Nevertheless, it is this that makes it very tricky to invert a cake without breaking it into pieces.
Here are two things that you can do to prevent broken cakes- Grease your pan well and allow the cake to cool for at least 30 mins before loosening it up.
How to grease a bundt pan?
It is very crucial to grease the bundt pan thoroughly and effectively before we begin baking. Failing to do so will make your cake crumble along the ridges. While regular butter works brilliantly for greasing normal pans, the bundt pan needs to be greased differently.
Make a paste of cocoa powder and butter. Now, rub this mixture on the insides of your bundt pan. Cover every ridge, flute and corner. And then we ll be ready to bake.
Shelf life- Storing Black Magic Cake
The best place to store this rich chocolate cake is the fridge. Slice the bundt cake into slices and store them in a pyrex or Rubbermaid box in the fridge. Don't overcrowd the box while arranging the slices.
This cake keeps well for 3 days in the fridge. And never lasts beyond that. 
Make sure you leave it out for at least an hour to allow the cake to come to room temperature before serving. Or leave it out for 30 mins and then microwave on high for 20 secs. Serve warm with Vanilla ice cream or some chocolate ice cream.
Hey, who says chocolate cake should not be enjoyed with chocolate ice cream?  
Glazing or frosting Black Magic Chocolate Cake
I have glazed this cake with a basic chocolate ganache. You can also frost this cake with a buttercream frosting or even cream cheese frosting. 
To make my ganache, I have used heavy cream and bakeable chocolate chips.
I suggest that you glaze the cake while the ganache is warm. It tends to set as it cools. So it is best to work with it when it is of pourable consistency.
Black Magic Cake Step By Step
Greasing the pans
Make a thick paste with softened butter and cocoa. Now, rub this on the insides of your pans, making sure that it s well coated.
Preheating the oven
Preheat your oven at 180C for 10 mins.
Mixing the dry ingredients
In a bowl, sift together all the dry ingredients except the sugar. Alternatively, you can use a balloon whisk to mix and incorporate all of the stuff together. Once this is done, add the sugar and mix well again. This is our dry mixture. Set this aside while working on the wet mixture.
Prepping the wet mixture
To a large bowl, add the coffee powder and the hot water. Whisk well, making sure the coffee does not lump up in the process. When done, let it sit for 5 to 6 mins. We are doing this because adding eggs to very hot water may cook them.
After 5 to 6 mins, add the vanilla, oil, eggs, soured milk to the bowl. Using a hand-held mixer, whisk this on medium speed for 2 to 3 mins. Alternatively, you can do this using a balloon whisk too. You just have to whisk till the mixture becomes frothy.
When this is done, add the sugar and mix well once again, using a whisk, making sure that the sugar is evenly distributed with the flour mix. Set aside.
Combining the wet and dry mixtures
Now, add the flour-cocoa-sugar mixture slowly to the liquid mixture. Do this in a sprinkling movement rather than dumping all of it in one go.
Using a whisk, mix everything up, making sure that there are no lumps. The batter, as such, will be thin. So we are not going to whisk vigorously and this recipe does not need any kind of laborious whisking as well.
Like I mentioned, this s not your regular cake batter where the batter is thick. This is a slightly thinner batter and flows freely when poured.
Baking Black Magic Cake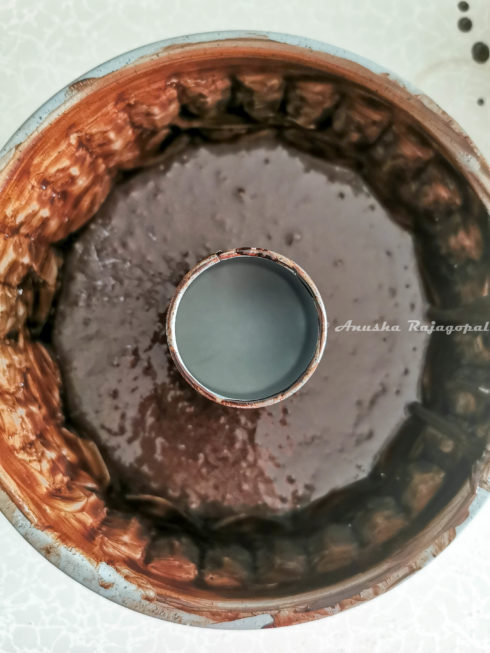 When you have mixed the batter, pour 1/2 of it into the bundt cake pan and the remaining into the loaf pan. Tap both gently on the surface to pop air bubbles, if any, on the surface.
When done, bake in the preheated oven for 50 to 55 mins or until a skewer inserted in the middle comes out clean. Mine took 53 mins to be precise.
Slicing the cake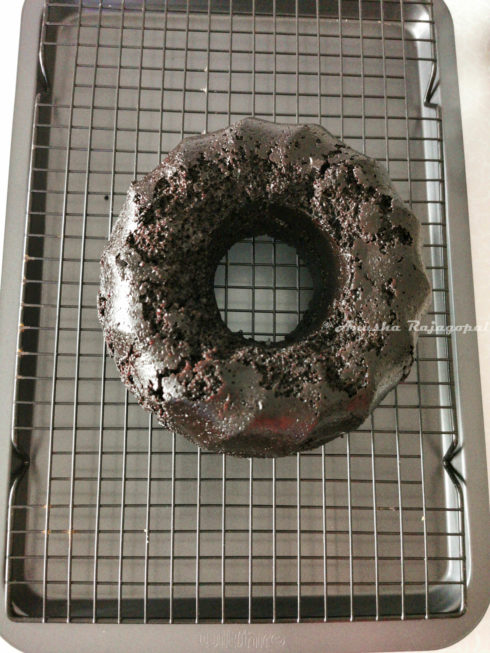 Now, here comes the tricky part. While you may be wondering what is so tricky about slicing a cake, let me tell you, a cake baked in a bundt pan can be a challenge when trying to invert.
Allow the cake to cool for at least 30 mins before trying to invert it. If you do not wait this long, then your cake will most likely break. After 30 mins, loosen up the sides by inserting a skewer along the edges.
Then, invert it on a cooling rack by tapping gently. The cake that I baked in the bundt pan, was reluctant to slide out even after waiting for it to cool. As a result, it did break a teeny tiny bit while I tried removing it from the pan.
Glazing the Black Magic Cake
Now, let us get started on the glaze. This is a very straightforward recipe which involves combining heavy cream and chocolate chips. I used dark chocolate chips but you can also milk chocolate.
In a sauce pan, heat up the cream until just boiling. Switch off the flame and let it sit for 1 min. Now, add the chocolate chips and mix well. Continue to whisk this until smooth, glossy and the chocolate is fully melted. This is our glaze.
Do not allow the glaze to become cool. I strongly recommend glazing the cake while the sauce is hot. The pouring becomes a bit tricky when the glaze cools down, as it tends to set.
Now pour this over the cake evenly and slowly. When done, let the cake sit for 30 mins to allow the glaze to set. When it sets, slice the cake and serve.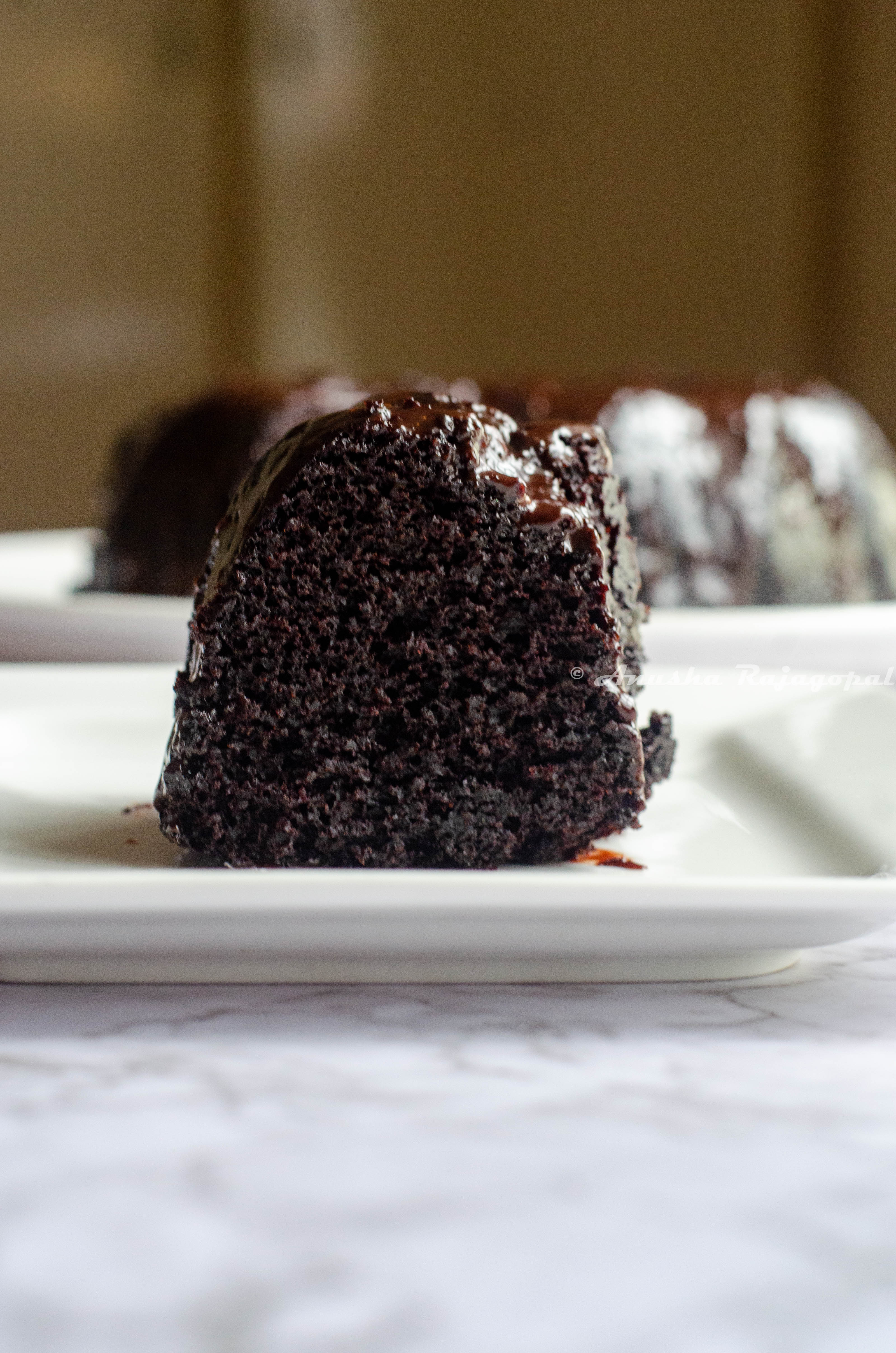 More Cake Recipes
Glazing And Slicing Video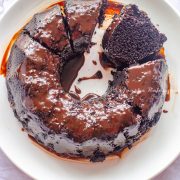 Print Recipe
Black Magic Cake
The black magic cake, also referred to as the black magic chocolate cake is easily the most decadent and yet the easiest chocolate cake recipe you ever need.
Equipment
6 c bundt pan

9 inch loaf pan

Balloon whisk

Mixing bowls

Spatula
Ingredients
For coating the bundt pan
1

tbsp

Cocoa powder

1

tbsp

Softened butter
Dry ingredients
210

g

All purpose flour

2

c

Fine granulated white sugar

2

tsp

Baking soda

1

tsp

Baking powder

1

tsp

Salt

3/4

c

Cocoa

Any good quality will work
Wet ingredients
1

c

hot water

3

tsp

Instant coffee powder

2

eggs

1

c

Milk

at room temperature

1

tbsp

Vinegar

1.5

tsp

Vanilla extract

1/2

c

Vegetable oil
For the glaze
1/4

c

Heavy cream

1/2

c

Dark chocolate chips
Instructions
Coating the pans
Combine the butter and cocoa powder to make a thick paste.

Coat your bundt pan and loaf pan generously with this paste, making sure every nook and corner is coated with this.
Preheating
Preheat the oven at 180C for 10 mins.
Mixing the dry ingredients
Sift together the flour, baking soda, baking powder, salt and cocoa in a mixing bowl.

Now, add the sugar and mix well using a balloon whisk.
Making the soured milk
Add the vinegar to the milk. Mix well

Let it stand for 5 mins. This is our soured milk. You can also use 1 c buttermilk in place of this.
Mixing the wet ingredients
Combine the coffee powder with the hot water in a large mixing bowl.

Now, break the eggs into this and add the soured milk, oil and vanilla.

Whisk well for 3 mins on medium speed till mixture turns frothy.
Making the batter
Now, add the dry ingredients mixture to this wet mixture.

Mix well using a whisk for about 2 mins. The batter will be thin and more watery than the usual batter.
Baking the cake
Now pour 1/2 of the prepared batter into the bundt pan.

Tap this lightly on the counter.

Similarly, fill the loaf pan with the remaining batter.

Now, bake this in the preheated oven for 50 mins or until a toothpick inserted comes out clean.
Cooling the cake
Once done, let the cake cool for at least 30 mins before inverting it out.

Once cool, loosen up the cake by the sides using a toothpick or skewer. Invert and remove it.
Making the glaze
Add the cream to a saucepan.

Heat it until it just begins to boil. Switch off the flame.

Now, add the chocolate chips and mix well until the mixture is glossy.
Glazing the cake
Now, pour the glaze evenly over the cake. Make sure the glaze is hot to touch while doing this.

Let the cake sit for 10 mins before serving.
Slicing
Once done, slice and serve.
Video
For Instant Pot & Air Fryer Recipes
Instant Pot timings may vary based on your geographic location. Air fryer settings and timings may vary based on the capacity and the model of the Air fryer.
Disclaimer
Nutrition values are provided here as a courtesy and are only a rough guide. Please consult a health care provider if you have any concerns.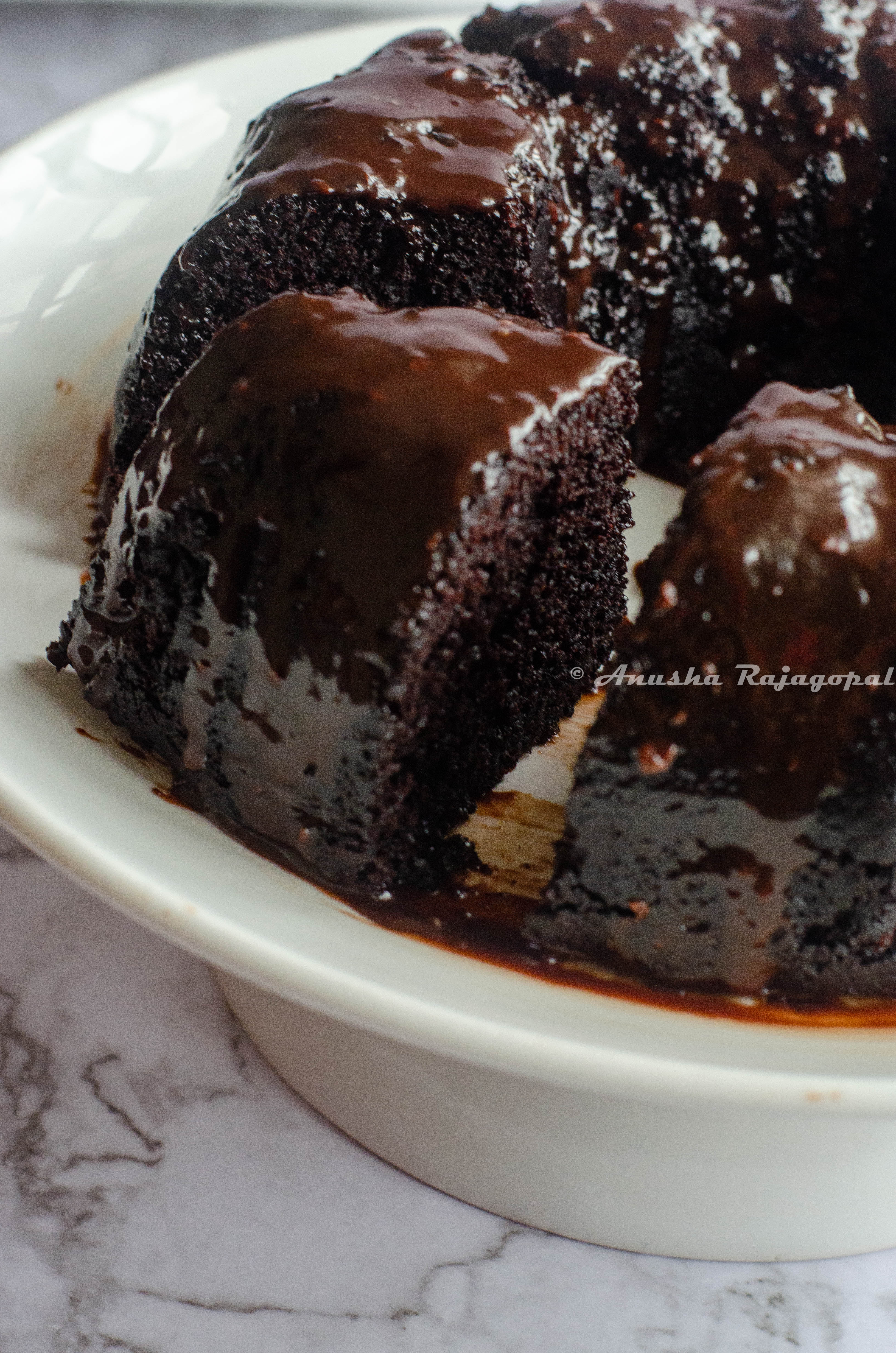 Follow me on Instagram or Facebook for regular cooking updates and short videos. Find us on Pinterest for delicious content. Tried ourBlack Magic Cake? We value your thoughts and comments! Leave a comment and tell us how it worked for you.
In case you have any questions regarding this recipe, leave a comment or write to anusapraj@gmail.com and I'll respond at the earliest possible. If you tried this recipe and enjoyed it, click a picture and share it on Instagram by tagging us @tomatoblues.
Chocolate Recipes