HOW TO MAKE EGGLESS DATES AND WALNUT CAKE?
EGGLESS DATES AND WALNUT CAKE- A SIMPLE MIX AND BAKE COFFEE CAKE WITH DATES & WALNUTS.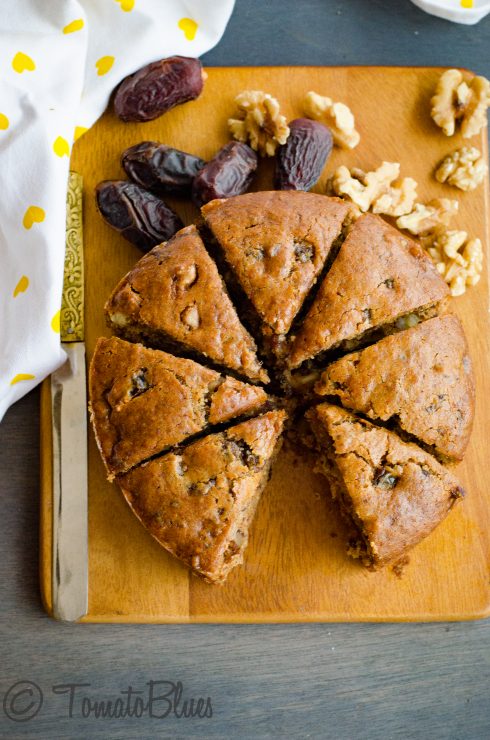 This eggless dates and walnut cake is my coffee cake dream come true. It is a rich cake that has the goodness of dates and walnuts. And it uses very minimal butter. It also does not use chock full of sugar and relies on the sweetness of dates. The only change i would make in the cake the next time would be to add a dash of brandy or rum.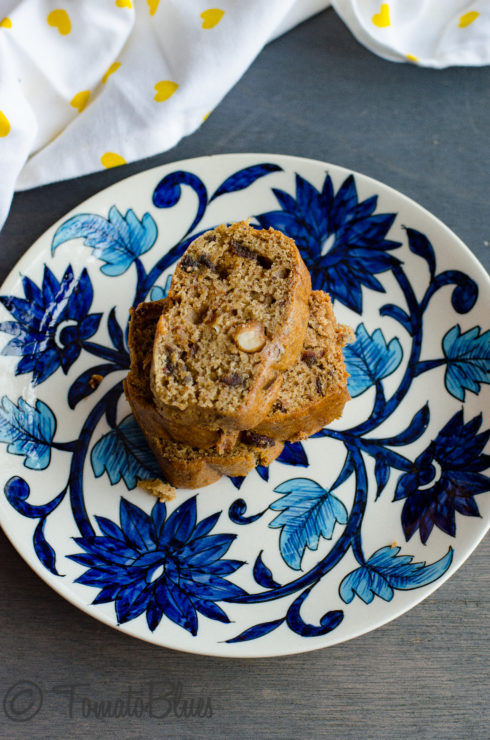 This eggless dates and walnut cake has been adapted from here. This cake will have you covered if you have forgotten to soak your fruits in time for the traditional plum cake. And this will also come together in a pinch. The original recipe suggests that a 7 inch round pan be used. But i only have a 6 inch round pan and so i poured the remaining batter into a mini loaf pan and it baked into a beautiful loaf. This is why you are seeing loaf slices too in the pictures.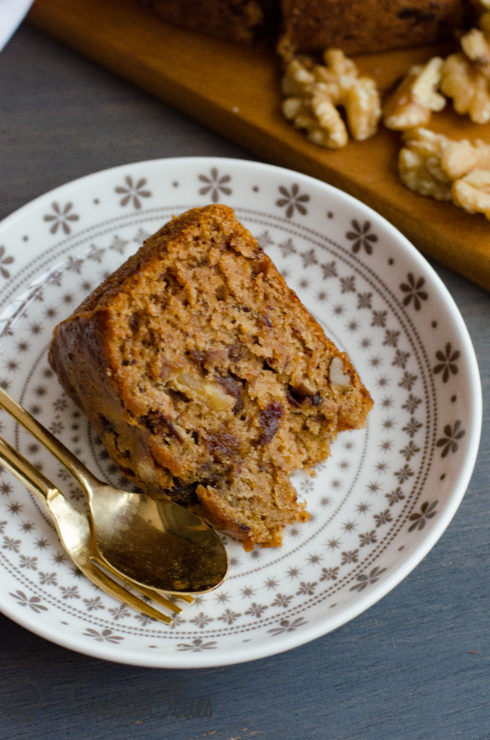 And finally, i replaced the eggs with flax eggs as i baked this for my in laws and family in India. The nutty taste of the flax eggs further deepened the flavors in the cake and i did not miss the richness eggs offer in a cake for once.
If you are looking for more eggless bakes, then click here –Complete collection of eggless bakes
Recipe For Eggless Dates and Walnut Cake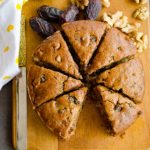 Print Recipe
Eggless Dates And Walnut Cake Recipe
EGGLESS DATES AND WALNUT CAKE- A SIMPLE MIX AND BAKE COFFEE CAKE WITH DATES & WALNUTS.
Ingredients
Dates 25 pitted and chopped.

Boiling hot water 1 cup

Baking soda 1 tsp

Baking powder 1.5 tsp

All purpose flour 2 cups

240 g

Sugar 3/4 cup

Butter 50 g melted

Salt a pinch

Walnuts a handful

Flax meal 2 tbsp

Water at room temperature 6 tbsp

Vanilla 1 tsp

Milk 2 tbsp
Instructions
Place the dates in a large bowl. Make sure the bowl is large enough to add all the ingredients for the batter and mix.

Pour the boiling water over the dates, mix once and let sit for an hour.

In the meanwhile, mix the flax meal with 6 tbsp water and set aside.

After an hour, the dates would have softened and the water would have cooled down.

Preheat oven to 180C (350F).

Grease a 6" round cake tin and line the parchment with a bottom. Similarly, grease and line a mini loaf tin.

Now sift flour, baking soda, baking powder, sugar and salt together in another bowl.

Pour the flax egg, melted butter, vanilla and milk into the dates mixture and mix well using a whisk.

Add the flour mixture to the dates mixture and mix gently using a whisk until you see no streaks of flour.

Add walnuts to the batter and mix well.

Pour batter into a greased pans and bake in the preheated oven for 40 -50 mins or until a skewer inserted in the middle comes out clean.
For Instant Pot & Air Fryer Recipes
Instant Pot timings may vary based on your geographic location. Air fryer settings and timings may vary based on the capacity and the model of the Air fryer.
Disclaimer
Nutrition values are provided here as a courtesy and are only a rough guide. Please consult a health care provider if you have any concerns.