Have you heard of
Dorie Greenspan
? I m not sure about her recipes but i love the way she presents them. No wonder she wrote for
Julia Child
. I mean, Julia! I dont know when i got on first name basis with her, but hey! she s my trustworthy friend when it comes to baking a french apple pie or some croissants or this crumbly, soft and slightly sticky cake with pints of blueberries in them.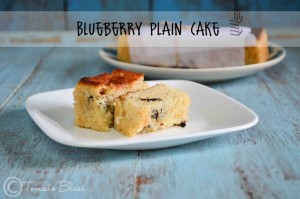 I live in India. So i dont find fresh blueberries. I do get frozen ones and i found some the other day while meandering in the supermarket aisles. It was reasonably prized. So i picked one, came home, scoured for recipes and made this cake. There. I said it. I said it all. I made some slight variations to the original recipe but it was such a sell out, you wont believe it if i say it was gone in less than an hour of baking. Hot and all. Sigh!
Recipe For Blueberry Plain Cake
( Crumbly cake with blueberries)

Prep Time: 10 mins
Cook Time: 30 mins
Source: Adapted from here
Makes 2 small loaves
Allergy Info: Egg Free

Ingredients
Flour 3/4 c
Baking powder 1 tsp
Salt a small pinch
Sugar 3/4 c powdered
Milk 1/4 c
Yogurt 1/4 c thoroughly whisked
Vanilla 1/2 tsp
Unsalted soft butter 1/4 c melted
Fresh blueberries 1/2 c or frozen berries thawed 1/2 c
Directions
Preheat oven to 190 C for 10 mins.
In a mixing bowl, sieve all dry ingredients except sugar and combine well using a whisk.
Add the berries to this and mix well making sure the flour coats the berries fully.
In another bowl, place butter, vanilla, curd and milk and whisk thoroughly.
Add sugar to this and mix again until well incorporated.
Grease 2 mini loaf pans or one 6″ round cake tin with some butter.
Pour the mixture half way till the pans. In case you are using loaf pans, divide the batter between the both making sure the pan is only half full.
Tap pan gently on the counter.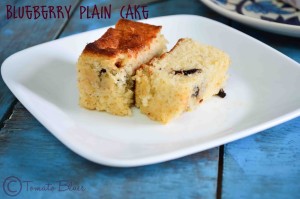 Bake for 25 to 30 mins or until a skewer inserted comes out clean.