HOW TO MAKE CHOCOLATE ORANGE TRUFFLES?
Chocolate Orange Truffles are an easy 4 ingredient truffles that make a fantastic treat.
This is not a sponsored post. This post contains affiliate links to products that we love. We may earn a small commission when you click and buy through these links.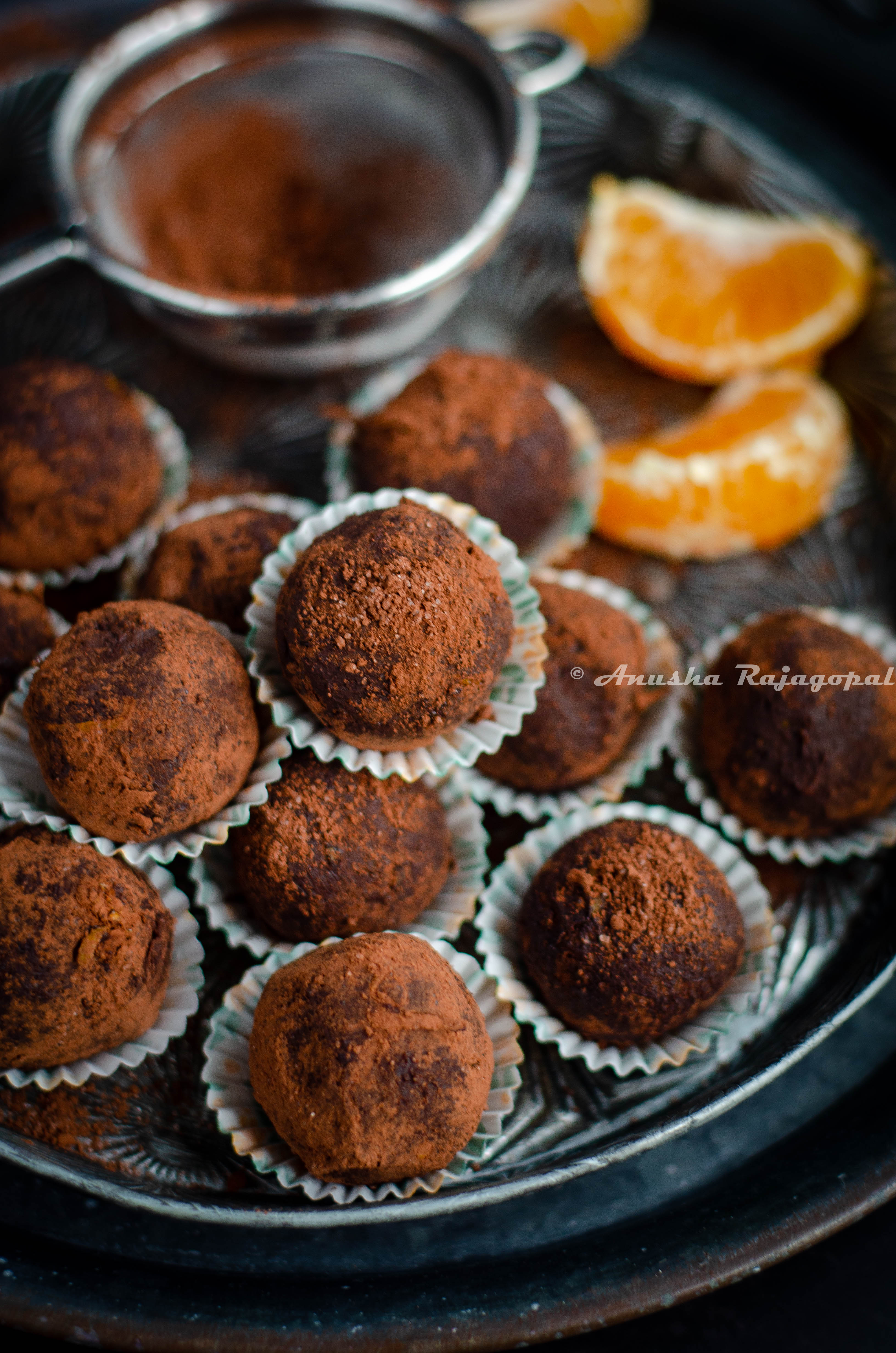 Why should you make these no-bake Chocolate Orange Truffles?
✔ Chocolate. Dark. Deep. Rich.
✔ It's a combination of citrus and cocoa that will leave you in chocolate heaven.
✔ These truffles only need 4 ingredients.
✔ And they are no-bake.
Jump to:
What are Chocolate Orange Truffles?
Before we go into the nitty-gritty of the flavors involved, let's talk truffles. Truffles are easy chocolate treats that call for minimal ingredients. The key to achieving fantastic tasting truffles lies in choosing the best chocolate and some good quality heavy cream.
Most truffle recipes have a skeleton recipe- A combination of the good quality cooking type of chocolate chips and heavy cream. Though the flavors depend on your preferences, the texture remains the same. This recipe uses orange as the predominant flavor.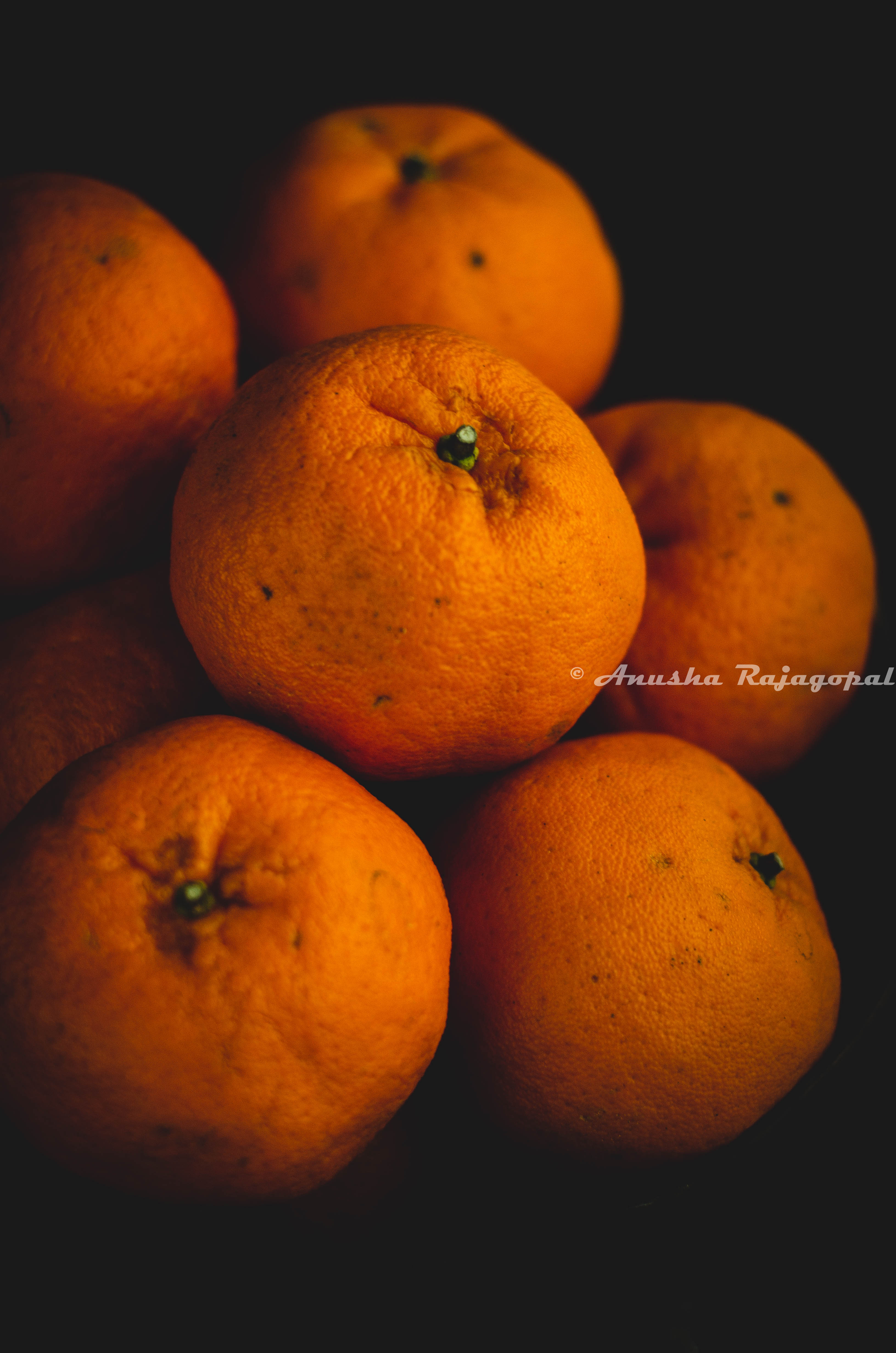 Chocolate and Orange
If lemon and white chocolate is a thing, then orange and dark chocolate is an even bigger thing. The refreshing citrus flavors in orange complements the dark chocolate so beautifully. Personally, orange and chocolate is the thing for me.
I have used the Kinnow variety of oranges in this recipe. This recipe calls for the zest of a largish orange. You can use any variety of orange and its zest for these truffles.
As for the orange essence, you can use orange oil or orange extract, or even artificial orange flavor in this recipe.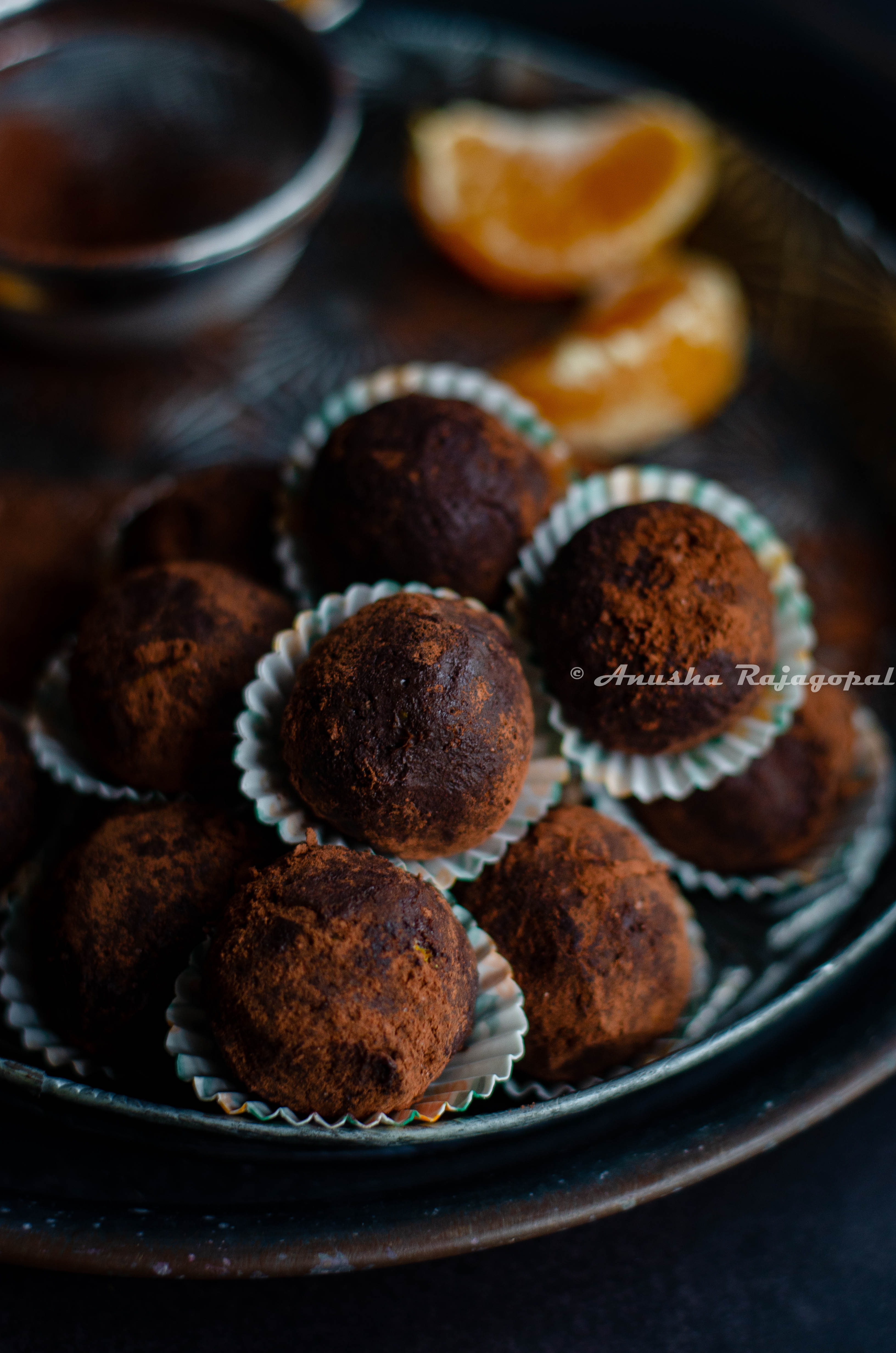 Ingredients
✔ Dark chocolate chips– As I mentioned, these truffles call for dark compound chocolate. Compound chocolate is used in cooking. These work best in recipes that involve melting chocolate.
✔ Heavy cream– Cream with higher fat works best in this recipe. If you use low fat, then the truffle mixture will not set. They will be semi-solid and you will not be able to roll them.
✔ Orange extract– I have used orange extract in this recipe. You can also use orange oil or artificial orange flavor to make these truffles. Like with all flavors, a little goes a long way. So please do not add more than what has been mentioned in this recipe.
✔ Orange zest- The tiny shreds of orange zest give a slight bite and a subtle bittery taste in these truffles. The zest also helps in accentuating the orange flavors.
Where to Buy?
If you are living in Singapore, then you can buy dark compound chocolate buttons from Phoon Huat's Redman Shop
The same shop also stocks and sells heavy cream. I have used heavy whipping cream to make these truffles. Emborg and President are two brands that I love.
If you are living in India, you can buy the Dark chocolate from Amazon.
Click to buy Dark chocolate– Please note we dont get dark chocolate buttons. You can use this and chop it into small pieces before using.
Prep Work
These truffles need some planning ahead of time. This is because the mixture has to set before you can roll them or shape them. Ideally, a setting time of at least 6 hours is recommended if you live in a hot place like me.
If you live in cooler places, then the mixture sets faster. A setting time of 4 hours works well in this case.
Shelf life and Storage
These truffles keep well for a week when stored in the refrigerator. Place each rolled truffle in a small muffin liner and keep them in a box. Make sure you place them in a single layer to prevent the truffles from sticking to each other.
Chocolate orange truffles are best enjoyed when cold. As with all truffles, They tend to become sticky when kept at room temperature for a long time.
Recipe Notes
Truffles Too sticky to roll?
If you find that the truffles too sticky to roll, then dust your hands with cocoa powder. I did find them sticky but did not bother with this step.
Dusting your hands with icing sugar or powdered sugar will work too but the truffles will look slightly whitish after rolling them.
Truffle too hard to scoop out?
If the truffle mixture has become hard and you are unable to scoop it out, then let it sit at room temperature for a few mins. Remember to remove the cling wrap and cover it loosely while this happens. After a few mins, the mixture will have loosened up.
How to scoop out the truffles?
I recommend using a melon baller or an ice cream scoop for this. A spoon also works but you may get unevenly sized truffles.
You can get your Melon Baller here-
Get your Ice cream scoop here:
More Chocolate Recipes
Chocolate Orange Truffles Step By Step
Combining cream and chocolate
To a heavy bottomed saucepan, add the cream. Heat this up until it just begins to boil. When you see tiny bubbles around the edges of the cream, switch off the flame. Let this sit for 1 min.
Now, add the chocolate buttons and mix well. Initially, the chocolate will be a bit resistant and wont melt so easily. Keep stirring until it has all melted. This takes roughly 3 mins. When the chocolate has completely melted, keep stirring until the mixture is all smooth and glossy. 
There should be no lumps of chocolate in the mixture.
When done, allow this to cool for 2 to 3 mins. 
Adding orange zest and extract
When the mixture has become slightly warm, add the grated zest and the orange extract. Using a spatula, mix well.
Letting the truffle mixture set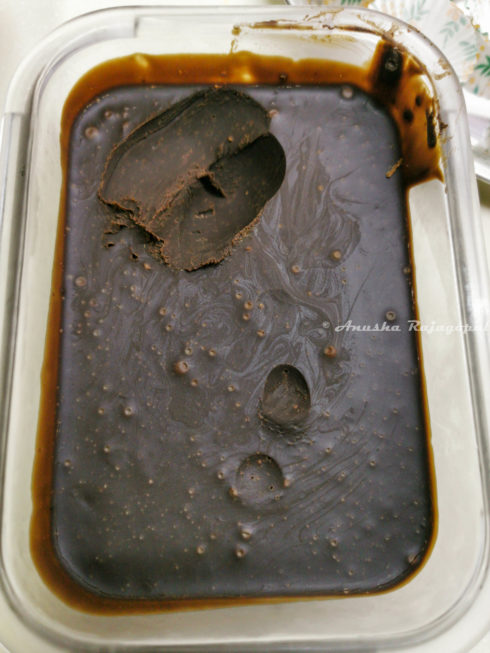 Transfer the mixture to a glass bowl or a fridge safe container. If you are using a glass bowl, cover it with a cling wrap. Doing this will make sure that moisture does not get in to the mixture. This will also help prevent a layer being formed on the surface. 
If like me, you are using a glass box, then cover it with the lid and refrigerate.
Setting the mixture 
Allow the mixture to chill in the fridge for at least 4 hours. This will take longer if you are living in a hot place like me. My truffle mixture took 6 hours to set fully.
Rolling the truffles
Combine the cocoa powder, powdered sugar and orange zest in a bowl. Mix well using a spoon. Using a melon baller, scoop some truffle mixture. Dust your hands with some cocoa, shape and roll the mixture into a ball.
When shaped, roll the shaped truffle in the cocoa sugar mixture. Repeat the shaping and rolling step with the remaining mixture. As soon as you finish rolling one truffle, place it in a small muffin liner. 
Keep the rolled truffles chilled until ready to eat.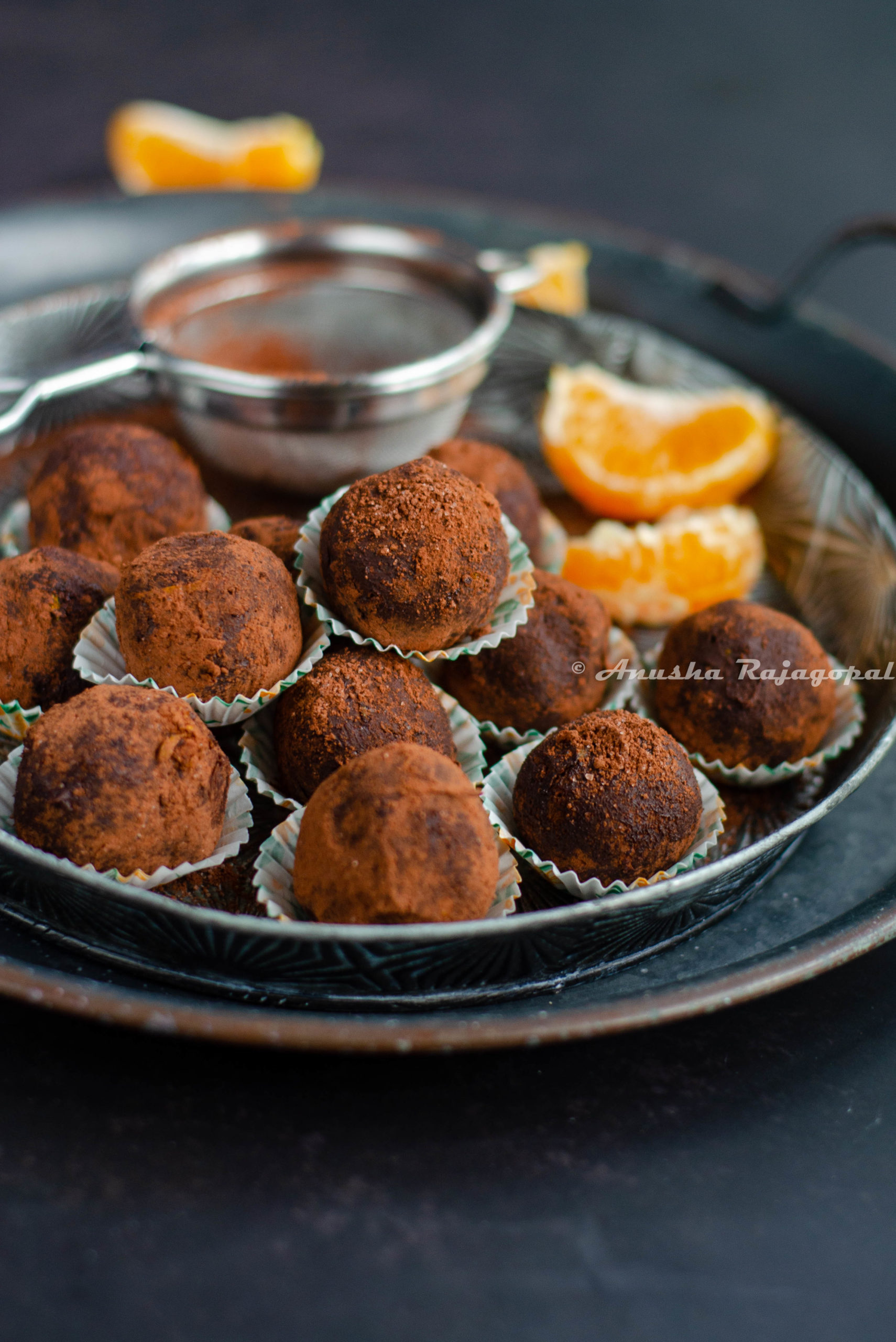 Our chocolate orange truffles are ready.
Follow me on Instagram or Facebook for regular cooking updates and short videos. Find us on Pinterest for delicious content. Tried Chocolate Orange Truffles? We value your thoughts and comments! Leave a comment and tell us how it worked for you.
In case you have any questions regarding this recipe, leave a comment or write to anusapraj@gmail.com and I'll respond at the earliest possible. If you tried this recipe and enjoyed it, click a picture and share it on Instagram by tagging us @tomatoblues.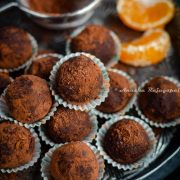 Print Recipe
Chocolate Orange Truffles
Decadent no-bake dark chocolate truffles with citrus notes.
Ingredients
1/2

c

Heavy cream

240

g

Dark Chocolate

1

tbsp

Orange zest

1

tsp

Orange oil
For Rolling The Truffles
1

tbsp

Cocoa

1

tbsp

Powdered sugar

1

tsp

Orange zest
Instructions
Making the truffles
Heat the cream in a heavy bottomed sauce pan till it just begins to boil.

When done, switch off and let it sit for 2 mins

Now, add the dark chocolate and mix well.

Initially, it will be lumpy. But keep stirring and it will soon loosen up and melt.

Keep stirring until smooth and glossy.

Allow this mixture to become warm.

Now, add orange oil and the orange zest and mix well.

When done, allow it to chill in the fridge for at least 4 hours.
Shaping and rolling the truffles
This truffle mixture will set and solidify beautifully after sitting in the fridge.

Combine the cocoa powder, orange zest and powdered sugar. Mix well.

When done, use a melon baller and scoop out portions of the truffle dough.

Dust your hands with cocoa and roll the scooped out dough into a ball.

Roll this in the cocoa-sugar-orange zest mixture.

Place in parchment paper lined tray or in tiny muffin liners.

Repeat with the remaining mixture.

Chill in the fridge until ready to eat.
For Instant Pot & Air Fryer Recipes
Instant Pot timings may vary based on your geographic location. Air fryer settings and timings may vary based on the capacity and the model of the Air fryer.
Disclaimer
Nutrition values are provided here as a courtesy and are only a rough guide. Please consult a health care provider if you have any concerns.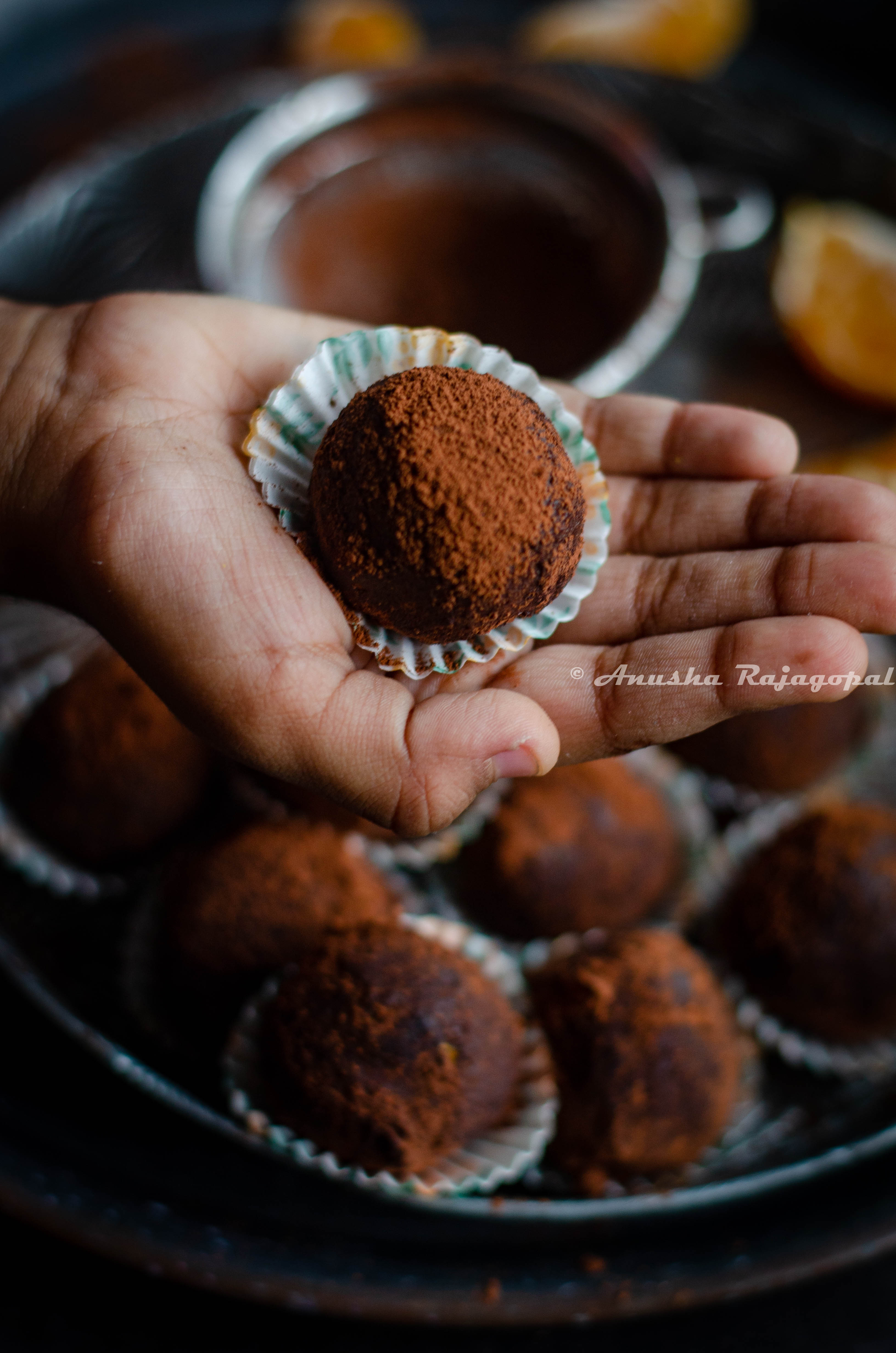 More No Bake Desserts