HOW TO MAKE EGGLESS NUTELLA BANANA MUG CAKE?
What if I told you that you could have Nutella banana mug cake in less than 10 mins?
I am not a chocolate person. As in, you wont find my eyes popping out when you offer me a bar of chocolate. Nothing wrong about it though. But then I m just saying. Obviously, you wont find me mentioning crazy chocolate cravings. I don't crave for chocolate. I do make an exception for Nutella though. Oh, come on, you would be really cruel to not like Nutella. How can someone in their right minds not like Nutella?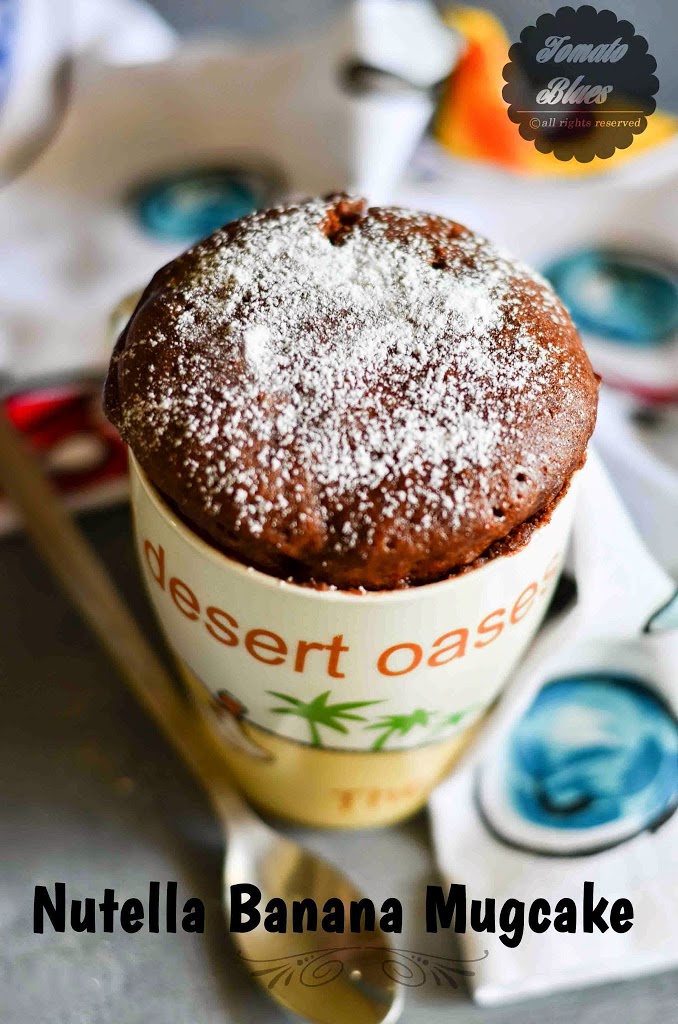 How can a concoction of hazelnuts and dark cocoa not drive you crazy? Well, Nutella does all this to me. Plus I had a jar of Nutella that was begging to be licked clean. Considering that I m past my licking prime, I decided to make something with the remains of my Nutella jar. Which is when, this gorgeous mug cake happened. I would call this chocolate perfection in a mug. You will go gaga over this if you are banana nut and a Nutella nut like me. Plus it takes  10 mins to put this together and cook it too. Cool, no?
Recipe Notes
Please note that microwave timings and setting may vary slightly based on the brand and model.
I have used two 350 ml capacity mugs to make this Nutella Banana Mug cake. You can easily make this in smaller mugs. If you are using smaller mugs, I recommend 150 ml capacity mugs. These would give you 4 cakes.
Using powdered sugar is highly recommended as the cooking time is very short. You can also use icing sugar in place of powdered sugar. I just ground coarse grain white sugar in my blender and used it here.
Follow me on Instagram or Facebook for regular cooking updates and short videos. Find us on  Pinterest for delicious content. Tried our Nutella Banana Mug cake ? We value your thoughts and comments! Leave a comment and tell us how it worked for you. Email us your questions to anusapraj@gmail.com if you need any guidance in making this.
Recipe For Eggless Nutella Banana Mug Cake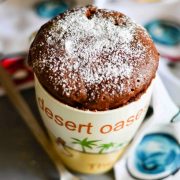 Print Recipe
Nutella Banana Mug Cake
Nutella Banana Cake made in the microwave. Comes together in a pinch. A brilliant single serve dessert.
Ingredients
4

tbsp

leveled All purpose flour

1/2

tsp

Baking powder

2

tbsp

Cocoa powder

4

tbsp

Powdered sugar

1/16

tsp

Salt

2

tbsp

Nutella

2

tbsp

Any neutral vegetable oil

4

tbsp

Milk

1/2

tsp

Vanilla extract

1/4

c

Banana puree
Instructions
In a mixing bowl, add all dry ingredients and whisk thoroughly.

Make a well in the middle of the mixture.

Add the wet ingredients one by one.

Now, using a whisk, mix well until thoroughly combined.

Make sure there are no lumps.

Divide this mixture into two batches.

Transfer this mixture to 2 microwave safe mugs until ¾ full.

Place in microwave and cook on high for 1 min.

The cake would have risen beautifully.

Insert a toothpick to check if its done.

If the cake is not cooked, then microwave again for 30 secs on high.
Notes
1.     Microwave oven timings and temperature may vary.
2. I used large 350 ml mugs to make this cake
For Instant Pot & Air Fryer Recipes
Instant Pot timings may vary based on your geographic location. Air fryer settings and timings may vary based on the capacity and the model of the Air fryer.
Disclaimer
Nutrition values are provided here as a courtesy and are only a rough guide. Please consult a health care provider if you have any concerns.