HOW TO MAKE  SALTED CARAMEL CHOCOLATE COOKIE FOR ONE?
Single-serve salted caramel chocolate cookie- Yep. This cookie serves just one. And has the delicious concoction of caramel and chocolate.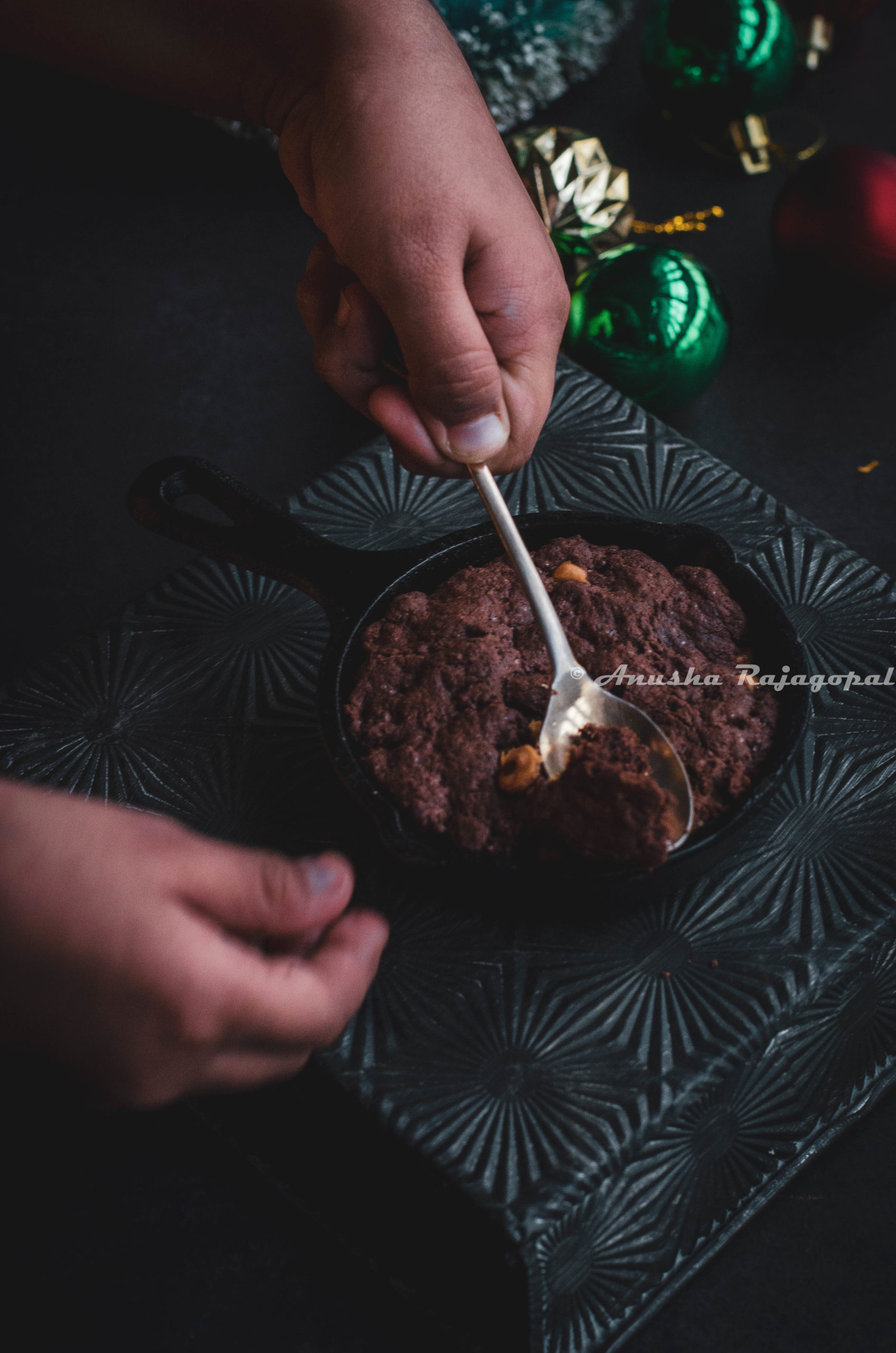 The cookie season is finally upon us. And so is chocolate. And caramel. Which is why we are going to bake this wickedly delicious sea salt caramel chocolate cookie. 
Why did I just call it wickedly delicious? Because this is a Caramel chocolate cookie for one. Yep. You read right. This cookie recipe serves exactly one human. 
And its egg-free. So, please tell me you are like me- someone who just cannot pass up the opportunity to bite into some eggless sea salt caramel chocolate cookie.
When Vidhya announced that she is hosting the Kids' Delight event this month and her theme is Single-serve desserts, I knew just what I should make, er, rather bake.
My long term wish to bake these single-serve cookies has been fulfilled!
Jump to:
So without much further ado, shall we get started?
Single Serve Cookies
Single serve cookies, like the name indicates, are cookies that make exactly one cookie. These cookies are so convenient when you have that 12 am cravings to dig into one chocolate chipper.
This saves you the trouble of getting out your mixer, cookie trays and then having to wash up huge mixing bowls etc. I used my small electric whisk to cream the butter and sugar in this recipe.
If you are looking for more such easy Single serve desserts, check out this too-
More Cookie Recipes
Here are some more cookie recipes –
Eggless Salted Caramel Chocolate Cookie
I have used Hershey's sea salt caramel chips to bake this cookie. You can use any kind of caramel chips. And i highly recommend sprinkling some flaky sea salt over the cookie before baking. The sea salt elevates the flavors to a different level.
Psst.. let me let you in on a secret- I add a sprinkle of sea salt to my hot cocoa as well. Do you have any such weird preferences? Tell us in the comments.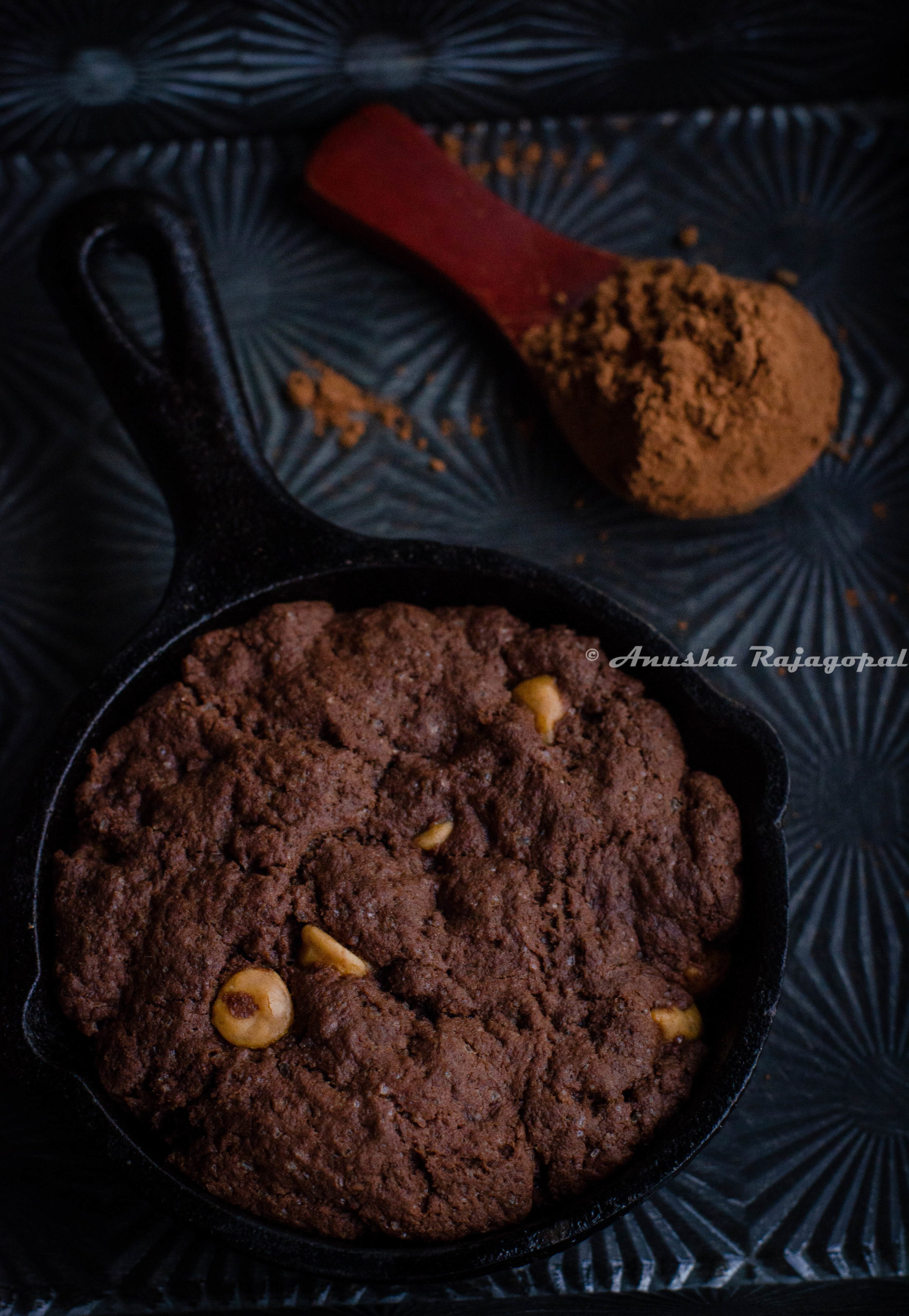 Ingredients- Substitutes and Replacements
1.All purpose flour– This recipe works well with both all purpose flour and whole wheat flour. You can also use a mix of both in equal proportions.
2.Butter- Softened butter at room temperature yields the best results.
3.Sea salt caramel chips– These are what make the true flavor components of this recipe.
4.Baking soda– Soda Bi Carb is the leavening agent used here. For best results, please use a standardised measuring spoon or weighing scale to measure all the ingredients.
5.Cold milk– this is an eggless recipe. Cold milk is what helps to bring the dough together. Do not use room temperature milk or warm milk.
Prep Work
Begin with softening the butter. There s no need to melt the butter.
Use a whisk to lightly cream the butter and sugar. This is a single serve cookie. So this does not require extensive creaming of butter and sugar like we do for a large batch of cookies.
Refrigerate the cookie dough for 5 to 10 mins if you have the time. This step improves the texture of the cookie. Optional but highly recommended.
Baking Time and Temperature
While i have baked this cookie at 180 C for 12 to 14 mins, please take note that oven timings will vary depending on your oven.
FAQs- Eggless Salted Caramel Chocolate Chip Cookies
Can this dough be doubled to make a large batch of sea salt caramel chocolate chip cookies?
I won't recommend doing this. Because scaling everything in this single serve cookie recipe may or may not give successful results.
Making Salted Caramel Chocolate Chip Cookie for One step by step:
Preheating– Preheat the oven at 180C for 10 mins.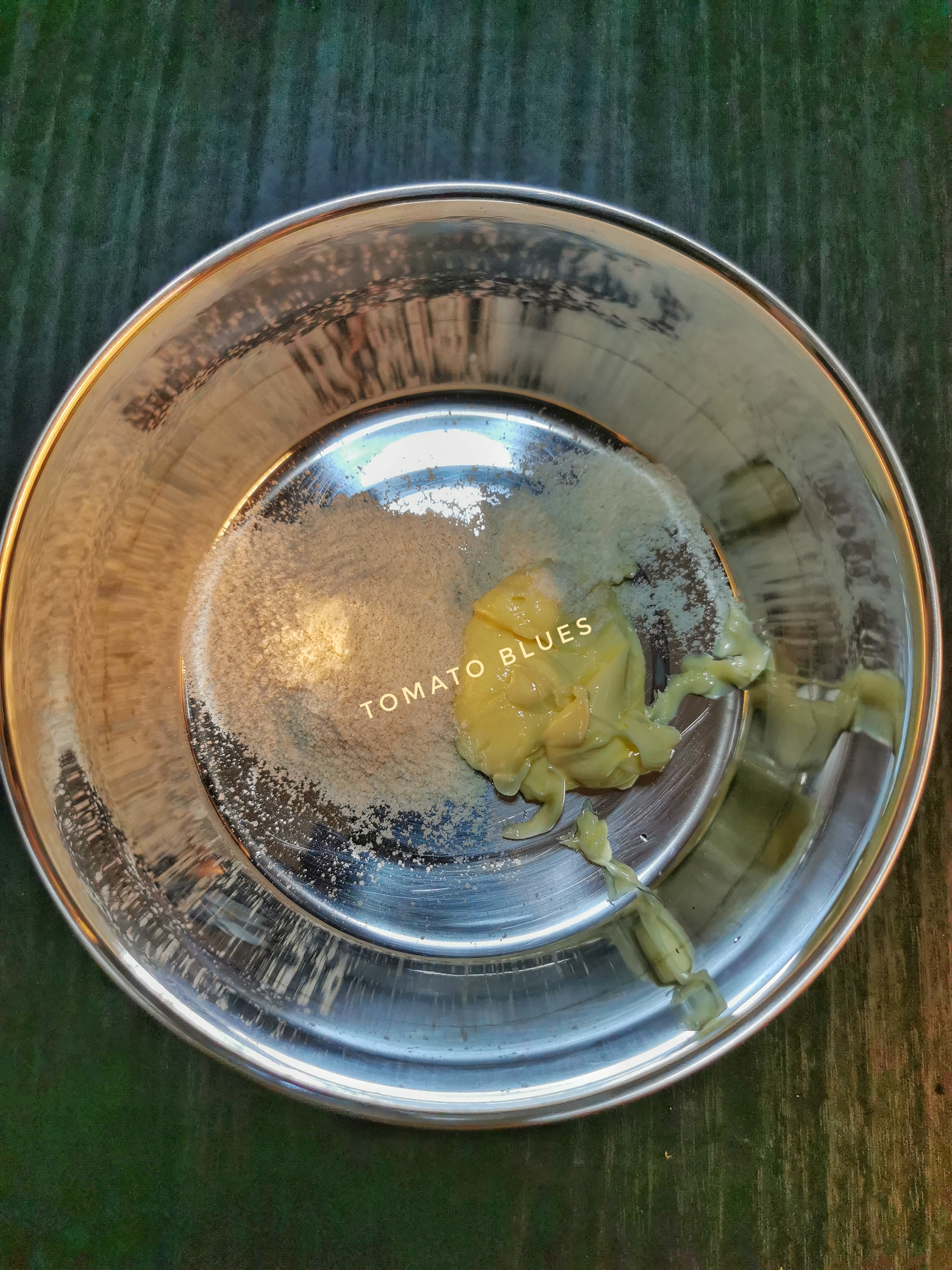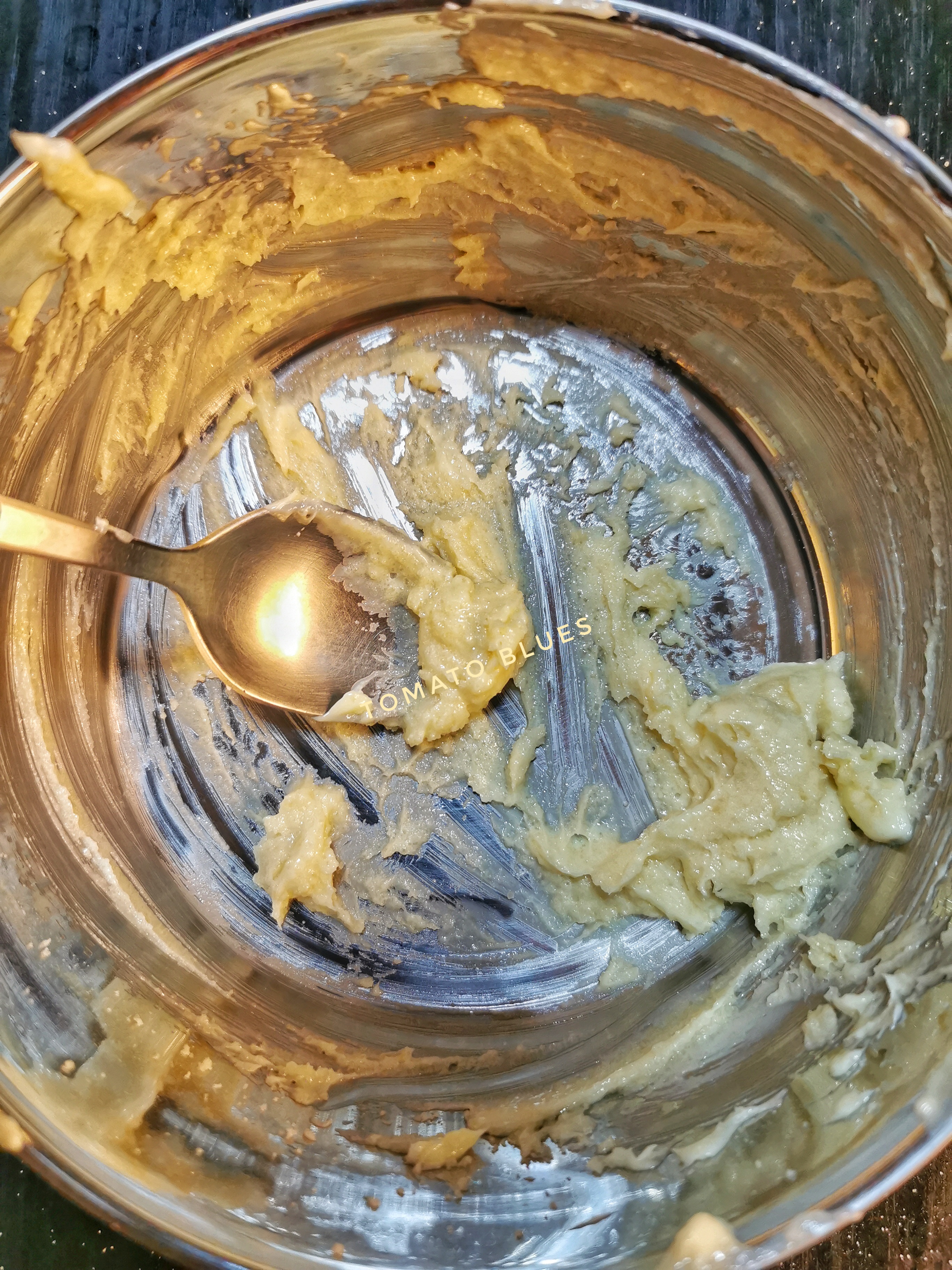 Creaming the butter and sugar– Add the sugar and butter in a bowl. Use a balloon whisk and whisk well for a min.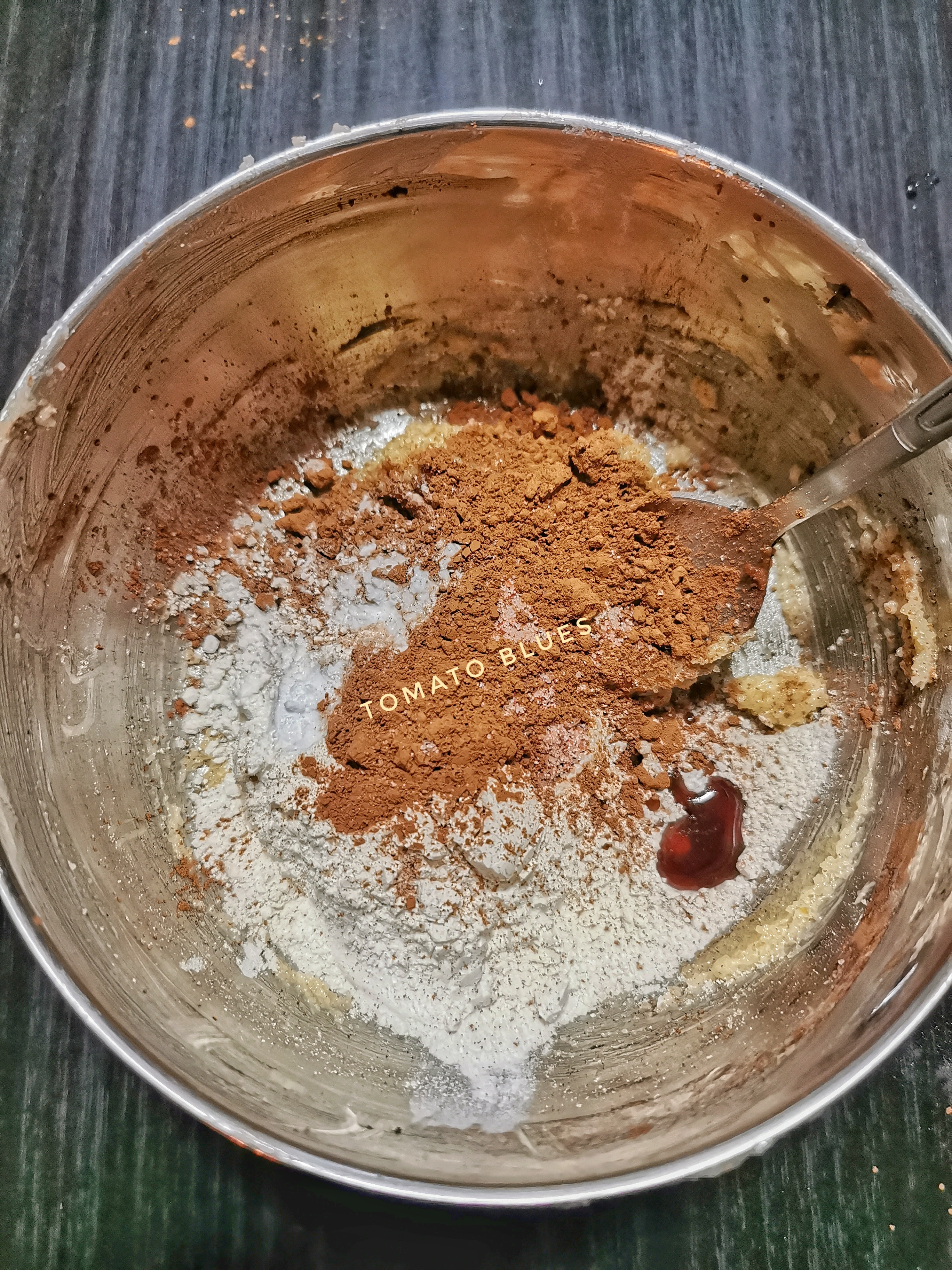 Adding the remaining ingredients– Now, add the flour, salt, vanilla, cocoa powder to the bowl. Using a spoon, combine everything together in such a way that the butter sugar mixture is evenly incorporated with the rest of the ingredients.
Your mixture should look similar to sand now.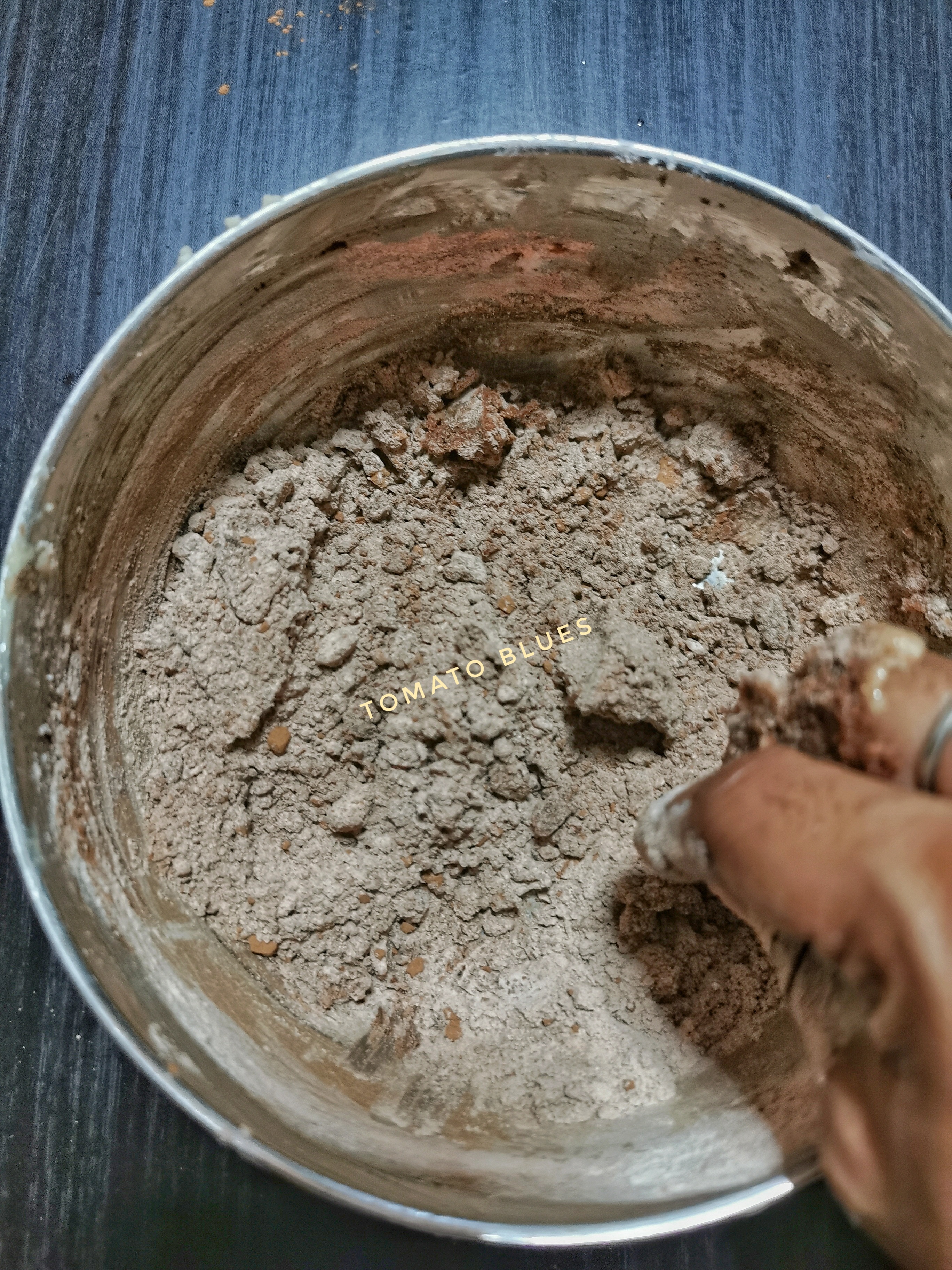 Making the dough– Now add milk by 1/2 tsp and begin kneading the dough Mix all the ingredients together until you get a crumbly mass of dough.
Now, add the caramel chips and incorporate it into the dough.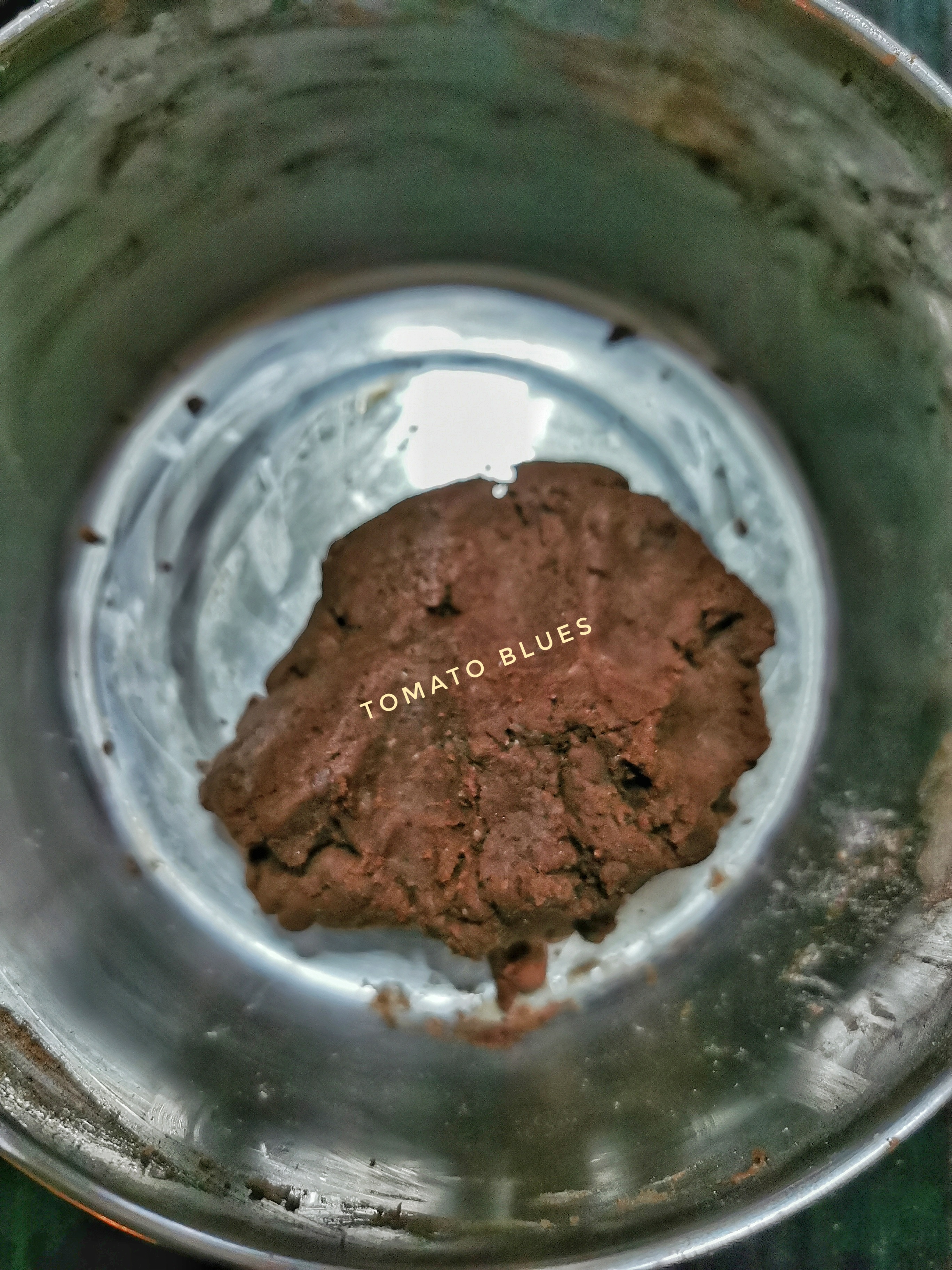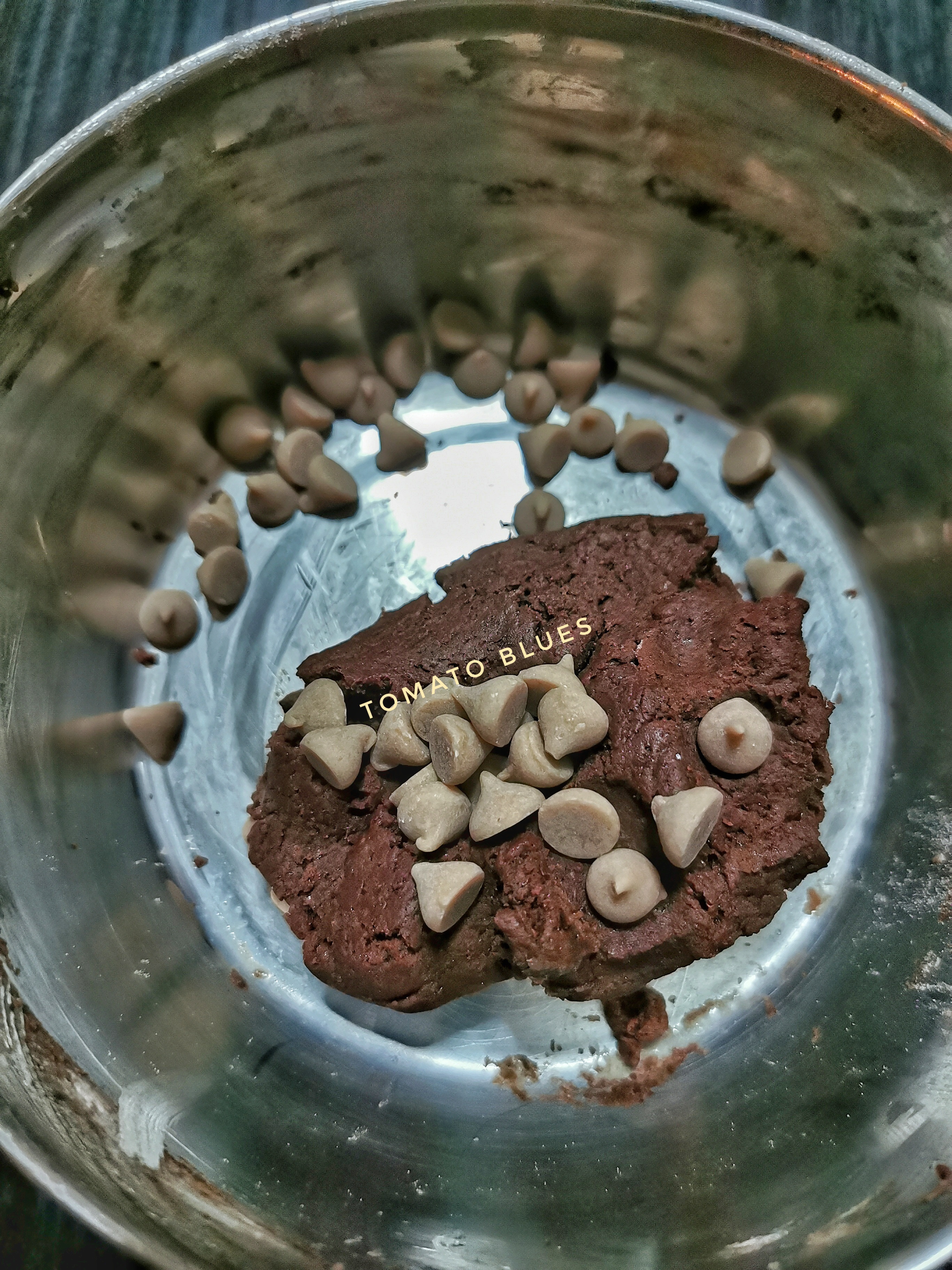 Baking the cookie– When done, divide the dough into small portions. Shape into a ball, slightly press and flatten it.
I used a small skillet to bake one portion of the cookie. I wanted smaller cookies and hence, i divided the dough into two.
You can bake the whole dough into one large cookie too.
Sprinkle some flaked sea salt over the cookie just before baking.
Place the cookies on a lined baking sheet and bake for 12 to 14 mins or until cookie moves freely and the bottom of the cookie hardens.
Once done, let cool on a cooling rack for a few mins. Serve slightly warm with a dollop of ice cream or enjoy as it is.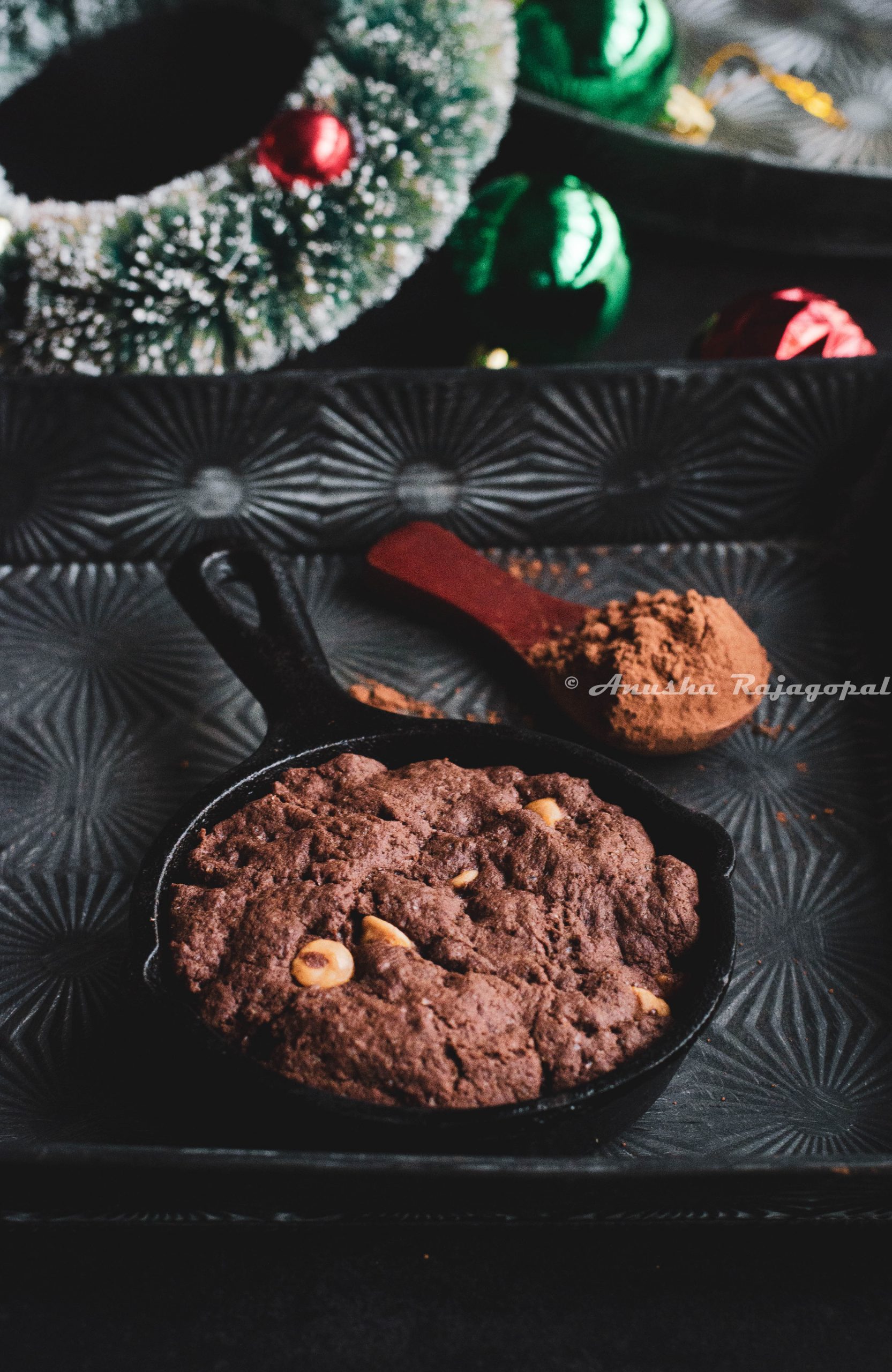 Follow me on Instagram or Facebook for regular cooking updates and short videos. Follow me on Pinterest for delicious content. Tried our Eggless Salted Caramel Chocolate Cookie for one? Then please rate this recipe and tell us why you loved our recipe!
In case you have any questions regarding this recipe, leave a comment and I'll respond at the earliest possible. If you tried this recipe and enjoyed it, click a picture and share it on Instagram by tagging us @tomatoblues.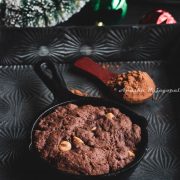 Print Recipe
Eggless Salted Caramel Chocolate Cookie for One
Single serve caramel chocolate cookies- Egg free and delicious with a scoop of Vanilla ice cream
Ingredients
1

tbsp

Softened butter

1.5

tbsp

Raw sugar

3

tbsp

flour

1/8th

tsp

Baking soda

1/4

tsp

Sea salt

1/4

tsp

Vanilla

2

tsp

Cocoa powder

1 to 2

tsp

Cold milk

2

tbsp

Sea salt caramel chips
Instructions
Preheat oven at 180 C for 10 mins.
Creaming butter and sugar
Combine sugar and butter in a bowl.

Use a balloon whisk and beat sugar and butter together for a min until combined and light.

Add all the remaining ingredients except milk and caramel chips.

Mix well using your fingers till mixture resembles sand.

Now, add cold milk by 1/2 tsp fulls and knead into a dough. Please don't add more than 2.5 tsp milk. I used only 2 tsp milk.

The dough should come together and form a slightly stiff dough.

Once done, divide the dough into two portions. Shape each into a ball. Flatten lightly.

Place on a lined cookie sheet. Or put them in small cast iron skillets.

Bake for 12 to 14 mins or until cookies move freely and bottom feels light.

Keep an eye out for the cookie from the 13th min onwards. Mine was done at 13.5 mins.

When baked, let it cool down for a few mins on a cooling rack.

When warm, serve as is or with a scoop of vanilla ice cream.
For Instant Pot & Air Fryer Recipes
Instant Pot timings may vary based on your geographic location. Air fryer settings and timings may vary based on the capacity and the model of the Air fryer.
Disclaimer
Nutrition values are provided here as a courtesy and are only a rough guide. Please consult a health care provider if you have any concerns.
Sending this to Srivalli's Kid's Delight event – single-serving desserts, hosted by Vidhya of Vidhya's Vegetarian Kitchen this time.