If i were to choose a restaurant for a special day, then it s definitely chinese. Even though i know i can whip up chinese any time at home, eating it at an authentic chinese restaurant gives me a high. There was a time when my lunch menu almost every other day used to be steamed rice and hunan sauce. Take away of course fondly ordered by a close friend when i was in college and the luxury of eating home cooked meals were never an option.
And then you are all familiar with my story. I got married. Started cooking and then started blogging. And surprisingly the number of times i ate chinese became less than 10 in 2 years. So today, when i was in a deep gastronomic introspective session, i realised this and thought, silly gal, you couldnt whip up a decent chinese meal and you call yourself an addict. That s how this whole dinner happened and needless to say, it was a delicious dinner, the only flip side being the pronounced absence of a decadent dessert. Lets talk dessert later. But for now, lets discuss this indo chinese delicacy which is ubiquitous in almost all street food alleys and of course the authentic chinese eat
outs.
Prep Time: Under 20 mins
Cook Time: 30 mins
Serves 2 to 3
( This is such a versatile recipe. While a few recipes call for the addition of mashed and boiled potatoes in the balls, i dont add it because that somehow gives me the feeling of eating koftas in manchurian sauce. The chinese dont eat potatoes in the manchurian versions. Period. My assumption of course! You can deep fry these balls but i did them up in a paniyaram/appe/ aebleskiver pan and they were lovely with less oil too.Drop the balls in the sauce only minutes before you serve or you will have a soggy mess.)

What You Need?
For The Vegetable Balls:
Shredded cabbage ⅓ cup
Grated carrot ¼ cup
Spring onions chopped finely ⅓ cup
All purpose flour 1 tbsp
Corn flour 3 tbsp
Crushed pepper corns 2 tsp
Green chili 1 minced finely
Salt to taste
Oil To Fry
For The Manuchurian Sauce:
Garlic minced 2 tsp
Ginger grated 2 tsp
Spring onion greens chopped finely 1 tbsp
Capsicum chopped finely 1 tbsp
Dark Soy Sauce 2 tsp
Sugar a pinch
Corn flour 1 tbsp
Water 2 cups divided
White pepper powder a large pinch
Salt to taste
Oil 2 tsp
Spring onion greens 1 tablespoon for garnish
How To Make It?
Lets get started with the vegetable balls first.
In a large mixing bowl, mix together all the ingredients required to make the balls except the oil.We are looking at a chapathi dough like consistency so add water very carefully. Check for seasoning.
Heat oil in the grooves of an aape pan.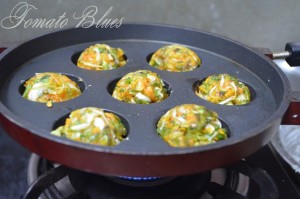 Divide the dough into 8 equal portions, shape them into balls and drop them in the grooves.
Cook them on medium low flame until golden brown on one side.
Flip gently and repeat for the other side.
Drain on a kitchen towel and set aside.
Now, the sauce.
Mix 1 tablespoon corn flour with 1 cup water and set aside.
In a kadai, heat the oil until it starts smoking.
Now, add the ginger, garlic, spring onion greens and the capsicum and saute for a few seconds until the spring onions wilt.
Now, add the soy sauce, sugar, salt and the cornflour mixture to this and stir.
Add about ¾ cup water and let it simmer till the sauce thickens.
Once the sauce thickens, add the chopped spring onions and mix well.
How To Serve?
In a large serving bowl, transfer the sauce.
Now, gently drop the balls into the sauce and let them stand for a min or 2 before serving.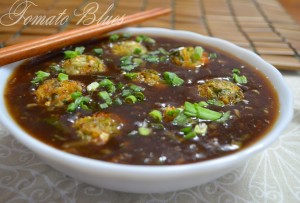 Serve hot with veg fried rice. Recipe coming up!