HOW TO MAKE RESTAURANT STYLE VEGETABLE FRIED RICE?
RESTAURANT STYLE VEGETABLE FRIED RICE- INDO CHINESE RICE RECIPE WITH VEGGIES.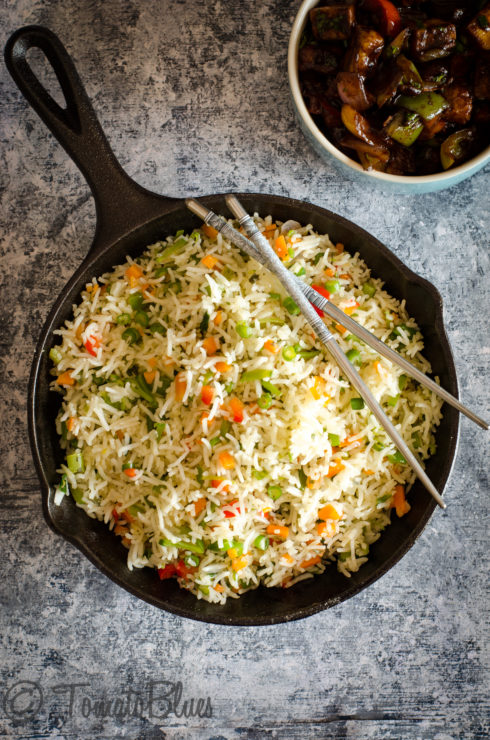 Restaurant style vegetable fried rice or veg fried rice is something most moms aspire to make at home. Even though we all know that it is just rice and veggies tossed together, the taste is different when we make it at home.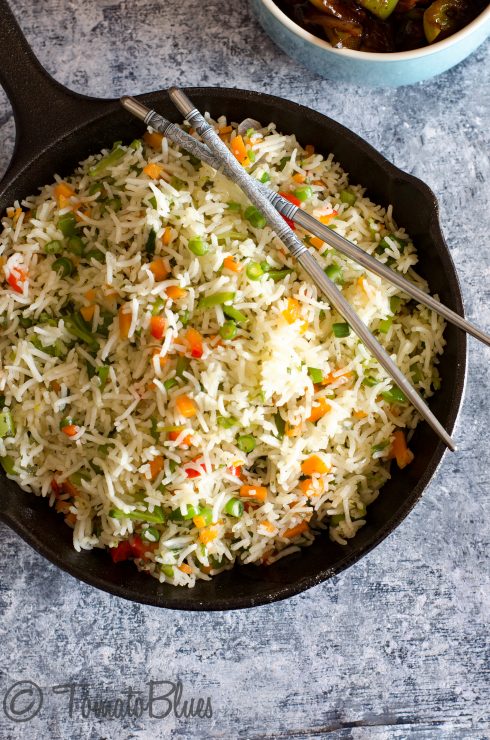 If most of you are going to think that it s AjinoMoto or the taste maker, then it certainly is not the answer. The building blocks of a legitimate restaurant style vegetable fried rice are- cold and leftover rice, rice cooked just till done, finely chopped veggies, celery and seasoning.
Yes. That s it. No sauces. No tastemaker. Just these are enough to make some truly restaurant style vegetable fried rice at home.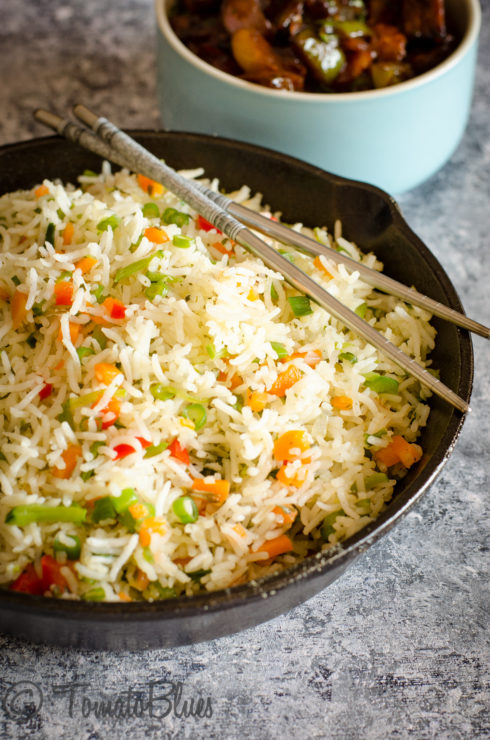 Shall we now check out the video on how to make Restaurant style veg fried rice?
https://www.instagram.com/p/BoJogw4BAZn/
In the above video, i have used a batch of freshly cooked rice which i let cool before adding it to the pan. If you are in a hurry like me and do not have any leftover rice on hand, then you can do this too. But the key is to let it cool completely by spreading it out on a plate.
While Basmati rice works well in most cases, short grain varieties like Hom Mali add a unique flavor to the recipe. But because Indian restaurants use Basmati rice, i have used the same.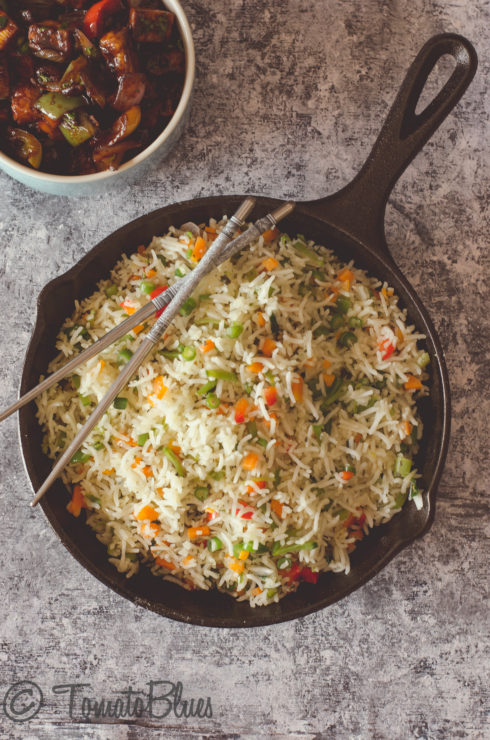 If you are looking for more Indo -Chinese Recipes, then check out Paneer Fried Rice, Egg Fried Rice, Vegetables In Hot And Sweet Sauce
Recipe For Restaurant style Vegetable Fried Rice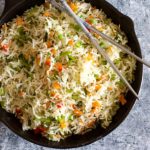 Print Recipe
Restaurant Style Vegetable Fried Rice Recipe
Restaurant style vegetable fried rice is a kids' favorite dish which uses rice and mixed veggies. Pairs well with Indo Chinese style stir fries.
Ingredients
Basmati rice 1.5 c washed thoroughly and soaked for 20 mins in lots of water.

Onion 1 largish chopped finely.

Mixed veggies 2 to 3 c chopped finely

i used carrot, beans, snow peas and different color of bell peppers

Spring onion whites 2-3 tbsp

Spring onion greens 1 tbsp

White pepper powder 1 tbsp

Salt to taste

i used 3 tsp approximately

Neutral flavored oil 2 tbsp

Celery stalks 2 tbsp chopped finely. I didn't have them. So i used 1 tbsp dried celery leaves.
Instructions
Place the rice in a wide wok along with about 6 c of water and 2 tsp salt.

Cook rice till 90% done.

Drain the rice once done, spread on a plate and let cool.

Alternatively, you may use 4 c of cooked rice that is a day old for this recipe.

Once the rice cools down, heat the same wok with oil.

Add onions along with spring onion whites and cook till onions become soft.

Add the remaining veggies and saute on high flame for 2-3 mins. The objective is to retain the crunch of the veggies.

Once done, add salt and white pepper powder. Mix well.

Add celery and mix. Now add the cooked rice and gently mix.

Garnish with spring onion greens. Serve hot.
For Instant Pot & Air Fryer Recipes
Instant Pot timings may vary based on your geographic location. Air fryer settings and timings may vary based on the capacity and the model of the Air fryer.
Disclaimer
Nutrition values are provided here as a courtesy and are only a rough guide. Please consult a health care provider if you have any concerns.