Sattu Paratha is an Indian stuffed flatbread made with whole wheat flour and Sattu. These parathas are typically made in mustard oil and are popular in the regions of Bihar, Uttar Pradesh and Madhya Pradesh.
Come join us on Pinterest to find delicious pins.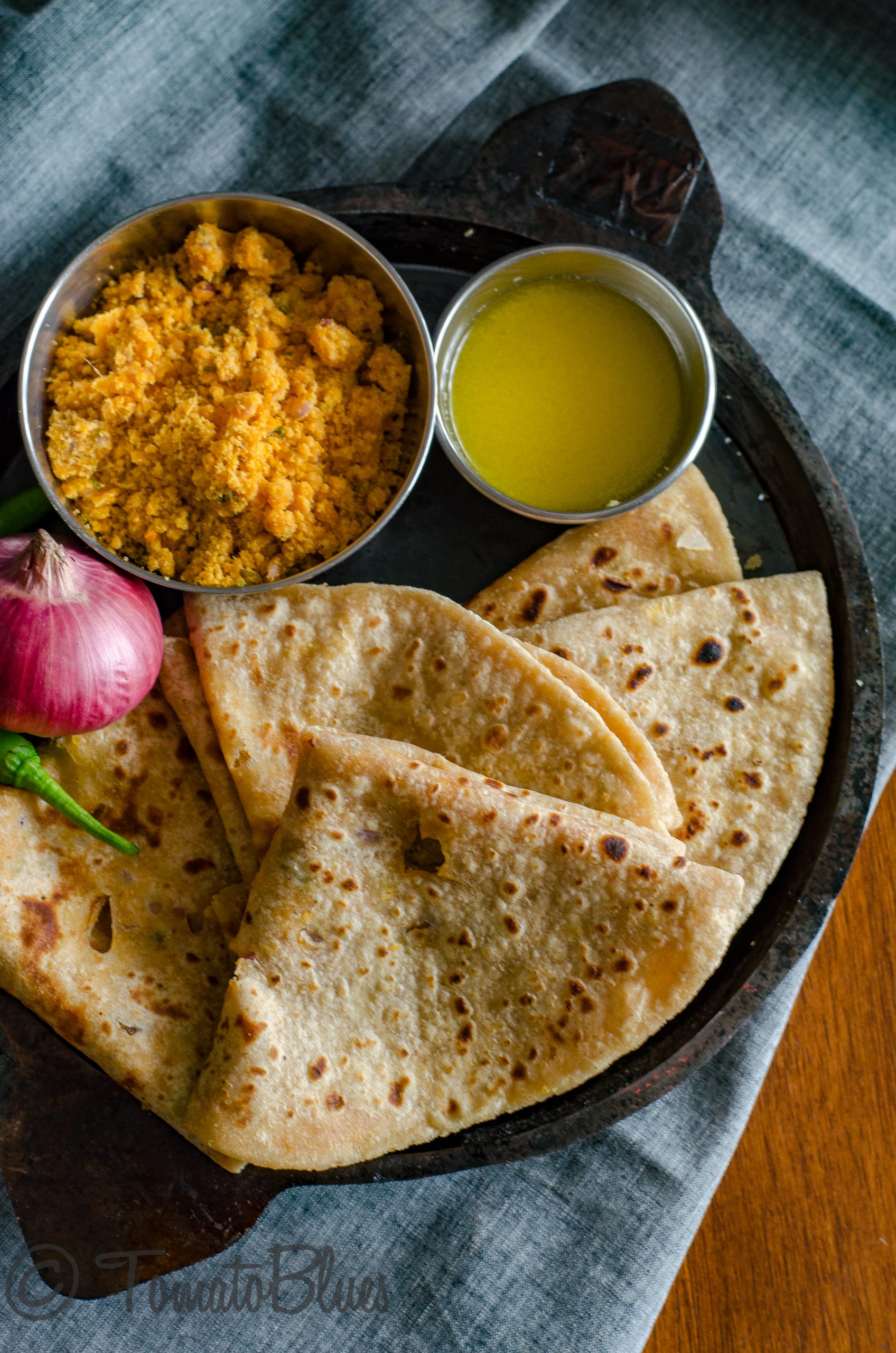 Sattu paratha is a delicious and protein packed dish that is made with whole wheat flour. This stuffed paratha recipe uses a filling that has roasted gram flour which is known as sattu in so many parts of India.
While the southern states are not very aware of Sattu and its benefits, it is quite popular in the central states of India, especially Bihar and its neighboring states.
This Sattu Paratha makes for an easy breakfast and you can even pair it with chutney.
What is Sattu?
Sattu is basically nothing but flour that is made by grinding dry roasted bengal gram (roasted chana). We call this chana sattu too. It is easily available in all stores these days and is a powerhouse of nutrition in terms of protein. While the traditional sattu has only bengal gram, there are versions where other ingredients are also added.
I used store bought sattu flour to make these parathas. Now, this sattu paratha was introduced to me by a Bihari friend back in Vadodara. And I have been making this ever since then. The key to making a great sattu paratha lies in choosing the correct pickle oil. Use mustard oil based pickles for best results.
How to make Sattoo Paratha? – Method
Make the dough
First make the paratha dough by combining wheat flour, salt and water. Make a smooth, non sticky supple and soft dough and set aside.
Prepare the Sattu stuffing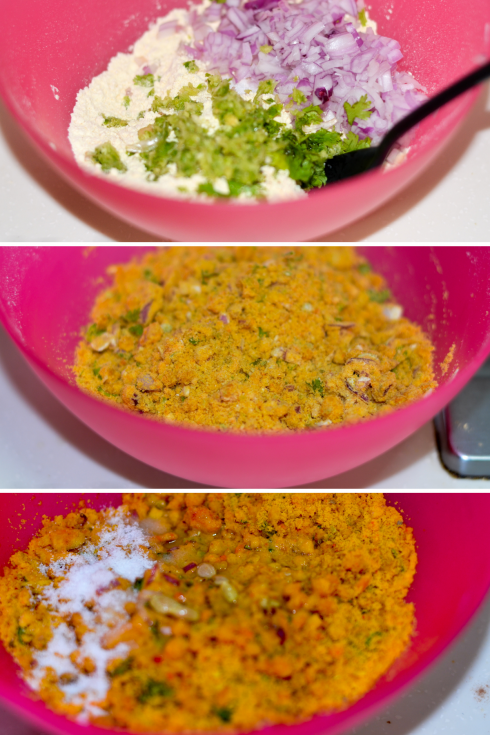 Once done, in a large bowl, combine sattu flour, finely chopped onions, garlic, coriander leaves, lemon juice, salt, ajwain (carom seeds/omam), mango pickle oil, green chillies. Rub in the oil into the mixture and mix well until it resembles a crumbly mass. This must come together like a ball when you scoop up some in your hands and press. This is our Sattu mixture.
Mango pickle oil is the best for making sattu filling.
Shaping the parathas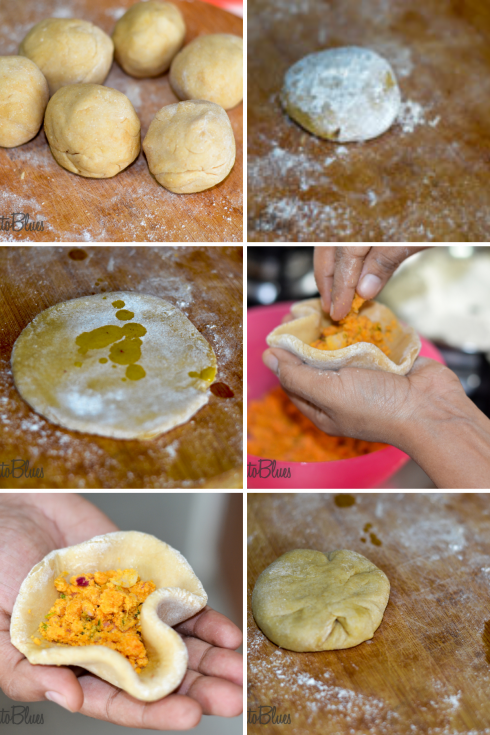 Divide the dough into 6 parts. Shape each part into a ball. Dust a ball in flour and roll into a thick circle. Smear a little ghee on this. Now,Place a tbsp of filling and seal the filling by pinching the edges of the dough circle together.
Dust this in flour and roll into thinner circles taking care not to tear the parathas.
Cooking sattu paratha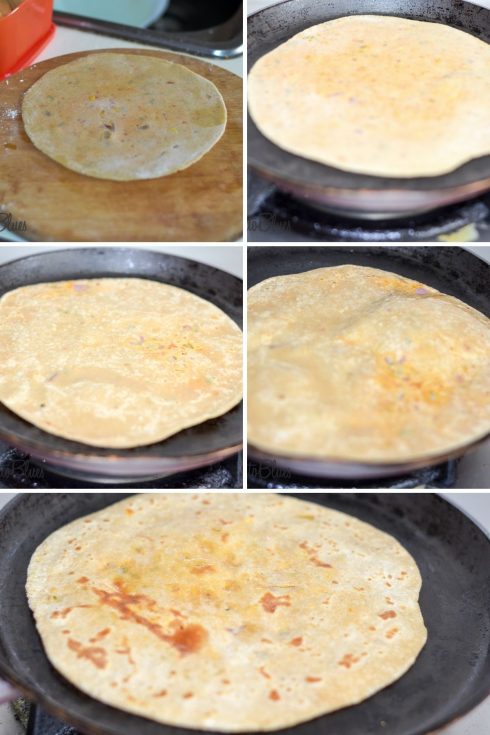 Once done, heat a tava and place the paratha. Cook till golden brown spots appear on one side. Apply oil and flip over and cook again till golden brown spots appear. Once done, serve hot with ghee and yogurt.
If you are looking for more healthy paratha recipes, then don't forget to try this gobi paratha , broccoli paratha and palak paratha.
Follow me on Instagram or Facebook for regular cooking updates and short videos. Find us on  Pinterest for delicious content. Tried our Sattu Paratha recipe? We value your thoughts and comments! Leave a comment and tell us how it worked for you. Email us your questions to anusapraj@gmail.com if you need any guidance in making this soup.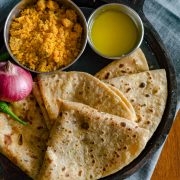 Print Recipe
Sattu Paratha Recipe
Sattu Paratha- A delicious and nutritious stuffed flatbread made with whole wheat flour and an unusual filling that uses pickle oils.
Ingredients
2

cups

whole wheat flour

1.25

tsp

Salt to taste

1

tsp

Oil for cooking

for each paratha

3/4 to 1

cup

Water to knead the dough

1

tbsp

Ghee
For The Filling
3/4

cup

Sattu flour

1/2

cup

finely chopped Onions

1

tsp

grated Garlic

1

tsp

minced Green chili

2

tbsp

finely chopped Coriander leaves

2 to 3

tbsp

Pickle oil

see notes

1

tbsp

Lemon juice

1

tsp

Omam/ Ajwain/ Carom seeds

3/4

tsp

Salt to or taste
Instructions
Combine whole wheat flour, salt and water and knead to a smooth non sticky and supple dough.

Set aside.

In a wide mixing bowl, place all the ingredients for filling and mix thoroughly.

To make the parathas, divide the dough into 6 parts.

Shape each part into a ball.

Dust with flour and roll into a thick circle

Spread a little ghee on top.

Now, place a tbsp of filling in the center and bring together the edges.

Pinch and seal.

Flatten this ball and dust with flour.

Roll into thin circles. Do this gently to avoid tearing.

Once done, heat a tava.

Place the paratha and cook till brown spots appear.

Smear oil and flip and cook again till brown spots appear again.

Remove from flame and serve hot with yogurt and ghee.

Repeat with the remaining dough and filling to make the remaining parathas.
Notes
Sattu Paratha tastes best when the filling is made using mustard oil based pickles. Mango pickle oil works best here.
In case you dont have access to these pickles, add a tbsp of mustard oil in addition to the oil you are using.
For Instant Pot & Air Fryer Recipes
Instant Pot timings may vary based on your geographic location. Air fryer settings and timings may vary based on the capacity and the model of the Air fryer.
Disclaimer
Nutrition values are provided here as a courtesy and are only a rough guide. Please consult a health care provider if you have any concerns.
What to eat with Sattu Paratha?
The best way to enjoy Sattu parathas is to eat them hot. You can serve these with ghee and fresh set yogurt. As such there is no side dish specific to Sattu parathas but we like them with chaat chutney too.
Explore more Indian bread recipes
More easy breakfast recipes