Gobi Paratha is an Indian style stuffed flatbread made with riced cauliflower. These Parathas make a fabulous Sunday brunch treat or work well as lunch box options too. This is our favorite Paratha and we love it a wee bit more than the Aloo paratha and Paneer Paratha.
Come join us on Pinterest to find delicious pins.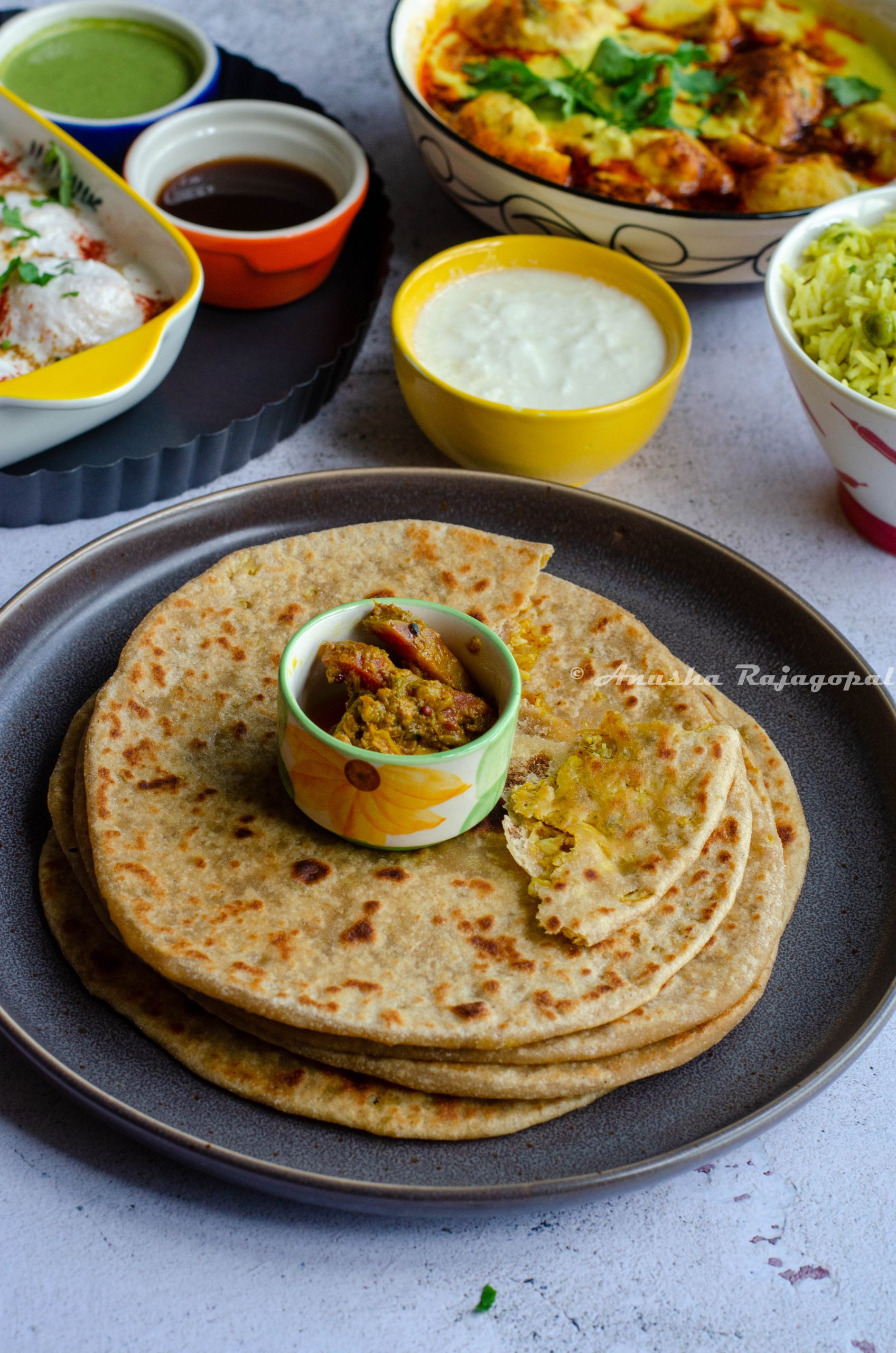 Why should you try your hands at Gobi Paratha?
✔ Cauliflower- it has got plenty of cauliflower. This is a great way to sneak in some cauliflower into your kids' breakfast or lunch, peeps.
✔ It is served with butter and yogurt. Doesn't anything served with a dollop of butter make you drool, as a rule of thumb?
✔ Gobhi ke Parathe, slathered with butter, is this amazing Sunday breakfast or brunch that you can indulge in. Not that you can't make it on other days.
✔ Gobi Paratha is freezer-friendly! Yep. This means you can freeze them leftovers and relish them later on some random Tuesday when the 4 PM hunger strikes or just because you can. Hey, you are an adult. You are entitled to treat yourself mid-week.
Jump to:
So, lets talk some serious Paratha business, shall we?
The Ultimate Gobhi ke Parathe
For the best tasting Gobi Paratha, there are some key factors to remember. The dough has to be just right. It should not be too stiff or too soft. A very stiff dough makes very dry and brittle Parathas while a super soft dough means your stuffing will leak. 
The next thing to note is that the filling should be used up as soon as it s ready. More about this in the recipe notes section. Read on, folks.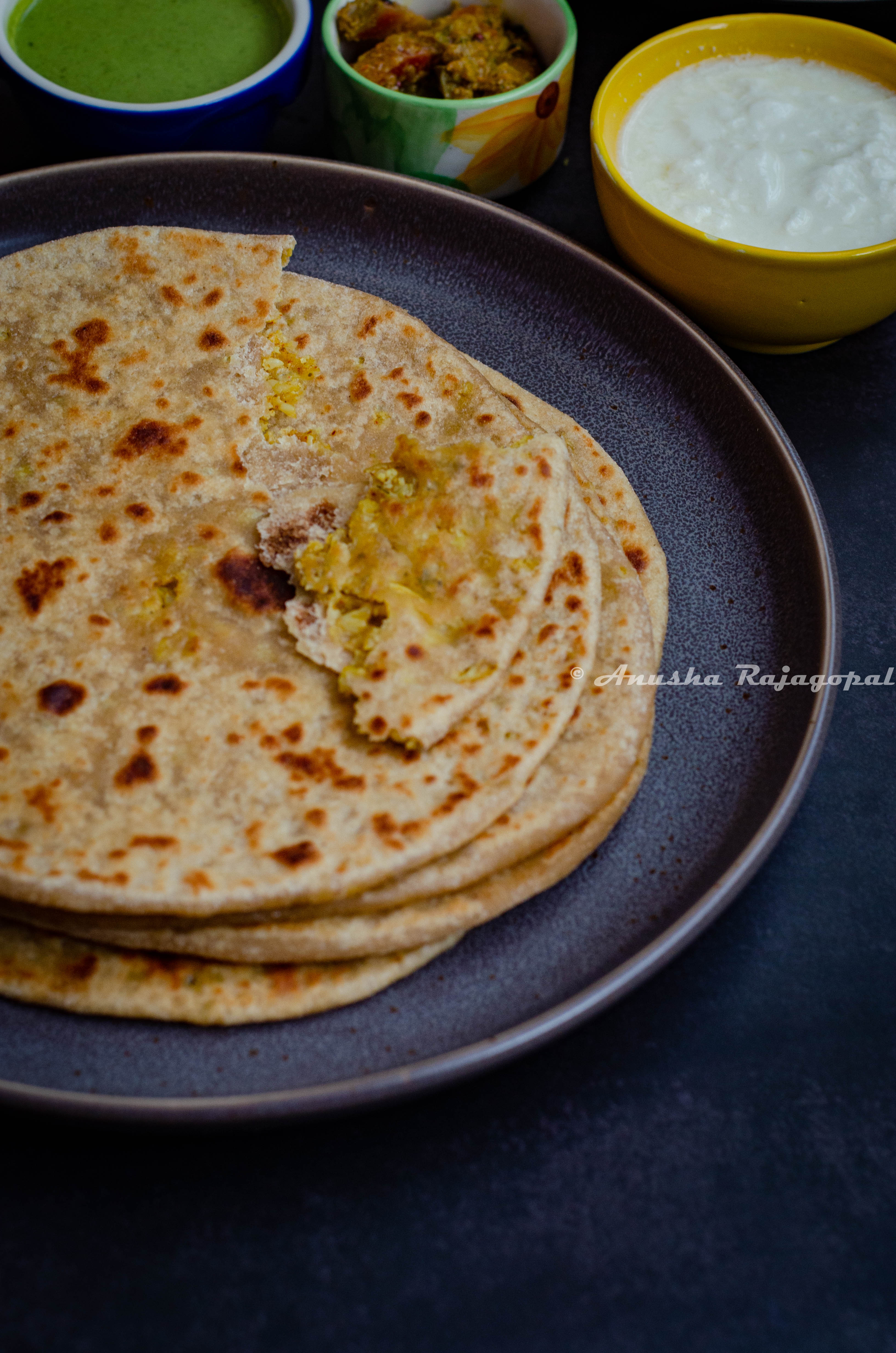 Ingredients
✔ Wheat flour– We'll be making a dough with Aata for our outer covering.
✔ Cauliflower– I have used only fresh cauliflower for this Paratha. Frozen cauliflower or cauliflower rice will not work because of its moisture content. In my experience, fresh cauliflowers work best. You can also try Romanesco or purple cauliflower for a different version.
✔ Oil or ghee– You can choose to cook your parathas with either oil or ghee. Traditionally, they use desi Ghee to make them. But if you want a vegan Paratha, use any neutral-flavored vegetable oil. We are also going to be adding some ghee to our dough. You can skip this too and add vegetable oil for a vegan version.
✔ Spices– This recipe calls for very basic spices. Cumin, red chili powder and Garam Masala are all Indian pantry staples. However, if you want to add some oomph to your Paratha, try some smoked paprika or even Cajun seasoning for a fusion Gobi Paratha recipe. When it comes to spice combinations, the sky is the limit! Some recipes call for adding green chili. I tend to avoid adding green chillies if I m making this for kids.
Meal Planning and Prep
Meal Planning
You can knead the dough up to two days in advance and let it sit in the fridge. Make sure that you wrap this tightly in cling wrap. It is very normal for the dough to develop some discoloration. So, please don't panic. The dough is still good to use.
As for the filling, I suggest that you make it just before you start rolling the parathas.
Prep
Make the dough- let it rest- while it rests- work on the filling- begin rolling parathas when all set.
?Pro Tip: Use a chopper to shred your cauliflower for the stuffing. Quicker, easier and mess free. Also, less elbow grease.
More Paratha Recipes
No onion no garlic Paratha
This Paratha recipe is a no onion-no garlic recipe. I have often observed that adding onions to this particular Paratha makes them tear very easily while rolling. This is because onions tend to release moisture. As for garlic, you can add one clove of garlic that is finely grated if you desire.
Storing and Packing for Lunch box
When you have finished making the parathas, wrap them in foil and place them in a container but make sure you do not close the lid tightly. Use a lid with a small vent to prevent condensation or sweating. This way, the parathas won't turn soggy.
Similarly, when you remove the Parathas from the Tawa, place them on a trivet for a few secs before transferring it to the container. This will also prevent them from becoming soggy.
If you are packing these for lunch, cut into quarters and wrap them in foil. These stay fresh when packed this way. And kids will find it easier to eat them when served in quarters.
How to freeze leftover Paratha?
I am someone who tends to make a few extra every time I make Paratha. I like to freeze them for later. This is because I m mostly alone for lunch and these come in handy on those days.
If you are like me and want to freeze the extra Parathas, then you can try these steps. I will try to add pictures for this too soon.
✽ Cook the parathas for about 15 to 20 secs on medium flame. We are not going to cook them fully. The parathas will get cooked fully before we eat them.
✽ Once the parathas are cooked halfway, transfer them to a cooling rack and spread them out. Allow them to cool.
✽ Now, stack them in batches of 3. Place them on a piece of parchment paper. Insert a piece of parchment paper between the parathas. Finally, add a piece of parchment paper to the topmost paratha. 
✽ Place these in a Ziploc cover and seal it. Make sure to release all the trapped air inside before sealing it fully.
✽ Now, place it in the freezer and allow it to freeze fully.
How to use these frozen Parathas?
✽You need not thaw them before eating. Just take it out from the freezer, remove the parchment paper. Place the frozen Gobi Paratha on a preheated pan.
✽It will be hard and brittle when you place it on the Tawa but eventually, it will soften up as it heats. 
✽Allow it to soften up and smear 2 tsp ghee or oil on the paratha. Cook on a medium flame for 30 to 40 secs until you see brown spots appear on the surface of the parathas. Flip and repeat the same for the other side. 
✽When done, serve hot.
What to serve with Gobi Paratha?
Ideally, all Parathas are served with some butter on the top, creamy thick yogurt and pickles by the side.
However, you can also serve it with some tomato ketchup, if you are making it for the kids. Another alternative will be the Gujarati Style Gor Kheri pickle or the Gujarati Chundo-a sweet mango pickle.
Recipe notes- Tips for No tear Paratha
Does your Gobi Paratha tear up while rolling? Does the filling ooze out? Then try these tips and make your Parathas infinitely better. Psst.. these tips work well for all Parathas.
✽ Make sure the dough is not too soft or sticky. Sticky dough means you cannot roll it easily. It is very important for the dough to be of the right consistency.
✽ Cauliflower oozes water as soon as you add salt to it. So, you should make these parathas really fast as soon as you make the filling. If you let the filling sit for too long, it oozes out water and this makes the paratha tear up.
✽The way you shred your cauliflower makes a huge difference. We are looking at evenly shredded cauliflower here. I strongly recommend a food processor or chopper or a box grater to do this effectively. If you have some stray bits that are big, then the rolling won't be smooth. This in turn, will tear your parathas while rolling. 
✽ If your dough is too dry, then the Parathas will hard and chewy. If your dough is too soft, then you will use too much flour to dust it while rolling. And this will make it dry and hard too. So its important to knead the dough correctly.
✽ Please remember that the water and flour proportions mentioned here are a rough guide. The water quantity may differ based on the quality and age of your flour too. Even the weather plays a role in this
Method with Step By Step Photos
Making the dough for Cauliflower Paratha
In a bowl, combine wheat flour and salt. Mix well with your hands. Make a well in the center. Now add water gradually. First, bring all of the flour and water together into a big mass. We are going to be using 2 c flour and approximately 1.25 c water to make our dough. Begin by adding 1/2 c water and then gradually add the remaining. Reserve 1/4 c for the kneading part.
The mixture will be slightly sticky and shaggy at this stage. Now begin kneading by using your palms and fingers alternatively. If you find the mixture too dry, sprinkle 1 tbsp water and proceed.
Once the dough is kneaded, add the ghee and knead again for 3 to 4 mins. 
Make sure you have a smooth, supple and pliable dough. You can watch this video here to watch how the dough is kneaded.
Once the dough is ready, keep it covered with a damp kitchen towel. This will prevent it from drying up.
Making the Stuffing
While the dough is resting, let s make the cauliflower stuffing. Wash and pat dry the florets thoroughly. There should be no water in it. Even a little water can tear up the parathas and make your stuffing leak. You can also fan-dry it as an extra step.
Once the florets are dry, add them to a chopper. First chop them into smaller bits by pulsing a few times. When done, add the salt and spice powders. Now blitz them until they are completely shredded. Do this in short intervals. Stop and scrape down the bits as you do so.
Rolling and Shaping 
Once the filling is ready, divide the dough into 10 parts. Shape each part into a smooth ball. Keep the remaining balls of dough covered while working on one. 
Press the ball of dough slightly to flatten it up. Dust it with some flour and roll it into a thick disc. Smear a few drops of ghee or oil on this. Now, place 1 tbsp of the Gobi stuffing in the center. Sprinkle some flour on top of the filling. This will ensure that the filling doesn't leak while rolling.
Now, bring the edges of the dough together and seal it shut by pinching the edges together.
It will look like a small string bag. Pinch out the excess dough and flatten the stuffed ball gently. And dust it with flour lightly.
Now, begin rolling this into a 1/4 inch thick circle. Use some flour to dust as you roll the dough out thinly. Make sure to roll gently by applying pressure evenly. 
Cooking the rolled Parathas
Heat a cast iron pan or an iron Tawa. Place the rolled paratha on it. Cook on medium flame for about 30 secs. Now flip the paratha. You can see some brown spots here and there on the Paratha. Now, smear 1 tsp ghee on the top and continue to cook the other side for 30 secs. When done, flip again and smear 1 tsp ghee. Cook for 15 to 20 secs. Now flip and cook the other side too for 20 secs. When done, remove and serve hot.
It takes approximately 2 mins to cook each Paratha.
Repeat the same process with the remaining balls of dough and filling.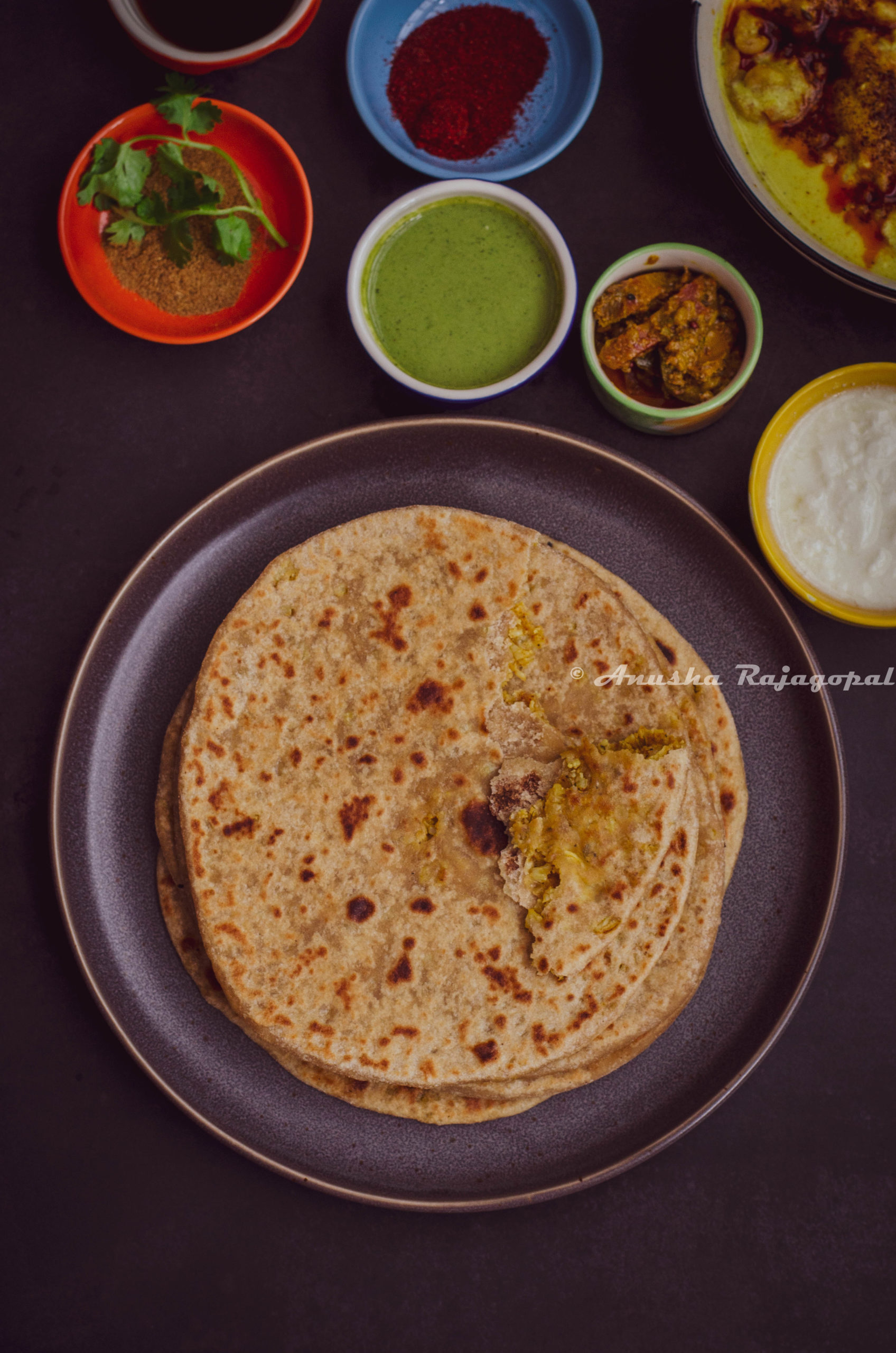 Follow me on Instagram or Facebook for regular cooking updates and short videos. Find us on Pinterest for delicious content. Tried our Little Millet Kheer with Saffron? We value your thoughts and comments! Leave a comment and tell us how it worked for you.
In case you have any questions regarding this recipe, leave a comment and I'll respond at the earliest possible. If you tried this recipe and enjoyed it, click a picture and share it on Instagram by tagging us @tomatoblues.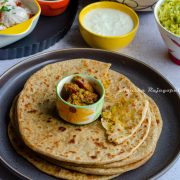 Print Recipe
Gobi Paratha
Gobi Paratha or Gobhi ke Parathe- Indian stuffed cauliflower flatbreads. Soft, flaky and stuffed to the brim with a deliciously spiced cauliflower filling
Ingredients
For The Stuffing

130

g

Cauliflower florets

1

tsp

Punjabi Garam Masala 1 tsp

1.5

tsp

Red chili powder 1.5 tsp

1

tsp

Cumin Powder

1.5

tsp

Salt or to taste

2

tbsp

Finely choppedCoriander/ Cilantro leaves

optional

For The Paratha

2

c

Whole wheat flour 2 c

3/4 to 1.25

c

Water to knead

1

tbsp

Ghee

1.5

tsp

Salt or to taste

2

tsp

Oil for each paratha

1/4

c

Extra flour for dusting
Instructions
In a bowl, combine wheat flour and salt.

Mix well with your hands. Make a well in the center. Now add water gradually.

Begin by adding 1/2 c water and then gradually add the remaining. Bring all of the flour and water together into a big mass. Reserve 1/4 c for the kneading part.

The mixture will be slightly sticky and shaggy at this stage. Now begin kneading by using your palms and fingers alternatively.

Once the dough is kneaded, add the ghee and knead again for 3 to 4 mins. 

The dough should be smooth, soft and pliable.

Once you have a smooth supple dough ready, cover with a damp cloth and let it rest for 10 mins.

Wash the cauliflower thoroughly and separate the florets.

Mince the cauliflower thoroughly or grate it finely using a grater.

When done, add the salt and spice powders.

Now blitz them until they are completely shredded. Again, use do this in short intervals. Stop and scrape down the bits as you do so.

Set aside.

Divide the dough into 10 equal parts and shape each part into a ball.

Now, slightly press the ball of dough lightly into a flat disc in between your palms.

Dust it with flour and place it on the rolling board.

Roll the dough into a 1/4" thick round.

Smear some ghee on the rolled dough. Place 1 tbsp of the filling in the middle of this round,and sprinkle some flour on the filling.

Bring together the dough to form a bundle that resembles a money bag.

Pinch the excess dough off and dust with flour

Gently, roll the stuffed dough into 3 mm thick round.

Heat a iron skillet or griddle.

Place the rolled out dough on the tawa and cook for 30 secs on medium flame.

Flip it and you can see some brown spots on the surface.

Smear 1 tsp ghee or oil on the Paratha and continue to cook the other side for 30 secs.

Now, flip again and smear 1 tsp ghee on the other side. Cook the Paratha for 20 secs on medium flame. Flip again and cook for 20 more secs.

Once they appear, smear oil and flip and cook. Repeat the same with the remaining dough and parathas.
Notes
1. I have always found that resting my paratha dough for 10 mins after kneading yields softer parathas.
2. If you want a richer version, use butter or ghee to make Parathas.
For Instant Pot & Air Fryer Recipes
Instant Pot timings may vary based on your geographic location. Air fryer settings and timings may vary based on the capacity and the model of the Air fryer.
Disclaimer
Nutrition values are provided here as a courtesy and are only a rough guide. Please consult a health care provider if you have any concerns.
P.S. This post was originally published in March, 2015. This has now been updated with fresh photos, step by step pics and recipe cards.