Masala Puri Chaat is a popular Indian street food. The Bangalore style Masala Puri is one of the most popular versions. Whether you call it Masala Poori or Masala Puri, undoubtedly, anything that has Chaat in it instantly becomes a crowd favorite. This post is a step by step guide for preparation of Masala Puri at home.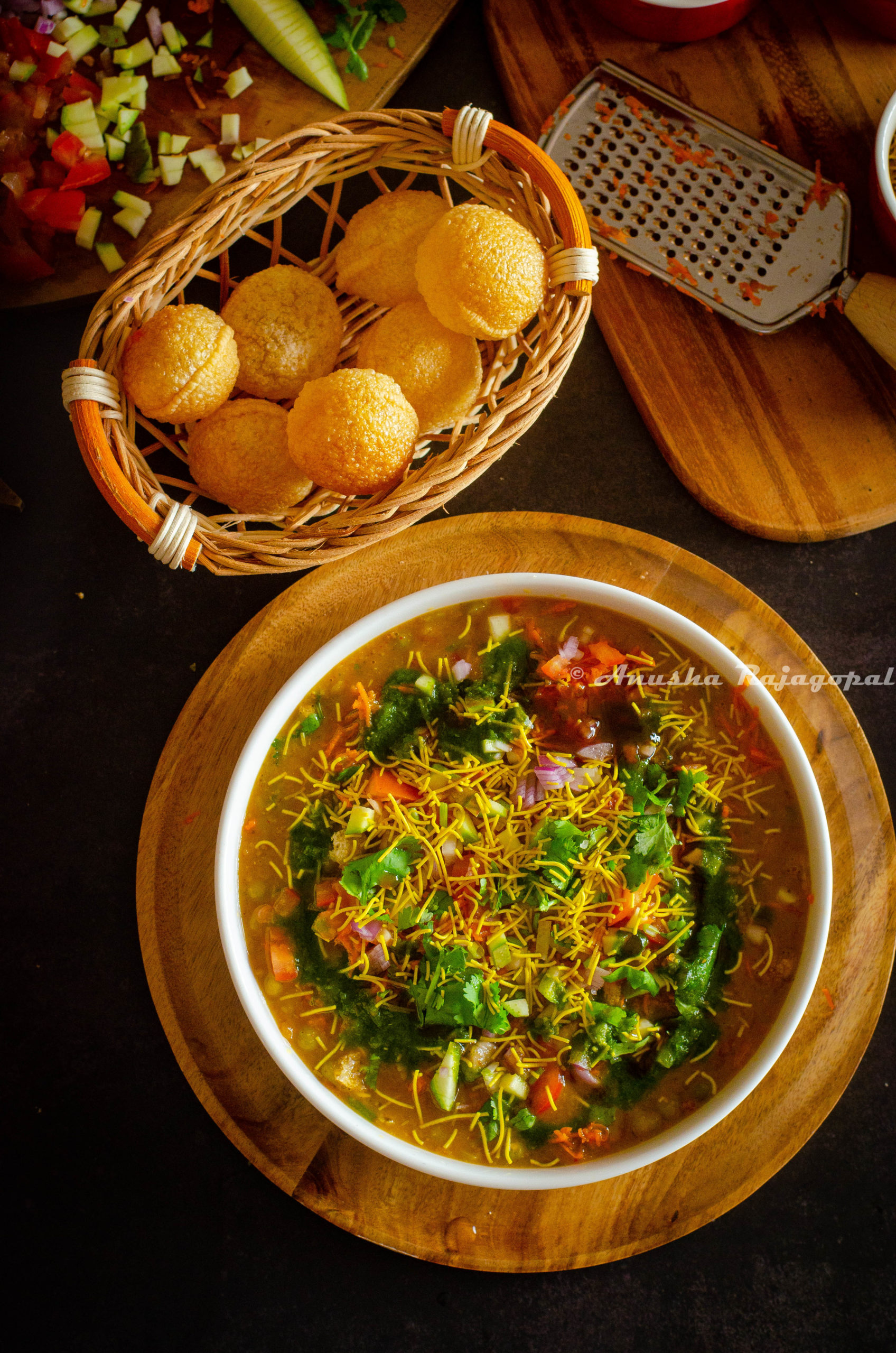 Masala Puri Chaat is synonymous to the ultimate vegan fun food for me. Yep! So many flavors, so many textures and so many tastes all melded into one concoction. And that concoction is evil enough to make you drool.
So, quickly, let me tell ya, why should try your hands at Masala Puri Chaat?
✓ This is a semi-homemade recipe. Yep. I won't tell you to make this, make that. Pinkie promise.
✓ This is vegan, has loads of veggies and protein.
✓ And if i did not manage to convince you with the above two reasons, here s one more- this is insanely delicious and makes a great potluck dish.
Jump to:
Masala Puri Chaat at home- Video
Bangalore Style Masala Poori Chaat
There are many versions of Masala Poori. I have eaten the Coimbatore style Masala Puri and Gujarati Masala Puri too. But this one is my favorite.
Having studied in Bangalore, i began discovering my love for food only there. I vividly remember the many hole in the wall joints we used to frequent, just to eat a golden Masala dosa or a plate of this Masala Poori Chaat.
So, what is so special about this street style food? Well, the Bengaluru style has loads of peas, veggies and involves crumbling the pooris. As for the rest of the recipe, read on 🙂
Ingredients
This recipe uses very simple and basic pantry ingredients. After all, its the simplest of ingredients that make a fine meal, right? What makes this unique is the layers of textures and flavors. 
The building blocks of this recipe are dried peas, potatoes, carrots, tomatoes and onions. There are aromatics and flavorings involved too. 
✓Dried peas– I have used dried green peas here because I had them in plenty at home. You can always use dried white peas too.
✓Potatoes and carrots– These not only add flavor but also texture. Not only that, carrots are healthy, peeps 😉
✓Onions, tomatoes etc– Make up the gravy base and cannot be substituted
✓ Mint– Fresh mint leaves are a huge huge contributor to the flavor profile of this Masala Poori. I m talking make it or break it extent, folks, So, nope, no mint means no Masala Poori Chaat.
✓ Black stone flower– Although this is not something added in all versions, i learned from Vidhya that it is a great flavor to include. This is optional but highly recommended.
✓ Fennel– Again, this is an earthy aromatic that is an absolute must in any Masala Poori worth its salt. 
✓ Jaggery- While the addition of jaggery may seem like something irregular in a Chaat recipe, it is a very common habit in Karnataka cuisine to round off any savory dish with some jaggery. This does wonders to a dish. Try it to believe it. Also, jaggery balances tang, spice and salt like magic.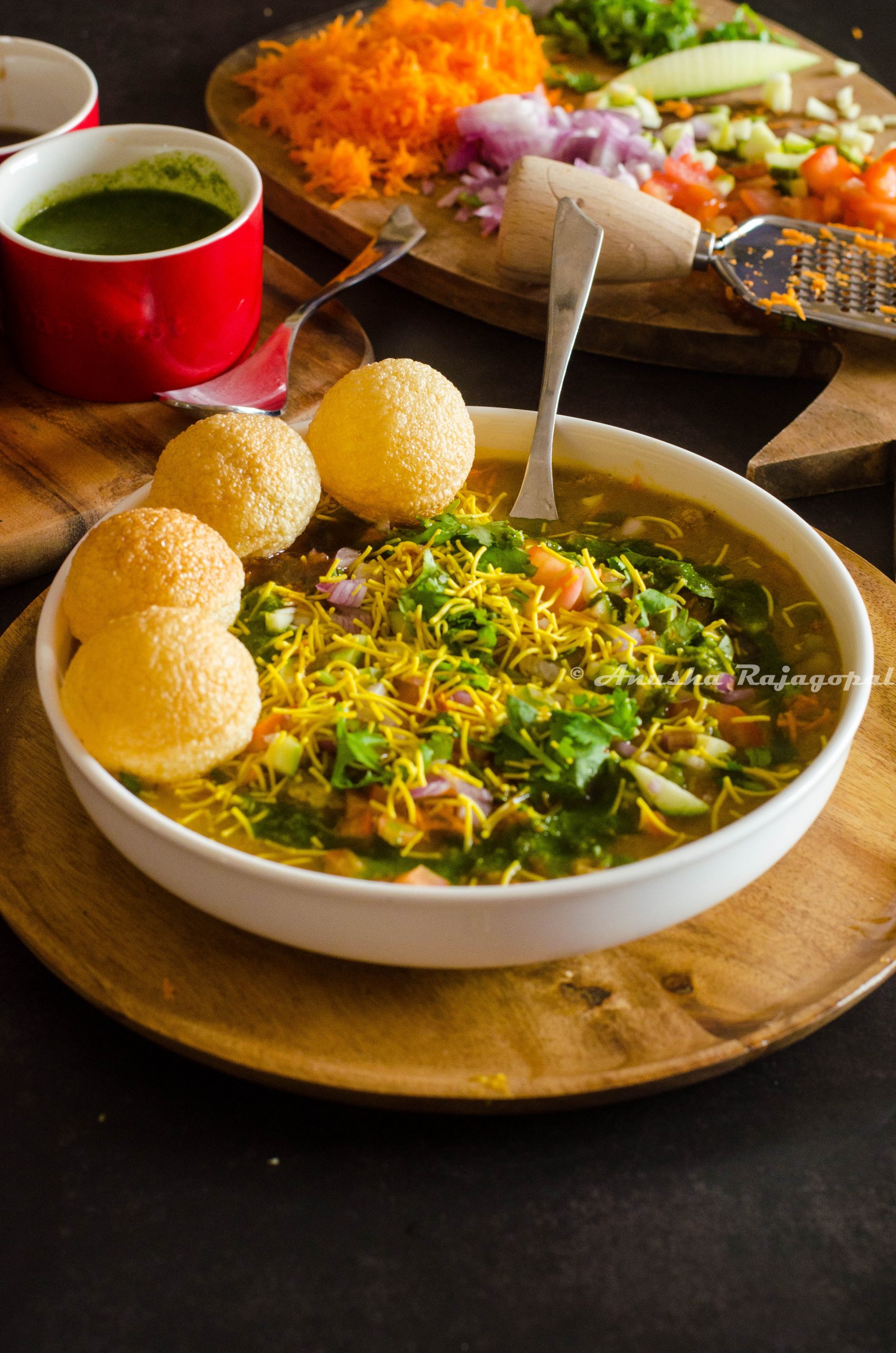 Masala Poori Peas Gravy
The Masala Puri gravy that I have shared is the typical roadside Masala Puri gravy recipe.
Before we delve deeper into our bowls of bliss, let me share some tips that work well as far as the peas go. 
✓ Use new dried peas. Anything sitting for longer than 2 months on a pantry shelf is considered old. And these older dried peas take longer to cook. If they do cook, they tend to have an unpleasant bite.
✓ Hydrate, hydrate, hydrate– As with all beans and legumes, it is very important that you hydrate your beans for a good number of hours. This will speed up the cooking process and also ensure even cooking. Older peas need to be hydrated longer. But its well worth the effort. Come on, you just have to dump them in water and wait. How difficult is that?
Meal Planning and Prep Work
Meal Planning- 
I promise I made this twice on a weeknight. Yep. That easy if you plan it right. Prepare the mint chutney and the sweet chutney if making over the weekend and store it in clean sterilized jars. I have used store-bought Sweet chutney here. You can also try the same. 
Soak the peas ahead, drain all the water used for soaking and freeze the soaked peas in a freezer safe bag. When you want to make this, thaw the peas by pouring hot water over them and proceed with the recipe. 
Similarly, you can also air-fry the Pooris to reduce hands-on time. Or you can fry them and store them in an air tight box. Or better yet, simply buy readily available Pooris and proceed with the recipe.
Prep work-
Soak peas- fry pooris- make chutneys. Begin with soaking the peas because they take longer, obviously. You can do the frying and chutney making when the peas are soaking.
Storing leftover Masala Poori gravy and chutneys
The gravy keeps well for 2 days when stored at temperatures lesser than 3 degrees. The mint chutney keeps well for 4 days and the sweet chutney lasts up to a month if handled right.
Gluten-free Masala Puri Chaat
If you are looking to make this recipe gluten free, skip the Pooris and enjoy just the gravy with its toppings and sauces. Make sure you buy gluten-free sweet chutney. If you are not keen on skipping the Pooris, then use potato chips in place of them. Works like a charm. Just remember to go easy on the salt. Also ensure your chips are gluten-free too!
How to prepare Masala Puri Chaat step by step?
Soaking the peas (hydrating)
Wash and soak the peas in enough water for 8 to 10 hours. When done, drain all the water used for soaking. 
Bonus Tip: Recycle the water used for soaking peas and water your plants with it.

Pressure cooking the peas
Combine the soaked peas, carrot and potato in a pressure cooker with water. Add salt. Pressure cook for 5 whistles. Let pressure release naturally. Check if the peas are cooked by squishing one between your fingers. It should be soft. 
Pro Tip: Peas cooked to a mush? Works perfectly well in this recipe. Dont bother with the mashing and proceed with the recipe.
Mashing the peas
Drain the water used for cooking and reserve it for cooking the curry. There s no need to completely drain the peas. Set aside ½ the boiled potato and 1 small piece of the carrot because we ll need this for the masala paste. Now, go in with a ladle and gently mash the mixture. Set aside.
Making the Masala Paste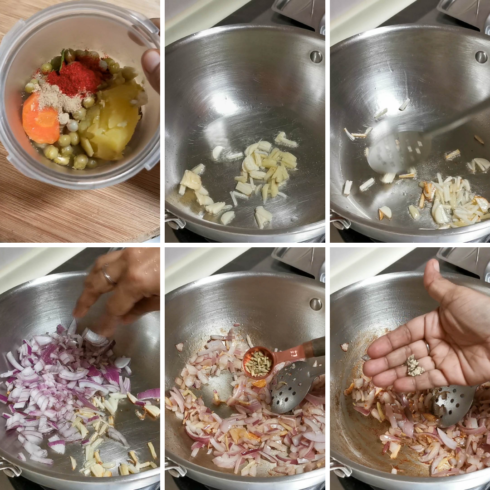 Combine cumin, pepper, cinnamon, mint, potato, Amchur powder and red chili powder in a blender jar. 
Heat a pan with oil. Add garlic and ginger. Fry till garlic becomes golden. Now, add the onions and fry till pink and soft. Add salt to speed up the cooking. Now, add fennel seeds and the black stone flower, if using, and mix well. At this point, add the tomatoes and mix well. Next, add green chilis and continue to cook till tomatoes are slightly mushy.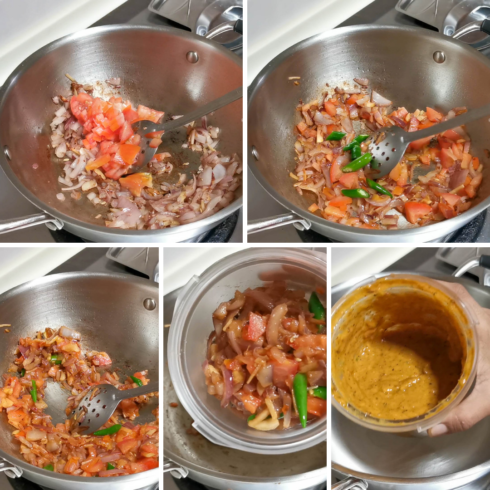 Add this fried onion tomato mixture to the blender jar with the other ingredients. Allow the mixture to cool. When cool, grind to a smooth paste without adding any water.
Making the green peas gravy
Heat a pan with oil. Now add the ground paste along with 1 c of the reserved water. Mix well. Tip in the cooked and mashed peas mixture.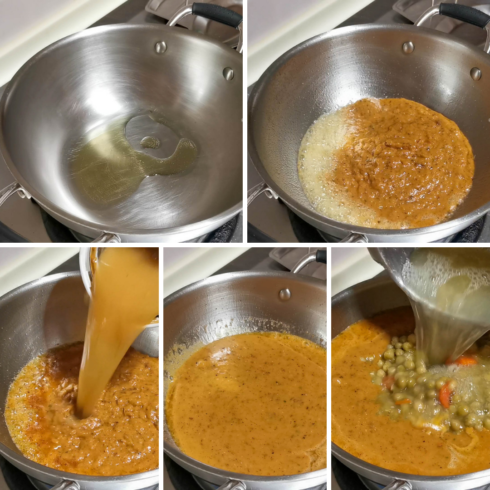 Add jaggery, garam masala, turmeric powder and salt. Mix well. Simmer this on low flame for about 10 mins. You will see that the gravy changes to dull green as it simmers.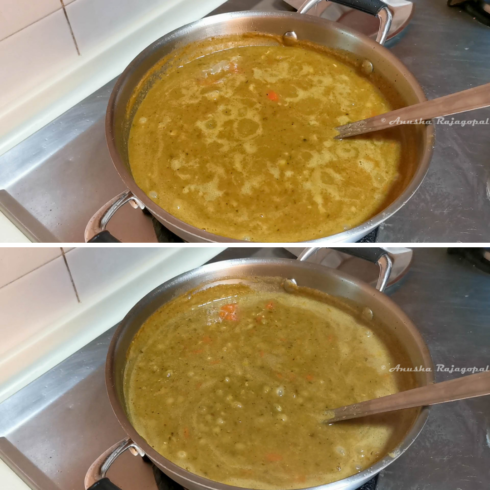 When it froths up at the surface and begins to bubble, switch off flame.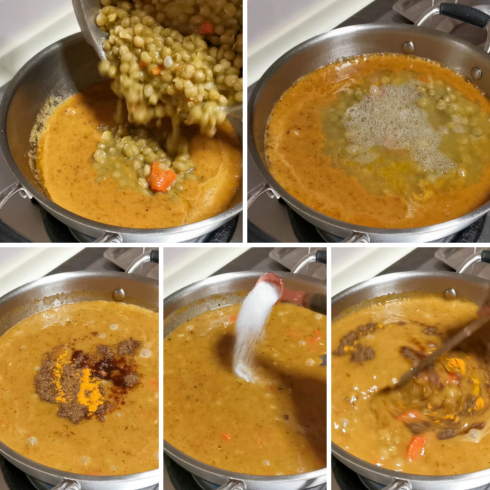 Our Masala Poori Peas Gravy is ready.
Frying or Prepping the Pooris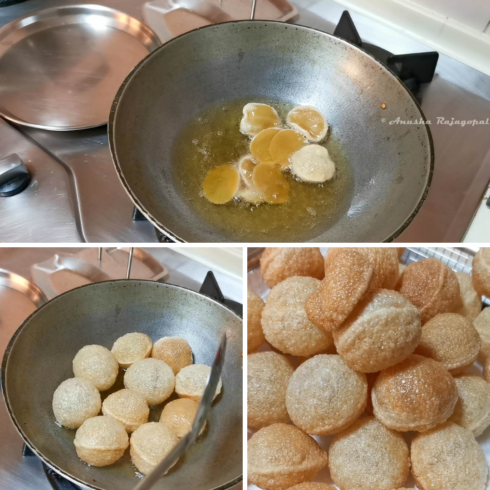 Now, let us move on to prepping our Pooris. Skip this step if you are using readily available Pooris. I have used dried Pani Puri fryums for this recipe today. 
Heat a pan with oil. Add the puris in batches and fry on medium heat until golden, puffy and crisp. Drain on a paper towel. 
When the Pooris are ready, its time to assemble our Masala Poori.
Assembling the Masala Poori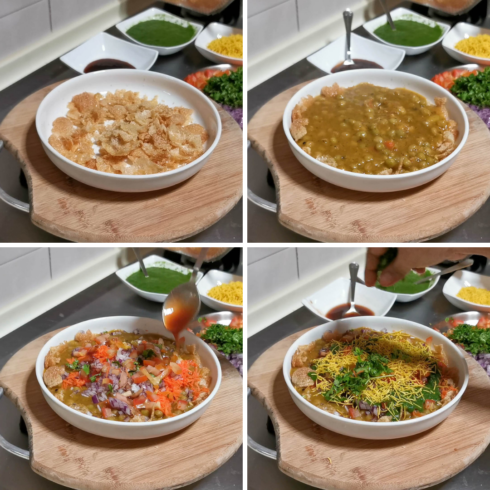 In a deep bowl, crush 8 to 9 pooris. Pour about 2 cups of the gravy. Add all the veggies- shredded carrots, onions, tomatoes. Now, spoon the green chutney and the sweet chutney. Sprinkle some Sev and garnish with finely chopped cilantro.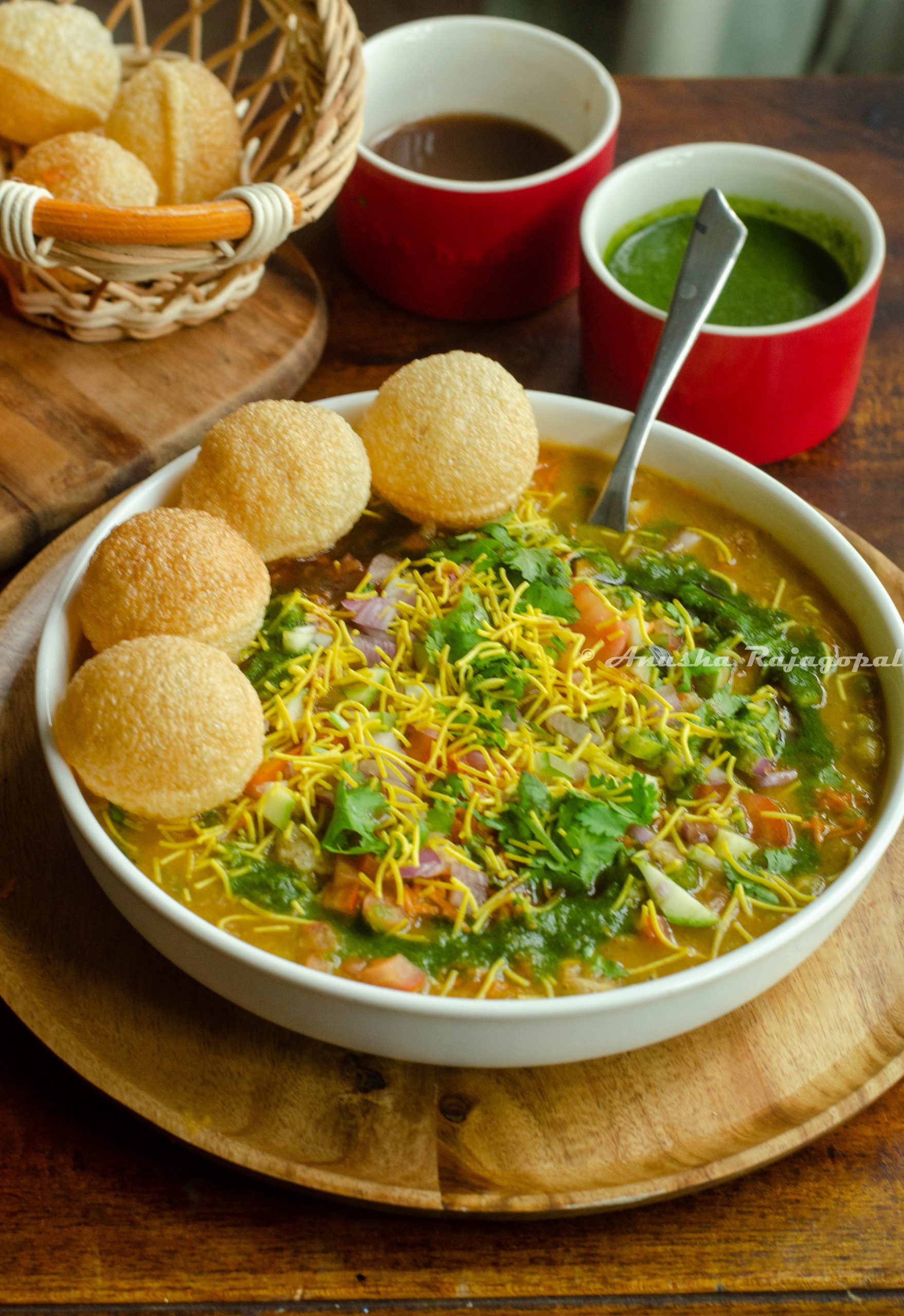 More Chaat and Street Style Food Recipes
Follow me on Instagram or Facebook for regular cooking updates and short videos. Find us on Pinterest for delicious content. Tried our Seppankizhangu Roast? We value your thoughts and comments! Leave a comment and tell us how it worked for you.
In case you have any questions regarding this recipe, leave a comment and I'll respond at the earliest possible. If you tried this recipe and enjoyed it, click a picture and share it on Instagram by tagging us @tomatoblues.
📖 Recipe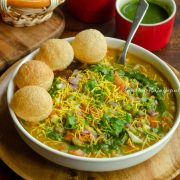 Print Recipe
Masala Puri Chaat
Bangalore style Masala Puri Chaat; a scrumptious medley of green peas, crisps and an assortment of veggies; all served piping hot.
Ingredients
For the Green peas
1.5

c

Dried green peas

5

c

Water

1

largish

Potato

1

large

Carrot peeled

1.5

teaspoon

Salt
For the spice paste
1

tsp

cumin

½

teaspoon

peppercorns

½

inch

cinnamon stick

10

leaves

fresh mint

½

a

boiled potato

2

inch piece

boiled carrot

1

teaspoon

aamchur powder

1

tsp

red chili powder

1

tablespoon

oil

10

g

finely chopped garlic

3

g

peeled and chopped ginger

1

c

finely chopped onions

1

tsp

fennel seeds

1

small bit

Kalpaasi ( Black stone flower)

optional but highly recommended

¾

c

finely chopped tomatoes

1

teaspoon

salt

3

green chilis roughly chopped
For the green peas curry
1.5

tablespoon

oil

1

recipe

masala paste

1

c

water

1

recipe

prepared peas, potato and carrot mixture

1.5

teaspoon

jaggery powder

1

tsp

garam masala

1

teaspoon

turmeric powder

1.75

teaspoon

salt or to taste

1

c

water

to adjust consistency
For the pooris
48

dried

pooris

200

ml

oil
Toppings
½

c

Mint chutney

½

c

Dates and tamarind sweet chutney

( I have used store bought chutney here)

1

c

Peeled and grated carrots

1

c

finely chopped onions

1

c

finely chopped tomatoes

½

c

finely chopped raw mango

Optional but recommended. ( I have not used this in the video though)

½

c

finely chopped coriander leaves

¾

c

Sev

I have used store bought sev here.
Instructions
Cooking the green peas
Wash the dried green peas and soak in 5 c water for 8 to 10 hours.

After its hydrated, drain all the water used for soaking.

Combine the hydrated peas, the peeled potato and carrot in a pressure cooker .

Add 5 c water and salt to this.

Pressure cook for 5 whistles.

Naturally release pressure.

Drain the water used for cooking and set aside.

Set aside one piece boiled carrot and ½ the boiled potato.

Now mash the remaining mixture gently. Set aside.
Making the masala paste
In a blender, combine the cumin, cinnamon, peppercorns, mint, boiled potato, carrot, Aamchur powder and red chili powder. Set aside.

Add the ginger and garlic. Fry till garlic becomes golden.

Now add chopped onions and mix well.

Add the fennel seeds and Kalpaasi. Mix well.

Now add finely chopped tomatoes and mix well. Add salt.

Mix and cook till tomatoes turn mushy.

Once done, combine with the other ingredients in the blender.

Let cool and blend to a smooth paste. Set aside.
For the Green peas curry
Heat a pan with 1.5 tablespoon oil.

Add the ground masala paste.

Mix well and add 1 c water. Use the water reserved from cooking the peas.

Now add cooked and mashed peas along with the water used for cooking the peas.

Add jaggery, garam masala and turmeric powder

Mix well and continue to simmer for 10 mins on low flame.
Frying the pooris
Heat oil for deep frying the pooris.

Add the pooris in batches.

Fry on medium flame until puffy and crispy.
Assembling the Masala Poori Chaat
Crush 8 pooris in a deep plate.

Pour 2 cups of the hot peas gravy on the top.

Add grated carrots, chopped tomatoes, chopped onions.

Add 1 tablespoon sweet chutney and 1.5 tablespoon green chutney.

Garnish with finely chopped coriander leaves.

Repeat the same process for assembling the remaining plates.
For Instant Pot & Air Fryer Recipes
Instant Pot timings may vary based on your geographic location. Air fryer settings and timings may vary based on the capacity and the model of the Air fryer.
Disclaimer
Nutrition values are provided here as a courtesy and are only a rough guide. Please consult a health care provider if you have any concerns.