Dabeli, an easy and popular Gujarati snack recipe is nothing but Indian style sliders stuffed with spiced mashed potato and an assortment of chutneys. Even though it has been four years since i have lived in Gujarat, i have not eaten this many times. The last i ate Dabeli was at a food court in Ahmedabad. And i even forgot about it. Until last week. When i made the 
Hot Sweet and Sour Pepper Dip
 for the Mothers's Recipes Innovative Recipe Challenge contest, Mr.P suggested thati make some other dish with the dip itself, the dip being such that it can easily be used as a spread too. After about an hour of a veryfoodie conversation, Mr. P andi decided thati should try somethingalong the lines of a burger. But becausei wanted to make something that s Indian basically, we agreed on theDabeli.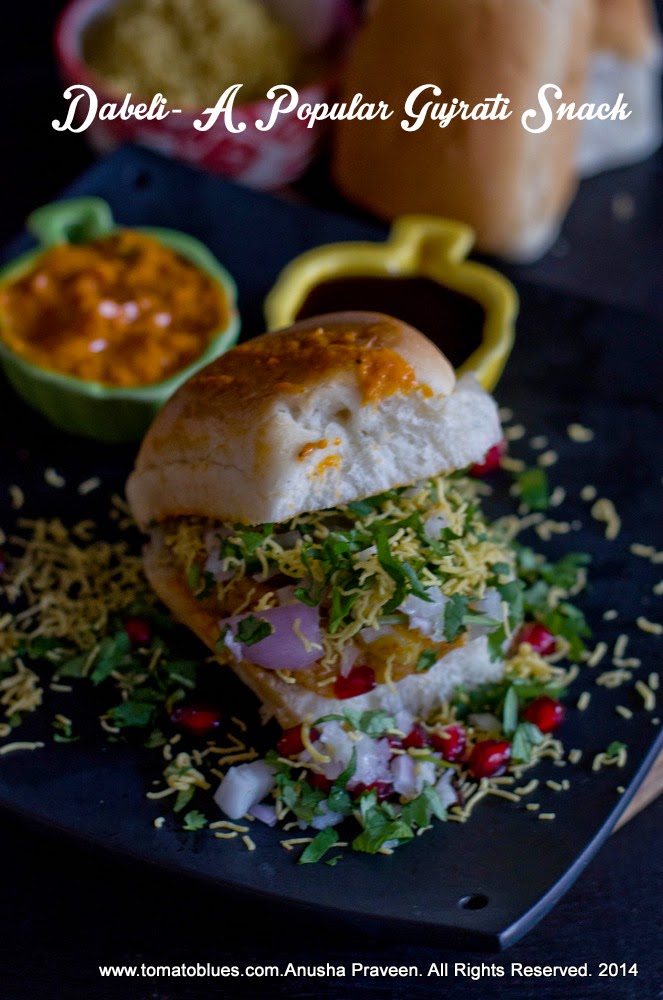 Traditionally, the red garlic chutney is a mandatory condiment in bringing out the best in a Dabeli. I have made some changes to the authentic Dabeli recipe and have recreated a version of my own using my pepper dip. The result was an amazing flavor loaded Dabeli. Mr. P went slightly overboard with it and even ate a third helping. So yes, here s the Dabeli with a twist.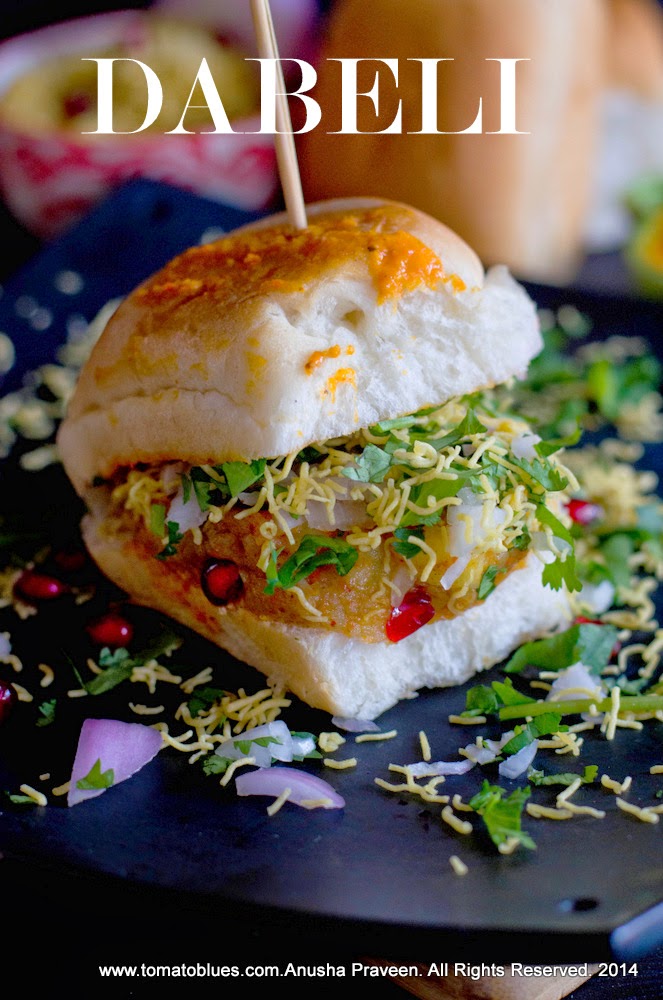 Recipe For Dabeli
( Learn how to make Dabeli, a popular Gujarati style slider recipe)

Prep Time: 20 mins
Cook Time: 40 mins
Makes 6 dabelis
Allergy Info: Vegan, Soy free
Course: Snack, Chaat, Street food
Cuisine: Indian ( Gujarati)

Ingredients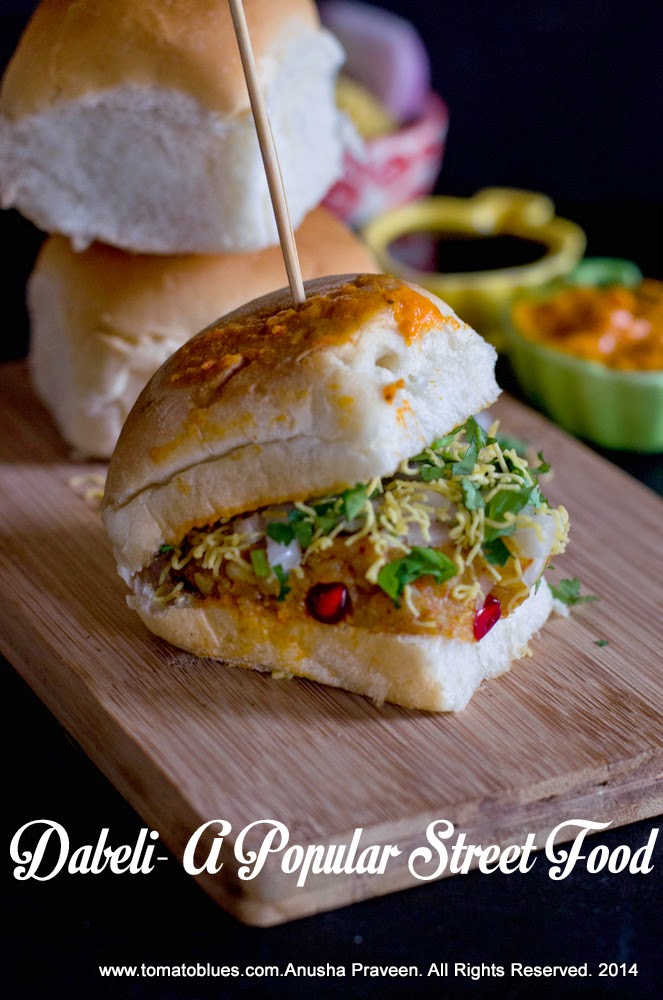 For The Stuffing
Plantains 3 medium
Dabeli masala 1 tbsp ( refer notes)
Hot Sweet and Sour Pepper Dip 2 tbsp
Freshly grated coconut 2 tbsp
Roasted peanuts 2 to 3 tbsp
Pomegranate pearls 2 tbsp
Salt to taste
Coriander/ Cilantro 2 tbsp chopped finely
Oil 1 tbsp
For The Dabeli
Laddi pav/ Indian dinner rolls/ Mini burger buns 6
Stuffing 1 recipe
Hot Sweet and Sour Pepper Dip 2 tbsp
Dates and Tamarind Chutney 2 tbsp (Click here for the recipe)
Nylon sev 3 tbsp
Finely chopped onions 2 tbsp
Coriander leaves 2 tbsp chopped finely
Butter for toasting the bread
Notes
1. I used store bought dabeli masala as i did not see a point in making a jar full which i ll only be using once or twice in a year.
2. A traditional dabeli is made with potatoes. But i just experimented with plantains. Feel free to use regular potatoes.
Directions
Pressure cook plantains until soft. Peel and mash. Set aside.
In a bowl, combine dabeli masala with Hot Sweet and Sour Pepper Dip and 1 tbsp water.
Whisk thoroughly.
Heat oil in a pan.
Add the combined masala paste and saute for 30 secs.
Immediately, tip in the mashed plantain mixture.
Add salt and mix well.
Cook till mixture turns almost dry.
Transfer to a plate and spread evenly.
Let cool.
Add grated coconut, roasted peanuts, pomegranate and coriander to this and mix well.
To make the Dabeli, take a pav and slice it at right angle but keep it joined at the side.
Smear Hot Sweet and Sour Pepper Dip on one side and the dates and tamarind chutney on the other side.
Place about 2 tbsp of the stuffing inside.
Sprinkle a little of chopped onions, sev and coriander on the stuffing and seal the pav slightly by pressing the two sides together gently.
Heat a griddle and melt a small knob of butter on it.
Place the stuffed pav on it and toast till the under side is golden.
Serve immediately.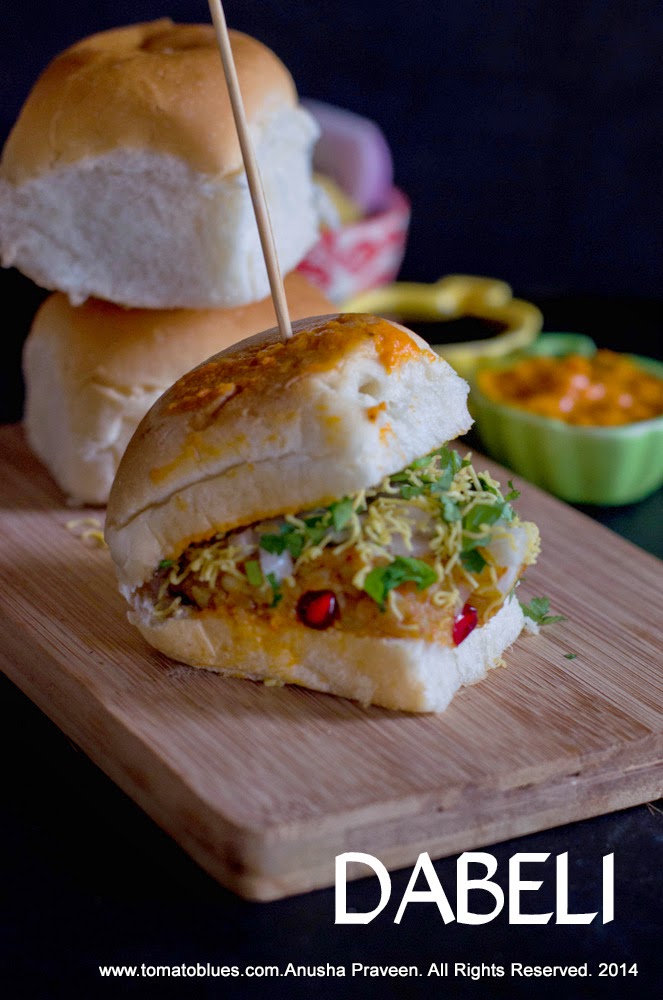 Repeat for the remaining stuffing and bread to make some more dabelis.
For further details about Mother's Recipe Innovative Recipe Challenge, Visit the following links-
http://mothersrecipe.com/ 
https://www.facebook.com/imissmymothersrecipe?fref=ts