How To Make Keerai Kootu? 
Keerai Kootu is a lentil stew made with spinach and mung dal. While there is really nothing fancy about this keerai kootu recipe, I love spinach and this recipe provides me comfort on gloomy days. In fact any variety of greens are always welcome in my pantry and i make it a point to buy some every week. I do go over board and stock up too much at times when the greens meet the sad fate of getting dumped in the trash. And that always happens during winter. It s only in winter that the northern India stumps you in terms of vegetables and fruits. To such a great extent that you dont know what to pick and what to drop when you visit the farmers' market. It happens me to every time. No visit of mine to the market is an exception. I always come back with a truck load of veggies enough to feed an army. I mean literally not an army, but you see what i mean? Make this keerai kootu on a day when you need some food to warm you up and you will thank me for it.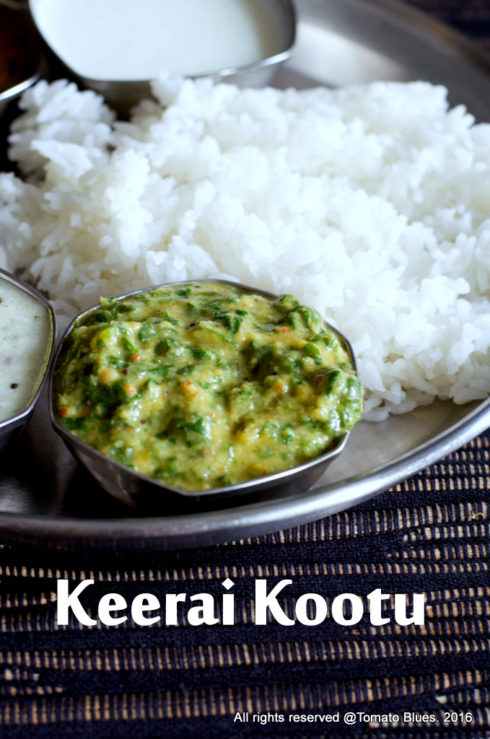 Almost every time i pick up a bunch of those fresh spinach, i make my mind up to make a quiche. But a quiche never materialises. Any guesses? Well this kootu beats it to my kitchen. This kootu is an everyday affair in my kitchen and i simply dont understand why i ve not shared the recipe with you all till today. If you have coconut handy, then this is the go to recipe for a simple yet relaxing lunch.
Recipe For Keerai Kootu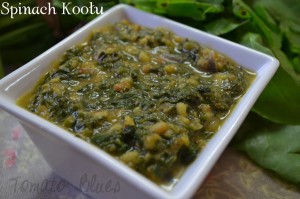 Keerai Kootu Recipe- Lentil Stew With Spinach
Keerai kootu is a lentil stew made with spinach and mung lentils
Ingredients
Spinach a big bunch cleaned and chopped finely

Onion 1 medium chopped finely

Tomato 2 small chopped finely

Moong dal or yellow lentils ¼ cup

Curry leaves a sprig

Turmeric powder a pinch

Hing a small pinch

Oil 1.5 tbsp

Mustard seeds 1 tsp

Urad Dal 1 tsp

Salt to taste

Spice Paste

Oil ½ tsp

Freshly grated coconut 2 tbsp

Cumin seeds ½ tsp

Peppercorns ½ tsp

Dry red chilies 3

Coriander Seeds 1 tbsp
Instructions
Roast the moong dal in a few drops of ghee until aromatic.

Pressure cook the moong dal until soft.

In the meanwhile, steam the spinach until tender and set aside. I microwave my greens on high for about 5 mins.

In the meanwhile, heat a pan with ½ tsp of oil and roast all the ingredients for the spice paste except the coconut until aromatic. Cool and blend to a smooth puree adding little water.

Heat the same pan with the ghee and pop the mustard seeds.

Add the urad dal next and wait till it becomes light brown. Follow with curry leaves and hing.

Add the onions next and saute till pink. Toss in the tomatoes next and saute till they are tender and mushy.

Now add the cooked spinach and cook for a min.

Add the spice paste, cooked dal and salt and combine well.

Simmer for about 3 to 4 mins.

Serve hot with rice or chapathis.
Pin This Recipe
Pin this recipe and save for later