How To Make Bok Choy Kootu?
BOK CHOY KOOTU- LENTILS AND BOK CHOY COOKED IN A COCONUT BASED SAUCE. VEGAN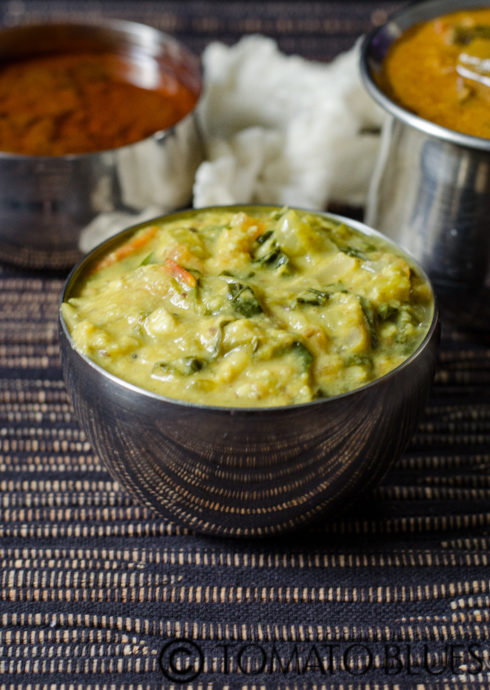 Bok Choy kootu is my humble attempt at giving the bok choy or pak choi a desi makeover. Bok Choy is a very popular greens found here in South East Asian countries. It really cannot be classified as greens because it belongs to the cabbage family. The locals here in Singapore eat a lot of bok choy. They add it to everything from stir fries to soups. I have earlier attempted making fried rice with these leafy cabbage like stalks and they pack a punch in terms of flavor.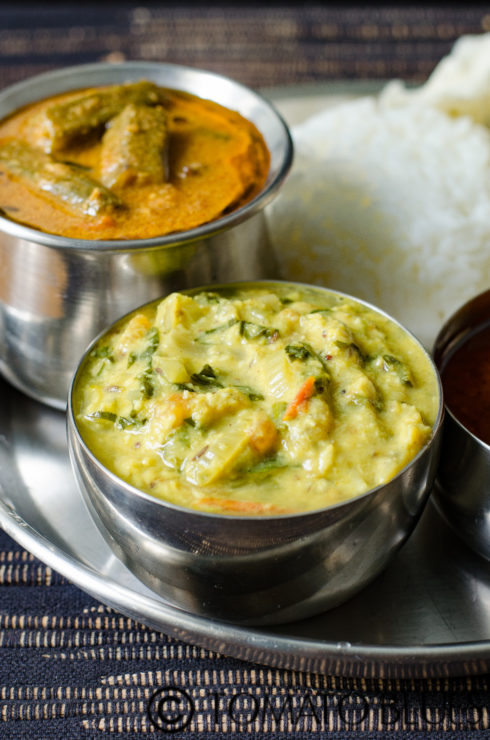 This bok choy kootu was put together when i had too little bok choy to make much else but kootu. You need a lot of bok choy for a decent stir fry and i was really not in a mood to make a soup. And so i decided that Bok Choy Kootu it shall be. I was not sure if it would be received well by the inmates of the Praveen household. So i was surprised to see that it went down well with roti and rice alike.
I do not like wasting the scraps and stalks of veggies. I try to make use of them as much as possible. So i used up two entire heads of Bok Choy, stalk and all for this kootu. We get many kinds of Bok Choy ranging from dark green ones with smallish leaves to big stalks with light green leaves. I used the light green variety for this Bok Choy kootu but i m sure any kind will work well. Just in case you like kootu like me, then do try this broccoli kootu too.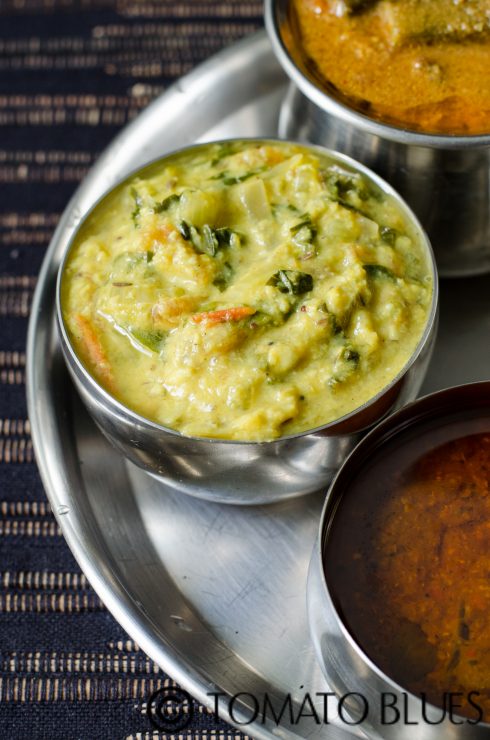 Recipe For Bok Choy Kootu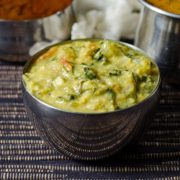 Print Recipe
Bok Choy Kootu Recipe
Bok Choy Kootu- Bok Choy and lentils cooked in a coconut based curry sauce. Vegan. Tastes great with rice and roti.
Ingredients
Bok Choy 2 medium chopped finely

Onion 1 medium peeled and chopped finely

Tomato 1 smallish chopped finely

Moong dal 1/4 cup

Oil 2 tbsp

Turmeric powder 1/2 tsp

Curry leaves a sprig

Mustard seeds 1 tsp

Urad dal 1 tsp

For The Spice Paste:

Freshly grated coconut 2 tbsp

Cumin seeds 1 tsp

Green chilies 4 to 5
Instructions
Dry roast moong dal in a pan on medium flame until aromatic.

Once done, combine bok choy, turmeric powder, salt and moong dal with 1 cup of water and pressure cook till dal turns mushy. Takes 3 to 4 whistles.

Let the pressure come down naturally.

Once the pressure has released, remove and mash the mixture using the back of a ladle.

Place grated coconut, cumin seeds and green chilies in a blender and blend to a smooth paste using 2 tbsp of water.

In the same pan that you used for roasting the dal, heat 2 tbsp oil.

Pop the mustard seeds and add curry leaves and urad dal next.

Once dal turns golden brown, add the onions and fry till translucent.

Once done, add tomatoes and cook till they turn mushy.

When the tomatoes become mushy, add the dal mixture and the ground paste and mix well.

Let this simmer on medium flame for 5 mins.

Once done, garnish with curry leaves

Serve hot with rice or roti
For Instant Pot & Air Fryer Recipes
Instant Pot timings may vary based on your geographic location. Air fryer settings and timings may vary based on the capacity and the model of the Air fryer.
Disclaimer
Nutrition values are provided here as a courtesy and are only a rough guide. Please consult a health care provider if you have any concerns.