How To Make Narthangai Kuzhambu, an authentic Kuzhambu With Fresh Citron?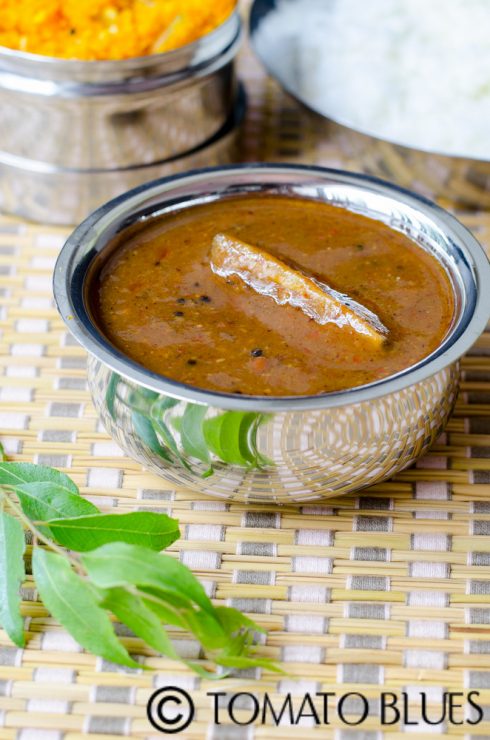 This Kuzhambu is a delicious and tangy kuzhambu that is rich in medicinal properties. Narthangai called as Kaffir Limes in English is very popular in Thai cooking too. When I came to Singapore, i was delighted to find an abundant supply of Narthangai and Narthangai Elai. I came across the recipe for this Narthangai Kuzhambu in a small cook book that my dad bought me years ago. And i must admit that the recipe for this Narthangai kuzhambu is a treasure.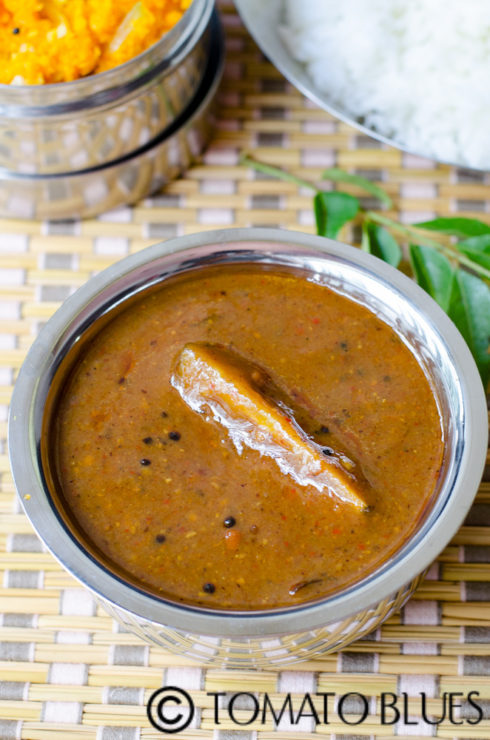 While one can find lime leaves easily in fresh vegetable stores in Singapore, the limes are found only in flower shops and they are quite pricey. I happened to find a good haul of Narthangai a few weeks back for a reasonable price and picked up a few of them. Initially, I thought of making a very small batch of narthangai pickle but then this kuzhambu tempted me and so I decided that it had to be Narthangai kuzhambu with the batch of limes that i had bought.
Benefits of Narthangai
Narthangai is known for its digestive properties and helps fight nausea. It is for this reason that uppu narthangai or kaffir limes cured in salt is given to pregnant women and people who have food poisoning or gastric ailments. This kuzhambu tastes delicious the next day and is best eaten with hot rice and a generous drizzle of sesame oil.
The kaffir limes have a mild bitterness and so to balance that, i have added jaggery. I recommend making this kuzhambu in sesame oil or nalla ennai as it brings out the best flavors. This kuzhambu keeps well for three days at room temperature and for a week in the fridge. I also recommend serving this kuzhambu along with rice and a mild curry like this Avarakkai Curry or Beans Paruppu Usili.
Variations
If you cannot source Narthangai, you can also use lemons to make the same kuzhambu.
Recipe For Narthangai Kuzhambu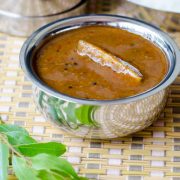 Print Recipe
Narthangai Kuzhambu Recipe
Narthangai Kuzhambu, an authentic kuzhambu recipe made with Kaffir limes and freshly roasted spices. Vegan. Gluten Free
Ingredients
Narthangai

Kaffir Limes 1 medium cut into 8 pieces

Tamarind a small marble sized soaked in warm water for 20 mins

Sesame oil 2 tbsp plus 1.5 tbsp

Mustard seeds 1 tsp

Urad dal 1 tsp

Curry leaves a sprig

Hing a small pinch

Turmeric powder a small pinch

Jaggery 1.5 tbsp powdered

Green chili 1 slit lengthwise

Salt to taste

For The Spice Powder

Toor dal 1 tbsp

Coriander seeds 1 tbsp

Fenugreek seeds 1 tsp

Mustard seeds 1 tsp

Dry red chilies 2 to 3
Instructions
Mash the tamarind using your hands along with the warm water and strain this liquid. You will have a thick tamarind extract.

Add 1 cup of water to this and set aside.

Heat a pan with 1 tsp sesame oil.

Roast the toor dal, coriander seeds, fenugreek seeds, mustard seeds and dry red chilies separately in the same pan beginning with the toor dal and continuing in that order.

Remove from pan and Set aside to cool.

In the same pan, heat the remaining oil and add the chopped lime.

Saute till limes turn a light brown.

Add the tamarind extract, salt, turmeric powder and jaggery and simmer till raw smell of the tamarind goes away.This takes about 6 to 7 mins.

While this is simmering, grind the roasted spices to a smooth powder in a blender and set aside.

Once the raw smell of the tamarind goes away, bring down the flame to the lowest and add the ground powder.

Mix well using a whisk.

Continue to simmer for about 5 mins until oil begins to leave the sides.

Heat 1.5 tbsp of sesame oil in small pan.

Pop the mustard seeds and add urad dal, curry leaves, green chili and hing.

Once the dal turns a light brown, add the tempering to the kuzhambu and mix well.

Serve hot with rice and any dry curry of your choice.
For Instant Pot & Air Fryer Recipes
Instant Pot timings may vary based on your geographic location. Air fryer settings and timings may vary based on the capacity and the model of the Air fryer.
Disclaimer
Nutrition values are provided here as a courtesy and are only a rough guide. Please consult a health care provider if you have any concerns.