INSTANT POT SPINACH RICE- Aromatic Basmati rice cooked along with a puree made of fresh spinach leaves and veggies like carrots and green peas.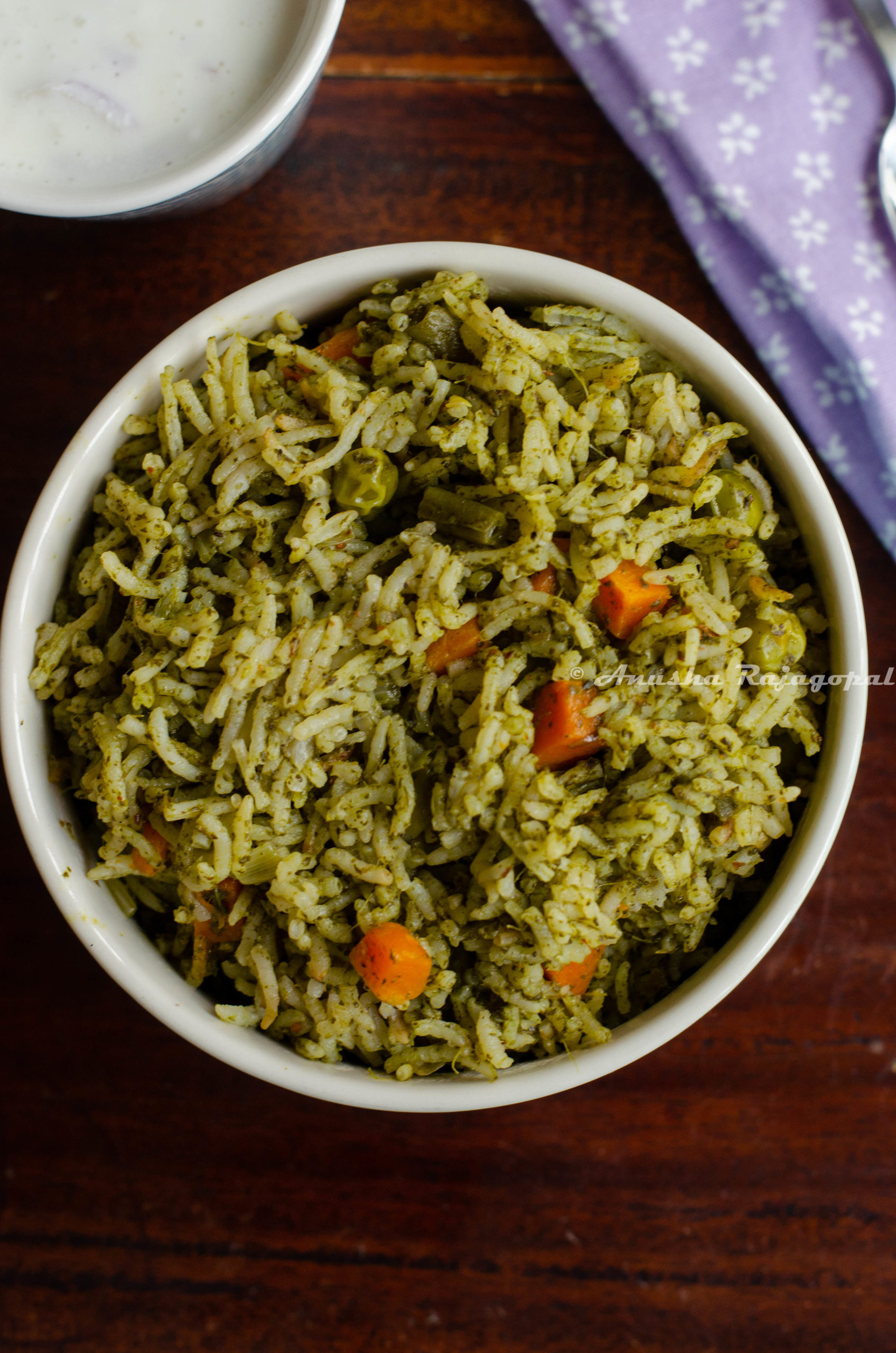 Why should you try this Instant Pot Spinach Pulao?
↠ To begin with, this is quick, delicious and wholesome.  Hands-free because we are using the Instant pot!
↠ Spinach and rice are a match made in heaven. You have to try this to believe me.
↠ Because rice is great for gluten-free diets and this recipe can be made vegan too!
↠ Packs a punch in your lunch.
↠This is one of the easiest recipes to try in an Instant Pot if you are a beginner in the electric pressure cooking world
Jump to:
Beginner Friendly Instant Pot Recipe
There are so many versions of this delightful combination of spinach and rice around the world. My version is the Desi-style Spinach rice. We call it Palak Pulao and it's not only delicious but also healthy and wholesome. 
Making this Spinach Pulao in the Instant pot is very simple and easy. This recipe calls for basic pantry staples and a few whole spices. You can always skip or include the aromatics based on whatever is available in your pantry but cumin is that one spice that you have to add!
Ingredients, Substitutes & Replacements
The basic building blocks of this recipe are rice, spinach and veggies. And to spruce things up, we are going to be adding some whole spices to make this spinach rice flavorful and yumm.
Let us look at our ingredients, shall we?
✓Basmati rice– This is long-grained rice with a subtle flavor. This works best for any type of Indian style Pulao. I will not recommend switching the rice to a different variety for this Instant Pot version because the timings vary for different varieties of rice.
✓Spinach/ Palak– If you find fresh spinach, then nothing like it for this recipe. However, if you are unable to source fresh spinach, then frozen spinach puree works well too. Thaw the spinach puree as per package instructions and proceed with the recipe.
✓Veggies– I have used a combination of carrots, beans, and peas in this Pulao. You can use broccoli, cauliflower and potatoes too. Frozen mixed veggies work very well in this Pulao. Simply add the frozen veggies directly to the pot. No need to even thaw it!
✓Spices– Again, i have used spices that are pretty much basic to every Indian pantry. However, if you don't have all these spices, just skip them and add cumin seeds alone. 
✓ Ginger+garlic- Both these add beautiful flavor and helps in easy digestion. I have used store bought ginger garlic paste for this recipe. You can use freshly grated ginger and garlic too! Use 1 tsp each grated ginger and garlic if you are using them fresh. If you dont have ginger, then you can skip that but garlic is an absolute must.
✓ Green chili- I have added just one green chili while pureeing the spinach. I did this on purpose because I wanted to make it kid-friendly. You can increase the number of green chilis if you want spicier rice.
Meal Planning Tips and Prep Work
Meal Planning 
This is a super meal plan-friendly recipe. Chop veggies over the weekend and store them in a fridge friendly container. If you are going to use fresh spinach, follow the instructions in this recipe to prepare the puree and freeze ahead in freezer-safe containers. I assure you that if you have these two done, then this Pulao will come together in less than 30 mins.
Prep Work
If you plan to make this on the fly, then this is what worked for me-
Wash and soak the rice for 15 mins. 
While the rice soaks, prep the spinach puree and chop veggies.
Recipe Notes 
Rice
Soaking the rice for longer than mentioned in this recipe will make it mushy when cooked. So soaking for the mentioned time is very essential. Using short-grained rice is not encouraged for this recipe because short-grained rice often becomes mushy and works differently.
Timings
Follow the timings mentioned in this Spinach pulao recipe for the best Instant Pot Spinach rice that s fluffy and just right!
Pro Tip: I love my kitchen timer for recipes like this! Use one to keep an eye on the time.
Serving Suggestions for Instant Pot Spinach Pulao
To make this a complete meal, you can pair this up with a cool and refreshing raita. Here are some delicious raita recipes that you can try!
More Pulao And Biryani Recipes
Vegan version 
For a vegan-friendly version, skip the ghee and replace it with 1 tbsp organic cold-pressed virgin coconut oil. The coconut oil lends a beautiful flavor to this pulao.
If you don't have access to coconut oil, you can also use 1.5 tbsp canola oil or any neutral-flavored vegetable oil for this Spinach Pulao.
Method
In this recipe, the first step is prepping the rice. We are going to begin with this. And as the rice soaks, let us work on the other ingredients, for instance, chopping veggies and making the puree.
Like I mentioned in our meal prep section, you can always do the chopping and puree part earlier. As a result, you will be all set to make this in a pinch! While you are at it, make sure you read our meal prep section in this recipe. Psst..we have some tips always to make cooking a breeze!
Washing and soaking the rice
Wash the basmati rice under running water till the water runs clear. Add 1.5 c water to this and soak for 15 mins. While the rice is soaking, let s prepare the spinach puree and chop the veggies.
Making the spinach puree
Wash and clean the spinach. I m not very picky about removing the tender stalks. Baby spinach works well for this recipe too! When the spinach is clean, add it to boiling water and let it rest for a minute.
To quicken up this process, i recommend starting the hot water kettle with water. This way, your water will be ready when you are done cleaning the spinach.
After a minute, drain the water fully. Wash with cold water. By washing the spinach in cold water, we prevent it from cooking further.
Combine the blanched spinach, mint and green chilis in a blender. Grind to a smooth paste. I used my immersion blender to do this and it is so effortless.
Sauteeing the onions+veggies
Turn on the saute mode in your Instant Pot. Set the timer for 9 mins. Add ghee to the inner pot and wait for it to melt. When the ghee is hot, add all the whole spices.
When the spices begin to brown and pop, add chopped onions and ginger-garlic paste. Mix and saute until the onions turn pink and soft.
As soon as the onions are done, add veggies and mix well. Saute for 1 min.
Cooking the spinach puree
Now add the spinach puree, Garam masala powder and salt. Mix everything well. Continue to cook till the mixture becomes thick and moisture reduces. This takes about 3 mins. 
Adding the rice and water
When the mixture has thickened and the moisture has reduced, let us add the soaked rice.
Drain the rice completely and add it to the pot. Add 1.25 c water to this and mix well. Squeeze a wedge of lemon into this mixture, I added 2 tsp of lemon juice precisely!
Lemon juice helps retain the color. So I highly recommend it!
Making the Spinach rice in Instant Pot
Cancel the saute mode and close the lid and turn the pressure valve to sealing. Now, turn on the pressure cook mode at low pressure for 3 mins. Allow the instant pot to finish its cooking cycle. 
Once it has finished cooking, wait for 7 mins. This is our natural pressure release time for this recipe. After 7 mins, do a quick pressure release by turning the valve.
Open the lid and gently fluff the rice gently with a fork.
And that s it! Our Instant Pot spinach rice is ready to be served.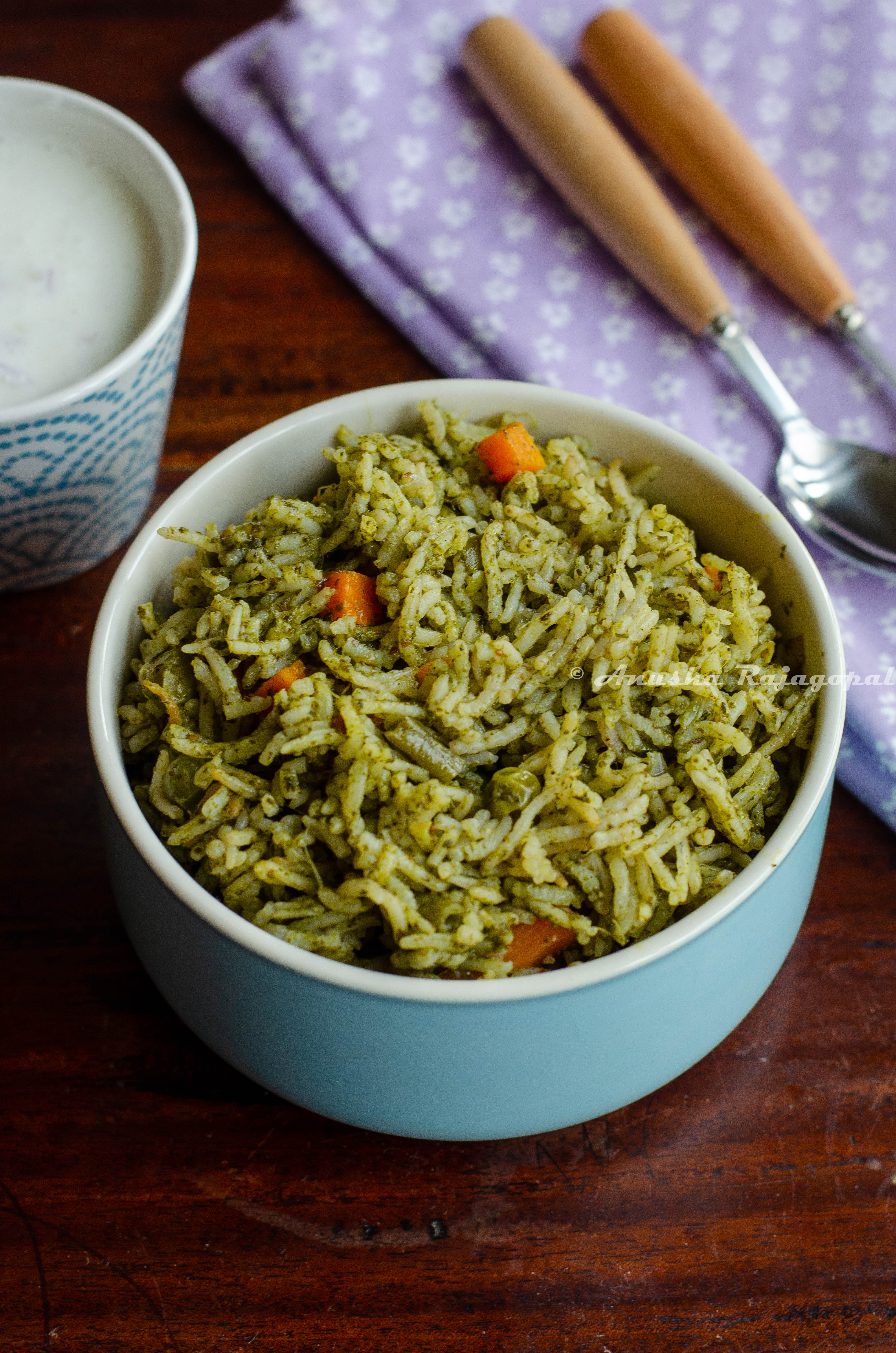 Follow me on Instagram or Facebook for regular cooking updates and short videos. Follow me on Pinterest for delicious content. Tried our Instant Pot Spinach Rice? We value your thoughts and comments! Leave a comment and tell us how it worked for you.
In case you have any questions regarding this recipe, leave a comment and I'll respond at the earliest possible. If you tried this recipe and enjoyed it, click a picture and share it on Instagram by tagging us @tomatoblues.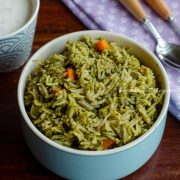 Print Recipe
Instant Pot Spinach Rice
Easy flavorful and healthy Spinach rice made the desi way in Instant pot with basic spices and veggies.
Ingredients
For the spinach puree
300

g

Cleaned spinach

2

green chilis

6

c

Boiling hot water

10

leaves

fresh mint
For the pulao
1

tbsp

ghee

1

tsp

cumin seeds

2

cloves

1

small

bay leaf

1/4

inch

cinnamon stick

3/4

c

finely chopped onions

1

tsp

ginger garlic paste

1

c

Mixed chopped veggies- Carrots, beans and peas.

1/2

tsp

Garam masala powder

1

recipe

Spinach puree

as prepared

1.5

tsp

Salt or to taste

1

c

Basmati rice

1.25

c

water

2

tsp

Lemon juice
Instructions
Wash the basmati rice well under running water until water runs clear.

Add 1.5 c water to this and allow it to soak for 15 mins.
Making the spinach puree
While the rice soaks, wash and clean the spinach.

Add this to the boiling water and let it sit for 1 min

Drain and immediately wash in cold water.

Place the blanched spinach, mint leaves and green chili in a blender.

Grind this to a smooth paste. I did not add any water while grinding.
Making Instant Pot Spinach Pulao
Turn on the saute mode in Instant pot and set timer for 9 mins.

Add ghee and allow it to heat up.

Add all the whole spices .

Mix and saute for 30 secs until spices begin to brown and pop.
Now add finely chopped onions and ginger and garlic paste.

Mix and saute till onions turn pink and soft.

Now add the veggies and garam masala and mix well.

Next add the prepared spinach puree, garam masala powder and salt.

Mix well and let it simmer till the moisture reduces and the mixture becomes thick. This takes 3 to 4 mins roughly. Keep stirring every now and then to avoid burning.

Once done, turn off the saute mode.

Now drain the soaked rice completely and add it to the pot

Add 1.5 c water and mix well.

Add the lemon juice and mix gently.

Close the IP and set Valve to sealing position

Turn on the pressure cook mode or manual mode on the Instant pot.

Set low pressure at 3 mins.

Allow the IP to finish the cooking cycle. The IP takes about 7 to 8 mins to build pressure and then begins cooking.

Once the cooking cycle is complete, wait for 7 mins.

After 7 mins, do a quick pressure release manually.

When done, open and fluff the rice gently with a fork.

Instant pot spinach rice is ready.
Notes
Please note-
The Instant Pot timings will vary if you live in a high altitude place or a cold place.
I have used aged basmati rice to make this Pulao. New basmati is not recommended in this recipe because it cooks to a mush.
Allowing the palak puree to simmer and waiting for the moisture to reduce is very important in this recipe. Excess liquid from the palak puree will make the rice mushier.
For Instant Pot & Air Fryer Recipes
Instant Pot timings may vary based on your geographic location. Air fryer settings and timings may vary based on the capacity and the model of the Air fryer.
Disclaimer
Nutrition values are provided here as a courtesy and are only a rough guide. Please consult a health care provider if you have any concerns.