Sambhar makes a regular appearance in all south indian homes. Almost a staple food which has so many versions. But sambhar sadham and bisi bele bath are a lil different. Bisi Bele Bath literally in kannada means hot dhal and rice. It s a popular dish in Karnataka especially Bangalore. I am a kannada brahmin but my version s a lil different. Lets just say it s a Tamil Nadu based Madhwa style recipe. I really have no idea which version is authentic. But after various permutations and combinations, i have found out one version which a lot of people seem to love. And so i am posting that version.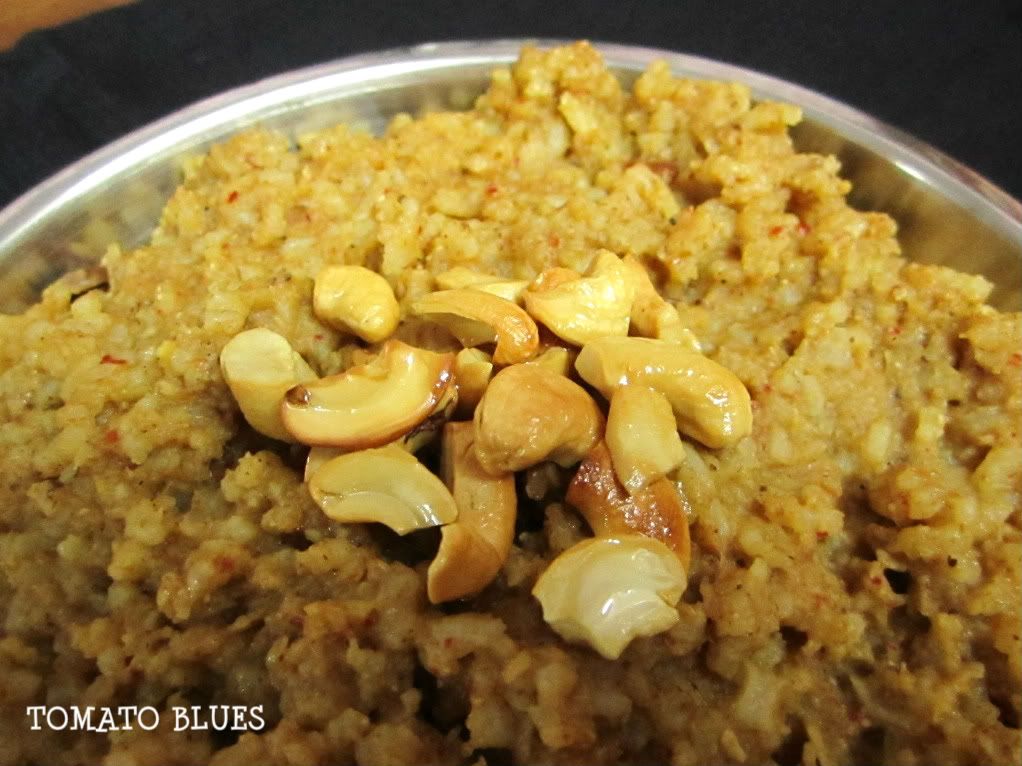 Prep Time: Under 20 mins
Cook Time: Under 30 mins
Serves:4 to 5
What you need?

For the powder:
Coriander seeds 1 cup
Channa Dal 2 tbsp
Dry chillies round variety 3/4 cup
Dry coconut (kopparai) 3/4 cup
Marathi Mokku 1 (dried fruit of the caper tree, looks like a cardamom when opened)
Cloves 3
Cinnamon 1" piece
Sesame oil 3/4 tsp
For the rice:
Rice Ponni variety 1 cup
Toor dal 1/2 cup
Tamarind extract from a lemon size tamarind ball
Sesame Oil 4 tbsp
For Garnish:
Cashews broken 3 tbsp
Peanuts fried in a little oil 2 tbsp
How to make it?
How to make the powder?
First heat a kadai. Add the oil.
Add the channa dal, dhania and chillies and saute till aromatic or till the dhal turns a light brown. Takes about 5 to 7 mins.
Remove from the kadai and let it cool. Meanwhile in the same kadai, add the dry coconut and saute for 30 secs. Let it cool.
In a mixer, add the channa dal, dhania, channa dal, dry coconut, marathi mokku, cloves and cinnamon and grind to a powder the consistency of rasam powder.
Keep aside.
How to make the rice?
First, wash the rice and dal well and pressure cook them together for 8 whistles. For 1 and 1/2 cup of rice and dhal together, i added 3 and 3/4 cups of water.If its new rice, then add less water.
While, the rice cooks, prepare the masala for the rice.
In a kadai, add the tamarind extract and boil well until raw smell goes. Takes about 7 to 8 mins. Next add the powder that you prepared and mix well. Simmer for 5 mins. Add sesame oil in the end.
Once the rice is done, transfer to a large mixing bowl. To the rice, add the tamarind powder mixture and combine well.
Add the sesame oil and this stage and pressure cook again without the pressure valve for 5 mins.
Remove from fire.
Saute the cashews in ghee till light brown and garnish.
Serve with appalam or vadagam or raitha. I served it with tomato raitha.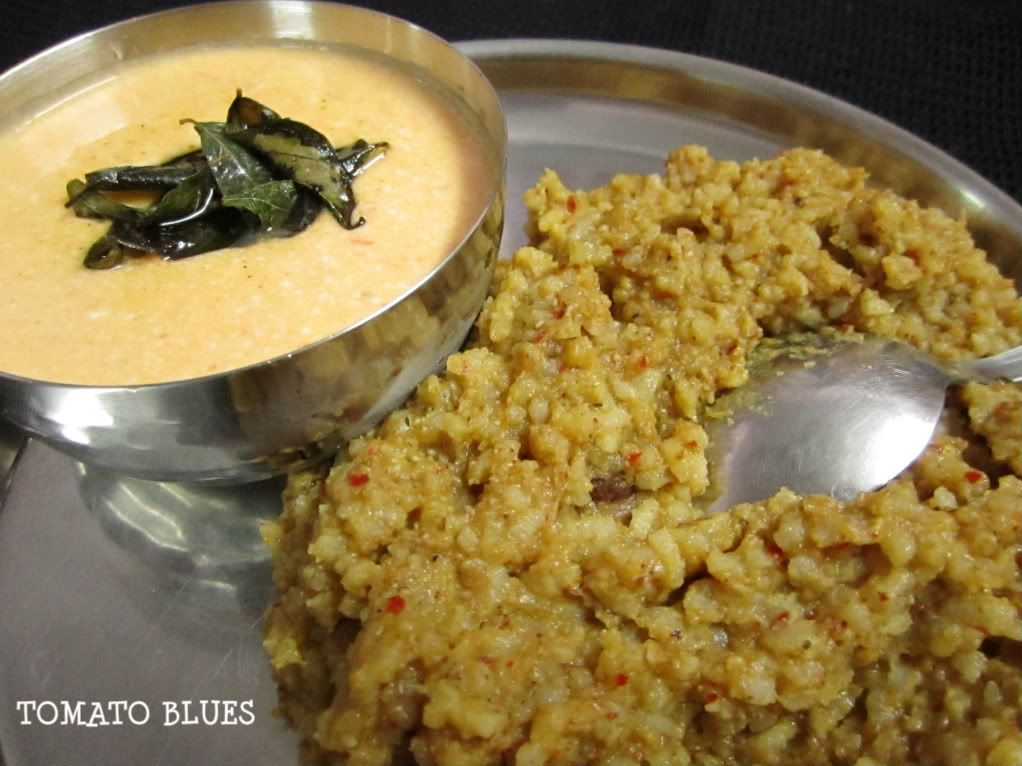 This is my entry to
Cooking Without Onion and Garlic event hosted by Sreevalli