Sambhar makes a regular appearance in all south indian homes. Almost a staple food which has so many versions. But sambhar sadham and bisi bele bath are a lil different. Bisi Bele Bath literally in kannada means hot dhal and rice. It s a popular dish in Karnataka especially Bangalore. I am a kannada brahmin but my version s a lil different. Lets just say it s a Tamil Nadu based Madhwa style recipe. I really have no idea which version is authentic. But after various permutations and combinations, i have found out one version which a lot of people seem to love. And so i am posting that version.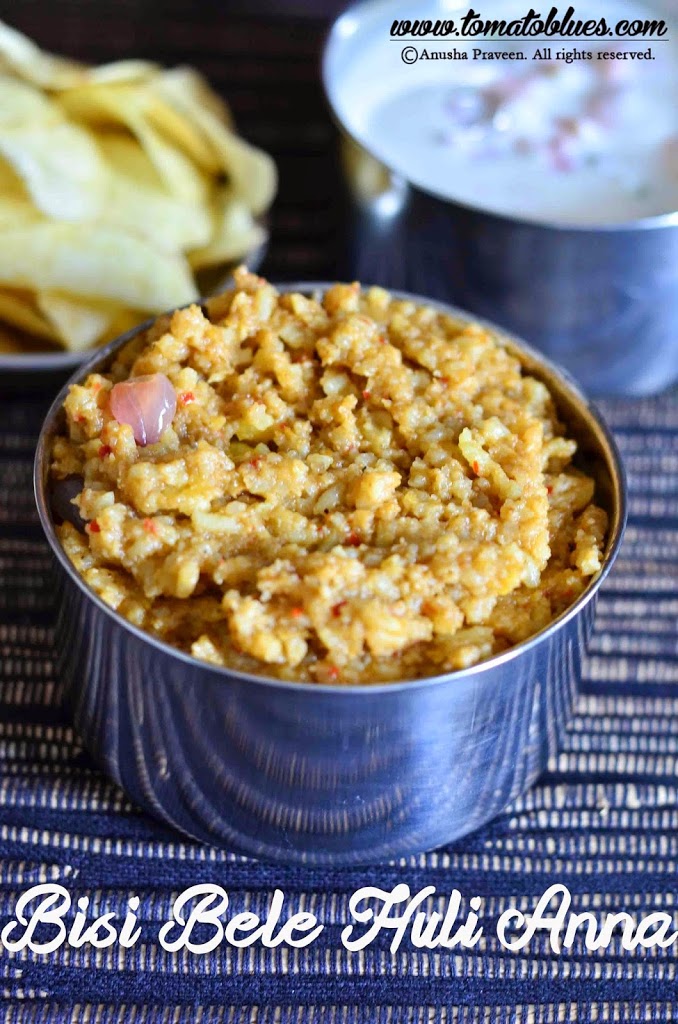 Recipe For Bisi Bele Bath
( Learn how to make Bisi Bele Bath, a spiced rice and lentil kedgeree from Karnataka, South India)
Prep Time: 20 mins
Cook Time: 1 hour
Serves 2 to 4
Allergy Info: Vegan, Gluten free, Soy free
Course: Main
Cuisine: South Indian, Karnataka

Ingredients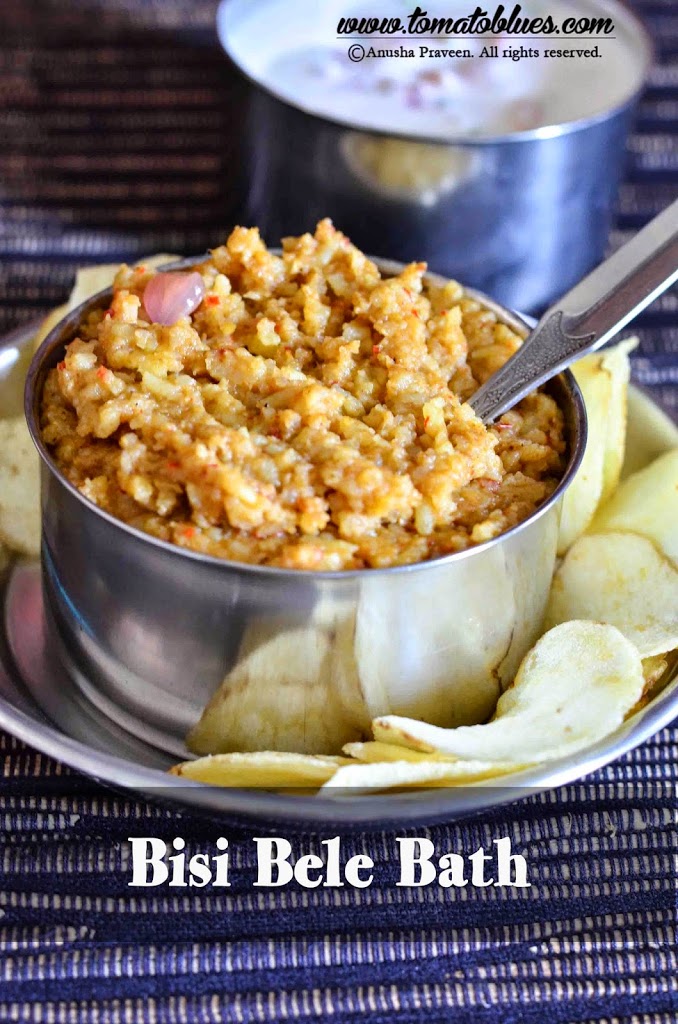 For the Spice Powder:
Coriander seeds 1 cup
Channa Dal 2 tbsp
Dry chillies round variety 3/4 cup
Dry coconut (kopparai) 3/4 cup
Marathi Mokku (caperberry/caper) 2
Cloves 3 (optional)
Cinnamon 1″ piece(optional)
Sesame oil 3/4 tsp
For the rice:
Rice Ponni variety 1 cup
Toor dal 1/2 cup
Tamarind extract from a lemon size tamarind ball
Shallots 10 peeled (optional)
Sesame Oil 4 tbsp
For Garnish:
Cashews broken 3 tbsp
Peanuts fried in a little oil 2 tbsp
Note:
1. I strongly recommend using sesame oil for this recipe even though some people use ghee.
2. Cashews and peanuts are completely optional.
3. Adjust spice level according to your palate.
4. Post updated with new pics on 5th october, 2014.
5. The spice powder recipe mentioned earlier had cloves and cinammon in it but after a little experimentation, i found that the recipe is much better with just the marati mokku.
6. Dont use fresh coconut for this recipe.
How to make it?
The Spice Powder:
First heat a kadai. Add the oil.
Add the channa dal, dhania and chillies and saute till aromatic or till the dhal turns a light brown. Takes about 5 to 7 mins.
Remove from the kadai and let it cool. Meanwhile in the same kadai, add the dry coconut and saute for 30 secs. Let it cool.
In a mixer, add the channa dal, dhania, channa dal, dry coconut, marathi mokku, cloves and cinnamon and grind to a powder the consistency of rasam powder.
Keep aside.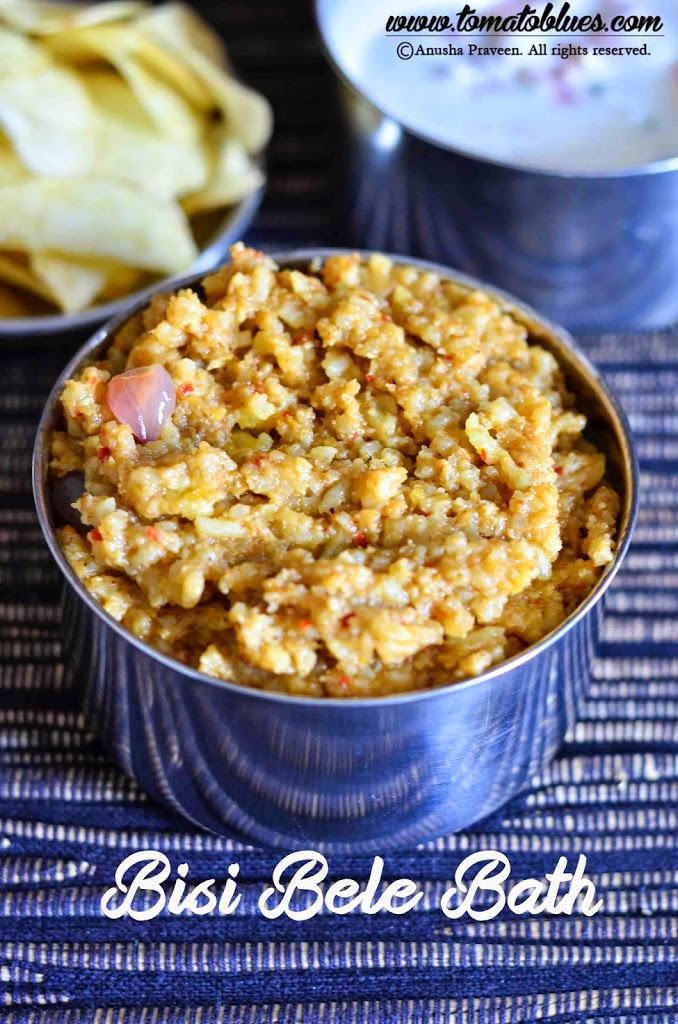 The Rice:
First, wash the rice and dal well and pressure cook them together for 8 whistles. For 1 and 1/2 cup of rice and dhal together, i added 3 and 3/4 cups of water.If its new rice, then add less water.
While, the rice cooks, prepare the masala for the rice.
If you are using shallots for this recipe, heat a kadai with 4 tbsp oil and fry the shallots till golden.
Then follow steps that are mentioned. Otherwise start from the below step.
In a kadai, add the tamarind extract and boil well until raw smell goes. Takes about 7 to 8 mins. Next add the powder that you prepared and mix well. Simmer for 5 mins. Add sesame oil in the end.
Once the rice is done, transfer to a large mixing bowl. To the rice, add the tamarind powder mixture and combine well.
Add the sesame oil and this stage and pressure cook again without the pressure valve for 5 mins.
Remove from fire.
Saute the cashews in ghee till light brown and garnish.
Serve with appalam or vadagam or raitha. I served it with onion tomato raita and potato chips.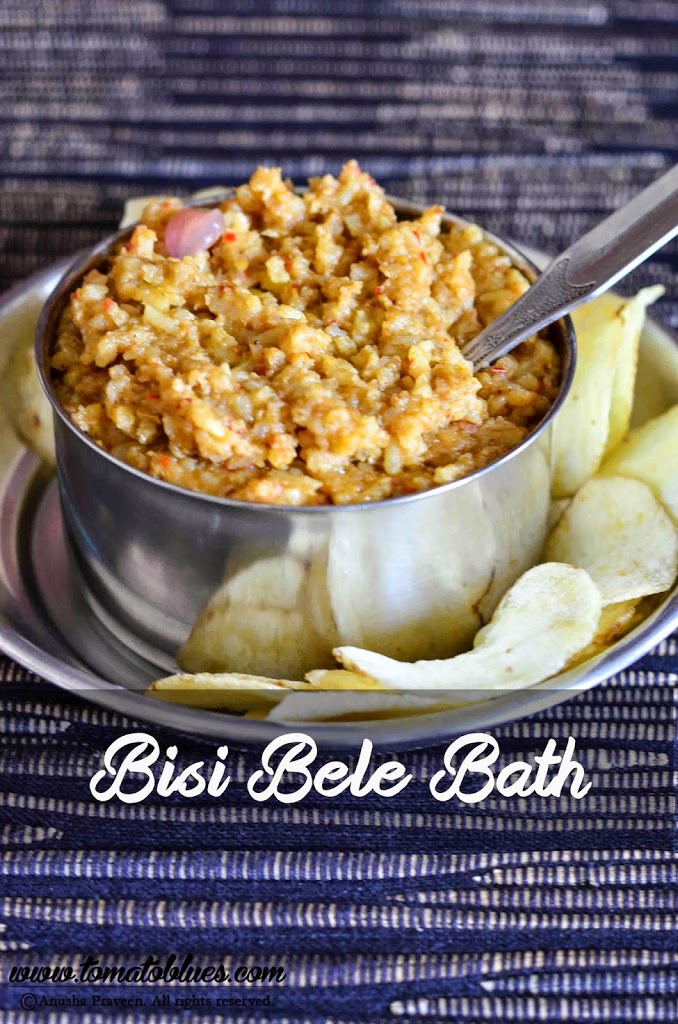 This is my entry to Cooking Without Onion and Garlic event hosted by Sreevalli