You must call eating Bagala Bath or curd rice a specific south indian trait. Have i bragged about how south indian i am? I guess i ve bragged enough. But the point is i cant stop. No, i m proud of the fact that i m a south indian and there s nothing that will stop me from telling it to the whole world. Well,being a south indian comes with its own privileges. Like the fact that you get to eat gooey yummy curd rice on special occasions topped off with raisins, cashews and pomegranate pearls. This is in fact an obligatory course in a marriage feast. The meal has to end with a cup of not so cold yet not so hot almost flowing curd rice accompanied by a generous helping of cut mango pickles.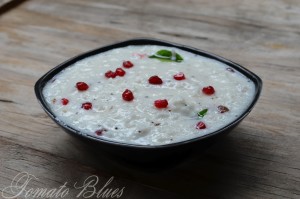 While i ve always had the feeling that amma s Bagala Bath is the best, i was a lil stricken when i got a slew of requests from a few friends and neighbors asking me the perfect recipe for that flowing just rightly sour curd rice. It s called bagala bath by many and this is only a recent discovery that i ve made. I know this simply doesnt justify my food blogger profile but come on, even a food blogger cant know everything. But a south indian food blogger sure does know how to make some nice curd rice and how to finish that bowl off too.
Recipe For Bagala Bath
( Learn how to make Bagala Bath, a simple gooey yummy version of curd rice)
Prep Time: Under 15 mins
Cook Time: Under 30 mins
Cooling Time: 30 mins
Serves 3

What You Need?
Rice 1 cup
Curd 2 cups
Water 2 cups
Grated ginger 2 tbsp
Mustard seeds 1 tsp
Urad dal 1 tsp
Cumin seeds 1 tsp
Hing a small pinch
Curry leaves a sprig
Green chilies 3 minced finely
Cilantro leaves chopped finely 3 tbsp
Salt to taste
Curd chilies 2 to 3
Ghee 2 tsp
Garnish:
Pomegranate pearls 4 tbsp
How To Make It?
Pressure cook the rice until mushy. Takes about 6 whistles. If you want a real gooey curd rice, you must cook rice separately for this curd rice. Left over rice will not work for this.
Once the rice is done, mash it into an almost smooth paste with the help of a ladle.
Let this cool down completely.
Once cool, add the water and mix well.
Whisk the curd well and add this to the rice.
Add salt and combine well.
Add the grated ginger, green chilies, cilantro and curry leaves to the rice and mix well.
Heat a pan with the ghee.
Add the curd chilies and saute them till a blackish brown on all sides.
Remove and set aside.
In the same pan, add the mustard seeds.
Once they splutter, add the cumin seeds, hing and urad dal and saute till the dal turns a light golden brown.
Add this and the curd chilies to the curd rice.
Mix well.
Garnish with pomegranate pearls and serve with some pickles.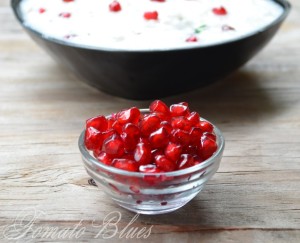 For an instant pickle idea,try this quick mango pickle.