RHow To Make Vazhakkai Podi?
Vazhakkai Podi- A spicy raw plantain crumble using roasted plantains & spices.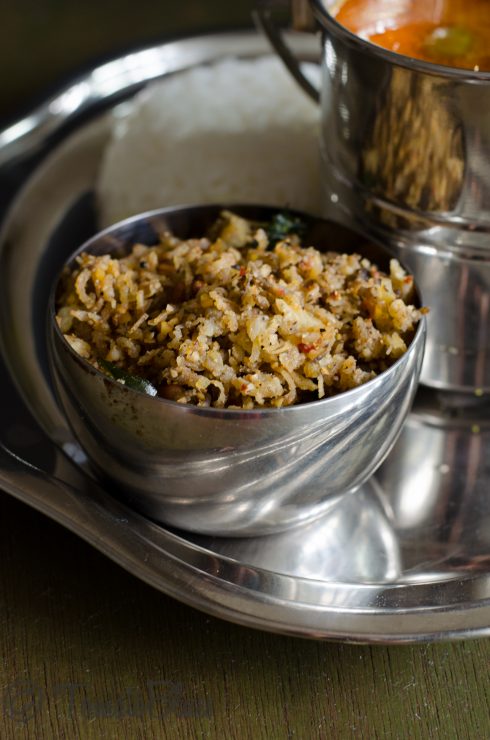 Vazhakkai Podi is  very different dish that you can make with raw plantains. I love raw plantains. They make a great substitute for root vegetables like potato and yet taste great as well. My favorite ways of enjoying a good vazhakkai are definitely in the form of vazhakkai chili or this delicious vazhakkai podi.
I discovered this gem of a vazhakkai dish in Mrs. Chandra Padmanaban s book, Southern Flavors. I have tried several recipes from that book and none have let me down so far. And i can say the same about this vazhakkai podi.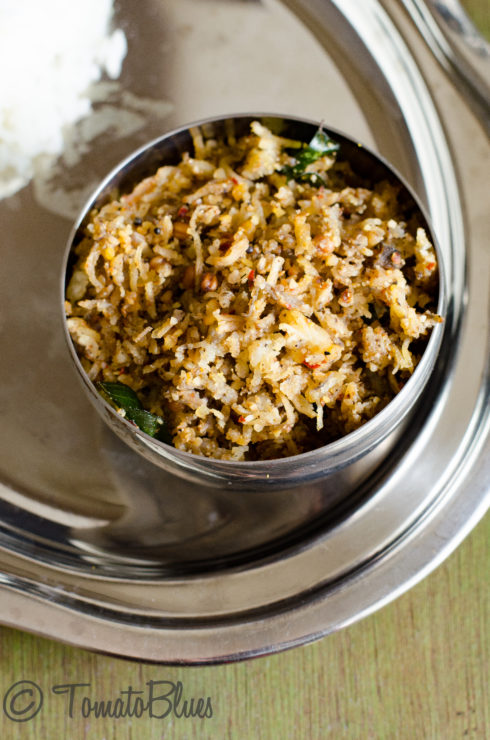 What i love about this vazhakkai podi curry is the fire roasted flavors that lace the curry in the end. Try it for yourself and you wont be disappointed. Shall we now check how to make vazhakkai podi curry step by step?
Wash and pat dry the raw plantain thoroughly. Place it over open flame and roast it till the skin becomes blackish and begins to crack open. That is when the vazhakkai is completely roasted. Once done, peel and grate using a grater. Set aside.
Heat a pan with a teaspoon of oil and roast all ingredients for the spice powder till golden and aromatic. Let cool, add salt and grind to a powder. I used my coffee grinder for this.
Heat a pan with oil. Add mustard seeds and once they pop, add urad dal, hing and curry leaves. Add the grated vazhakkai next and mix well. Cook for 3 to 4 mins. Add the spice powder to this and mix well. Cook for another 2- 3 mins. Once done, serve hot with rice.
Recipe For Vazhakkai Podi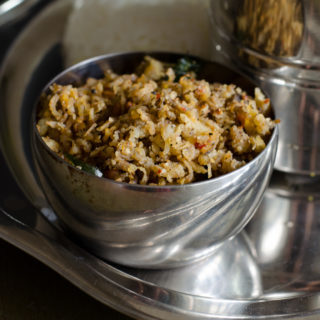 Vazhakkai Podi Recipe
Vazhakkai Podi- A delicious raw plantain cruimble made using fire roasted raw plantains. Goes well with rice, sambar and rasam
Ingredients
Vazhakkai -1 large

Oil 2 tsp

Mustard seeds 1 tsp

Uard dal 1 tsp

Curry leaves a sprig

To Roast And Grind

Pepper corns 1 tsp

Dry Red chili 1 or 2 depending on the spiciness that you want

Urad dal 1 tsp

Channa dal 1 tsp

Coriander seeds 2 tsp

Salt to taste

Oil ½ tsp
Instructions
Wash and pat dry the plantain. Oil the surface well and roast on an open flame until the skin becomes blackish.

Once done, let cool, peel and grate. Set aside.

Heat a pan with oil.

Roast all ingredients except salt mentioned under "To roast and grind" until golden and aromatic.

Once done, let cool and grind to a powder in a blender.

Heat a pan with 2 teaspoon oil.

Pop the mustard seeds and add urad dal and curry leaves.

Once dal turns golden, add grated plantain and mix well.

Cook for 3 to 4 mins.

Once done, add the spice powder to this and mix well.

Cook again on low flame for 2 to 3 mins.

Once done, serve hot with rice, sambar and rasam
Pin This Recipe
Pin this recipe and save for later