HOW TO MAKE VAZHAIPOO PORIYAL?
Vazhaipoo Poriyal- Banana Blossom stir fried with mung lentils and coconut; A hearty south Indian style super food.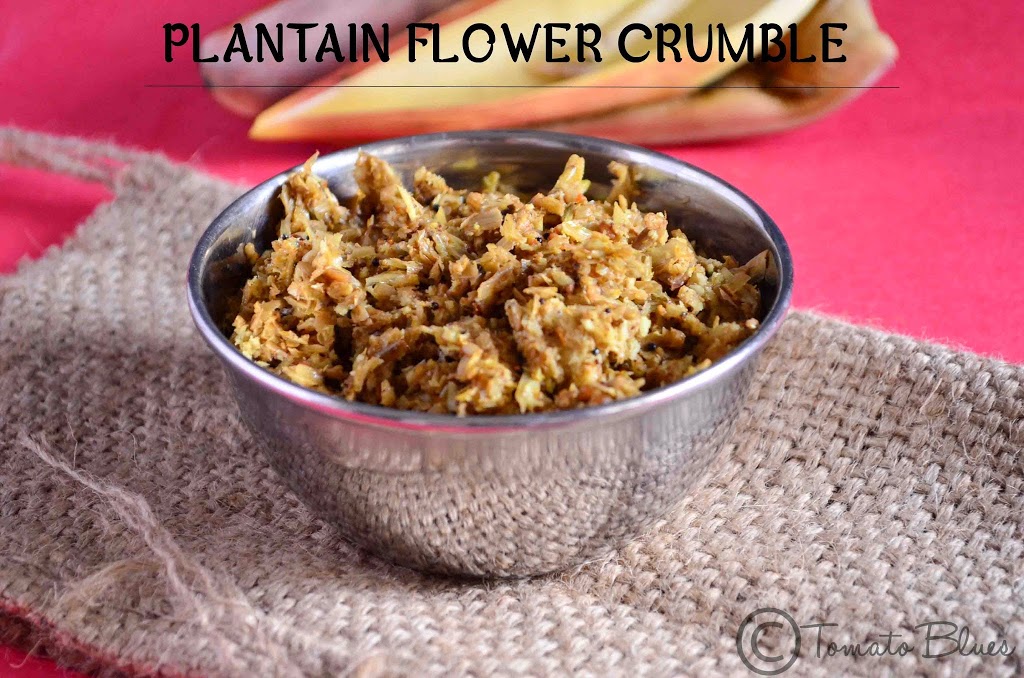 What is Vazhaipoo?- Banana Blossom, A power house of  nutrition.
I know of many folks who think a zillion times to pick up a banana blossom known as vazhaipoo in tamil. The sheer task of cleaning it is so daunting that many people cant be bothered enough to buy it, let alone cook it. Ok, i m actually not this health freak who goes about telling people why they should eat something. But, lets make an exception for this one post.
I was one of those few who never even looked at a vazhaipoo. Reason, well you all know it. But when i discovered that it is beneficial in more ways than one can imagine, i thought, hey! why not? Its just going to be some more work and no one s having me at gun point.
Vazhaipoo is one of those few things that can set right menstrual problems and is an excellent source of fiber. It also contributes to weight reduction. I guess i found enough reason to cook banana blossom once every month. 
Having talked about its benefits, i must also tell you all how to tackle that purple cone of a blossom. Well, i couldnt get a step by step pictorial. I m simply not good at multi tasking. But i got here two pictures, which i think will make justice enough. Pick a tender blossom and begin peeling the outermost petal. In side, you will find small florets that are pale yellow in color. Before you begin this, take a big bowl and add about 1 c of sour curd to it. Now whisk the curd well, add 2 cups of water to this, whisk again and keep ready. This is to immerse the florets in after cutting to take out any bitterness.
So, yeah, begin peeling one layer after the other. Gently pick out the florets under each layer. Once you pick out the florets, we need to prep them up for cooking. This is the tricky part. When you slightly open up a floret, you will discover a long black thick stalk in the middle. Just pull out the stalk and we are done.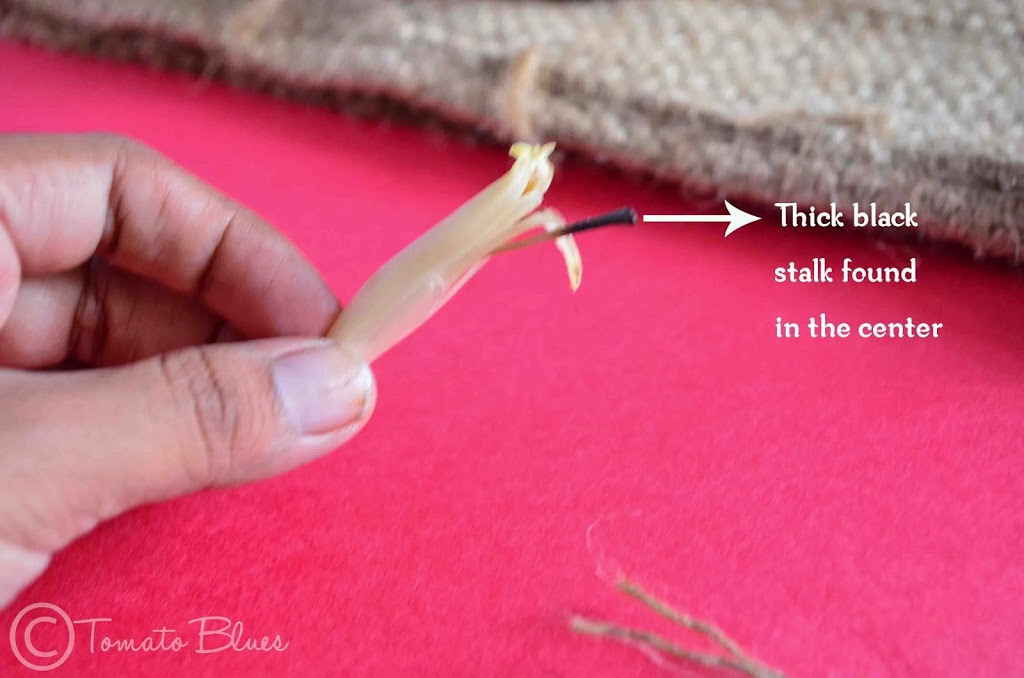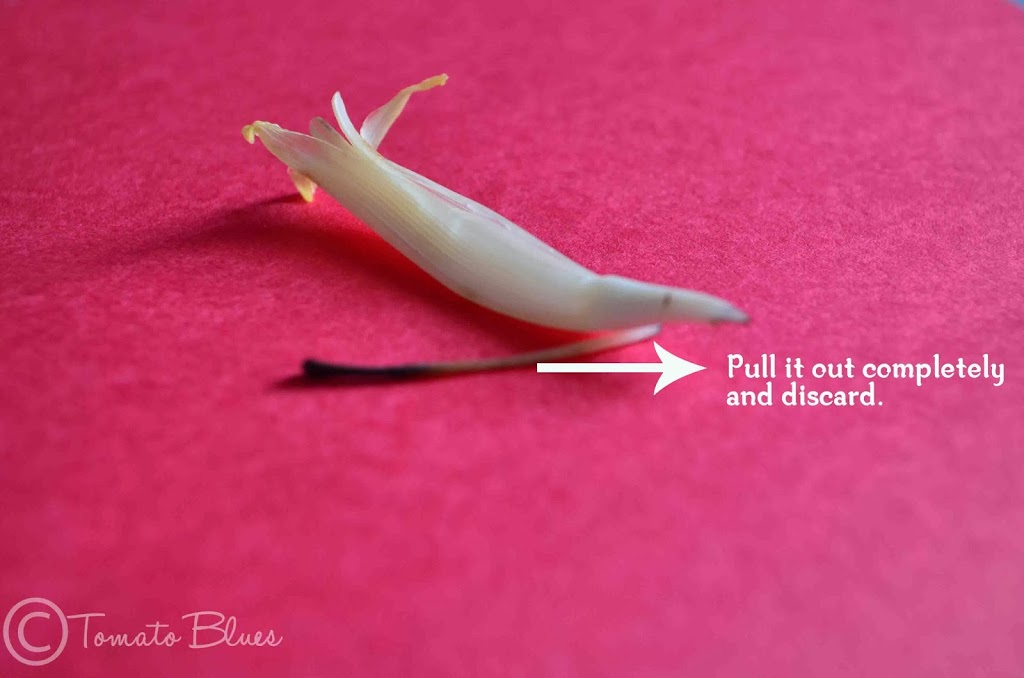 You must do this for all florets. If you fail to do so, the dish that you are going to make will be bitter. Once you are done removing stalks, chop them finely. I use my mincer and mince it up well. Immerse the chopped florets into the sour curd mixture for atleast 3 hours. 
Now, you all get why folks dont buy banana blossom? But hey, there s no gain without pain. So, yeah a little yanking and pulling wont hurt. Use your TV time to do this. You can even do this the previous night and soak it in sour curd. Having preached enough, i think i ll talk about the recipe now. Each person has her own way of preparing banana blossom. This recipe is a stir fry of sorts.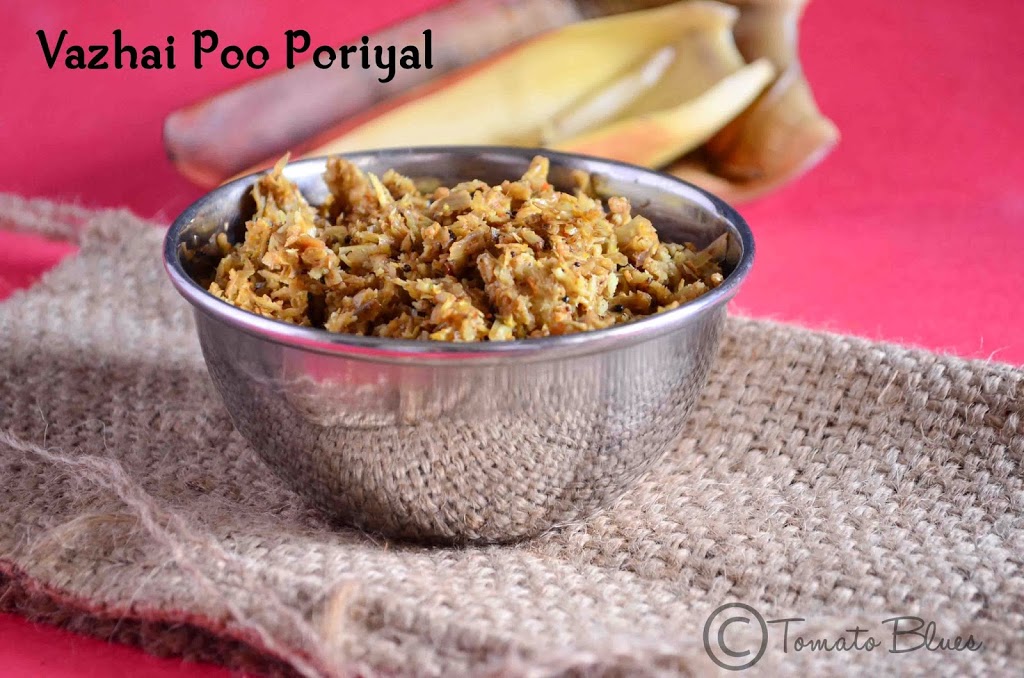 Recipe For Vazhaipoo Poriyal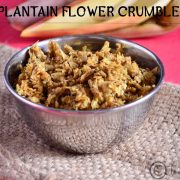 Print Recipe
Vazhaipoo Poriyal
Learn to make a stir fry with banana blossom, mung dal and grated coconut
Ingredients
1

whole

Banana blossom cleaned and prepped

read post above for more details

2

tbsp

Mung dal

1/2

c

Freshly grated coconut

1

tbsp

Oil

1

tsp

Mustard seeds

1

tsp

Urad dal

3-4

Dry red chilies torn

1/8th

tsp

Hing

1

sprig

Curry leaves

1.5

tsp

Salt or to taste
Instructions
Pressure cook the mung dal for 2 whistles in 1/4 c of water.

Remove and set aside. We dont want mushy dal here. Just cooked dal.

In the meanwhile, drain the chopped banana blossom from the sour curd mixture.

In a big bowl, add about 2 c of water, banana blossom, a pinch of turmeric and cook till the florets turn tender. Takes about 10 to 12 mins. Once done, drain water completely. Set aside.

Heat a pan with oil.

Pop the mustard.

Once done, add urad dal, dry red chilies, hing and curry leaves.

Wait for the dal to turn a light brown.

When it does, add the cooked florets, mung dal and salt and mix well.

Cook on medium flame for about 2 mins.

Add grated coconut to this and mix well again.

Turn off flame immediately.
Notes
1. The florets may turn a shade of black if kept overnight. But they are still good to use.
2. If you dont remove the stalks completely, the stir fry will be bitter.
3. You must add coconut to this for the flavor and taste.
4. Addition of mung dal is optional but it sure adds to the taste.
For Instant Pot & Air Fryer Recipes
Instant Pot timings may vary based on your geographic location. Air fryer settings and timings may vary based on the capacity and the model of the Air fryer.
Disclaimer
Nutrition values are provided here as a courtesy and are only a rough guide. Please consult a health care provider if you have any concerns.