Eggplants. Ha. My eternal love affair. A sneak here and a peek there to see which type adorns the farmer s markets. Contemplating between stuffed and sauteed. Thus my testimonial to the not so exotic yet tongue tickling egg plant continues. But Mr.P s almost monumental aversion to egg plants does not help much. So they are made very rarely at home. Which is precisely why this blog doesnt feature many egg plant recipes. You all dint think i dint love baba ganoush or eggplant parmesano? dint ya?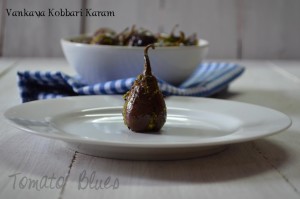 Well. The story changes track when baby egg plants are around the corner. Mr.P makes sure he picks a bag of these beauties dutifully and comes home with a grin on his face. And that grin can only be interpreted as, Wife, when will you make some stuffed eggplants? I usually make this ennai kathrikai kuzhambu, a tangy gravy to go with rice. But this time, i decided to try my hand at these stuffed eggplants.Its a hear say recipe and i just eye balled my ingredients. But i ve tried to give you all an idea of how much of what i used. Needless to say, the eggplants were well relished by Mr.P. Runaway success is all i can say.
Recipe For Vankaya Kobbari Karam
( Eggplants stuffed with coconut and spices and pressure cooked slightly)
Prep Time: Under 10 mins
Cook Time: 10 mins
Serves 3
Ingredients:
Baby egg plants 12 to 15
Oil 1 tbsp
Mustard seeds 1 tsp
Urad dal 1 tsp
Hing a large pinch
Curry leaves a sprig
Water 3 tbsp
Salt 1/2 tsp
Stuffing:
Coconut pieces 3/4 cup
Coriander leaves 1 cup loosely packed
Cumin seeds 1 tsp
Green chilies 4 to 5
Tamarind Paste 3/4 tsp
Salt to taste
Directions
Place all the ingredients for the stuffing in a blender and make a coarse paste without adding any water and set aside.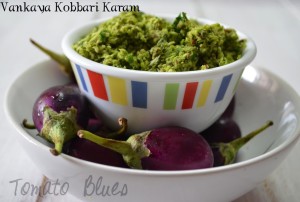 Wash and pat dry the egg plants and make a criss cross on the rounded side keeping the stalk intact. Make sure you only cut 3/4th along the length of the eggplant.
Once you have criss-crossed all the eggplants, gently stuff about 3/4 tbsp of stuffing into the criss crossed egg plants.
Heat oil in a small pressure cooker.
Pop the mustard seeds and add the urad dal, hing, curry leaves next and wait till the dal turns a light brown.
Once done, add the stuffed egg plants and toss well.
Add the 3 tbsp water to this and sprinkle the salt.
Close the lid and pressure cook for 1 whistle.
Wait till the pressure comes down.
Once done, check to see if the water has dried up.
If not, cook it open on high flame for about 2 mins until the water dries up.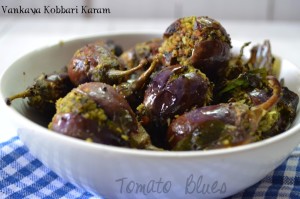 Serve hot with rice and any dal of your choice.