Sabudana Kheer- A creamy grain free Indian dessert made with Sago pearls. Also referred to as Javvarisi Payasam in Southern India, this Kheer has a pudding like texture and packs a punch in terms of flavor. Widely consumed dish during the Vrat or the fasting season, this treat is something that you should absolutely try.
Follow us on Pinterest for delicious pins. Join our Facebook group for more Instant Pot and Air Fryer Recipes.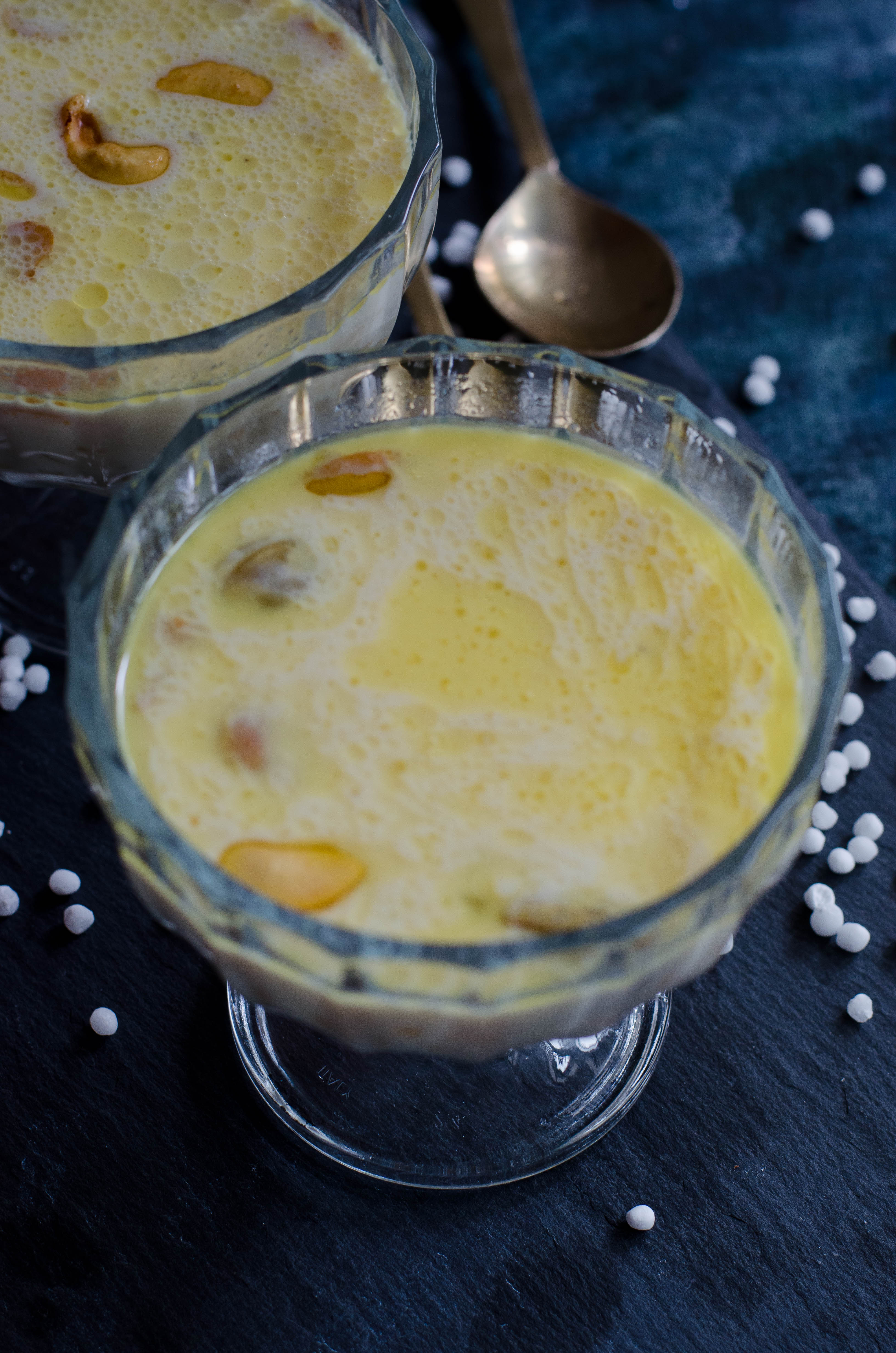 An Ideal Food for Fasting
The Navratri fasts are generally rigorous in India. Most women go without meals for 9 days. They break their fast usually in the evenings and consume a Phalhari diet.
Phalhari or Falahari Food
Phalhari or Falhari simply means a fruit based diet. This is the most recommended diet on days of fasting. But there are people who cannot survive on just fruits for a whole day.
If you are someone who does work that involves a lot of physical labor, then this kheer may just be the right Vrat ka Khana for you .
Sabudana/Sago Pearls
Sabudana is a plant derivative. They are called as sago pearls in English. This is taken from the starch of tapioca, also known as the cassava root. Another kind, also called as Sago is taken from the Sago palm tree ( Sago cycad)'s starch. But you can eat both during Vrat as both are non grain plant derivatives.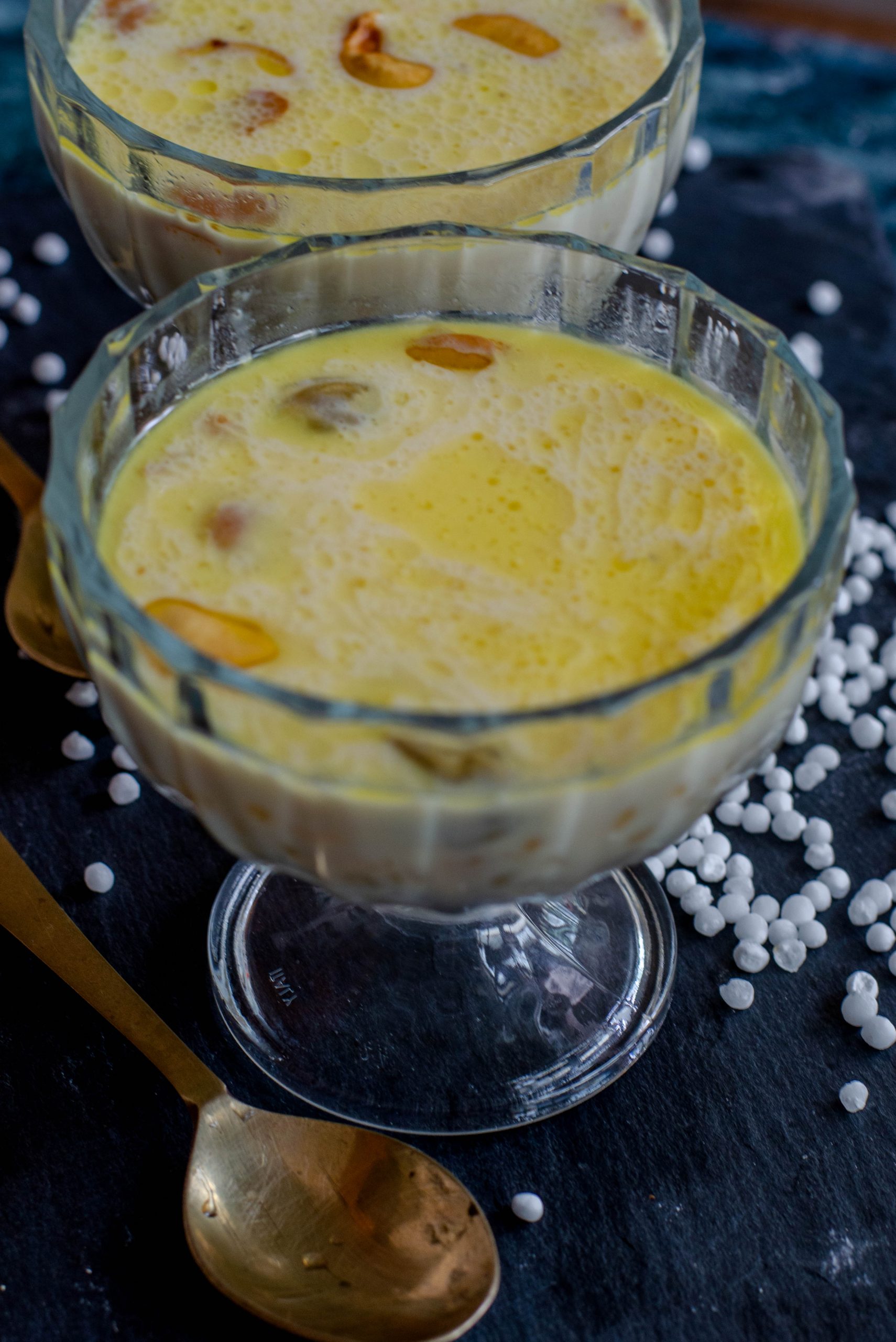 Javvarisi Payasam
This kheer is also called as Javvarisi payasam in Tamil. This is a popular vrat ka khana recipe in Northern India. Javvarisi Payasam is made on the Neer Thumbo Habba amongst the Madhwa brahmins down south.
Ingredients
Milk
I recommend using whole milk or full fat milk to make the creamiest  kheer ever. But switching to milk that has lower fat content will not make any difference in this delicious kheer.
Sweeteners 
I have used dairy milk to make this kheer. So, I have stuck to the traditional White sugar for sweetening it. Adding jaggery to milk can cause curdling. This is why I wont recommend using jaggery in this recipe, especially for beginners.
Choosing Sabudana 
I have used medium sized Sabudana to make my kheer. Also, my Sabudana was fresh off the shelves off the supermarket. If your Sabudana is the nylon variety, that is the really small ones, cooking time will be less. If you use Sabudana that is old or slightly bigger, then the cooking time will increase.
Where to buy Sago?
You may be surprised to know that this is a widely consumed ingredient in many South Asian countries. So if you are living in US or Europe, check out your Asian stores. If you are living in Singapore, Malaysia or the surrounding areas, you can source sago pearls from any supermarket. Ask or look for Sago. They even have colorful pearls.
Why does my Kheer curdle?
Sometimes milk tends to curdle when you cook the sago pearls directly in the milk. In order to avoid this, it s very important to wash the Sabudana well before soaking.  Also, I cook the sabudana in water first and then add it to the milk. This helps in preventing curdling of milk in this Kheer.
More Kheer Recipes
More Fasting Recipes
How To Make Non Sticky Soft Sabudhana Kichdi
Method
Cooking the Sabudana
Our first step in making this kheer is to cook the sabudana. Wash the sabudana well until water runs clear. You will be able to prevent the kheer from thickening too much if you wash the sabudana well. This step helps to get rid of all the extra starch.
Once the sabudana is all washed, soak this for 2 hrs or until the pearls soften and swell up in volume. When this is done, heat a pan with water. Add the washed and soaked sabudana. Bring the water to a rolling boil, stirring now and then.
I recommend stirring the mixture to prevent the sabudana from sticking at the bottom. Continue to cook the mixture till the pearls become transparent and begin to float to the surface.
This process may take anywhere between 8 to 12 mins based on the type of Sago you are using. The older you sago, the longer it takes to cook.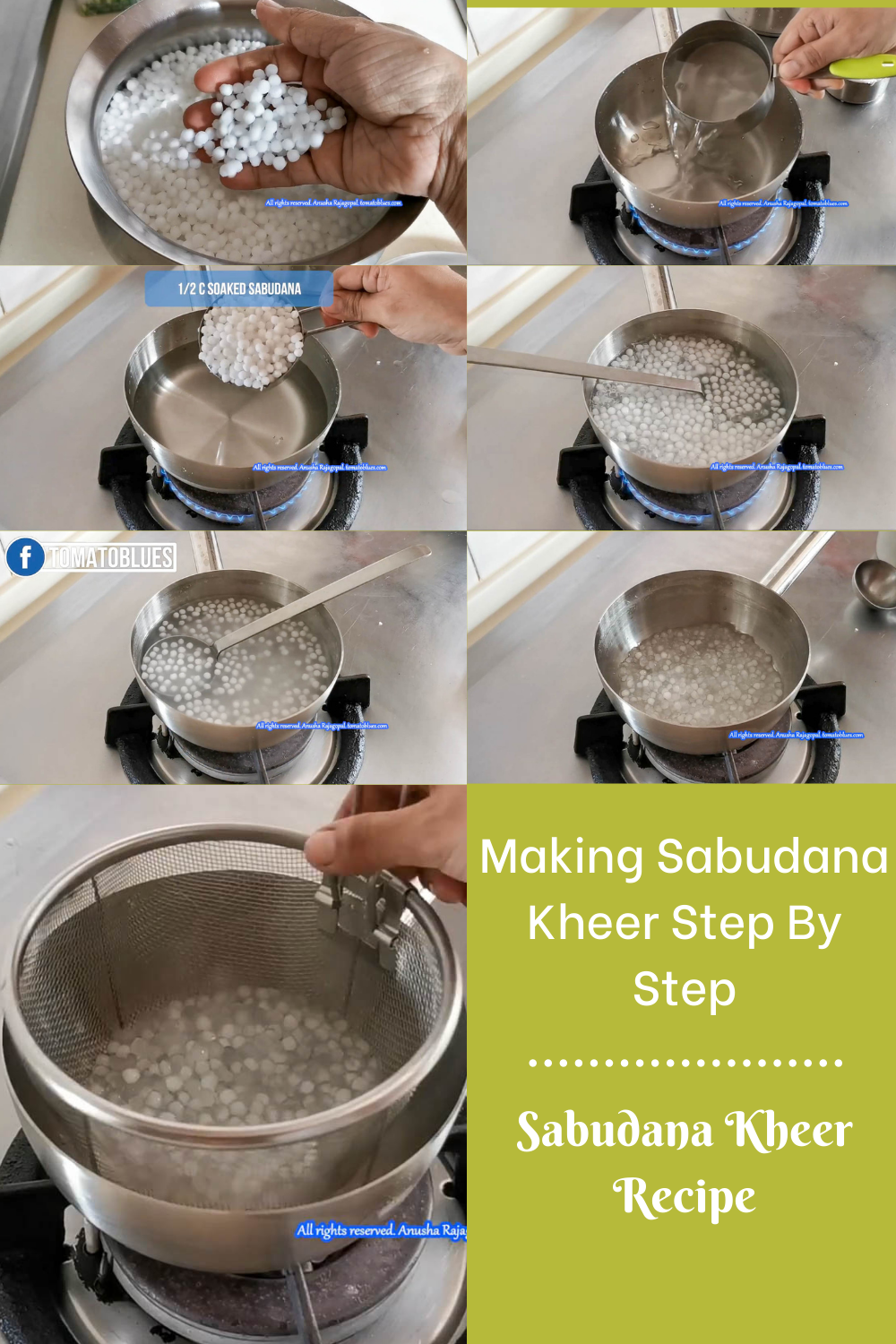 Draining the Sago
Once cooked, drain the cooked pearls in a colander and let stand till all water is fully drained.
Making the Kheer
Now, combine the cooked Sago along with boiled milk and cardamom.
Continue to cook this mixture on medium flame until the milk froths up. Once the milk froths up, reduce the flame and continue cooking till the milk reduces and thickens.
We are not looking to reduce the milk by half here. We are just thickening the milk by boiling it for about 5 mins. Once the milk has thickened, add the sugar and mix well. Simmer for 2 to 3 mins to thicken the kheer.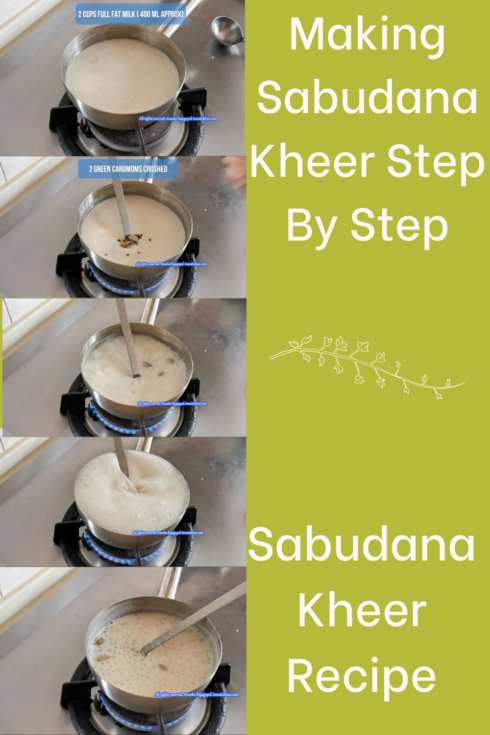 Garnishing
When the kheer has thickened, switch off the flame. Now heat a small pan with ghee. Add broken cashews and fry them to golden on low flame. Make sure that you don't crank up the heat to avoid burning. When cashews begin to brown, add the raisins and fry for about 30 to 45 secs or until they plump up.
When the raisins are plump, add the nuts, ghee and raisins to the kheer. Return the kheer to the flame and simmer for 2 to 3 mins on low flame. Once done, switch off and serve warm.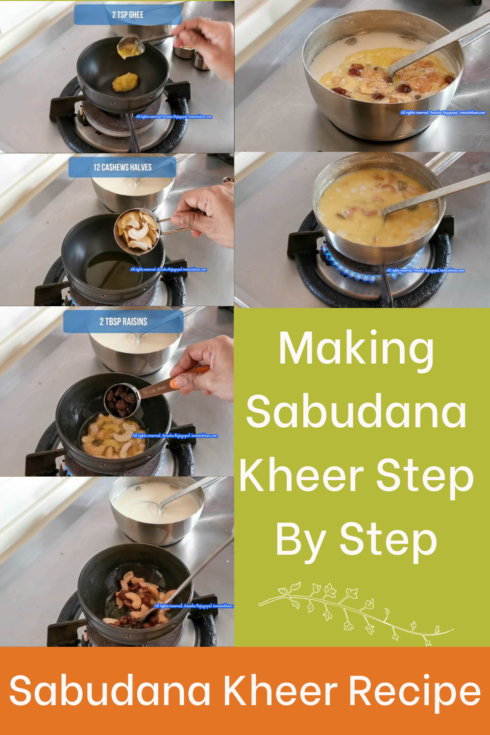 This kheer thickens as it cools down. Adjust the consistency with some warm milk before serving if you find that it is too thick.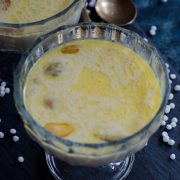 Print Recipe
Sabudana Kheer
Sabudana Kheer- A delicious Pudding like Indian dessert made with Tapioca pearls and whole milk. Ideal for fasting because of high calories.
Equipment
Sauce Pan

Strainer/colander
Ingredients
3

tbsp

Sabudana

Soaked for 4 hrs ( See Notes)

2

c

water

2

c

full fat milk

Approx 400 ml

2

Green cardamoms

crushed

1/4

c

Sugar

2

tsp

Ghee

clarified butter

12

Cashew halves

6 whole cashews broken into halves

2

tbsp

Raisins
Instructions
Soaking The Sabudana
Wash the Sabudana thoroughly under running water until water runs clear.

Soak the Sabudana in just enough water to immerse it. I have used about 1/4 c water here.

Allow the Sabudana to soak for 4 hrs. When they are soaked, they will soften and swell up in volume. 3 tbsp medium sized Sabudana pearls yield 1/2 c Sabudana after soaking.

Once soaked, drain the sabudana of any excess water using a colander.
Cooking The Sabudana
Combine the water and soaked sabudana in a saucepan.

Cook on medium flame, stirring often to ensure that the pearls dont stick to the bottom.

Allow the water to come to a boil.

Once the water comes to a boil, continue to cook the pearls till they turn transparent and they begin to float to the top. This takes 8 to 10 mins approximately.

Once the pearls are cooked, switch off the flame and strain the pearls of all the water using a colander.
Making Sabudana Kheer
Combine the cooked sabudana pearls with milk and crushed green cardamom pods in a saucepan.

Cook this on medium flame for 5 to 7 mins , stirring often and wait for the milk to come to a frothy boil.

Once the milk froths and rises up, add the sugar and mix well.

Continue to cook the kheer till all the sugar dissolves and the mixture thickens slightly.

This takes roughly 3 to 4 mins.
Garnishing Sabudana Kheer
Add the cashews and fry till they turn a light brown.

At this stage, add the raisins, toss them well in the hot ghee and once they plump up, switch off the flame.

Add the fried cashews, raisins and the ghee to the kheer and mix well.
Simmering
Now, return the saucepan to heat.

Simmer for 3 mins on low flame, stirring occasionally to prevent the pearls sticking to the bottom.

Serve warm as a dessert. This also makes a great Prasadam for Poojas or the Navratri festival.
Notes
Will the soaking and cooking time for Sabudana differ?
Yes, the soaking and cooking time for Sabudana depends on the size, age and quality of the sago you are using.
If you use smaller varieties, both soaking and cooking time are shorter.
If you use medium size Sabudana, then the time mentioned here is just right.
Nylon Sabudana takes the least soaking and cooking time. 
Also make sure your Sabudana is not too old. Old ones do not soften easily and take longer to cook.
Can i substitute White sugar with Jaggery or Brown Sugar in Sabudana Kheer?
While raw cane sugar will work similar to regular white sugar, i will not recommend Brown sugar ( Muscovado, Demerara) and Jaggery because they tend to curdle the milk.
What type of milk can be used in this kheer?
Whole milk or full fat milk is recommended because it yields a creamier kheer. If you are someone living in Singapore, i recommend using the NTUC Fairprice full fat milk or Meiji Full Fat milk. ( This is just a recommendation and not in any way sponsored)
My Sabudana Kheer has become too thick. What can be done?
Sabudana kheer tends to thicken over time because of the starch content. If it becomes too thick, then add 1/4 to 1/2 c warm milk and mix well just before serving. However, please note that the sweetness may get reduced when this is done.
Read the main post for more tips on how to prevent Sabudana kheer from curdling and why it curdles.
For Instant Pot & Air Fryer Recipes
Instant Pot timings may vary based on your geographic location. Air fryer settings and timings may vary based on the capacity and the model of the Air fryer.
Disclaimer
Nutrition values are provided here as a courtesy and are only a rough guide. Please consult a health care provider if you have any concerns.
Nutrition
Calories:
218
kcal
|
Carbohydrates:
32
g
|
Protein:
5
g
|
Fat:
9
g
|
Saturated Fat:
4
g
|
Polyunsaturated Fat:
1
g
|
Monounsaturated Fat:
3
g
|
Cholesterol:
19
mg
|
Sodium:
71
mg
|
Potassium:
264
mg
|
Fiber:
1
g
|
Sugar:
19
g
|
Vitamin A:
198
IU
|
Vitamin C:
1
mg
|
Calcium:
149
mg
|
Iron:
1
mg
Watch our video on Youtube on how to make this delicious kheer for a better understanding of the recipe. Follow me on Instagram or Facebook for regular cooking updates and short videos. Follow me on Pinterest for delicious content. Tried our Sago Kheer? Loved it? Then please rate this recipe and leave a comment.