HOW TO MAKE NON STICKY SOFT SABUDHANA KICHDI?
SABUDHANA KICHDI- GET ALL THE TIPS AND TRICKS TO MAKE THE SOFTEST NON STICKY SABUDHANA KICHDI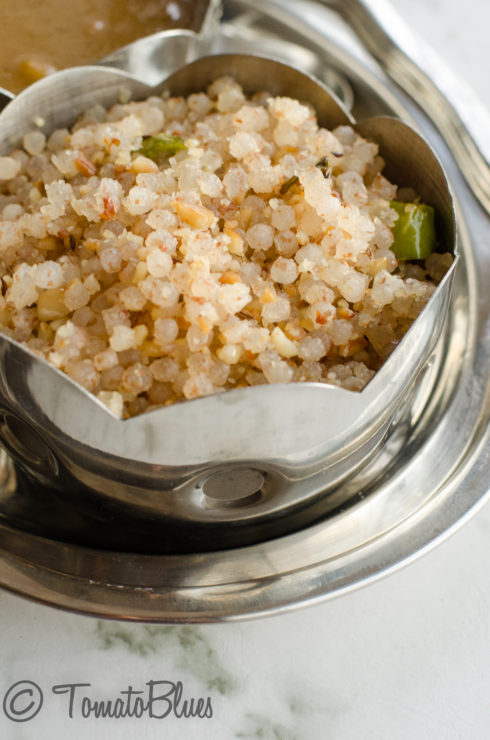 Nonsticky soft sabudhana kichdi is many people's desire on a fasting day (vrat). Sabudhana kichdi is a staple on vrat days. This is because of many reasons. Grains and cereals are not allowed on vrat days. Sabudhana is not a grain or a cereal and keeps you full for a long time.
Also, sabudhana kichdi is a very good example of the perfect combination of carbs and proteins. The sabudhana provides the carbs and the peanuts, the proteins. Non sticky soft sabudhana is a family favorite in my house.
The little minion calls it the ball upma and enjoys it with a dash of lemon. The husband and i relish it with yogurt or a drizzle of ghee. This post is all about how to get that non sticky soft sabudhana right. I have learned a few things on this from many people over the years and i m sharing all of them here.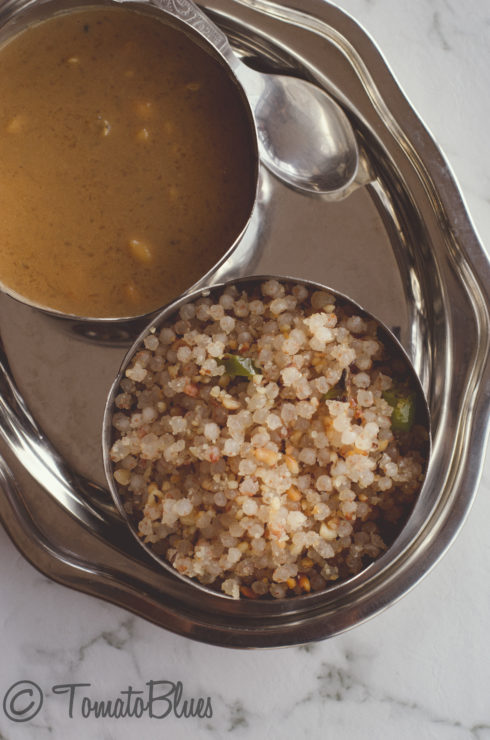 Shall we now check how to make Non sticky soft sabudhana kichdi step by step?
Soaking the sabudhana- It is very important to soak the sabudhana in the right amount of water for the right amount of time. If your sabudhana is old, then the soaking time will be longer. And it wont be very soft. Try to buy and use fresh sabudhana.
Add 2 c of sabudhana to a bowl. Add water just enough to cover it and let it soak for 4 hours. I used about 1/2 c water here.You will see that the sabudhana has puffed up and become soft after soaking.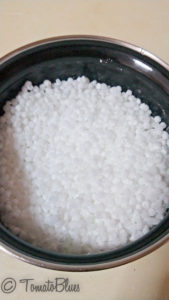 Once done, dry roast the peanuts in a pan till crunchy and the peel easily comes off. Let cool. Add this to a blender and using the pulse mode, make a coarse mixture. Add the powdered peanuts to the sabudhana and mix well.
Now, heat a pan with ghee or oil. Again, many people think that more oil will give non sticky sabudhana.  This is not the case. You dont need more than 2 tbsp oil or melted ghee to make non sticky soft sabudhana kichdi. Add the cumin seeds and once they crackle, add green chilies. Toss for a min. You can add boiled, peeled and cubed potatoes at this stage and fry for a min. Then proceed to the next step. I didn't have potatoes this time. So skipped it.
Now, add the sabudhana peanut mixture to this. Mix well. Cook covered on medium flame for about 5 mins. Once done, you will notice that the pearls are transparent. At this stage, add the sugar and salt and mix well. Cook for a min more.
Now, for the soft sabudhana kichdi, sprinkle 1 tbsp milk over the sabudhana and mix well. Close and cook for 2 min.  Adding milk is important to get soft sabudhana. But dont add more than the mentioned amount. If you add more, the kichdi will become soggy.
Open, fluff and serve hot.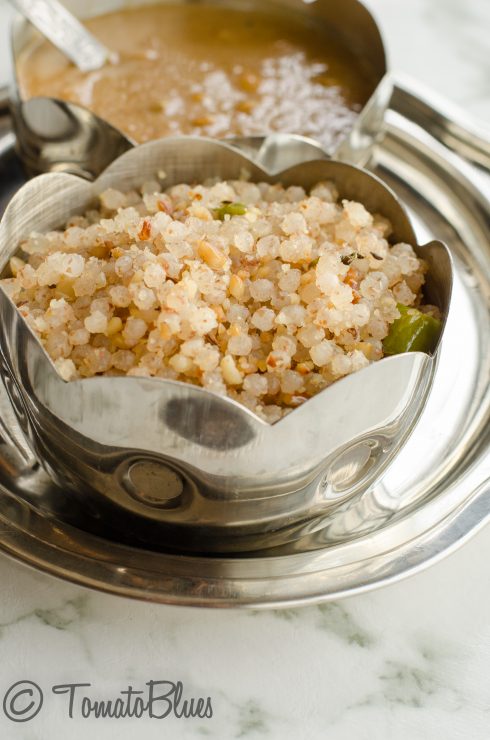 Here is a slo-mo video of the non sticky soft sabudhana kichdi that i shared on instagram a while back. This version has potatoes and turmeric too!
https://www.instagram.com/p/BdPjJlThx-4/
Recipe For Non sticky Soft Sabudhana Kichdi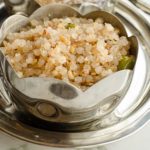 Print Recipe
How To Make Non Sticky Soft Sabudhana Kichdi
Non sticky soft sabudhana kichdi is a delight that can be enjoyed on vrat days and other days alike. This is a filling protein rich dish that pairs well with yogurt.
Ingredients
Sabudhana 2 c

Water 1/2 c

Milk 1 tbsp

Peanuts 3/4 c roasted

Oil or ghee 1 tbsp

Cumin seeds 1 tsp

Green chili 3 to 4 chopped

Sugar 2 tsp

Salt to taste
Instructions
Soak sabudhana in just enough water to cover it for 4 hours.

After soaking, the pearls would have become soft and puffed up.

Dry roast the peanuts in a pan or in the microwave.

Let cool.

Pulse to a coarse powder in a blender.

Mix this powder with the soaked sabudhana. Set aside.

Heat a pan with oil or ghee.

Crackle the cumin seeds and add the green chilies.

Add the peanut-sabudhana mixture to the pan and mix well.

Cover and cook on medium flame for 5 mins.

Once done, you can see that the pearls are transparent.

Now, add salt and sugar.

Mix well and cook for 1 to 2 mins.

Once done, sprinkle the milk on the sabudhana like you would sprinkle water.

Mix well.

Cover and cook for 1 min.

Open, fluff and serve hot.
For Instant Pot & Air Fryer Recipes
Instant Pot timings may vary based on your geographic location. Air fryer settings and timings may vary based on the capacity and the model of the Air fryer.
Disclaimer
Nutrition values are provided here as a courtesy and are only a rough guide. Please consult a health care provider if you have any concerns.