How To Make Purple Yam Masiyal? Or How To Make Rasa Valli Kizhangu Masiyal?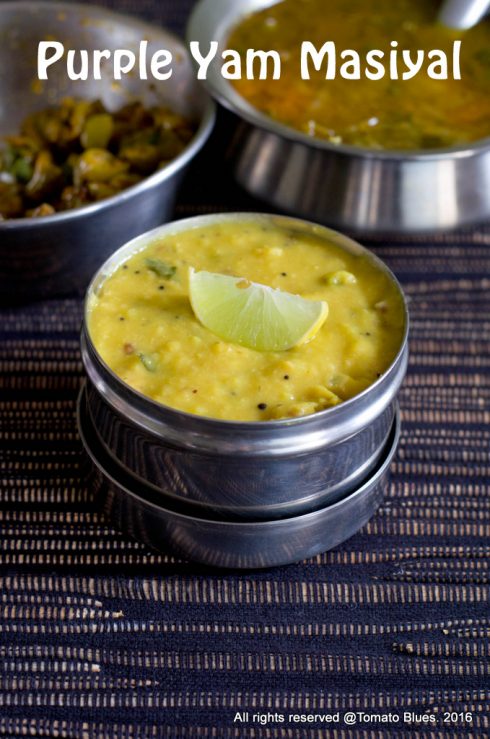 Purple Yam Masiyal is a dish that resembles indian style mashed potatoes but actually uses purple yam in place of potatoes. Purple Yam is not to be confused with pidi karanai or karanai kizhangu. The purple yam is called rasavalli kizhangu in tamil and surprisingly, i have never found this while living in Tamil Nadu. But this tuber floods the markets in Baroda during winter and is a delicious treat when made into this tangy Purple Yam Masiyal. Purple Yam is called so because its flesh is a mild purple. Actually i would call it violet. However, its absolutely normal for these purple yams to have white flesh too. Nature and its tricks, eh? I initially mistook this yam was pidi karanai but when i cut open the tuber, i was shocked to find a purple root staring at me. Thats when i began to search what that is and the rest you all know is history. Coming to the purple yam masiyal itself,  anything made out of  yams s nothing less than wonderful. I know they are not very healthy when eaten regularly but its ok to indulge once in a week or two. When i make a trip to the supermarket, i come back with an arm load of veggies and definitely one of these yams. After one such trip, i made this purple yam masiyal and we all fell in love with it.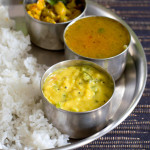 Print Recipe
Purple Yam Masiyal Recipe
Purple Yam Masiyal is a mashed yam dish that is cooked Indian style and tempered with mild spices
Ingredients
Purple yam 200 g

Tamarind extract from a lime size ball of tamarind 1/2 cup

Turmeric powder 1/2 tsp

Salt to taste

Green chilies 3to 4 finely chopped

For Tempering:

Mustard seeds 1 tsp

Urad dal 1 tsp

Hing a large pinch

Oil 2 tbsp

For Garnish:

Cilantro chopped finely 2 tbsp

Lemon Juice 3 tbsp
Instructions
First pressure cook the yam until soft and mushy. Takes about 4 whistles. Once done, mash the yam well and keep aside.

Heat oil in a kadai and add the mustard seeds. After they pop, add the urad dal, hing adn wait for the dal to brown. Add turmeric powder.

Now, add the chilies and saute for a few secs. Add the yam next and saute well for 2 to 3 mins.

Next, add the tamarind extract and salt and mix well with the yam. You can see that the yam is absorbing the tamarind extract. Let this simmer till you get a solid mass. Takes about 7 mins and has to be done on medium low flame.

Now, take away from flame and let it cool.

Garnish with cilantro, add the lemon juice and serve with rice and rasam. Tastes really delicious with rotis too.
Notes
You may be wondering why both tamarind and lemon? The tamarind is to remove any itching the yam may cause. New yams may cause itching in your throat. The lemon is for the tang and flavour.
My mom in law s version also contains moong dal. If you want that version, boil the dal till soft and add it when after you have added the chillies. But you have to cook the entire thing on low flame cos moong burns quickly
For Instant Pot & Air Fryer Recipes
Instant Pot timings may vary based on your geographic location. Air fryer settings and timings may vary based on the capacity and the model of the Air fryer.
Disclaimer
Nutrition values are provided here as a courtesy and are only a rough guide. Please consult a health care provider if you have any concerns.