Whoever tires of baby potatoes? Do you? Then, gosh, you are being unfair to life s goodness. Ok, so i ll make you a convert. Try this awesome potato podi curry and i guarantee that you will be a convert in no less that ten minutes of shoving the first cute
baby potato
into your mouth. Well, so what happens if you are a
baby potato
fanatic like me? Then, you will fall in love once again with all the goodness and deliciousness that a baby potato and only a baby potato can offer. I know i m rambling a bit. But i guess i m entitled to some rambling pleasures because its a baby potato recipe today.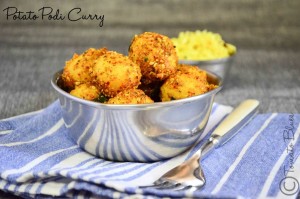 Recipe For Potato Podi Curry
( Baby potatoes with a fresh spice mix- Vegan And Gluten Free)

Prep Time: 10 mins
Cook Time: 30 mins
Level: Easy
Serves 2

Ingredients

For The Spice Powder
Coriander seeds 1 tbsp
Channa dal 1 tbsp
Dry red chilies 4
Sesame seeds 1/2 tsp
Dried coconut/ Kopra 2 tsp
Hing a small pinch
Salt 1 tsp
Oil 1/2 tsp
For The Potato Podi Curry
Baby potatoes 250 g
Spice powder 1 recipe
Oil 3 tbsp
Mustard seeds 1 tsp
Curry leaves a sprig
Salt to taste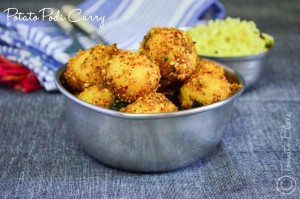 Directions
Pressure cook the baby potatoes till fork tender.
In the meanwhile, heat a pan with 1/2 tsp oil and roast all the ingredients for the spice powder except the coconut until light brown and aromatic. Let cool.
Blend to a coarse powder along with dry coconut. Set aside.
Once the potatoes are done, peel and let it cool a bit.
Heat a pan with 3 tbsp of oil.
Pop the mustard and add the curry leaves next.
Add the baby potatoes and combine gently.
Now, on a low flame, let the baby potatoes cook till a light golden brown. Takes somewhere between 10 to 12 mins.
At this stage, add the spice powder and a little salt to taste. Be warned while you add the salt as there s salt in the spice mix too.
Mix well.
Cook further for about 5 mins.
Once done, take off flame immediately and let cool down a bit.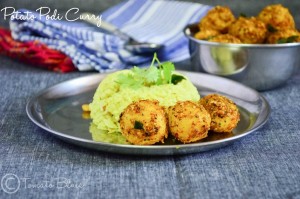 Serve hot with this tangy raw mango rice or ennai kathrikai kuzhambu